As of today, the best Fixed Deposit in Singapore pays 4.08%.
Whereas the latest 6 month T-Bills closed at 3.93% yield.
Which means that if you want the highest short term yield on your cash – fixed deposit is probably your best bet.
Whereas T-Bills is better if you're buying using CPF-OA.
It's been quite a while since our last Fixed Deposit article, so I wanted to do a quick refresh to share the best places to park short term cash right now.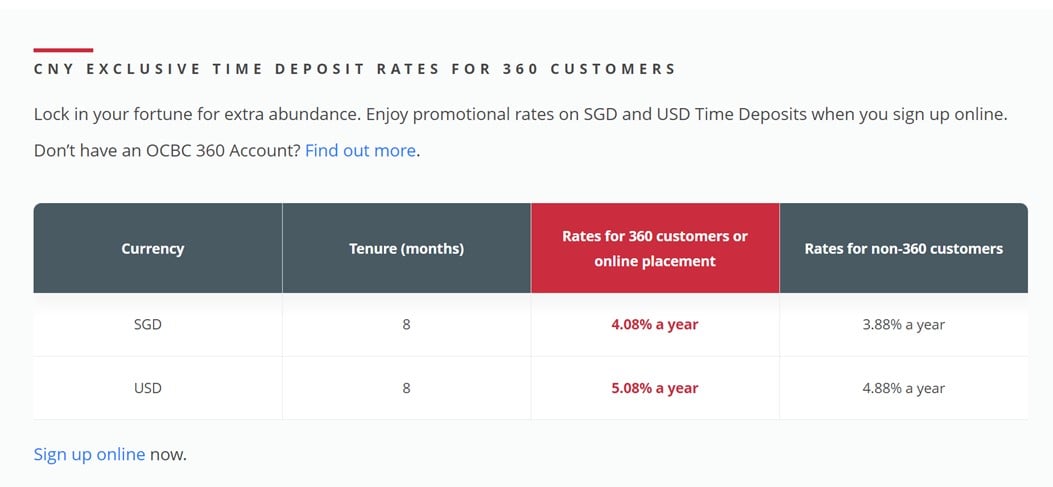 Best Fixed Deposit rates in Singapore (February 2023)
Here's the latest table of the highest fixed deposit interest rates in Singapore:
| | | | |
| --- | --- | --- | --- |
| Bank | Interest rate p.a. | Tenure | Minimum amount |
| OCBC | 4.08% | 8 months | S$20,000 |
| HL Bank | 4.00% | 12 months | S$100,000 |
|   | 4.00% | 6 months | S$100,000 |
| RHB | 3.9% (online) | 12 / 24 months | S$20,000 |
| Bank of China | 4.00% (online)  | 12 months | S$5,000 |
|   | 3.90% | 12 months | S$5,000 |
| UOB | 3.85% | 12 months | S$50,000 |
| Maybank | 3.80% | 24 months | S$20,000 |
|   | 3.90% | 12 months | S$20,000 |
|   | 3.50% | 6 months | S$20,000 |
| ICBC | 3.70% | 12 months | S$20,000 |
| Hong Leong Finance | 3.60% | 10 months | S$20,000 |
| CIMB | 3.45% | 12 months | S$10,000 |
|   | 3.65% | 6 months | S$10,000 |
| HSBC | 3.20% | 12 months | S$30,000 |
|   | 4.00% | 7 months | S$30,000 |
| DBS/POSB | 3.20% | 12 months | S$10,000 |
Here's the same in picture form in case the above doesn't display well for you: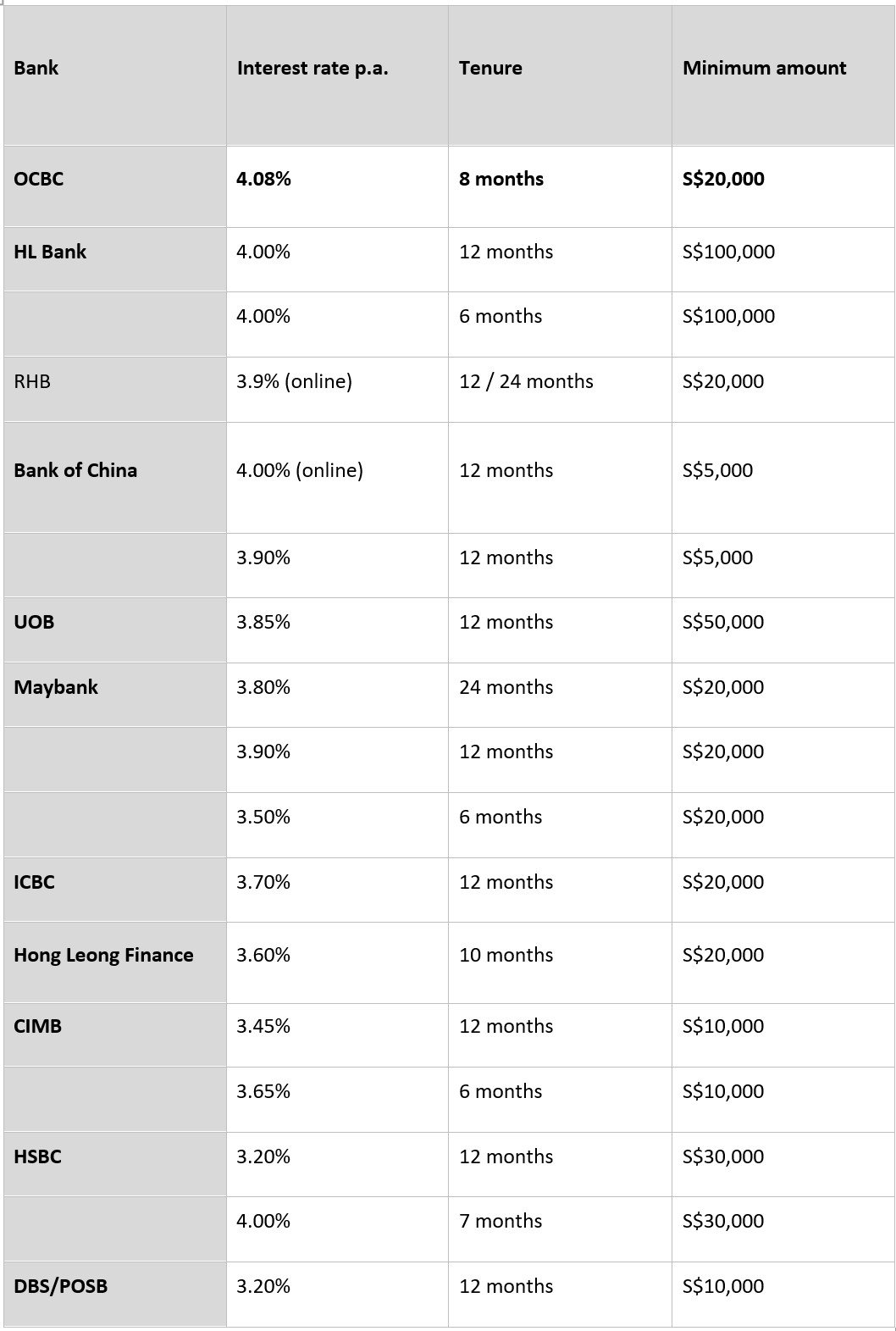 Fixed Deposit has a higher yield than T-Bills and Singapore Savings Bonds
For the record, the latest 6 month T-Bills closed at 3.93%.
While the latest Singapore yields 2.76% for 12 months.

So if you're looking to park cash somewhere short term for up to 12 month, Fixed Deposit actually offers the most attractive interest rates now.
Highest Fixed Deposit Rates (Singapore Bank) – OCBC at 4.08%
Now Singapore bank deposits are only SDIC insured up to $75,000.
Which means that if you put a lot of money in one bank, technically anything above $75,000 is subject to counterparty risk (ie. the risk of the bank going under).
We can debate forever what is the risk of a foreign bank going under.
But sometimes you may just want the peace of mind that comes with a local bank like DBS, UOB or OCBC.
In any case, you dont need to choose because right now the higest fixed deposit rates actually comes from a local bank –  OCBC with 4.08% for 8 months.
Sidenote that this is frankly not usual (for a local bank to have the highest interst rates in the market), so you may want to lock in OCBC's rate while it lasts before it gets revised down (RHB just revised from 4.1% to 3.9% on Friday).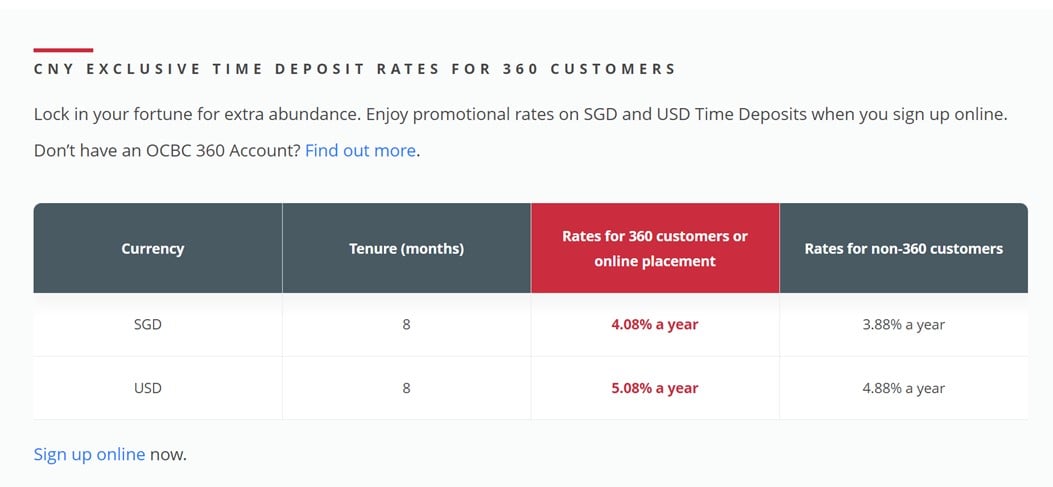 Note that you do need to have an OCBC360 account to enjoy this.
But even if you don't it's very quick to open one online (assuming you already have a banking relationship with OCBC).
DBS offered 4.88% on a 3 month Fixed Deposit promo this week
I hate to say this, but earlier this week DBS actually offered a 4.88% interest rate on a 3 month Fixed Deposit using a special promo code "SR1B".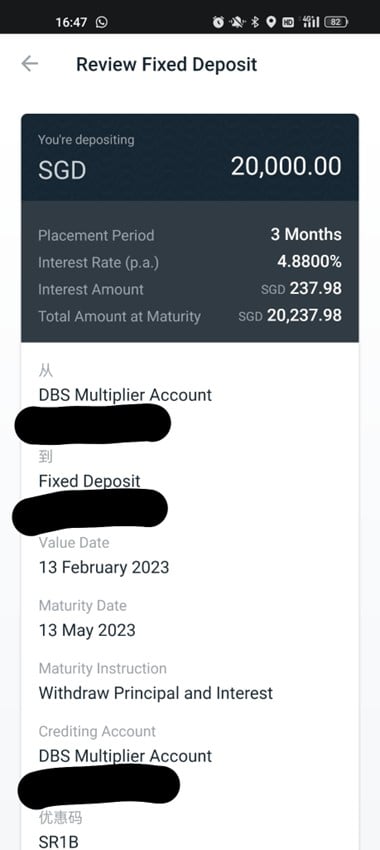 This was an unbelievable deal (especially coming from DBS).
I was planning to do an article on this, but it seems like the popularity was so overwhelming that it was closed off in a couple of hours.
Screenshot above for proof, I was lucky in that I managed to lock this in quickly when I heard about it, but my apologies for not getting the word out to you guys in time.
Next time if I have such good lobangs that may not last for long I might just do a quick shoutout on Twitter or Telegram instead of waiting to write an article on it – so do follow me on Twitter or Telegram for faster notifications.
RHB offered 4.1% just this week – Fixed Deposit Rates going down?
As I was researching this article this week, RHB offered 4.1% on their 12 and 24 months Fixed Deposits.
Which unfortunately was slashed to 3.9% on Friday.
This follows from CIMB which was previously the market leader – slashing their Fixed Deposit rates to 3.7% (from 4.15% previously).
So it appears that the banks are revising their fixed deposit rates down once the promotion is over.
I think there is a risk of that happening with OCBC's Fixed Deposit too, as it's frankly very unusual for a local bank to be offering the highest Fixed Deposit rates.
So if you have some money you want to pop into fixed deposit, do try to do it quick.
BTW – we share commentary on Singapore Investments every week, so do join our Telegram Channel (or Telegram Group), Facebook and Instagram to stay up to date!

I also share great tips on Twitter.
Don't forget to sign up for our free weekly newsletter too!
[mc4wp_form id="173″]
Have Fixed Deposit (or T-Bills) interest rates peaked for this rate cycle?
I suppose the final question is whether fixed deposit (or T-Bills) interest rates have peaked for this cycle.
Ie. Should you lock in a 12 or 24 month Fixed Deposit now, or just stick with a short term 6 – 8 months one?
Regular readers of Financial Horse should know my view.
My view is that the Feds have made a big mistake with their "soft pivot" in Jan 2023 (read more here).
In failing to push back on easing financial conditions, they are creating the conditions for economic growth to reaccelerate, and inflation to pick up again.
Very simply – I think because of this mistake, the Feds will have to raise interest rates even higher, for even longer.
Which means that it is unlikely that interest rates have peaked just yet.
If I am right, then interest rates have not peaked for this cycle, nor has the USD.
And consequently – that means that stocks have not bottomed just yet.
Whether I am correct or not, only time will tell.
And feel free to disagree with me on this.
In any case, you can see the market starting to wake up to this new reality, that inflation may stay sticky.
Long term interest rates have started to creep back up, and market is now pricing in a peak of 5.25% – 5.5% on the Fed Funds Rate by mid 2023.
In fact Goldman Sachs is predicting Fed Funds Rates of 5.25% – 5.5% by June 2023 (exactly in line with the market). 
But I do think there is a risk the Feds are forced to go even higher, perhaps to 6% on FFR.
But let's see. 😉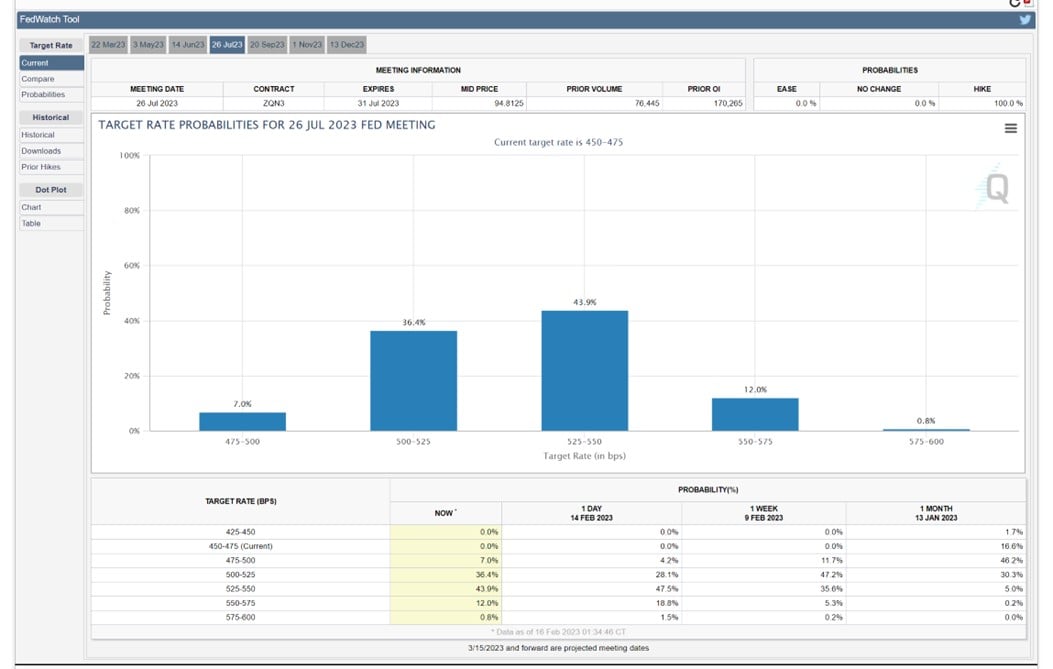 Trust Bank Account (Partnership between Standard Chartered and NTUC)
Sign up for a Trust Bank Account and get:
$35 NTUC voucher
1.5% base interest on your first $75,000 (up to 2.5%)
Whole bunch of freebies
 Fully SDIC insured as well.
It's worth it in my view, a lot of freebies for very little effort.
Full review here, or use Promo Code N0D61KGY when you sign up to get the vouchers!
WeBull Account – Free USD150 ($212) cash voucher
I did a review on WeBull and I really like this brokerage – Free US Stock, Options and ETF trading, in a very easy to use platform.
I use it for my own trades in fact.
They're running a promo now with a free USD 150 (S$212) cash voucher.
You just need to:
Sign up here and fund S$2000
Make 1 US Stock or ETF trade (you get USD100)
Make 1 Options trade (you get USD50)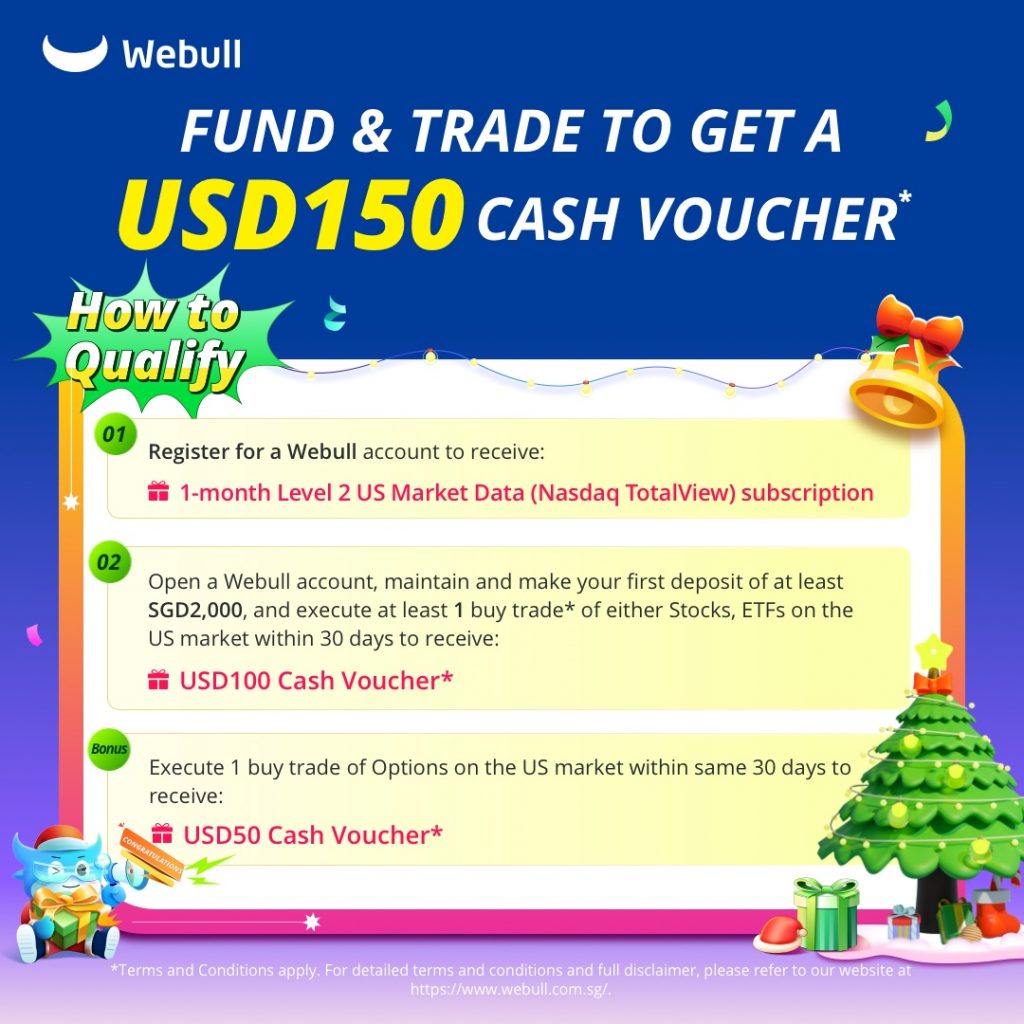 Looking for a low cost broker to buy US, China or Singapore stocks?
Get a free stock and commission free trading Webull.
Get a free stock and commission free trading with MooMoo.
Get a free stock and commission free trading with Tiger Brokers.
Special account opening bonus for Saxo Brokers too (drop email to [email protected] for full steps).
Or Interactive Brokers for competitive FX and commissions.
Do like and follow our Facebook and Instagram, or join the Telegram Channel. Never miss another post from Financial Horse!
Looking for a comprehensive guide to investing that covers stocks, REITs, bonds, CPF and asset allocation? Check out the FH Complete Guide to Investing.
Or if you're a more advanced investor, check out the REITs Investing Masterclass, which goes in-depth into REITs investing – everything from how much REITs to own, which economic conditions to buy REITs, how to pick REITs etc.
Want to learn everything there is to know about stocks? Check out our Stocks Masterclass – learn how to pick growth and dividend stocks, how to position size, when to buy stocks, how to use options to supercharge returns, and more!
All are THE best quality investment courses available to Singapore investors out there!