It might not have been an action-packed week for finance, but it sure was for Singapore politics (if you get what I mean😉).
Beneath all that drama, you might be forgiven for having missed the news that GXS Bank (the digital bank from Grab and Singtel) is now open to all new customers.
And the account in its current form is frankly very good, because you're getting:
3.48% interest
On up to $75,000 cash
No minimum balance or lockup period period
Fully SDIC insured (up to 75k)
There's no free lunch in this world, but this GXS bank account is probably the closest that it gets.
Sure, you don't know how long this 3.48% interest will last, but for as long as it lasts, it's definitely a very good deal.
Let's dive in.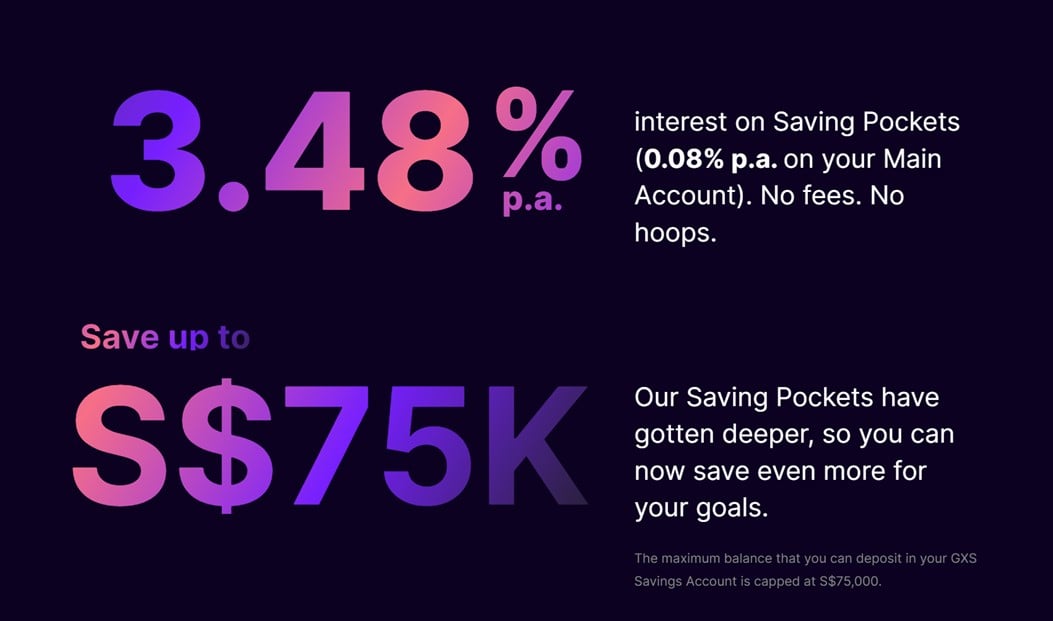 What is GXS Bank – Digital Bank backed by Grab and Singtel!
GXS is basically the digital bank backed by Grab and Singtel.
You may have remembered them as one of the recipients of the digital banking licensed issued by MAS (Sea was the other recipient).
Before this, the GXS bank account was only available to Grab and Singtel customers, with a $5,000 limit.
As of 19 July 2023, they've now opened up the account to the public generally – and increased the limits to $75,000.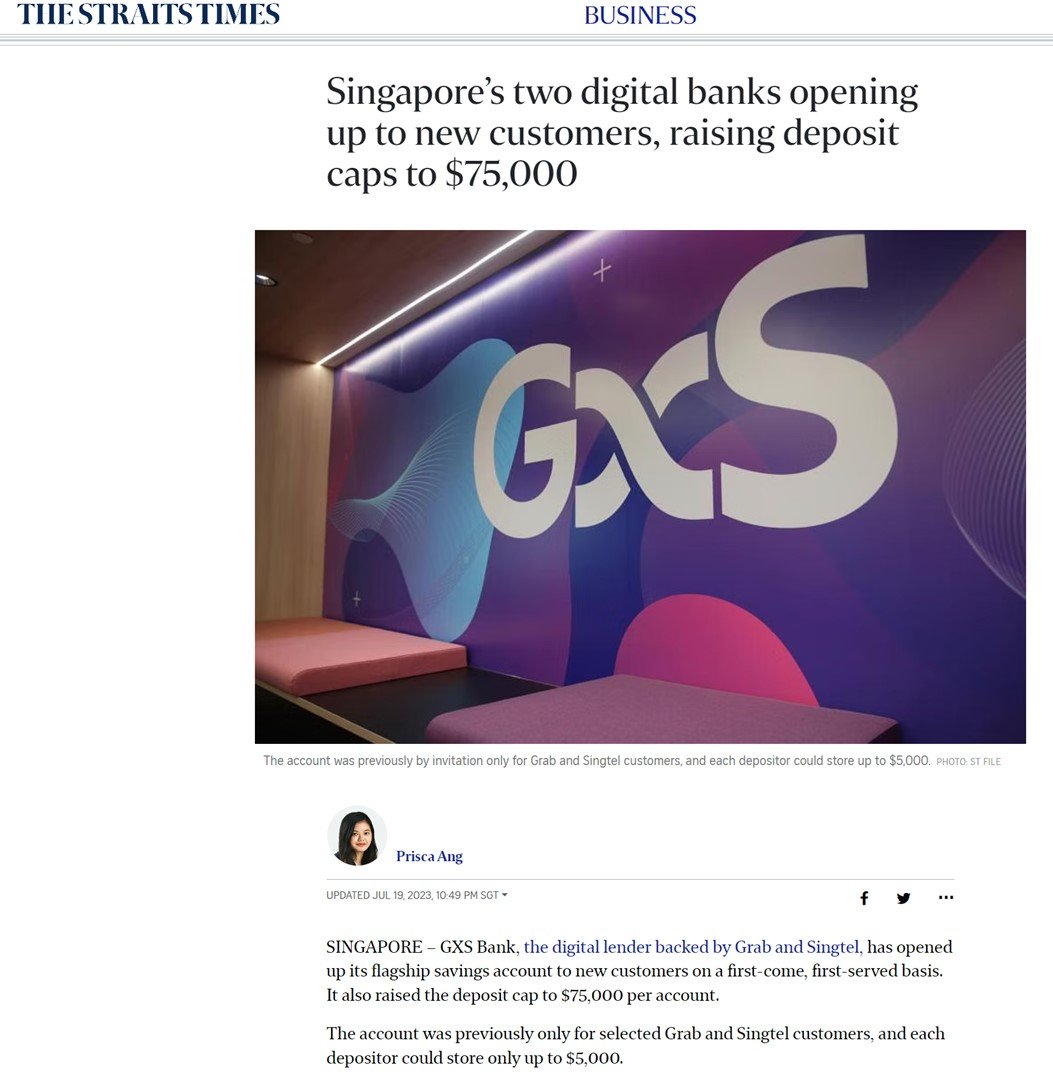 GXS Account pays up to 3.48% interest on $75,000
On to what we're all here for.
The interest.
GXS Account pays 3.48% interest, on up to $75,000 in cash.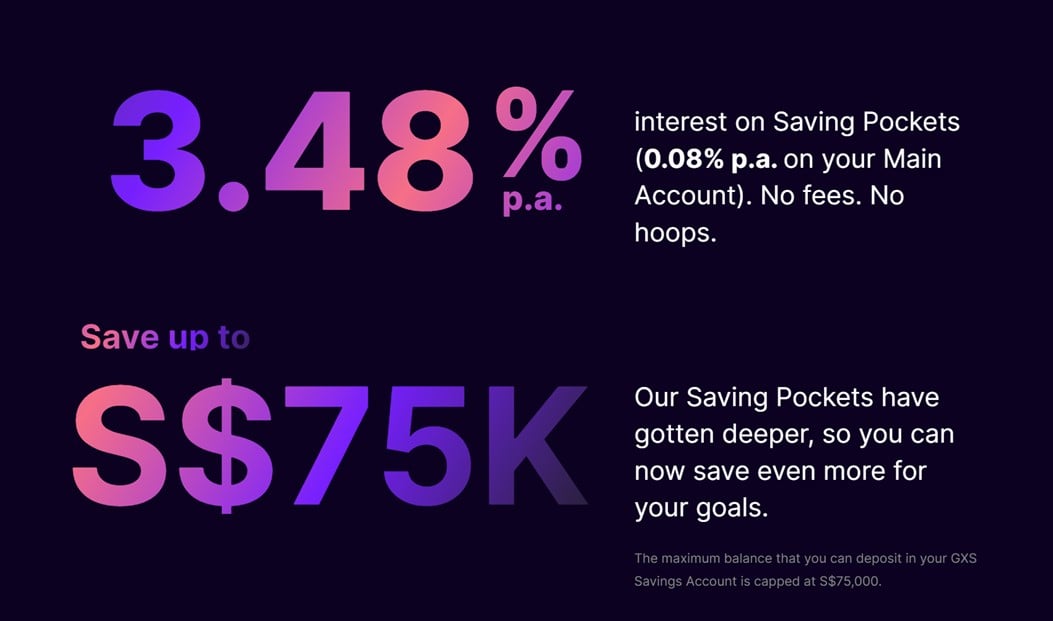 No minimum balance, no lockup period, no hoops to jump through for the 3.48%
The best part of that 3.48%?
There's absolutely no conditions attached to it.
There is:
No lock up period – can be transferred out any time.
No minimum balance – can be as low as $1.
No fancy hoops to jump through – no requirement to spend on a credit card or increase the balance every month or anything annoying like that.
You basically put money into the GXS account, and any money in the account earns 3.48%.
It's pretty unbelievable.

Do note that the higher 3.48% interest is only paid on a "Saving Pocket"
Okay technically speaking the interest is only paid on a "Saving Pocket".
So after you create your "Main Account" with GXS Bank, you then need to create a sub-"Saving Pocket" and transfer your money in there to earn the higher 3.48% interest.
Otherwise the money in the "Main Account" only earns 0.08%.
But having done it myself, I can confirm that the process to create this "Saving Pocket" is very straightforward and fuss free, and shouldn't take you more than 30 seconds or a minute tops.
And you can transfer the money out of the "Saving Pocket" any time.
You can see the screenshots below.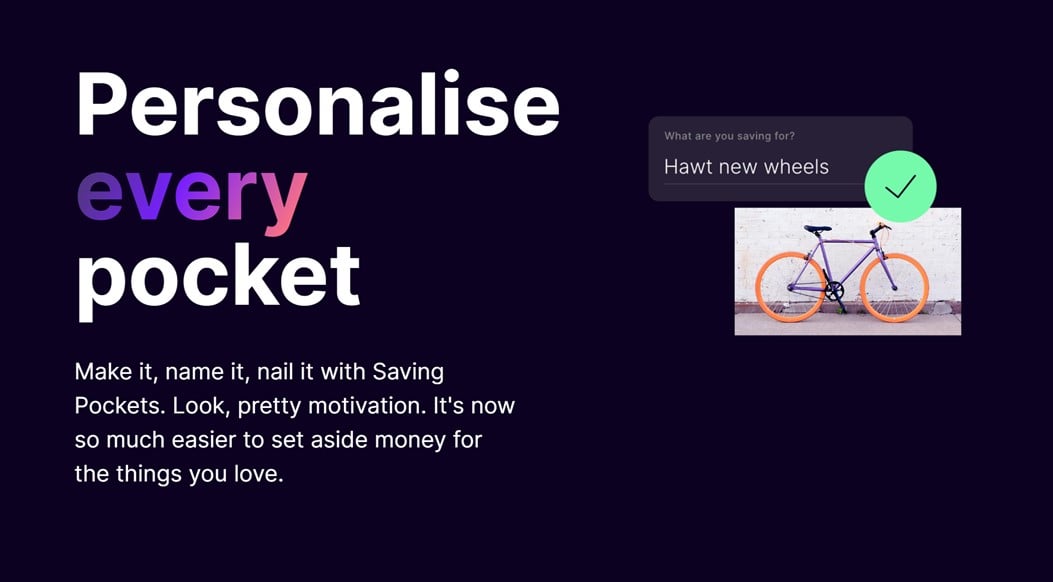 GXS Account is SDIC Insured
Is this risk-free you ask?
Per GXS's website:
Singapore dollar deposits of non-bank depositors are insured by the Singapore Deposit Insurance Corporation, for up to S$75,000 in aggregate per depositor per Scheme member by law. Foreign currency deposits, dual currency investments, structured deposits and other investment products are not insured.
List of insured deposits
‍The below Deposit account is eligible for deposit insurance coverage under the Deposit Insurance and Policy Owners' Protection Scheme Act (CAP 77B).
‍Savings Account
‍GXS Savings Account
So GXS Account is SDIC insured up to the $75,000 limit, and pretty much risk free.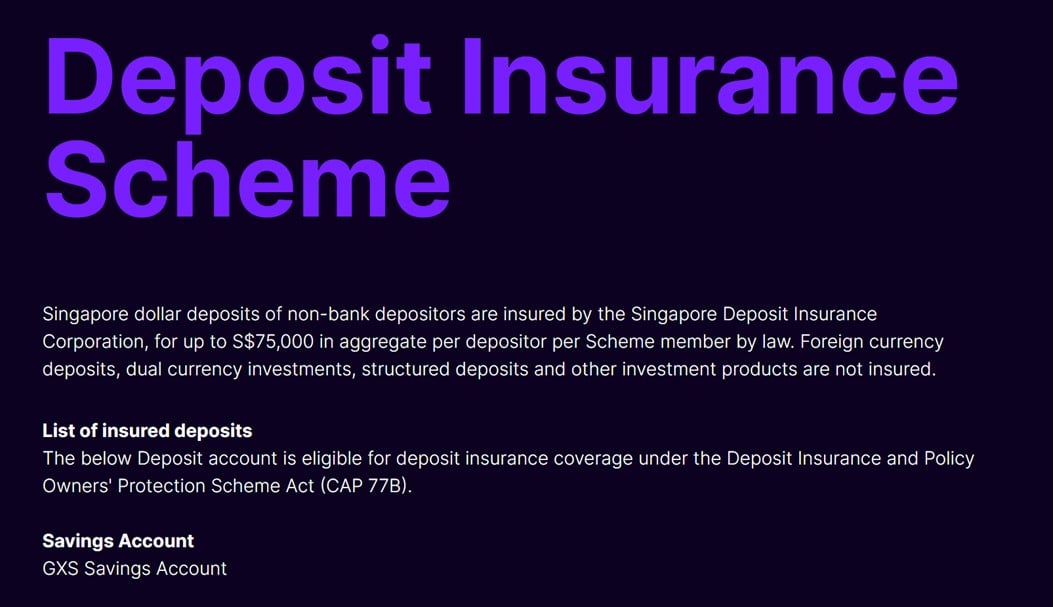 How long will interest rates stay at 3.48%?
Okay I know what you fellow Singaporeans are going to say.
"FH… where got so good one? Only a matter of time before they cut the interest lah!"
Okay fair enough.
In it's current form, I think the interest on the GXS account is unbelievably good, and I frankly don't know how long they will keep this up.
Can GXS Bank afford to keep paying 3.48% on cash balances?
A key difference with GXS Bank account is that there is no special account opening bonus or referral bonus.
If you recall with Trust Bank (NTUC x Standard Chartered digital bank), there was a very generous $35 NTUC voucher (and a free bag of rice) if you were a new customer.
And a $10 NTUC voucher to refer someone else in.
Whereas GXS Bank account has none of that.
So if you think about it, Grab x Singtel can save a lot of money on that account opening promotion and can use it to pay a higher interest rate on the savings account.
Although if you actually run the numbers.
Trust Bank pays 1.5% interest, while GXS Bank pays 3.48% interest.
That's a 1.98% interest rate differential, which on the max $75,000 works out to $1485 a year.
So yeah… that higher interest rate might be a lot more expensive than some vouchers and free rice.
Is the 3.48% interest sustainable for GXS Bank?
Although that said if GXS Bank just takes all the money and parks it with a low risk money market fund like Fullerton SGD Cash Fund, they're probably looking at about 3.5%-ish interest rates.
Fullerton SGD Cash Fund won't give them instant liquidity though, so they probably have to work out some kind of bridging loan.
So who knows, maybe it's sustainable after all, if the Feds don't cut interest rates.
Long story short – you're getting 3.48% today, but how long it stays here is frankly anyone's guess.
How does GXS Bank Account compare to other risk-free options?
If you compare with other risk-free options available on the market, GXS Bank Account is still pretty attractive.
BTW – we share commentary on Singapore Investments every week, so do join our Telegram Channel (or Telegram Group), Facebook and Instagram to stay up to date!

I also share great tips on Twitter.
Don't forget to sign up for our free weekly newsletter too!
T-Bills yield 3.85% vs GXS Bank
T-Bills definitely yield a higher interest, but the drawback is that your cash is locked up for the 6 months duration.
With the recent drop in T-Bills yields to 3.85%, that's actually only a 0.37% differential.
So with GXS Account it's just a 0.37% lower yield, but you can get your money back any time.
That's a pretty good deal frankly.
Best Fixed Deposit Rates vs GXS Bank
The best fixed deposit rate available right now is 3.90% for 12 months with Maybank.
The catch is that you need to deposit $1,000 into a Maybank account for every $10,000 you place into fixed deposit.
So the effective yield will depend on how much interest you can get on the other cash you're depositing.
If it yields zero on a savings account, then the effective yield is 3.55% which is only slightly higher than GXS Account.
But don't forget this is a fixed deposit with a minimum 12 month lock-up period.
With minimum amount of $20,000.
Whereas GXS Bank has no lockup, no minimum balance, and no hoops to jump through.
Singapore Savings Bonds yield 2.97%
Latest Singapore Savings Bonds yield 2.97% all the way up to 7 years.
I guess the benefit with Singapore Savings Bonds is that you're locking in interest rates up to 10 years, whereas GXS Bank can technically cut their interest rates any time.
But with GXS Bank you get a higher interest rate for now, and the liquidity is instant (vs Singapore Savings Bonds where you only get the money back the next month).

CIMB Fast Saver is probably the closest alternative
The best alternative to GXS Account is probably CIMB Fast Saver, which pays 3.50%.
There are some catches though, in that:
Minimum $1000
Must be a new customer, and open an account by 31 July
Must maintain or increase your month-end balance to get the higher interest
Promotion rates end on 31 December 2023
This is with CIMB too, and my previous experience with CIMB has been that the account opening does take some time, and the internet banking app isn't as smooth as some of the alternatives out there.
So between the two I personally would go with GXS simply because of less conditions.
But I leave it for each investor to decide for themselves.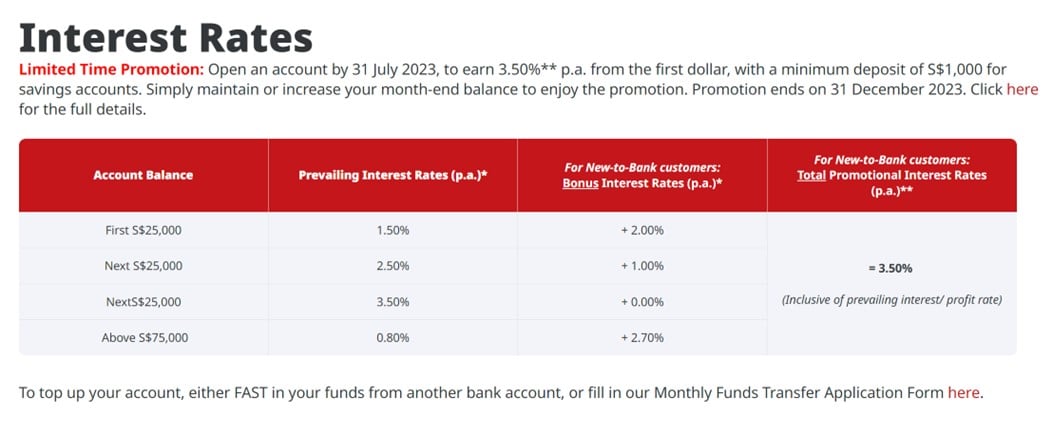 So… is GXS Bank Account worth it?
So yield wise GXS Bank Account is not the best option out there.
But when you factor in the instant liquidity, and the fact that there is no minimum balance / lock up / hoops to jump through, it just becomes a very good option to park cash.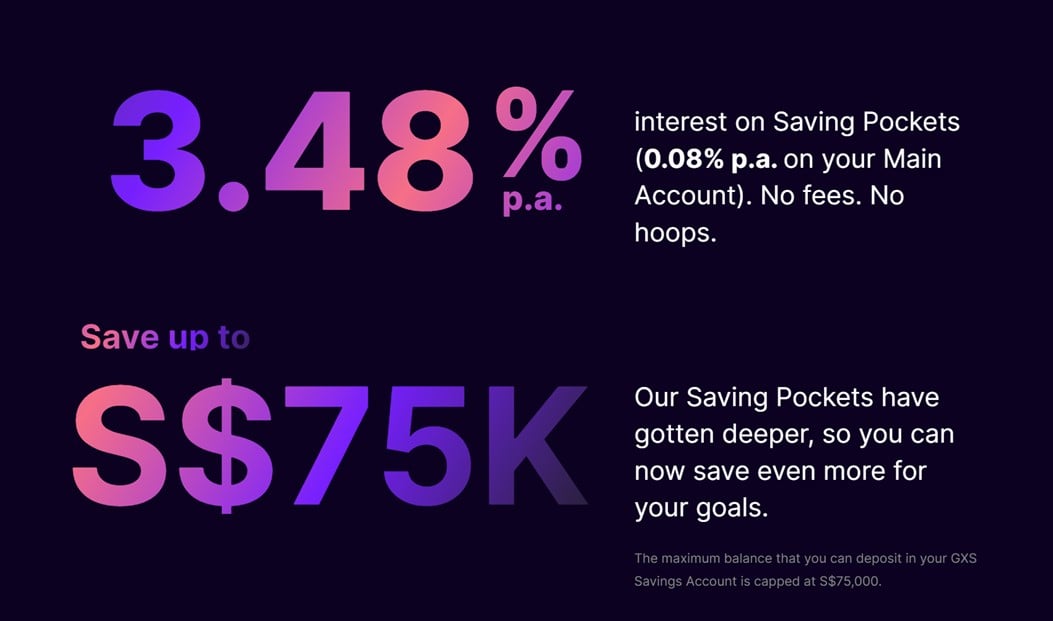 My Personal Experience with GXS Bank Account – Opening the bank account + UI
Just to share a bit of my personal experience with the GXS Bank Account.
Account opening is via Singpass, and they'll ask you to provide some additional information beyond that as well (for eg. Employer, source of funds etc).
But the whole process is very quick and efficient, took me no more than 2-3 minutes to set up.
The User Interface is very dark and techy, not really my kind of style (I'm getting too old for this).
But hey – to give credit where credit is due, the UI is very easy to use and very intuitive, and I had absolutely no problem figuring out where everything is.
This is a full fledged bank account, so you can use it to transfer money, receive funds, you can even link it to your Paynow.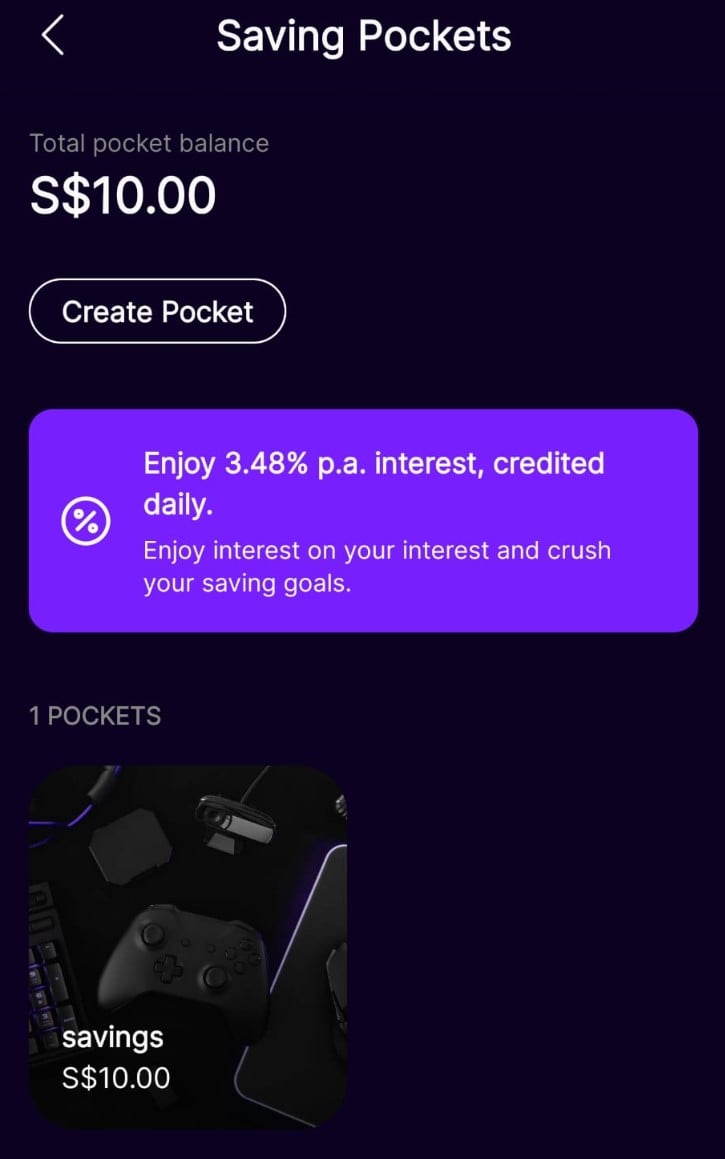 Transfer Limits
Some of the earlier users with GXS Bank account had a problem with the transfer limits which were capped at $15,000.
Based on my latest testing I can confirm that this limitation is no longer in place.
You can set any daily transfer limit you want by manually keying it in.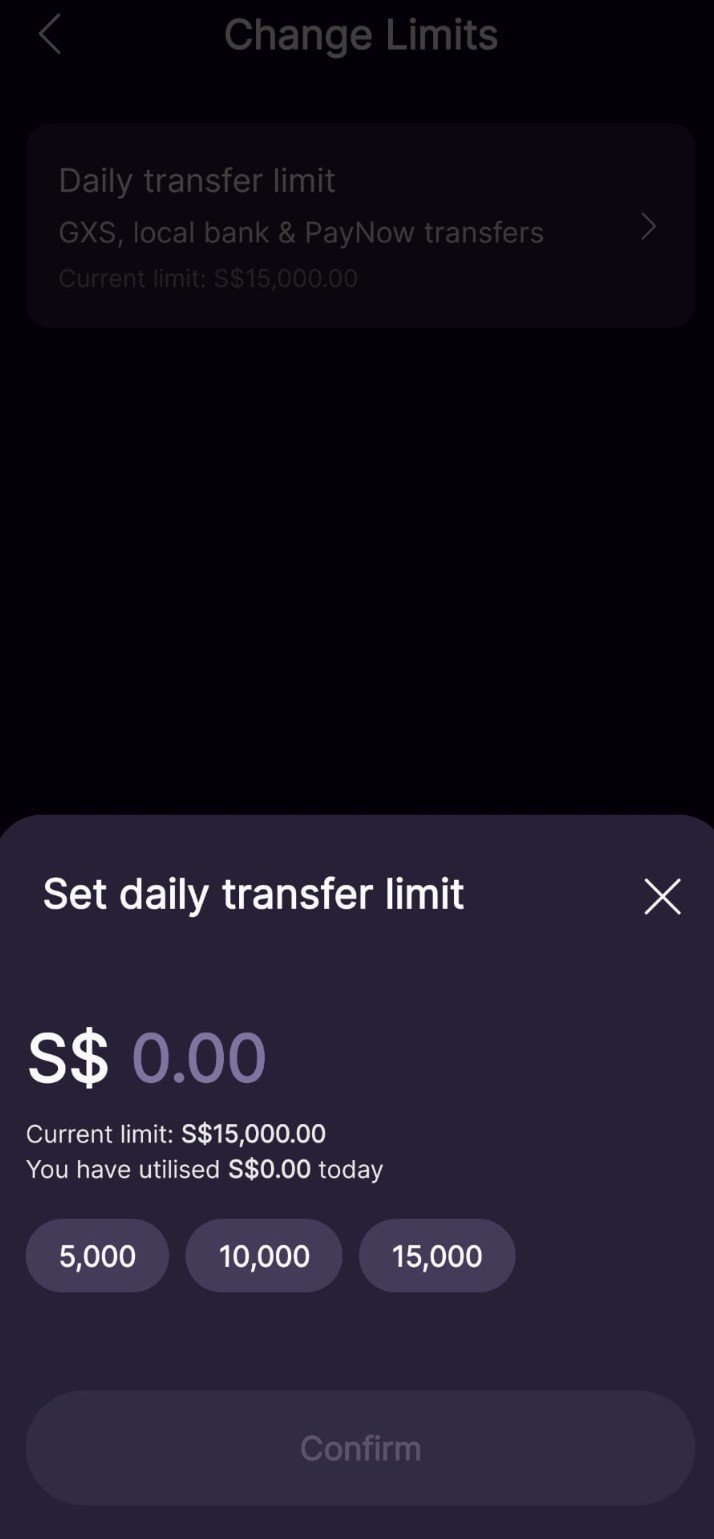 My personal view on GXS Bank?
As shared above, there are no referral codes for GXS Bank, so I'm not getting paid anything to share this with you.
Nor am I getting paid anything by Grab or Singtel to write this.
I'm writing this genuinely because I think as of today, this is one of the best places to be parking liquid cash for a Singapore investor.
SDIC insured up to $75,000, and 3.48% interest with no hoops to jump through and instant liquidity.
Yes please.
Only catch is that at some point they are probably going to either lower the interest or make it harder to earn the interest.
But hey, a bird in hand is worth two in the bush and all.
Just enjoy it while it lasts.
Download link is via the GXS Bank website, or you can just download "GXS Bank" off Google Play or the App Store.
This article was written on 21 July 2023 and will not be updated going forward. For my latest up to date views on markets, my personal REIT and Stock Watchlist, and my personal portfolio positioning, do sign up as a Patreon.
WeBull Account – Get up to USD 800 worth of shares (expires 31 July)
I did a review on WeBull and I really like this brokerage – Free US Stock, Options and ETF trading, in a very easy to use platform.
I use it for my own trades in fact.
They're running a promo now with up to USD 500 free fractional shares.
You just need to:
Sign up here and fund $300 SGD
Execute 1 buy trade within 30 days of funding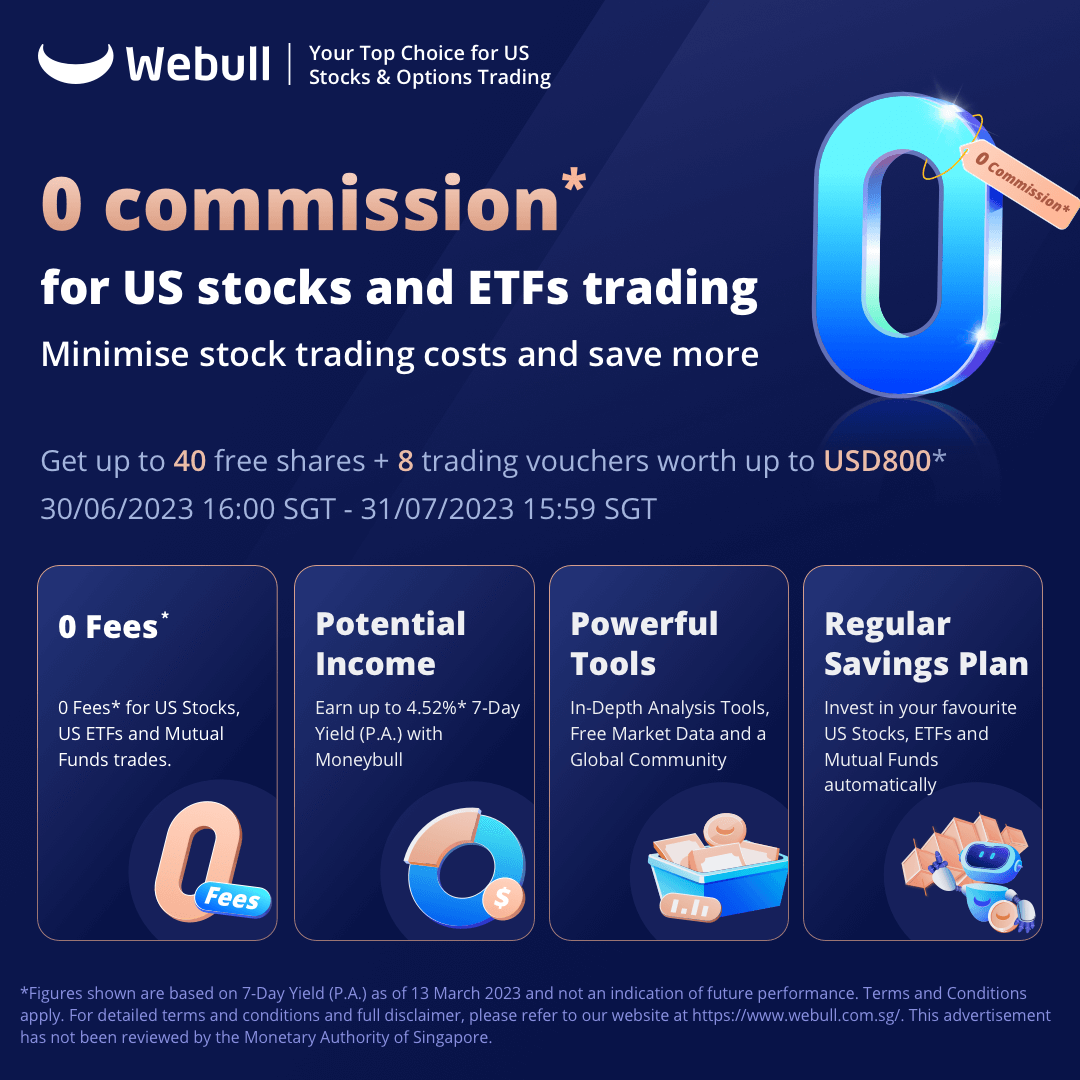 Trust Bank Account (Partnership between Standard Chartered and NTUC)
Sign up for a Trust Bank Account and get:
$35 NTUC voucher
1.5% base interest on your first $75,000 (up to 2.5%)
Whole bunch of freebies
Fully SDIC insured as well.
It's worth it in my view, a lot of freebies for very little effort.
Full review here, or use Promo Code N0D61KGY when you sign up to get the vouchers!
Portfolio tracker to track your Singapore dividend stocks?
I use StocksCafe to track my portfolio and dividend stocks. Check out my full review on StocksCafe.
Low cost broker to buy US, China or Singapore stocks?
Get a free stock and commission free trading Webull.
Get a free stock and commission free trading with MooMoo.
Get a free stock and commission free trading with Tiger Brokers.
Special account opening bonus for Saxo Brokers too (drop email to [email protected] for full steps).
Or Interactive Brokers for competitive FX and commissions.
Check out my personal recommendations for a reading list here.