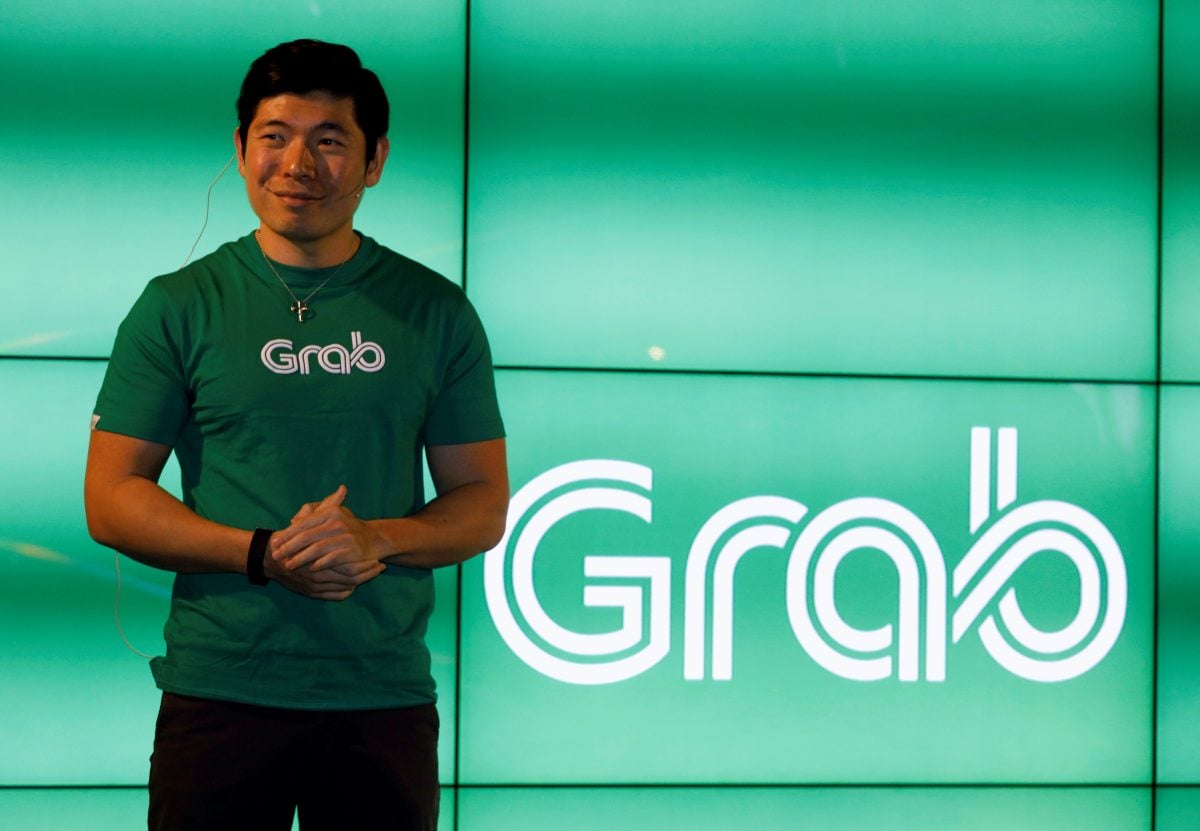 As many of you would have heard by now, Grab has announced that they will be laying off 1,000 employees, or 11% of their workforce.
My heart goes out to all the employees affected.
Background on the layoffs at Grab
As you recall, in 2022 when other tech companies like SEA (Shopee) were laying off staff, Grab issued a statement that they don't envisage "Mass Layoffs".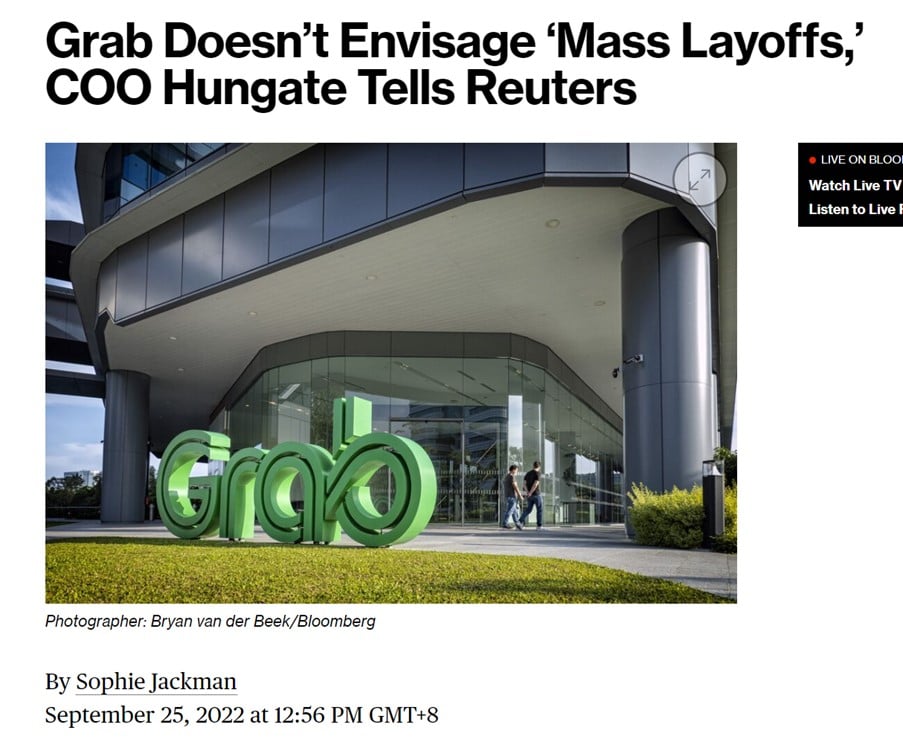 The fact that had to change their mind 9 months or so later does go to show that commercial realities have changed – that slowing growth and higher financing costs have caught up with them.
To put it in perspective though, Grab hired over 3,000 employees in 2022.
So even after this round of 1,000 job cuts they are still bigger than where they were in 2021.
What was the market reaction to Grab's share price?
Share price reaction was interesting.
It was up 5% pre-market, but throughout the course of the trading day it traded down – and eventually closed down 1%.
Yesterday was a weak day for the US market in general, so whether this move was due to market digesting the news and being unsatisfied, or whether it's due to the general market sentiment is not clear.
If you recall after SEA (Shopee) announced layoffs last year the market liked it and bid the share price up for quite a few months on the profitability push, but it has since come back down again. 
Whether a similar move may play out with Grab remains to be seen.
BTW – we share commentary on Singapore Investments every week, so do join our Telegram Channel (or Telegram Group), Facebook and Instagram to stay up to date!

I also share great tips on Twitter.
Don't forget to sign up for our free weekly newsletter too!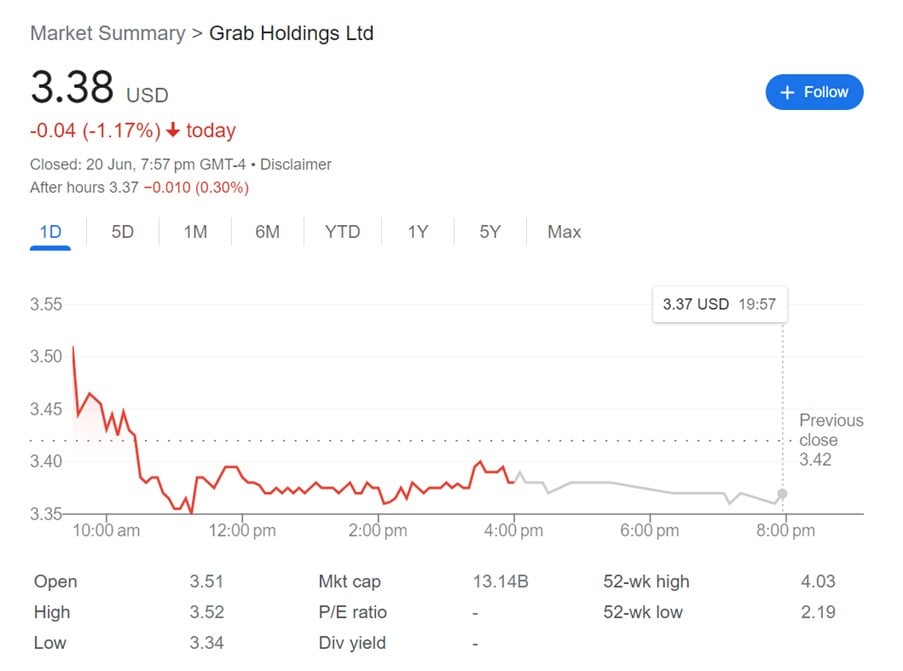 Email from CEO Anthony Tan to his employees
Here's an extract of the email from CEO Anthony Tan to his employees.
The below is an extract from an email that Anthony Tan, Grab CEO, sent to all Grabbers.
Dear Grabbers,
I have difficult news to share today. We are letting over 1,000 Grabbers go.
We are informing you after office hours for as many of our locations as possible, so you have the space and time to process the news privately.
I know that a decision like this is a difficult one, and I want to be accountable and explain why and how we got here.
The need to be fit for the future
I want to be clear that we are not doing this as a shortcut to profitability. Over the past couple of years we've been consistent in managing costs tightly in all areas of our operations and on improving platform efficiency. As a result, our bottom line has improved every quarter since Q1 2022. With or without this exercise, we're on track to hit Group Adjusted EBITDA breakeven this year.
While important, our profitability milestone is only a step in a longer journey. Our focus is on what comes after.
We must adapt to the environment in which we operate. Change has never been this fast. Technology such as Generative AI is evolving at breakneck speed. The cost of capital has gone up, directly impacting the competitive landscape.
Today, thanks to each of you, we have grown to a sizable scale and are well-positioned to seize substantial new growth opportunities. To most effectively leverage these opportunities, we must combine our scale with nimble execution and cost leadership, so that we can sustainably offer even more affordable services and deepen our penetration of the masses, and also serve our driver- and merchant-partners better.
This is why we had streamlined some focus areas in the past year. Now, we believe fundamental step-changes in our operating model and cost structure are needed to build our competitive moat for the longer-term. The primary goal of this exercise is to strategically reorganise ourselves, so that we can move faster, work smarter, and rebalance our resources across our portfolio in line with our longer term strategies.
Restructuring thus emerged as a painful but necessary step, to set Grab on the correct trajectory towards our longer-term future.
Support for impacted Grabbers
I know that none of this context will diminish the emotions you feel upon receiving this news.
We have tried our best to cushion the impact this will have on Grabbers who are leaving us, by providing financial, professional and medical support that includes:
Severance payment of half a month for every 6 months of completed service, or based on local statutory guidelines, whichever is higher.
Goodwill payment of an ex-gratia amount determined by Grab for forgone target bonus and equity;
Encashment of unused accrued annual leave and unused GrabFlex credits;
Extended medical insurance coverage until the end of this year, where possible, subject to local insurance terms;
Maternity and paternity leave encashment for female Grabbers who are expecting and male Grabbers whose wife is expecting, as of the last date of employment.
Completion bonus for those who are required to provide transition support;
Career transition and development support in the form of free 1-year access to LinkedIn Premium subscription and LinkedIn Learning, and access to sessions with a professional coach;
Well-being support via the Grabber Assistance Programme until the end of this year;
Repatriation support (for Grabbers on work passes); and
Option to keep Grabber's pre-assigned laptop.
How do we move forward?
We recognise that change can be incredibly challenging, and the decisions made have been weighed with great care and consideration with all our leaders. Our priority is to support impacted Grabbers throughout this transition, and as per above, we are committed to providing resources and assistance to help ease the process.
While I know this is what we must do, that knowledge hasn't removed the sadness from having to do it.
To those who are leaving, we thank you so much for sharing your time and talent with us, and for all the impact you've made towards our mission. We will always be grateful for your contributions, and cherish the memories we've forged together as teammates.
With deepest sincerity,
Anthony
WeBull Account – Get up to USD 500 worth of fractional shares (expires 30 June)
I did a review on WeBull and I really like this brokerage – Free US Stock, Options and ETF trading, in a very easy to use platform.
I use it for my own trades in fact.
They're running a promo now with up to USD 500 free fractional shares.
You just need to:
Sign up here and fund $100 SGD
Maintain for 30 days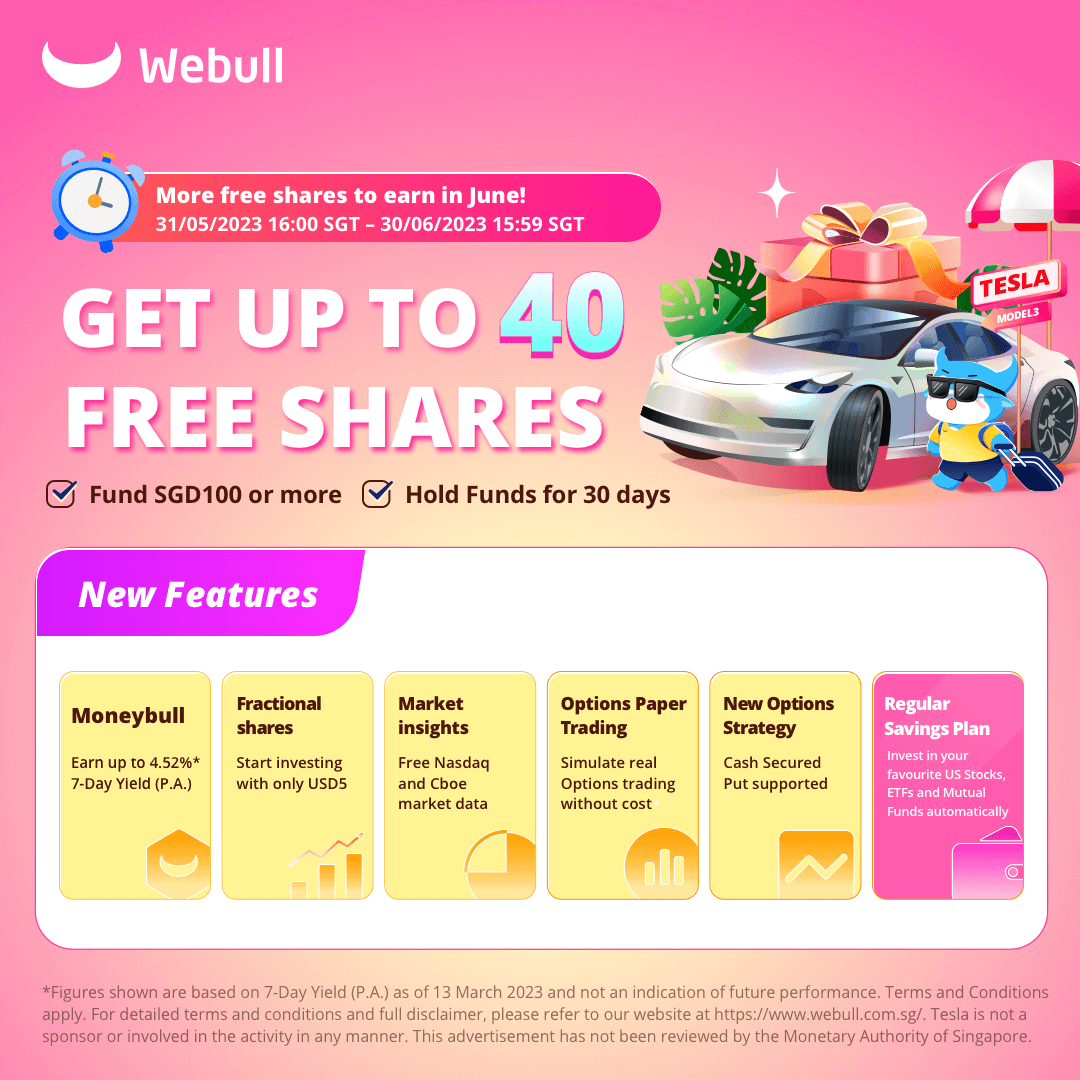 Trust Bank Account (Partnership between Standard Chartered and NTUC)
Sign up for a Trust Bank Account and get:
$35 NTUC voucher
1.5% base interest on your first $75,000 (up to 2.5%)
Whole bunch of freebies
 Fully SDIC insured as well.
It's worth it in my view, a lot of freebies for very little effort.
Full review here, or use Promo Code N0D61KGY when you sign up to get the vouchers!
Portfolio tracker to track your Singapore dividend stocks?
I use StocksCafe to track my portfolio and dividend stocks. Check out my full review on StocksCafe.
Low cost broker to buy US, China or Singapore stocks?
Get a free stock and commission free trading Webull.
Get a free stock and commission free trading with MooMoo.
Get a free stock and commission free trading with Tiger Brokers.
Special account opening bonus for Saxo Brokers too (drop email to [email protected] for full steps).
Or Interactive Brokers for competitive FX and commissions.