As you may have noticed, there was a huge jump in REIT prices this week.
Many of you have reached out to ask whether REIT prices have bottomed, and whether we have "missed the boat".
I also received this question from Patreon (now FH Premium):
Hi FH,
I recently became a FH Premium member and totally like the content that you are putting out.
I have a question regarding REITS.
I entered at very high levels.
Below is my investment.
Digital Core (DCRU)@ 1.12
Parkwaylife REIT (C2PU) @ 4.95
Lendlease REIT (JYEU) @0.85
Mapletree Log tr (M44U) @1.83
I am confused whether to buy more and average as REITS are available at attractive prices/ should I opt for scrip dividend payment (dividend paid in shares)?
Also, what is your general opinion about scrip dividend scheme in terms of REITS?
So I figured let's kill two birds with one stone.
Have REIT prices bottomed for this interest rate cycle (2023/2024)?
And would I buy or sell REITs today?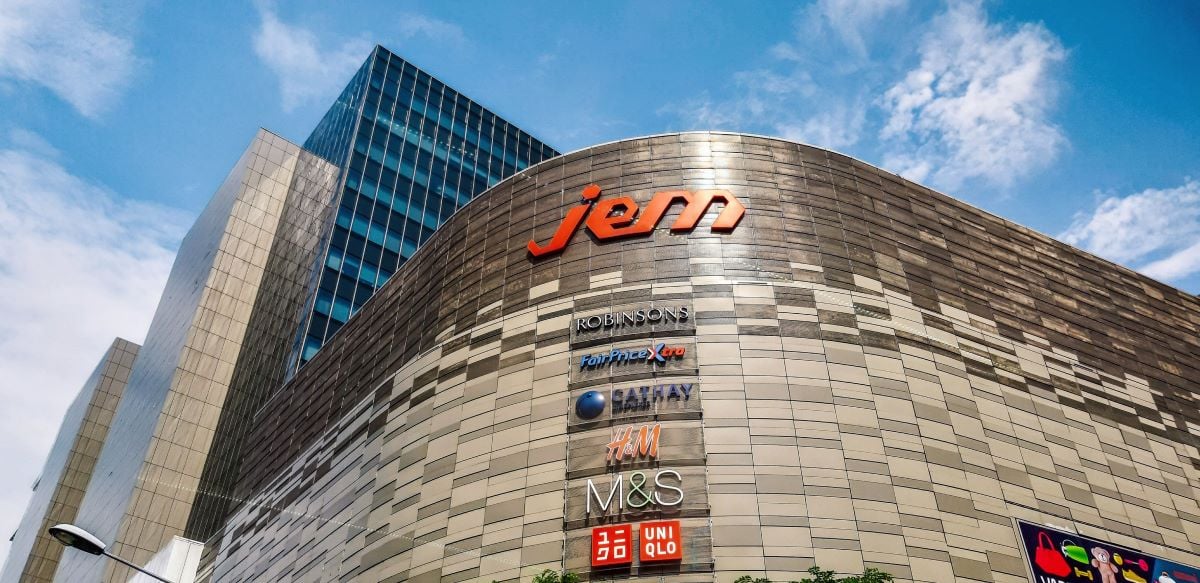 Why did REIT prices rally across the board this week?
As many of you noticed, REIT prices rallied across the board this week.
Lendlease from as low as 0.49, has recovered to 0.58.
MPACT up 6% on Wed alone.
Smaller caps like ESR-LOGOS up 9% on Wed.
Why did this happen?
Why did REIT prices drop the past 12 months?
Let's take a step back.
As recent as 2021, the Feds were at 0% interest rates, and buying $120 billion in US Treasuries a month.
This inflated a massive asset bubble, and resulted in double digit inflation.
So in 2022 the Feds slammed on the brakes.
They hiked interest rates from 0% to 5.5% today in the fastest rate hike cycle in 40 years:
As we all know – there is nothing that strikes terror into the heart of a real estate investor quite like "rapidly rising interest rates".
This is Lendlease REIT, but frankly you can pull up the chart of any REIT and it paints a similar story.
REIT prices have been on a downtrend since early 2022 – followed by a big jump the past few weeks.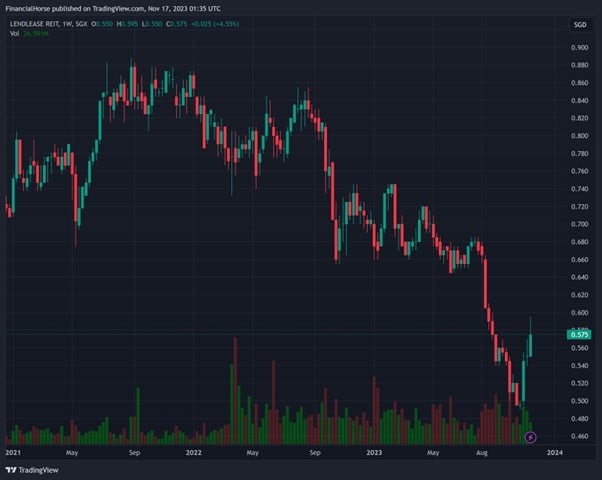 Why did REIT prices rally recently?
So why did REIT prices rally recently?
2 factors:
Sharp drop in long term interest rates (due to Treasury Refinancing)
Lower short term interest rates (due to expectations of interest rate cuts in 2024)
Sharp drop in long term interest rates (due to Treasury Refinancing)
This was partly due to the reduced supply of long term debt from the US Treasury (which I discuss further on FH Premium).
But the net effect is that US 10 year interest rates have plunged from 5.0% to 4.4% today.
While the SG 10 year yield has dropped from 3.45% to 2.9%.
For REITs, this drop in long term interest rates was a huge reprieve – as long term interest rates are a crucial determinant of real estate prices.
Lower short term interest rates (due to expectations of interest rate cuts in 2024)
The big news this week was the soft US CPI print.
Notably, US core CPI came in at 0.2% month on month, down from the 0.3% estimate.
The thinking is that the Feds are hiking interest rates to combat inflation.
So if inflation is coming down, then interest rates cuts will follow no?
This fuelled speculation that the Feds are done with their rate hike cycle, and what will follow in 2024 is interest rate cuts.
Market is now pricing in rate cuts as early as Jan 2024:
This has led to a sharp drop in US 2 year interest rates.
From as high as 5.2% a few weeks back, to 4.8% today.
So long term interest rates are going down, short term interest rates are going down, all while the economy is holding strong.
Boy… it's like Christmas come early for a REITs investor.
What happens next for REITs?
But all that is in the past now.
What happens next for REITs?
From a macro perspective, there are 2 big factors driving REIT prices the next 12 – 24 months:
Interest Rates
Recession (or not)
Interest rates
I am inclined to agree with the market that we are at (or close to) peak interest rates here.
I may disagree with the exact timing on interest rates cuts, and the exact magnitude of cuts.
But big picture wise, I agree that the next big move from the Feds is likely to be interest rate cuts in 2024.
Sidenote that as of Nov 2023, the Feds have been on "pause" for about 5 months.
And history tells us that the Feds usually "pause" for 6 – 12 months before starting to cut.
So timing wise it does seem to point towards 2024 interest rate cuts.
All this is bullish for REITs (from an interest rates perspective).
Recession (or not)
I know everyone is sick of the impending "recession" by now.
But macro is slow.
Just when everyone is sick of the "recession", that is when the risks are the highest.
And if you look at latest US data, it paints a picture of:
Climbing credit card / auto loan delinquency for the weakest consumers
Rising unemployment (albeit slowly)
More cautious guidance from companies on the strength of the consumer moving forward
Historically speaking, the 3s10s yield curve is the best indicator (timing wise) for a US recession.
And a recession usually hits about 6 – 12 months after the resteepening of the yield curve.
The 3s10s resteepened in mid 2023, which again places the danger zone in 1H 2024 (note how this aligns with the expectation of rate cuts above).
If we get a recession, the question is how deep it will be.
And what is the impact on real estate prices, and rental yields.
All not easy questions – to depend very much on policy makers reaction.
Which don't forget, 2024 is a US election year, all while 2 hot wars are ongoing.
So while interest rates may be at / close to a peak, this question about recession in 2024 is a big question mark.
But FH… this is US data
Now I myself can think of a million reasons why the above may not be accurate for Singapore.
You can argue that historical data is no longer accurate because:
COVID + US-China decoupling is an an unprecedented gamechanger that distorts all the data
High Inflation means that data from the past 40 years is not reliable
You may also argue that this applies to the US economy only (although I would ask you if the US economy goes into a recession, can Singapore really be immune at a time when China is also slowing?)
But whatever the case, I do not deny that the data is not conclusive.
The traditional metrics above are telling us that the Fed is done with rate hikes and will cut in 2024.
It is also telling us that there is a decent chance of a US recession in 2024.
But of course, none of this is set in stone, because if the Feds decide to slash rates quickly, or Biden pumps another trillion of fiscal spending into the economy, we could well avoid a recession.
BTW – we share commentary on Singapore Investments every week, so do join our Telegram Channel (or Telegram Group), Facebook and Instagram to stay up to date!
I also share great tips on Twitter.
Don't forget to sign up for our free weekly newsletter too!
So… Have REITs bottomed for 2023/2024
So have REITs bottomed?
The simple answer, is I don't know, nor do I place a great deal of importance on this question.
Trying to catch the exact bottom is in my view, a fool's errand.
Investing is about probabilities and risk-reward.
You buy when the probabilities are in your favour, you buy when you stand to make more when you are right, than you lose when you are wrong.
Throughout the course of this year, I've been saying that REITs at the right price are interesting to me because we are close to the peak in interest rates, and so I have been buying.
But what I don't know is whether we get a 2024 recession, or how deep the recession will be if we get one.
So I am not "all-in" REITs by any means, and I am saving healthy levels of cash to capitalise on what is to come in the next 12 – 24 months.
Whether it is banks, oil or REITs that will be a good buy in 2024 I have no clue (as it will depend on how policy makers react), but that is the optionality cash gives me.
What about on a micro level for REITs? Supply Demand dynamics?
A massive caveat that the above is a high level discussion for REITs generally.
When you buy REITs, you also cannot ignore the micro level factors.
Real estate is a local business, so you must also understand the (a) supply-demand dynamics in the country and city, and (b) how desirable the property is.
I'll talk about the 3 big real estate markets below.
Singapore Real Estate
The supply-demand situation in Singapore is the most balanced of the 3 regions.
Because of that I have been the most bullish on Singapore real estate, and its ability to weather the coming storm.
And in the SGD you have a stable, well managed currency, that should probably hold its value.
Of course, if the US economy goes into a recession, while China slows, I don't expect Singapore to be immune as well.
Hence the healthy cash levels, for what comes next in 2024.
US Real Estate
US Real Estate market is absolutely massive, and will differ across cities and asset classes.
Some areas like US office are particularly bad due to demand-supply mismatch (work from home trends).
Way too much supply relative to demand.
For now, owners and lenders are still holding on in the hopes that things will turn around.
But going forward that may start to change, and that is when you get true price discovery.
As a general note, I think US real estate needs to go through a default cycle before things start getting better.
So it may be too early to buy US real estate in size.
China or Hong Kong Real Estate
China is going through a structural deleveraging.
Their economy today is too reliant on real estate.
They are trying to transition towards more reliance on domestic consumption, and new economy sectors (green energy, electric vehicles, AI etc).
This transition takes time to work out, years at least.
So China's economy (and real estate) may stay weak for a few years while they work through this process.
So for both US and China real estate, one can afford to be more patient.
Coming back to answer the FH Premium reader's question
Now this has been a monster of an article, and you may point out that I still haven't answered the FH Premium reader's question.
But I felt it was important to first share the framework that I am using to approach REITs.
Once you understand the framework, the answers will fall into place naturally.
FH Premium Reader is still underwater on the REITs
Even after the recent rally.
The FH Premium reader is still well underwater on the REITs that he bought:
Digital Core (DCRU)@ 1.12 – 0.58 today
Parkwaylife REIT (C2PU) @ 4.95 – 3.57 today
Lendlease REIT (JYEU) @0.85 – 0.58
Mapletree Log tr (M44U) @1.83 – 1.58
Which just goes to show you how important it is to buy real estate at the right valuations.
If you buy a great property at an expensive price, you can still lose money in the short term.
There are no easy answers to this question, as it will depend on how much he put into REITs vs how much cash he has on the sidelines.
His risk appetite, his intended holding period, and so on.
Would I buy or sell REITs?
If it were me?
I would have sold the smaller cap REITs like Digital Core earlier in the Fed rate hike cycle (which I did – I sold Digital Core REIT at $1.1+).
But no doubt that ship has sailed.
Today?
I would probably average in opportunistically into the blue chip REITs with primarily Singapore real estate (note that the buy in price is crucial).
But I wouldn't go all in just yet, as I don't know if a recession will come in 2024.
I would buy opportunistically here, while saving comfortable cash allocations for whatever happens next in 2024.
What is comfortable?
That will vary for each investor.
A "comfortable" cash level for a 25 year old with a life of earnings ahead of him, and a 60 year old retiring next year, is just completely differently.
But you can see the REITs I am interested in, as well as how my portfolio is positioned, on FH Premium.
I will be updating the REIT & Stock watchlist this weekend on REITs that I am keen to buy, and approximate target pricing.
Scrip Dividend / Distribution Reinvestment Plan – Worth taking up for REITs?
Generally speaking I usually skip the scrip dividend (and opt for cash) unless the price of the units are significantly below market price.
I usually just take the cash, and decide what I want to do with it (whether to buy more of that REIT, or perhaps another REIT that is more attractive at that point in time).
The exception is for long term investors who want to compound their position in the REIT, without having to manually buy.
In such cases it may make sense to take the scrip.
Patreon is now FH Premium!
I will be updating the REIT & Stock watchlist this weekend on REITs that I am keen to buy, and approximate target pricing.
Sign up for FH Premium and get exclusive access to weekly macro / stock commentary, my personal Stock & REIT watchlist, and my personal portfolio.
Both monthly and yearly subscriptions available!
WeBull Account – Get up to USD 5000 worth of shares (Best promo of 2023)
I did a review on WeBull and I really like this brokerage – Free US Stock, Options and ETF trading, in a very easy to use platform.
I use it for my own trades in fact.
They're running a promo now (Best Promo of 2023)
You can get up to USD 5000 free shares.
You just need to:
Fund any amount (get 5 free shares)
Hold for 30 days (get 5 free shares)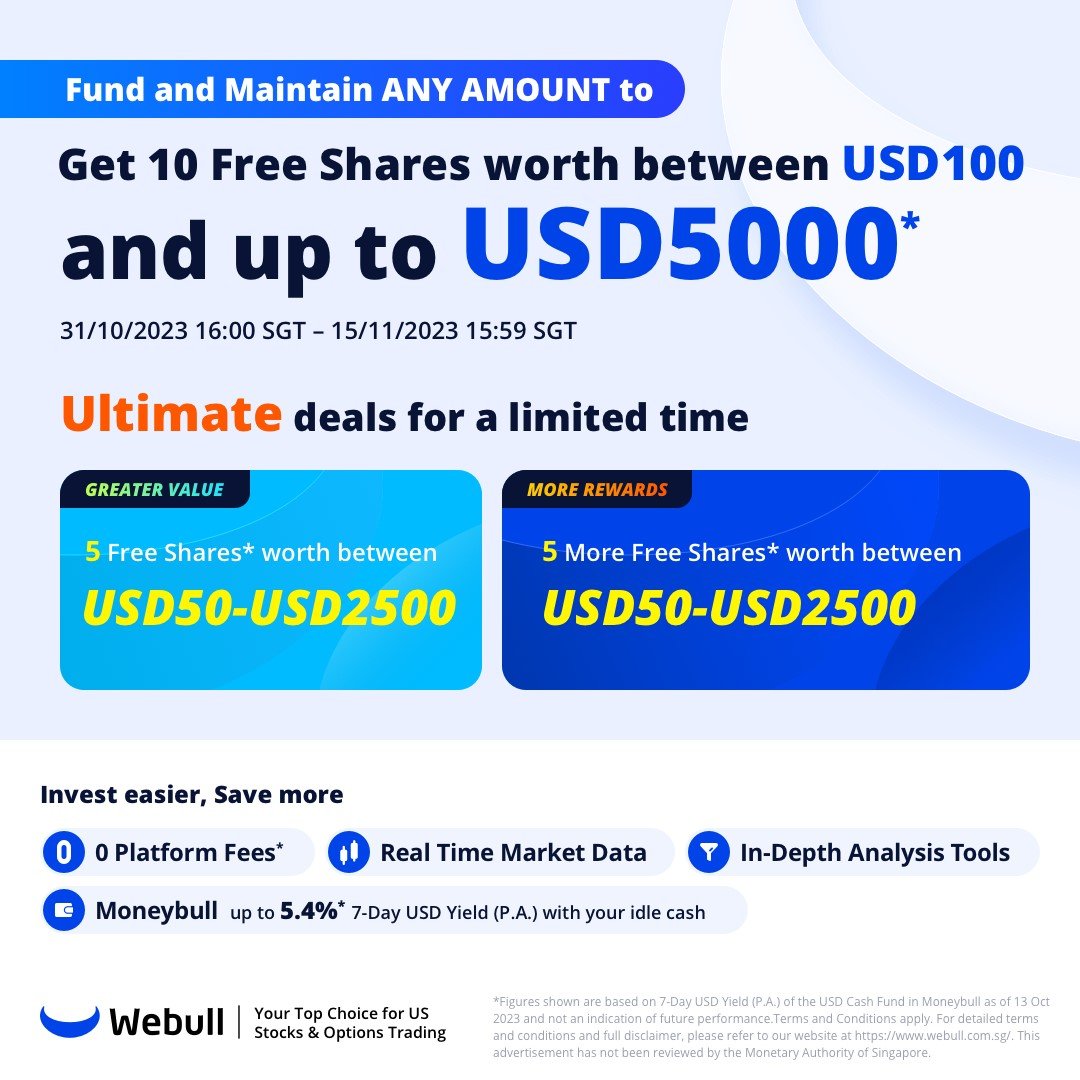 OCBC Online Equities Account – Trade on 15 global exchanges, all via the OCBC Digital Banking App!
Did you know that can you trade shares on your OCBC Digital Banking App?
With an OCBC online equities account, you can buy stocks, local ETFs, REITs, bonds and more directly through your banking app.
Even better? Enjoy reduced commission rates of just 0.05% for buy trades on SG, US and HK market until 31 December 2023.
Everything on one app! Fuss-free funding, with access to 15 global exchanges
For SGD trades, you can fund and settle automatically via your OCBC account.
And for FX trades, you can settle using the foreign currency held in your OCBC Global Savings Account.
This means fuss-free trade settlement and minimising forex costs – saving you time and money.
Start trading with your OCBC Online Equities Account here!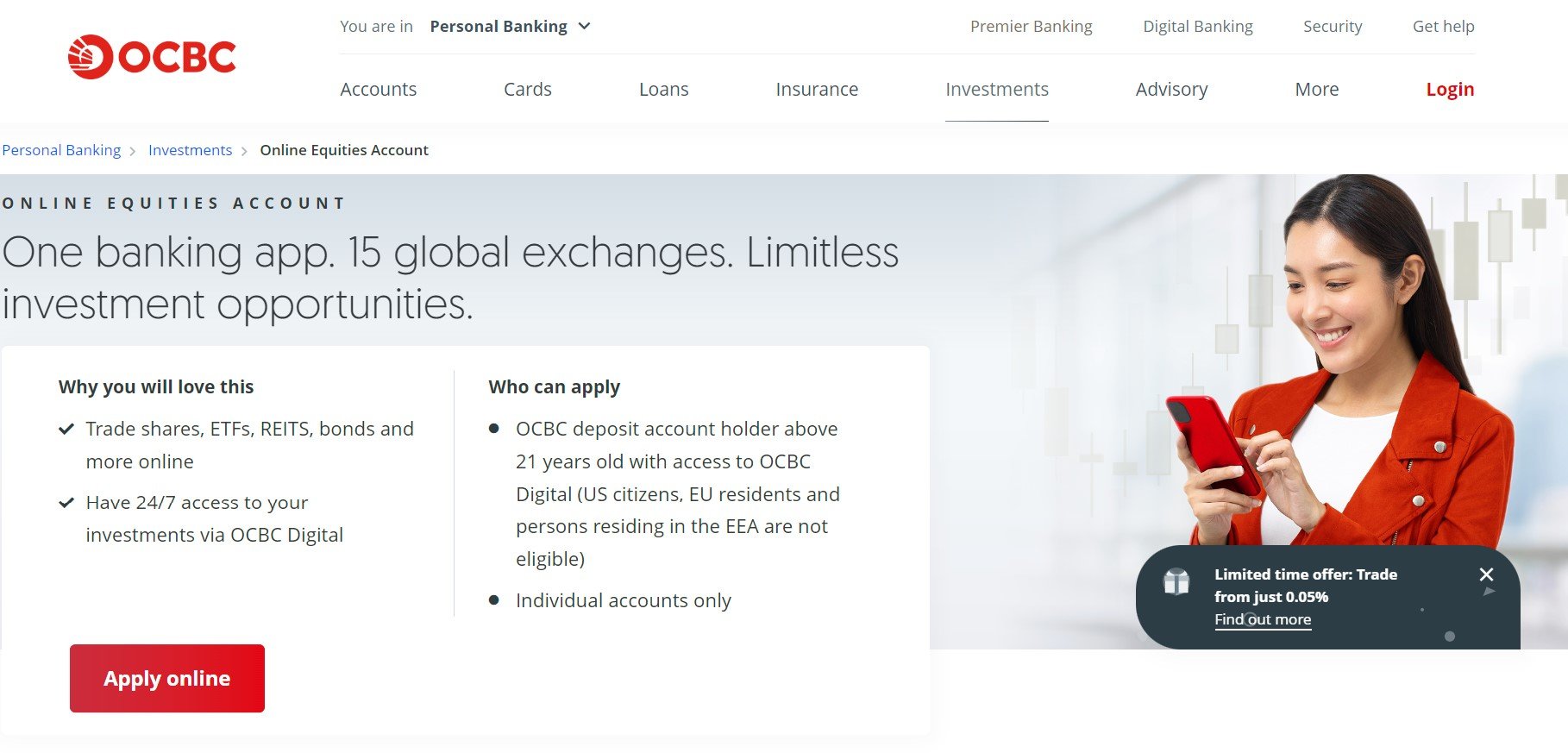 Trust Bank Account (Partnership between Standard Chartered and NTUC)
Sign up for a Trust Bank Account and get:
$35 NTUC voucher
1.5% base interest on your first $75,000 (up to 2.5%)
Whole bunch of freebies
 Fully SDIC insured as well.
It's worth it in my view, a lot of freebies for very little effort.
Full review here, or use Promo Code N0D61KGY when you sign up to get the vouchers!
Investment Research Tools
I use Trading View for my research and charts. Get $15 off via the FH affiliate link.
I also use Koyfin for fundamental and macro research. Get a 10% discount via the FH affiliate link.
Portfolio tracker to track your Singapore dividend stocks?
I use StocksCafe to track my portfolio and dividend stocks. Check out my full review on StocksCafe.
Low cost broker to buy US, China or Singapore stocks?
Get a free stock and commission free trading Webull.
Get a free stock and commission free trading with MooMoo.
Get a free stock and commission free trading with Tiger Brokers.
Special account opening bonus for Saxo Brokers too (drop email to [email protected] for full steps).
Or Interactive Brokers for competitive FX and commissions.
Check out my personal recommendations for a reading list here.