What a month it's been!
Since Jackson Hole in late Aug, the market has started to break.
This week, the US 10-year yield broke 4%.
And don't even get me started on the UK.
A very poor set of decisions by the new government led to chaos in the UK Gilt market.
That very nearly resulted in Lehman 2.0 in the UK, and forced the Bank of England to step in.
A lot of you have been asking for a macro post (which has now largely moved to Patreon), so here goes.
For ease of reading, I'm going to structure this as a series of Questions & Answers.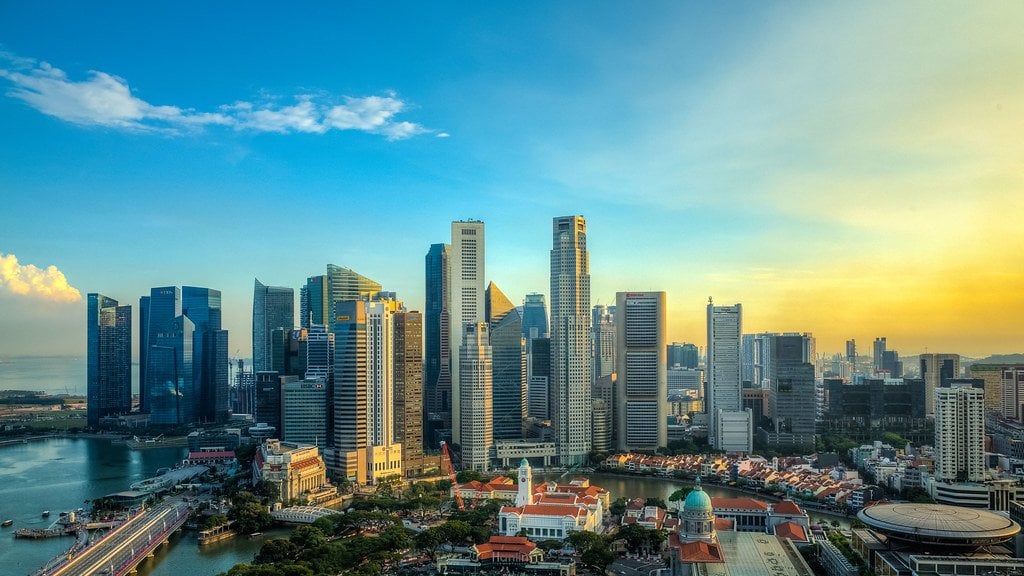 Has the Market Bottomed?
Short answer – No, I don't think so.
The slightly longer answer, is that this is a very different market from March 2020.
March 2020 was unique, because the economy went from 100 to 0 due to COVID lockdowns, and then financial markets went from 0 to 100 due to supercharged Fed stimulus.
This time around, it plays out more like a classic bear market.
There are 4 stages of a bear market:
Stage 1 – Market topping out, savvy investors start to sell
Stage 2 – Market decline due to drop in valuation multiples. Damage is largely limited to financial markets.
Stage 3 – Damage spreads to the real economy. Consumer cuts back on spending, corporate earnings drop, refinancing risk starts to play out.
Stage 4 – Liquidity event and panic
Where are we now?
Rough ballpark, I think we are in the mid to later stages of Stage 2.
Previously I said that cycle peak for Fed Funds Rate may be close to 5% (with possible overshoot to 5.5%).
As of today – futures are now pricing in a terminal rate of 4.75% – 5.0% by June 2023: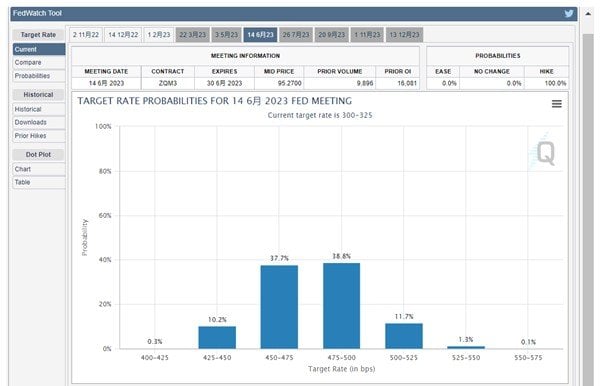 There's probably room to go slightly higher, especially if inflation is sticky.
But no denying that futures markets at least, are starting to price in the interest rate end game I've been talking about.
Market has not priced in earnings drop
But… look under the surface, and you'll find that the market is currently pricing in almost no earnings drop.
In other words, the drop in the stock market to date, is entirely due to the rise in interest rates.
The market has not priced in any drop in corporate profits… yet.
The market is saying that the Feds will take us to 5.0% interest rates and stay there, and corporate profits are going to stay flat.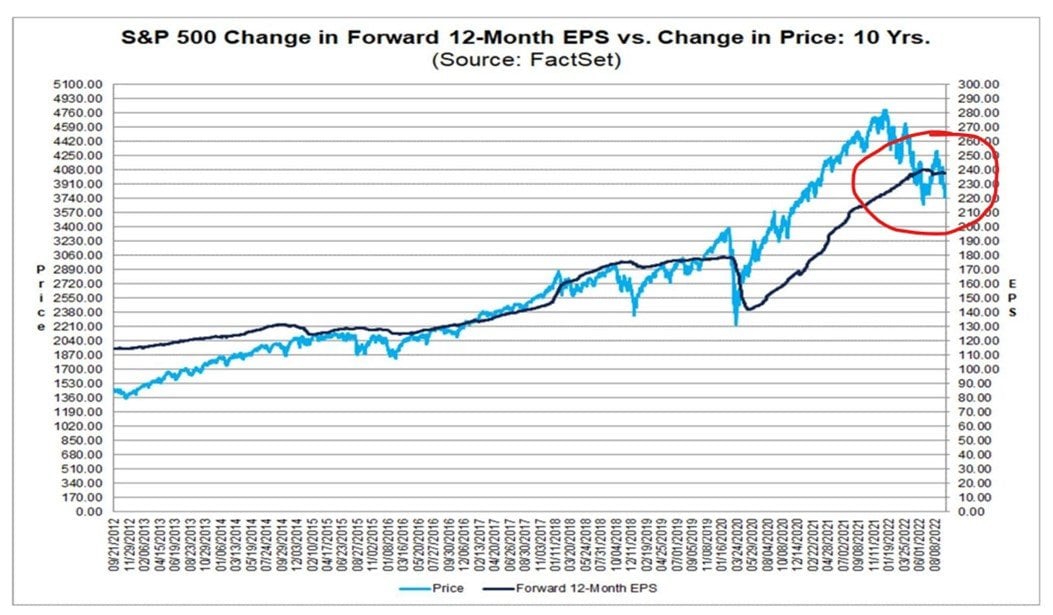 I don't know about you, but I find that hard to believe.
I think at 5% interest rates, all sort of bad things are going to start happening in the economy.
In which case, this is not likely to be the bottom.
When will the Market bottom?
Short answer – I don't know. Nobody does.
The slightly longer answer, is that before stocks can bottom, one of the following needs to happen:
Feds start cutting interest rates (or at least pause rate hikes), OR
Market prices in the drop in corporate profits
(2) has not happened yet. For it to happen, we need to see about a 15 – 20% drop in the market by my estimates.
3000 on the S&P500, just to hit fair value.
With possible overshoot due to liquidity panic.
It's almost poetic justice right. If COVID stimulus caused excessive demand and inflation, shouldn't the cure be to reset everyone to pre-COVID levels of wealth?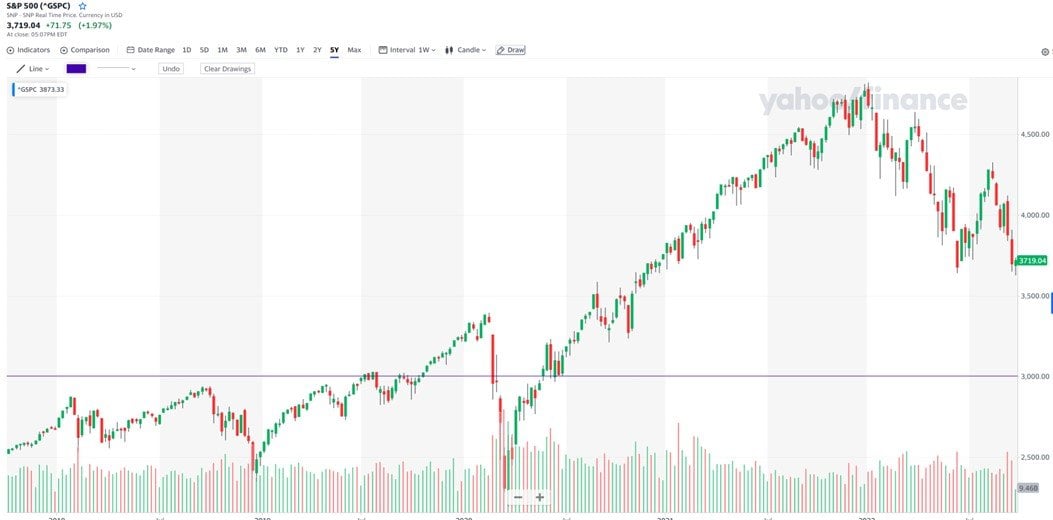 In any case, let's not rest our hopes on (2) happening any time soon.
So let's talk about (1).
When will the Feds start cutting interest rates (or at least pause rate hikes)?
A couple of months ago, I said that the market is wrong to price in a Fed Pivot so early.
A Fed pivot will come, but not as soon as the market is expecting.
A lot of people laughed at me back then, but now the market is starting to wake up to this new reality.
Now I hear people talking about King Dollar, and how US interest rates are going up and never coming down.

Source: Koyfin
And ironically, now that people are starting to say this, it means we are closer to the Fed pivot.
For the record, I think that Jerome Powell needs to talk tough on inflation, that is his job.
But if the higher interest rates result in (a) financial market contagion, or (b) a deep recession, he will eventually cut interest rates.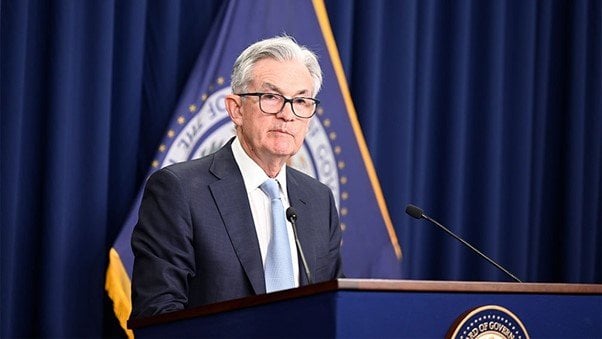 So FH.. when bottom?
So the question that literally every investor is asking now – How much pain does Jerome Powell need to see, before he cuts interest rates.
Really, that's the only question you need to ask yourself for the next 12 – 18 months.
When does Powell cave?
Unfortunately, the answer is not so straight forward because it is path dependant.
To put it simply – how quickly Powell caves, and accordingly how quickly the market bottoms, will depend on how quickly the rising interest rates break the financial system / economy.
Just look at the Bank of England the past week.
In the month they were supposed to start Quantitative Tightening (selling Gilts, which are UK Government Bonds), they ended up starting Quantitative Easing (buying Gilts) instead.
Could you have predicted a month ago that it would be Liz Truss and Kwarteng breaking the Gilt market that led to the Bank of England stepping in?
Doubt so.
But whatever the case, it's obvious the risks in the system are starting to build.
In 2008 terms, the past week was Bear Stearns.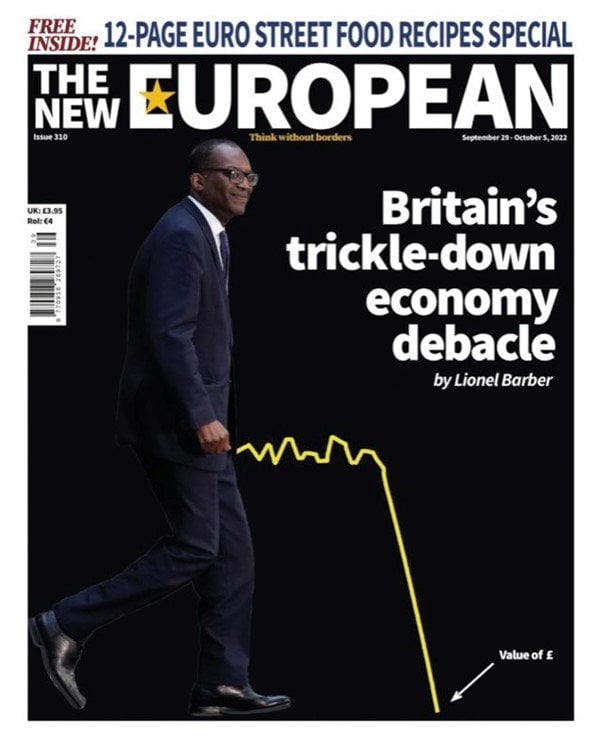 What happens when the Feds fold and cut interest rates?
Once the pain of fighting inflation gets too much to bear, central banks are going to fold.
And they are going to accept a higher rate of inflation (than the 2% target), and a lower rate of economic growth.
In other words – the next phase is inflationary.
After the market crash and the Feds pivot, the next phase will be debasement of fiat currency.
The value of money itself will drop.
And the value of everything else denominated in money – think stocks, real estate, commodities, oil, food etc, will go up.
So in the next phase, you don't want to be holding too much cash, because real interest rates (inflation adjusted) are going to be negative.
The 3% yield on your T-Bills may look good, but if inflation rages at 5% for years, you're losing 2% a year.
How should a Singapore Investor position in times like that?
But let's not get ahead of ourselves.
That's the mid term, 2 – 3 year outlook.
Your immediate concern, is to get through the current bear market.
You need to survive unscathed (as much as you can), until the market bottom.
If you are feeling adventurous, you can short the market.
But remember that the biggest rallies usually come in a bear market, so if you're short, you need to be very careful with risk management.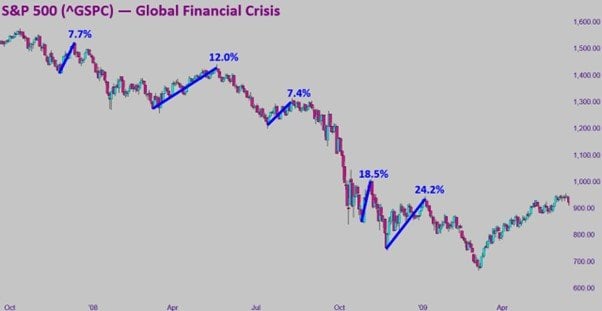 If you are feeling less adventurous, then you just want to be in cash mostly.
Hold USD/SGD cash, earn the high yield in the short term (T-Bills yield 3.32% now risk free), and deploy that all into the market as close to the bottom as you can.
I've been saying this since Jan 2022
For the record, everything I'm sharing in this article is in line with the framework I've been sharing on Patreon, week after week.
So if you find this article helpful for you, please do consider signing up for the Patreon subscription. Most of the regular macro updates have moved there.
At S$15 a month you get the premium weekly market updates like this one.
At $25 a month you get my full stock and REIT watchlist, and at $40 a month you get my full personal portfolio.
Don't be penny wise pound foolish.
Think about how much you may have lost this year. 
And how much you will lose in the next 12 months if you start buying too early.
How I will invest $1 million in 2023's market crash?
I spent a lot of time trying to explain the framework above, because I think this is important to understand for the months ahead.
Buy too early and you get crushed by rising rates.
Buy too late and you get crushed by inflation.
The game is this – I stay in cash as long as I can, until as close to the bottom as I can. Then I buy in size, and ride the next phase of inflation up.
To watch for the bottom, I watch for either (a) market pricing in corporate earnings decline, or (b) the Feds being forced to turn dovish.
(a) frankly is not likely. Even if it happens, you need to price in possible overshoot due to a liquidity crisis.
(b) is much more likely.
And for (b), this will happen if we get (1) financial market contagion, or (2) a deep recession where the pain is too much to bear.
I won't be able to call ahead of time what's the exact event that triggers (1) or (2).
But it will be fairly obvious when it happens (like the past week for the Bank of England).
How I will invest $1 million in 2022 / 2023?
For the record, I think it's too early to buy long term positions, for the reasons set out above.
But I know many of you want my latest thinking of how to allocate capital when the time comes.
So with that caveat that I will likely change this allocation as the next few months play out, this is what's on my watchlist right now (for latest watchlist and target prices, do check out Patreon):
REITs ($500,000)
Industrial / Data Center REITs – $300,000

Ascendas REIT
Mapletree Logistics Trust
Mapletree Industrial Trust
Digital Core REIT
Daiwa House REIT
Keppel DC REIT

Retail / Commercial REITs – $200,000

Mapletree Commercial Trust
CapitaLand Integrated Commercial Trust
Lendlease Global REIT
Keppel REIT
CapitaLand China Trust
Starhill Global Trust
Commodities / Precious Metals ($300,000)
Oil (Exxon, ConocoPhillips, Shell)
Copper Miners – COPX
Gold Miners – GDX
Stocks ($200,000)
Too early to call in my view, the sell-off is still playing out.
BTW – we share commentary on Singapore Investments every week, so do join our Telegram Channel (or Telegram Group), Facebook and Instagram to stay up to date!
We also share great nuggets of wisdom on Twitter.
Don't forget to sign up for our free weekly newsletter too!
[mc4wp_form id="173″]
Thought Process for allocating the $1 million
Reasoning from first principles – what do I want to own in a world of higher interest rates, and higher inflation?
I want to own (a) commodities, and (b) dividend stocks / value stocks.
Commodities
Commodities because they hold their value against a depreciating fiat currency.
Not to mention that structural demand-supply mismatches mean commodities can potentially go much higher.
This is a world after a decade of underinvestment into commodities, with higher geopolitical tensions and massive infrastructure investments moving forward (due to East-West decoupling and green energy transition).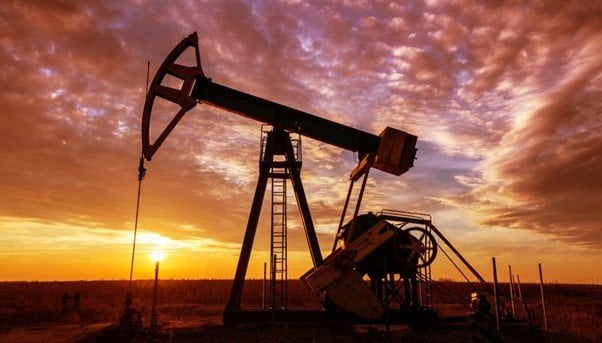 Dividend / Value Stocks
Dividend stocks, because the right ones have pricing power, to pass on higher costs to consumers.
When a new factory costs $1 billion and 5 years to build, how much is your existing factory worth?
In a world where the price of goods go up 10% a year, every dividend company has growth built into it.
Remember – revenue growth due to inflation, and revenue growth due to good management, looks the same on a P&L.
Will REITs underperform this decade?
If you look purely at yield spreads, REITs are the most overvalued they've been in 5 years.
Put another way – even after the big declines in REITs, they have (on average) yet to fully price in the rapid rise in interest rates.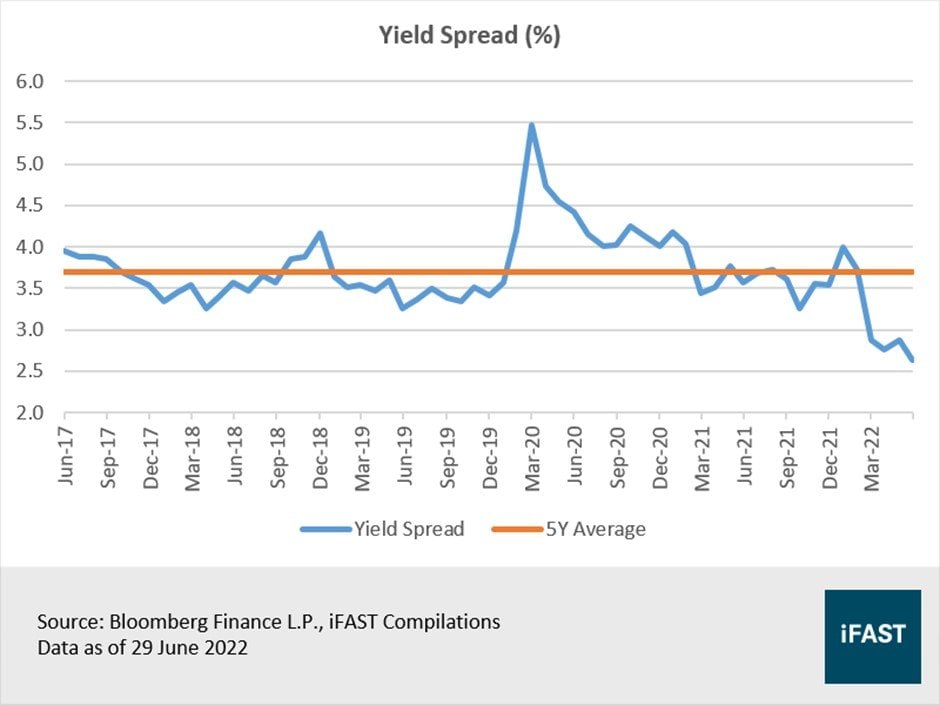 Let's reason from first principles.
REITs are a leveraged play on real estate.
With higher interest rates, higher inflation, and slower economic growth, how do REITs perform?
Higher interest rates will increase the interest expense, and increase real estate cap rates (lower valuations).
This is bad.
Slower economic growth will mean slower growth in rental income.
This is bad
Higher inflation, will mean higher real estate prices. This is good.
But that's before you look at the demand-supply dynamics of each individual market.
My simple view, is that I think a lot of the secular tailwinds you had for REITs the past 10 years, are gone.
The secular tailwinds for this asset class have reversed.
To perform with REITs in this decade, you need to be more selective about:
What kind of real estate you are buying (geography and asset class)
What price you are buying at
A lot of investors are still valuing REITs based on 0% interest rates and thinking they are cheap at current prices.
I encourage you to rerun your valuations using a 4% risk free rate. 
Why did I overweight REITs in that case?
Simple answer – of all the asset classes out there, I am most familiar with REITs.
When the time comes, when S*** hits the fan, it will not be easy to deploy capital in size unless you are familiar with what you're buying.
And of all the asset classes, I am most confident in my ability to identify value, and allocate capital in a big way to REITs.
That said I don't think REITs will do spectacularly this decade, so I will not buy until I see them at good value.
Rough ballpark, that may actually work out to >6.5% yields on the blue-chip REITs, just to account for the rapid rise in risk free rates.
You can check out my target prices for the each of the REITs on my watchlist on Patreon.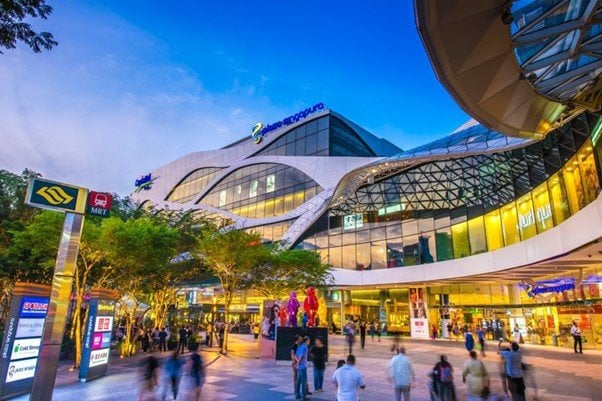 Asian Financial Crisis 2.0 and Sovereign Debt Crisis brewing?
I've tried my best to summarise my entire macro thinking into 2000 words, but frankly it's not easy.
Apart from what I covered today, there are 2 big economic crises worth keeping on eye on: (1) Asian Financial Crisis 2.0 and (2) Sovereign Debt Crisis.
Asian Financial Crisis 2.0
When I say AFC 2.0, I mean it in the context of a currency crisis.
Just pull up the charts of the Japanese Yen, the Chinese Yuan, and the Korean Won.
And you'll start to appreciate the kind of mess we are in right now.
Big one to watch.
Sovereign Debt Crisis
Another huge one – is Europe.
2022 has shown what happens when a G7 country fixes interest rates at 0.25% and floors the fiscal pedal (Japan).
The past week has shown the way for another G7 country (UK).
And that's even before we talk about Europe.
Europe is going to experience a deep recession this winter, they will be forced to subsidize energy prices for consumers, and they are going to pay for that by issuing more debt into rapidly rising euro interest rates.
Mario Draghi managed to avert the crisis in 2012 with "whatever it takes".
This time around, fates may not be so kind.
Closing Thoughts: Don't fight yesterday's battles
My fear is that when the time comes to buy, investors will invest like it's 2012.
They will invest for a decade of zero interest rates, and inflation below 2%.
But if my thinking above is correct, we are never going back into the pre-COVID world.
This will be a world of higher interest rates, and higher inflation.
Think a decade of Core CPI in the 3-4% range, and interest rates bouncing around from 2-4%.
The implications for investing, are game changing.
As always, this article is written on 30 Sep 2022 and will not be updated going forward.
Weekly macro updates and market commentary are available on Patreon.
If you are keen, my full REIT and stock watchlist (with price targets) is available on Patreon. You can access my full personal portfolio to check out how I am positioned for the coming downturn too.
Trust Bank Account (Partnership between Standard Chartered and NTUC)
Sign up for a Trust Bank Account and get:
$35 NTUC voucher
Whole bunch of freebies – A free packet of rice (1kg), a free Kopitiam Kaya Toast set, a $1.99 Double Mushroom Swiss at Burger King, and 50% off KFC Zinger Set just to name a few.
1.0% base interest on your first $50,000 (up to 1.4%)
 Fully SDIC insured as well.
It's worth it in my view, a lot of freebies for very little effort.
Full review here, or use Promo Code N0D61KGY when you sign up to get the vouchers!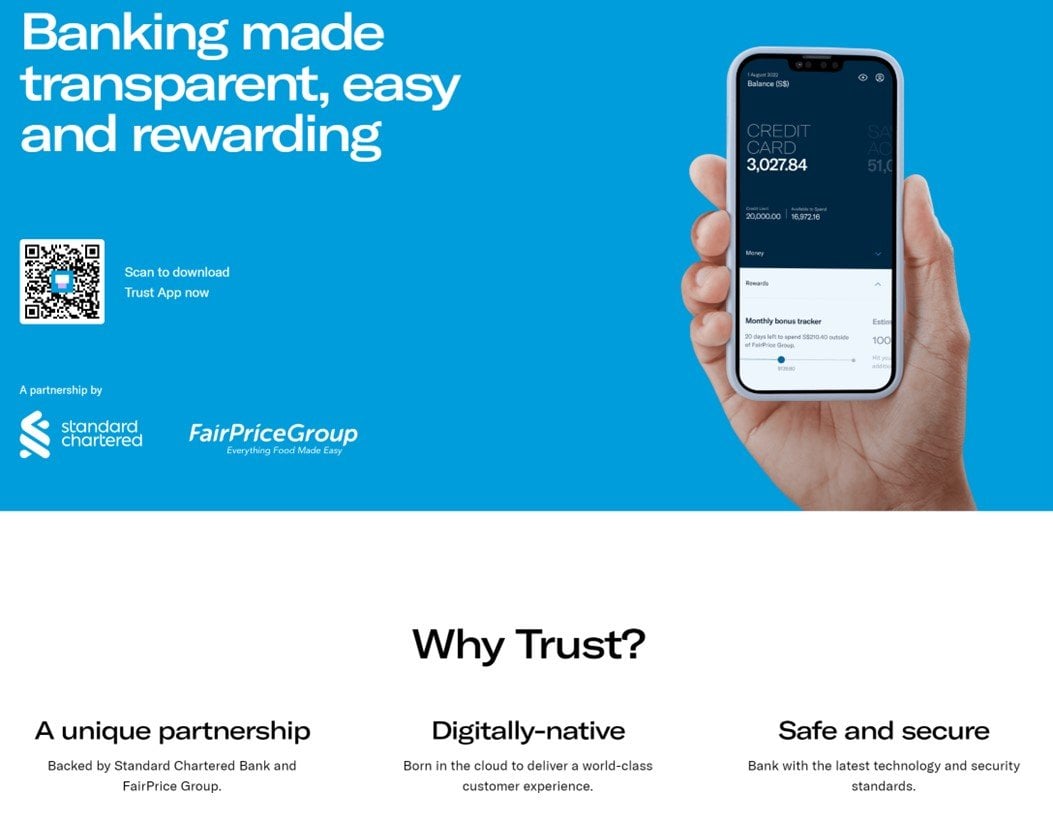 Looking for a low cost broker to buy US, China or Singapore stocks?
Get 100 USD in Apple Shares with Webull, a zero commission broker.
Get a free stock and commission free trading with MooMoo.
Get a free stock and commission free trading with Tiger Brokers.
Special account opening bonus for Saxo Brokers too (drop email to [email protected] for full steps).
Or Interactive Brokers for competitive FX and commissions.
 Looking to buy Bitcoin, Ethereum, or Crypto?
Check out our guide to the best Crypto Exchange here.
 Do like and follow our Facebook and Instagram, or join the Telegram Channel. Never miss another post from Financial Horse!
Looking for a comprehensive guide to investing that covers stocks, REITs, bonds, CPF and asset allocation? Check out the FH Complete Guide to Investing.
Or if you're a more advanced investor, check out the REITs Investing Masterclass, which goes in-depth into REITs investing – everything from how much REITs to own, which economic conditions to buy REITs, how to pick REITs etc.
Want to learn everything there is to know about stocks? Check out our Stocks Masterclass – learn how to pick growth and dividend stocks, how to position size, when to buy stocks, how to use options to supercharge returns, and more!
All are THE best quality investment courses available to Singapore investors out there!
FYI – We just launched the FH Property Series. Everything you need to know to buy a property in Singapore, completely free of charge.