I've been wanting to do a deep dive into Keppel REIT for a while now.
At current prices ($0.87), Keppel REIT trades at a 33% discount to book, and a trailing dividend yield of 6.8%.
It's also close to the lowest it's been since COVID.
I personally hold a position in Keppel REIT, and I've been adding to my position recently.
Does it make sense to buy even more Keppel REIT?
Let's find out.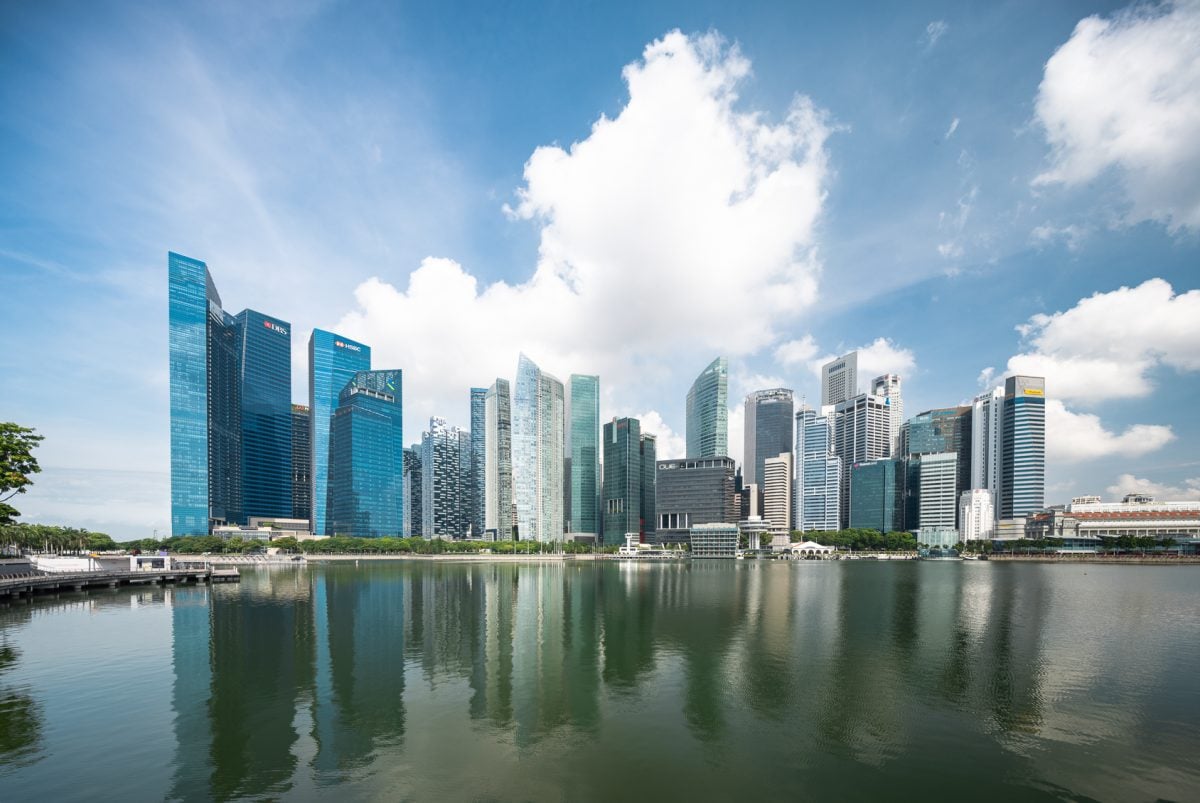 Keppel REIT's Property Portfolio
Keppel REIT is a Singapore office REIT.
Geographical allocation below:
78% Singapore
17% Australia
4% Korea and Japan
You can see the split by property below.
Ocean Financial Centre and Marina Bay Financial Centre make up close to 50% of Keppel REIT.
Given that Ocean Financial Centre and Marina Bay Financial Centres are (in my opinion) decently strong office buildings, this really isn't too bad.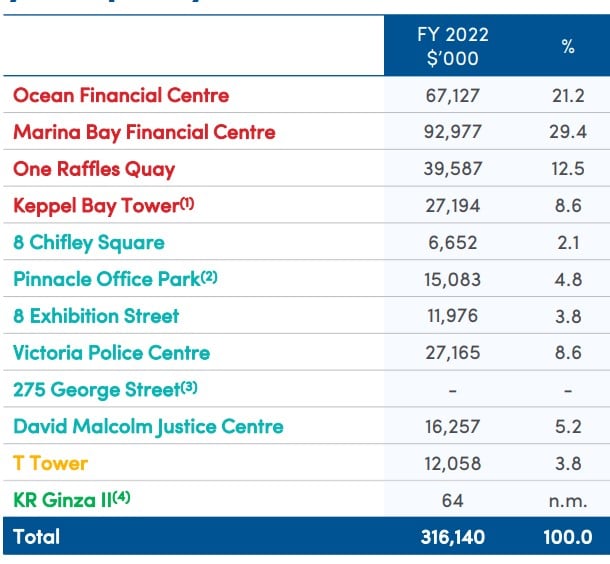 BUT – Do note that Keppel REIT does not own 100% of these properties
There is a small catch though.
The catch is that the 3 largest assets that Keppel REIT owns – Ocean Financial Centre, Marina Bay Financial Centre, One Raffles Quay.
Which collectively make up about 60% of Keppel REIT's asset base.
Keppel REIT doesn't actually own the whole property.
Keppel REIT only owns:
79.9% in Ocean Financial Centre
33.3% in Marina Bay Financial Centre
33.3% in One Raffles Quay
The only building Keppel REIT owns 100% of is Keppel Bay Tower, which isn't of the same quality as the other 3 properties above.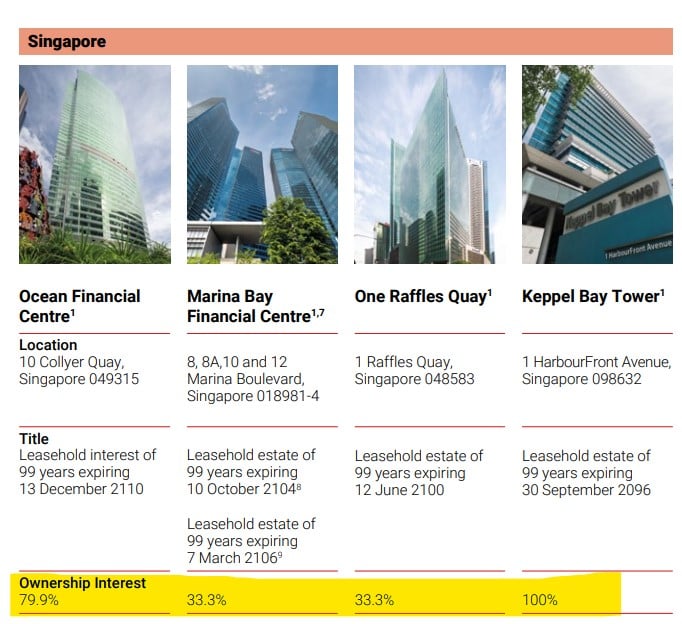 Is this a problem for Keppel REIT? Not owning 100%?
The ownership interest is shared with Hong Kong Land and Suntec REIT for Marina Bay Financial Centre and One Raffles Quay.
While the ownership interest in Ocean Financial Centre is shared with Allianz Real Estate.
Allianz Real Estate is likely to be primarily a financial investor that is happy to leave the day to day operations to Keppel REIT (which holds the overwhelming majority of 79.9%).
Hong Kong Land and Suntec REIT though… it's probably not that bad when things are going fine.
But…
But if things get messy in the years ahead – for example if Suntec REIT or Hong Kong Land needs to raise cash and want to sell the property.
Or if they want to sell their stake.
Or if they have differing views on how to run the property.
Things might get messy.
So this is a big point to note with Keppel REIT.
At 33.3% owner of Ocean Financial Centre and Marina Bay Financial Centre, Keppel REIT is not the majority owner and does not have full say.
Viewed this way you can understand why the REITs like CapitaLand Integrated Commercial Trust which hold a 100% stake (or joint venture with the Sponsor – where interests are *technically* aligned) trade at a premium.
The market is efficient like that.
Is it a good time to buy REITs? Have REIT prices bottomed?
I get a lot of questions on whether this is a good time to buy REITs, and whether REIT prices have bottomed.
The answer to this will depend on (1) how long interest rates stay high, (2) how deep a recession are we going to get.
And that is going to depend on how the Feds react over the next 12 months to slowing economic growth.
Do they keep interest rates high to stamp out inflation for good, or do they panic and cut interest rates when push comes to shove?
Powell has been talking a tough book the past 12 months, but if you look at his actual actions with Silicon Valley Bank and COVID and in 2018, you're not exactly inspired by him.
I don't have a strong view on what the Feds are going to do next.
But what I do know is that the bulk of interest rate hikes are already behind us.
And because of that, I am deploying a portion of my cash into REITs at these levels – into REITs that I find attractive.
Biggest Risks with Keppel REIT?
Then it goes into a micro level analysis of each REIT.
With Keppel REIT, there's 3 big risks I wanted to discuss:
Work from Home Trend affecting Office rentals
Interest rates staying high will raise interest expense
Recession may hit office rentals
1st Risk: Work from Home trend affecting office rentals
I'm sure you know the story by now.
After COVID – more companies are shifting to permanent hybrid working.
This has resulted in companies cutting their office footprint to save on rent.
Therefore, office rentals are in trouble.
I agree this is a big problem in countries like the US.
I agree the US office market needs to go through a default cycle to adjust to much lower demand.
But Singapore Grade A office space is a different market.
Will Keppel REIT be affected?
My personal view (and I could be wrong here).
Is that I don't think Singapore Grade A office space in the CBD will be as impacted.
In Singapore, employees are a lot more "receptive" to employer instructions. If the employers asks them to be in the office 4 days a week, a majority of employees are going to comply.
And Keppel REIT's offices are mainly Grade A offices in the Core CBD region.
Those tend to be the more client facing, front office divisions. Rather than the more back office, support functions located in say Changi Business Park.
Companies may cut back office space, but front office space should be slightly more immune.
So personal view is that Singapore Grade A office space shouldn't be as impacted by the work from home trend.
And so far, this has been backed up by occupancy numbers, which are holding up quite nicely.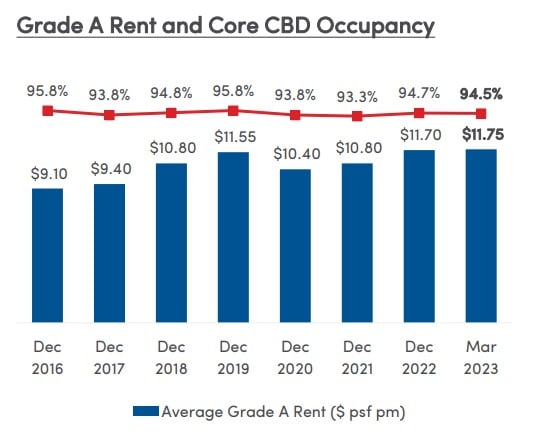 Quite a bit of new office supply coming online the next 3 years though
That said – new office supply was quite muted from 2018 – 2022, which might have helped keep office rentals up.
But there are quite a few new properties coming online that is going to add new supply to the market over the next 3 years .
Will there be sufficient demand to absorb this new supply?
Especially as we head into a weaker economy?
Not so sure, and this is definitely a point to note.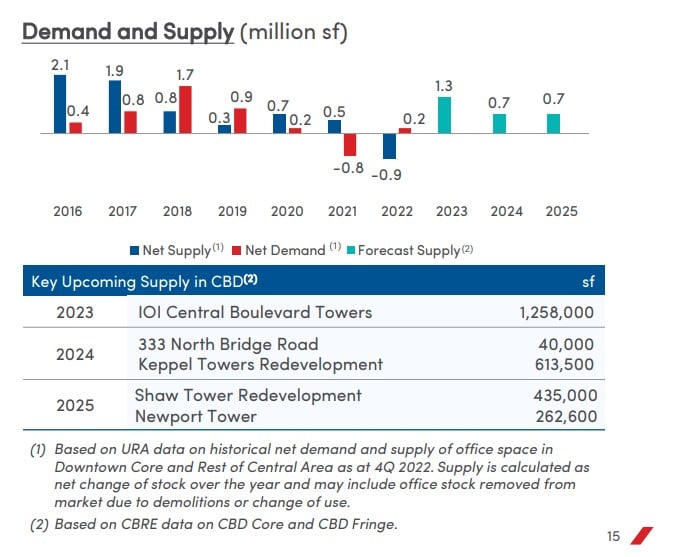 There's also further redevelopment in the Marina Bay area ongoing.
In the years ahead, will these new office buildings prove to be more attractive than Keppel REIT with their comparatively older Ocean Financial Centre, Marina Bay Financial Centre, and One Raffles Quay?
Definitely possible as well.
BTW – we share commentary on Singapore Investments every week, so do join our Telegram Channel (or Telegram Group), Facebook and Instagram to stay up to date!

I also share great tips on Twitter.
Don't forget to sign up for our free weekly newsletter too!
2nd Risk: Interest Rates stay high – affecting interest expenses and property valuations
For what it's worth, this point is wholly beyond Keppel REIT's control.
And it's going to impact all REITs across the board.
But it's a big risk nonetheless, and requires discussion.
Namely – if interest rates stay at current levels for longer, interest expenses are going to balloon and affect dividend yield.
And you may see cap rate compression on real estate.
What is the market pricing in on interest rates?
The market is pricing in no interest rate cuts until 2024 earliest.
But what if the economy proves stronger than expected?
What if Jerome Powell wants to go down in history as Paul Volcker 2.0?
What if interest rate cuts don't come until mid or late 2024?
That's not going to be pretty for real estate in general.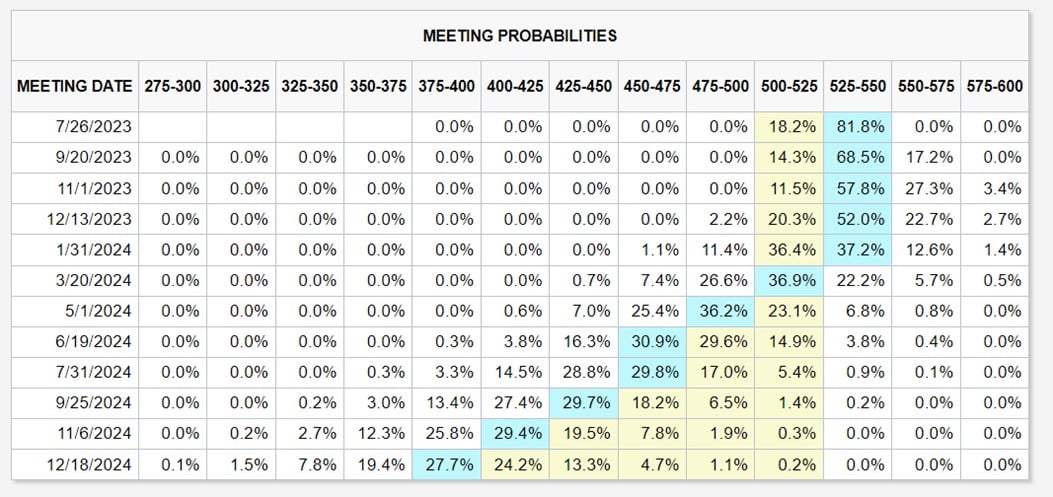 You can see Keppel REIT's debt profile below.
Most of the 2023 debt has already been refinanced to 2028.
And 76% of their loans are fixed rates.
But there's a monster 22% of debt that is due in 2024 for refinancing.
So if interest rates stay high, no doubt that Keppel REIT will be impacted.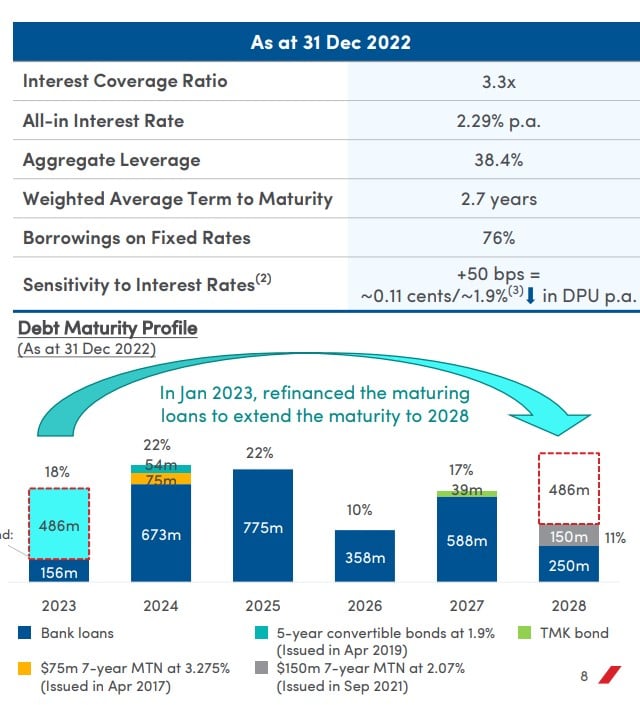 My personal views on interest rates?
As shared above, I don't have a strong view on when the interest rate cuts happen.
Predicting that exactly requires you to know how the Feds react, and like I said Jerome Powell's actions the past 5 years have not exactly been a profile in courage.
Which is why spreading out the risk makes sense at this point in the cycle.
You buy some REITs just in case Jerome Powell panics and slashes rates.
But you don't blow all your cash here just in case Jerome Powell sticks to his guns and holds rates high into the recession.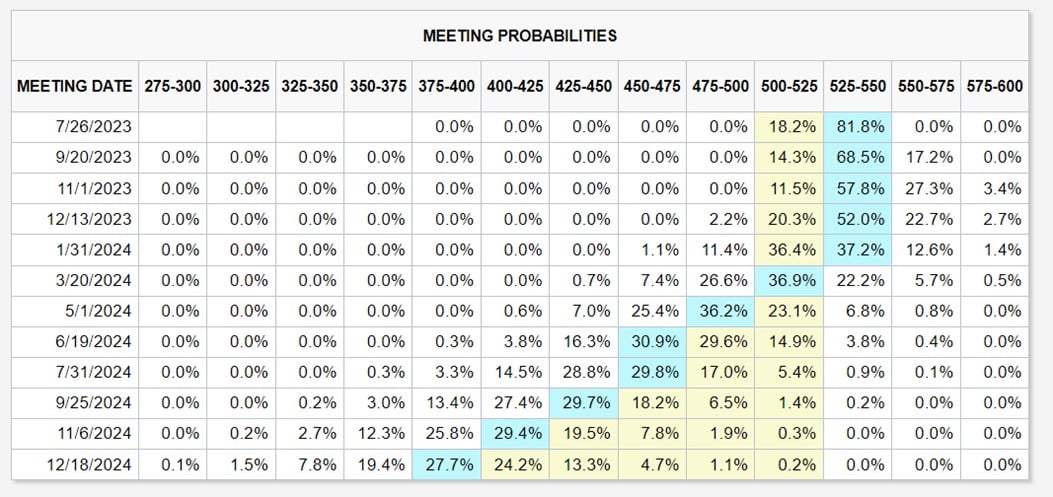 Third Risk: Recession may hit office rentals
We're at the point in the cycle where it's fairly obvious we're going to have a technical recession.
What we don't know, is whether it's going to be a mild recession, or a deep recession.
Because of that, investors need to position for both scenarios.
And so it is worth discussing what is priced into Keppel REIT today.
Keppel REIT is heavily exposed to finance
As you can imagine – as a REIT with primarily CBD offices, Keppel REIT is heavily exposed to the finance sector.
Banking is the biggest tenant business sector at 28%.
Followed by Technology at 14%.
Banks have been cutting staff of late due to the economic slowdown.
Could we see them cutting office space in the months ahead?
Possible.

Here's the lease expiry profile.
About 20% of the lease coming due in 2023 – 2024, so Keppel REIT will be exposed to market rents.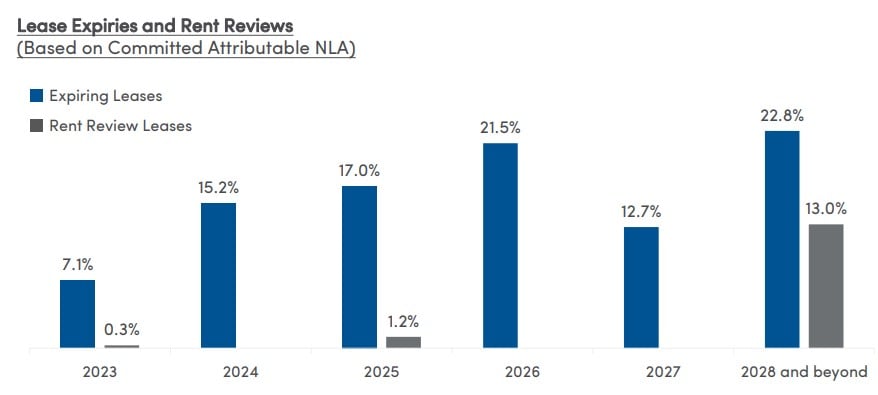 Dividend of Keppel REIT – 6.78% dividend yield (trailing)
At current price of $0.87 cents, Keppel REIT trades at a 6.78% annualized yield (trailing).
Take it with a pinch of salt, because if interest rates stay at this level I don't doubt DPU will drop.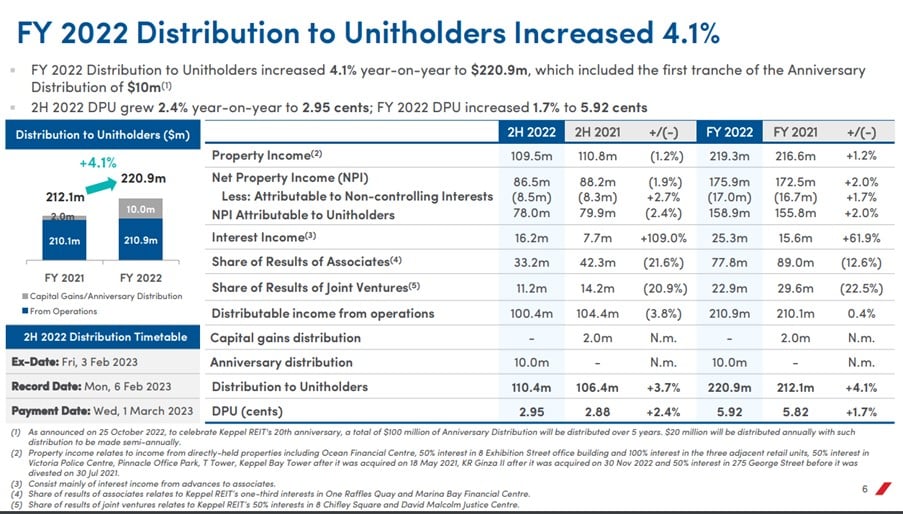 Book Value of Keppel REIT
NAV is $1.29.
So Keppel REIT at $0.87 trades at 0.67x book value.
Or a 33% discount to NAV.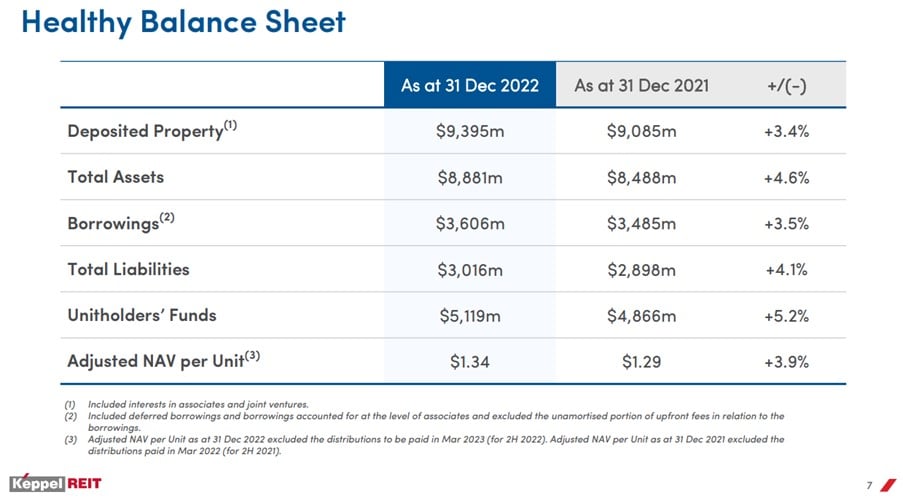 Property Valuations (Singapore Portfolio)
The properties are generally valued at 3.25% – 3.55% cap rates.
No doubt this looks way overvalued in today's market when you're getting 3.89% on a 6 month T-Bills and 3% on a 10 year SGS.
But don't forget that Keppel REIT trades at a 33% discount to NAV.
So adjusted, you're buying in at about 4%-ish cap rates.
For a Grade A Singapore Office buildings in the CBD.
I suppose that's about fair-ish value.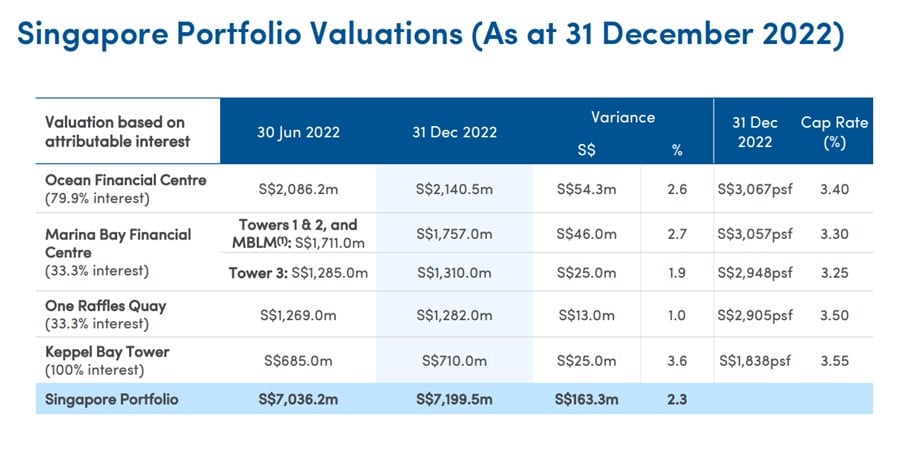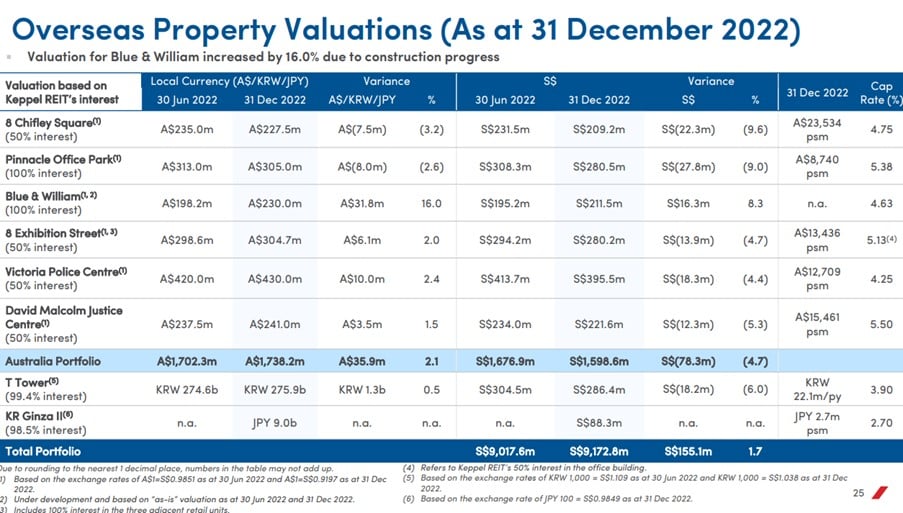 Keppel REIT's Share Price Chart
For what it's worth, the price action looks very interesting.
There is quite strong support at the 0.84 levels which has held consistently over the past 12 months.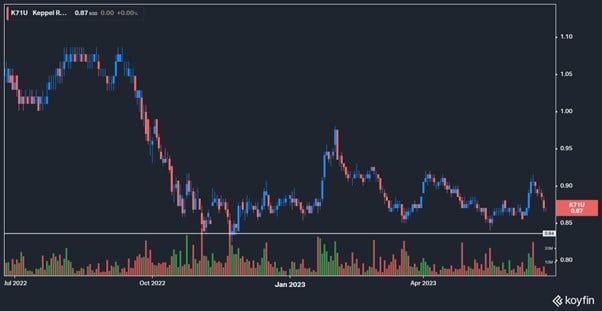 When you pull up the 10 year price chart, the 0.84 support levels looks even more interesting.
If this support holds, it could set up for a potential rebound down the road.
But if this support breaks though, things might get messy.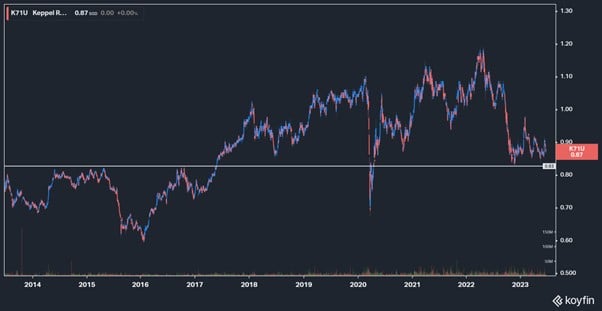 Why I am buying Keppel REIT
As you would have guessed from the title, I am buying Keppel REIT.
I already hold a position in Keppel REIT before this, and I have been adding to my position.
Is Keppel REIT a good buy here?
I really don't know, it depends on how the next 12 months plays out.
How quickly will interest rates get cut.
And how mild/deep a recession we're going to get.
But investing is about risk-reward.
And at current prices, I like the risk-reward.
In any case – I have been adding to REIT positions generally the past month or two, and I do myself continuing to do so in the months ahead.
Patreons will get full access to the REITs I like, and what I've been buying / selling.
This article was written on 29 June 2023 and will not be updated going forward. For my latest up to date views on markets, my personal REIT and Stock Watchlist, and my personal portfolio positioning, do sign up as a Patreon.
WeBull Account – Get up to USD 800 worth of shares (expires 31 July)
I did a review on WeBull and I really like this brokerage – Free US Stock, Options and ETF trading, in a very easy to use platform.
I use it for my own trades in fact.
They're running a promo now with up to USD 500 free fractional shares.
You just need to:
Sign up here and fund $300 SGD
Execute 1 buy trade within 30 days of funding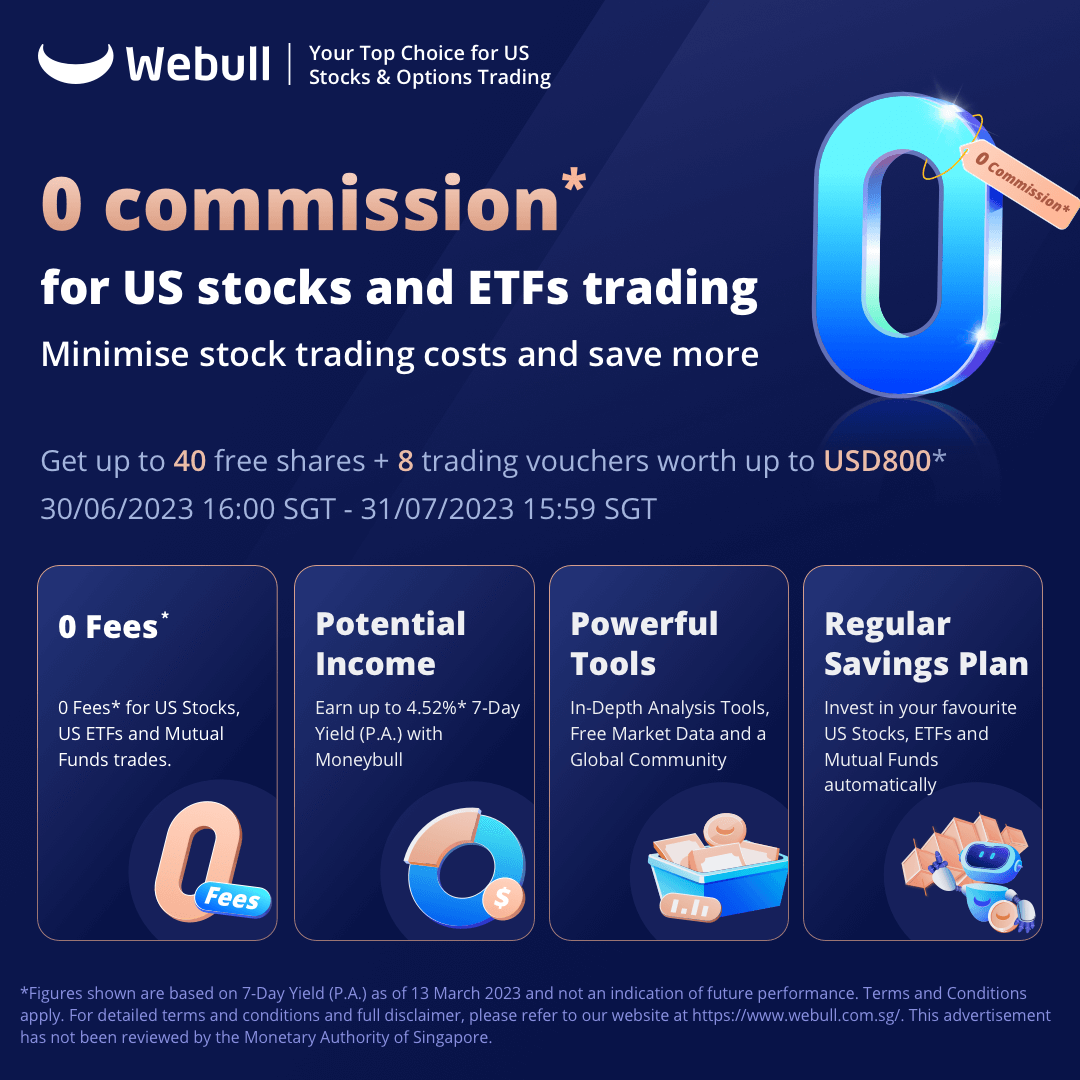 Trust Bank Account (Partnership between Standard Chartered and NTUC)
Sign up for a Trust Bank Account and get:
$35 NTUC voucher
1.5% base interest on your first $75,000 (up to 2.5%)
Whole bunch of freebies
 Fully SDIC insured as well.
It's worth it in my view, a lot of freebies for very little effort.
Full review here, or use Promo Code N0D61KGY when you sign up to get the vouchers!
Portfolio tracker to track your Singapore dividend stocks?
I use StocksCafe to track my portfolio and dividend stocks. Check out my full review on StocksCafe.
Low cost broker to buy US, China or Singapore stocks?
Get a free stock and commission free trading Webull.
Get a free stock and commission free trading with MooMoo.
Get a free stock and commission free trading with Tiger Brokers.
Special account opening bonus for Saxo Brokers too (drop email to [email protected] for full steps).
Or Interactive Brokers for competitive FX and commissions.
Check out my personal recommendations for a reading list here.