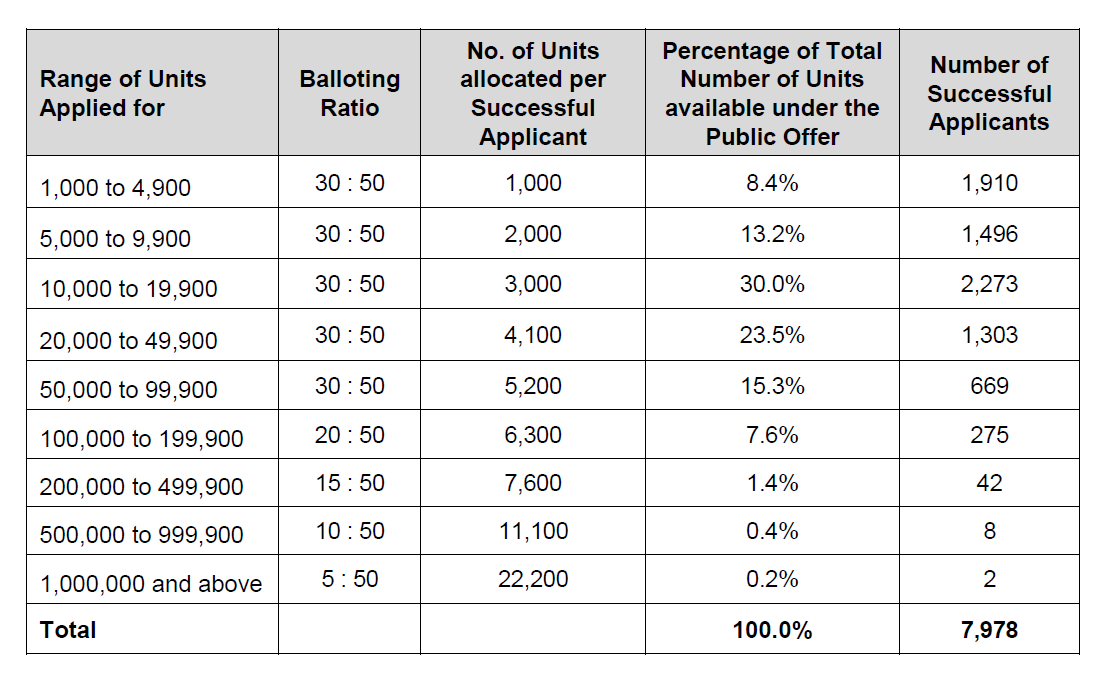 So the balloting results for the Lendlease Global Commercial REIT IPO are out. And boy… was this one hot IPO.
To quote from their news release, the "Lendlease Global Commercial REIT Public Offering was 14.5x subscribed", making this the "hottest" IPO in 5 years "(Based on public information relating to the public offer retail tranche subscription rates for the initial public offerings of REITs and stapled trusts comprising REITs listed on the Main Board of the SGX-ST in the preceding five years from the date of this media release.)"
Really guys?
I mean I wrote an article titled "Best IPO of the Year?" a week or two back when looking at this Lendlease Global REIT, but really guys? 313@Somerset is an okay asset, but it's definitely not one of those let's go out there and put my life savings in this REIT kind of asset.
Anyone applying up to 99,900 units would have a 60% chance of getting a miniscule amount of units, no more than 5,200. To illustrate, had you applied for 19,900 units (about $17,500), and you had "won" the ballot, you would have gotten a whopping 3,000 units, or $2640 worth of units.
With this kind of allotment numbers, even if you had won the ballot, it's really hard to build meaningful allocation to Lendlease Global REIT.
I had a couple of questions from readers asking whether they could wait to buy the dip post-IPO. I mean there's no way of knowing for certain, but after looking at these balloting numbers, I think price action could be pretty strong at least for a few weeks post-listing, as those guys who missed out at IPO will try to buy in at IPO price, and that acts as a floor for pricing.
REIT prices almost never pop on IPO day, but because this has been so hot, I'm quite excited to take a look at the price action tomorrow afternoon to see how this Lendlease REIT trades post listing.
In any case, my luck doesn't seem to be very great, because I received a grand total of zero units on this IPO. I'm actually pretty bummed, because I was quite keen on building a long term position and waiting for some quality pipeline assets. And with this kind of reception, it may be tough to build a good position post-IPO at a reasonable price. But we'll see ;).
Because it's so hot, here are some other great quotes from the manager for you to enjoy. It's pure gold guys.
Mr Kelvin Chow (周颂业), Chief Executive Officer of the Manager, said, "The strong support from Cornerstone, Institutional and retail investors underscores the strength of our high quality portfolio of stable cash flow generating commercial assets strategically located in two gateway cities with attractive retail and office markets. This resilient portfolio checks all the right boxes necessary to generate long-term stable distributions for our Unitholders with visible organic growth potential through built-in rental escalations and positive market dynamics, as well as inorganic growth from the support of our strong Sponsor's established platform whose development pipeline is approaching A$100 billion."
Mr Tony Lombardo (龙腾), Chairman of the Manager, added, "Our Sponsor, who is one of the largest developers in the world managing funds of over A$35.2 billion5, has put together this resilient portfolio of stable income-producing6 office and retail properties, offering investors a blend of stability presented by the quality office properties and higher rates of rental return from retail properties. We are pleased that this has resonated well with investors and would like to take this opportunity to thank all our new Unitholders for their vote of confidence."
What do you guys think? Is this the best thing since sliced bread? Share your comments below!
---
Looking for a comprehensive guide to investing? Check out the FH Complete Guide to Investing for Singapore investors.
Support the site as a Patron and get market and stock watch updates. Big shoutout to all Patrons for their support!
Like the Financial Horse Facebook Page and join the Facebook Group (Singapore) or Facebook Group (China) to continue the discussion!