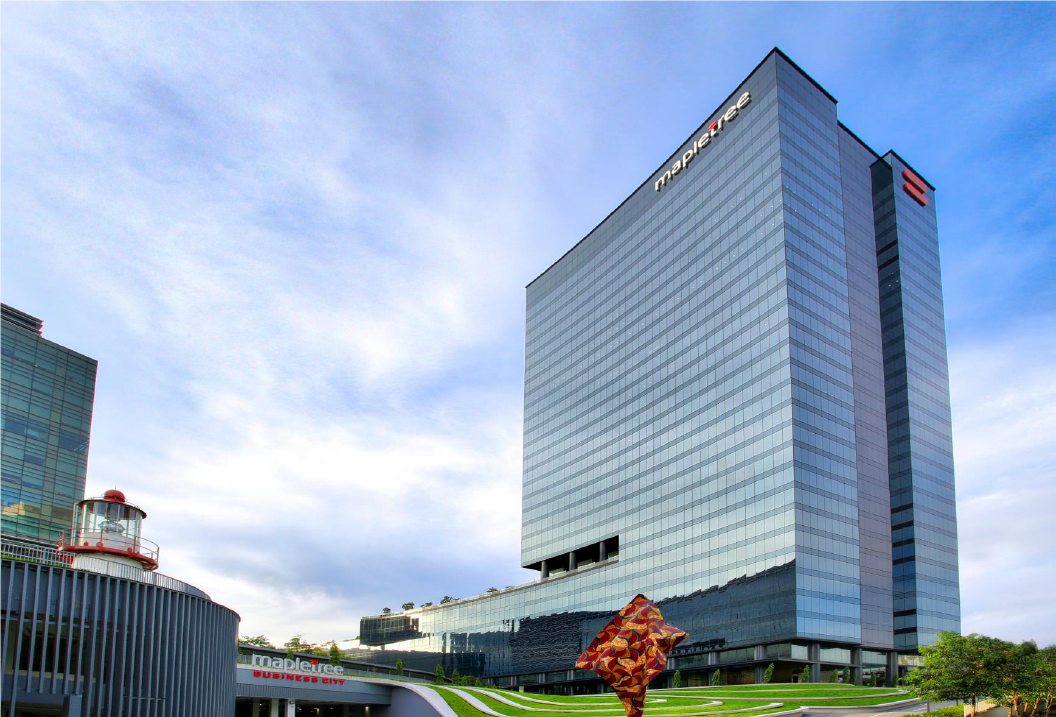 As regular readers of Financial Horse know, I have a big position in Mapletree Commercial Trust (MCT). It's one of my favourite S-REITs ever, and I've been patiently building a big position in this REIT back when it was trading in the $1.50s (check out my original article on MCT here if you're keen).
It's trading at $2.37 now, so that's translated into a pretty nice gain. And as a shameless plug, do check out Patreon if you want to take a look at my latest stock / REIT watch.
Why is Mapletree Business City so great?
Mapletree Commercial Trust is basically a REIT to play the Greater Southern Waterfront of Singapore. With Vivocity, Mapletree Business City (Phase I), Harbour Front, and PSA Building in its portfolio, there's just no other REIT that comes close. So when all that URA talk about revitalising the Greater Southern Waterfront comes to fruition, there's not going to be a bigger winner than Mapletree Commercial Trust.
So MCT acquired Mapletree Business City (Phase I) back in 2015, and the business park has done fantastic every since. Since then, we as MCT unitholders have all been patiently waiting for the day when Mapletree inject the rest of this business park – Mapletree Business City (Phase II), into MCT.
And it has.
MCT is now buying Mapletree Business City (Phase II), and doing a private placement and preferential offering to fund it.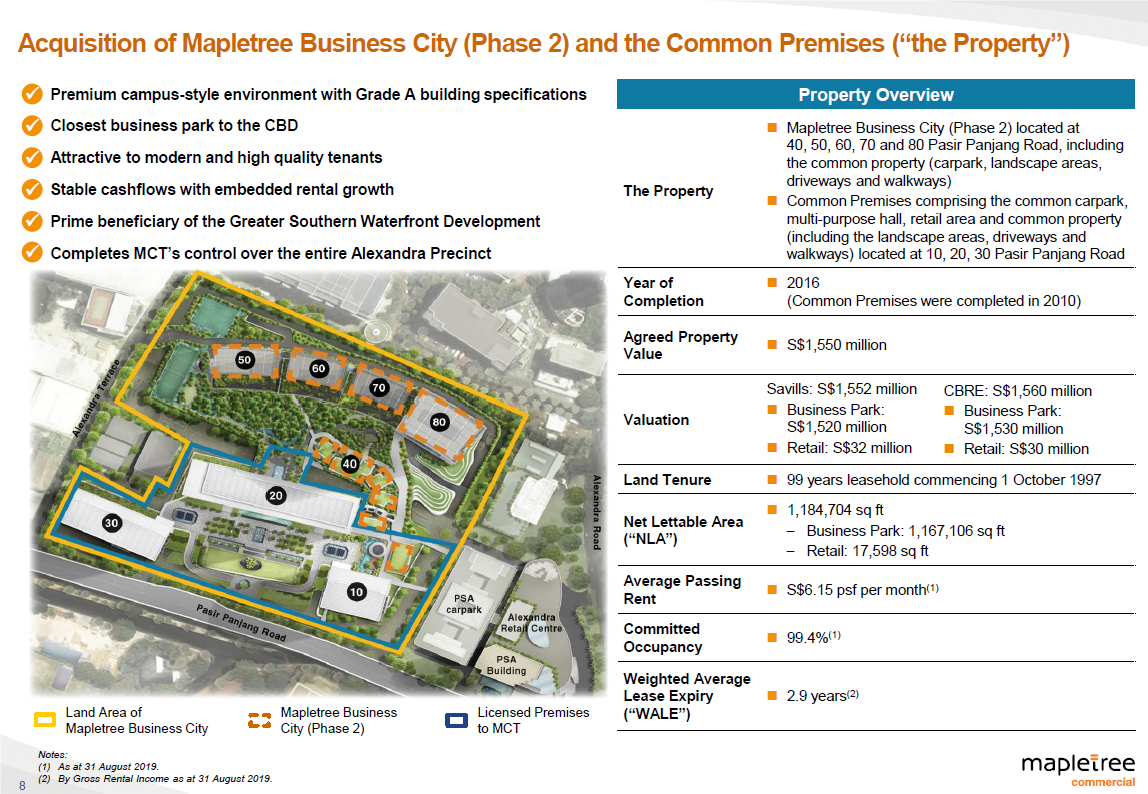 Now I can go on and on about why Mapletree Business City is such an amazing asset, but I'm going to save you guys the marketing spiel here (it's all in the circular if you want to take a look).
Long story short, there's just no equivalent business park asset in Singapore (Changi Business Park is too far away to really compare). And if you just drive down one day to check it out on a weekday, and take a look at the crowds (and lack of parking) and the unique feel for yourself, you'll understand why this and Vivocity are the crown jewels in Mapletree Commercial Trust's portfolio.
And if that doesn't convince you, just take a look at the numbers below. Mapletree Commercial Trust is buying Mapletree Business City (Phase II) at a 4.9 to 5% capitalisation rate – which is exactly in line with the book vauation of Mapletree Business City (Phase II). And more importantly, it's also DPU and NAV accretive, to the tune of 4.0% and 2.2% respectively.
When you compare this acquisition with some other recent acquisitions made by other REITs from their sponsor (not naming names here), you'll start to understand just why Mapletree is such a highly respected sponsor among Singapore investors. They do truly look out for their unitholders.
Financing
Now for obvious reasons, the acquisition was approved by unitholders at the EGM. I mean, it's a no brainer right?
So let's talk about financing.
This deal is financed via a mix of bank loans and equity fund raising. And the equity component is split into a placement and a preferential offering.
And I quote from the recent SGX announcement:
The Private Placement Issue Price of S$2.28 per New Unit represents a discount of: (a) 2.9% to the volume weighted average price ("VWAP") of S$2.3484 per Unit of all trades in the Units done on Singapore Exchange Securities Trading Limited (the "SGX-ST") for the preceding Market Day1 on 15 October 2019 up to the time the Underwriting Agreement was signed on 16 October 2019; and (b) (for illustrative purposes only) 1.7% to the Adjusted VWAP2 of S$2.3192 per Unit.
The Preferential Offering Issue Price of S$2.24 per New Unit represents a discount of: (a) 4.6% to the VWAP of S$2.3484 per Unit; and (b) (for illustrative purposes only) 3.4% to the Adjusted VWAP of S$2.3192 per Unit.
And just in case you missed it, the 4.0% DPU accretion numbers above are based on an issue price of $2.10 for the new units. With an average issue price of about $2.2+ for the placement and preferential offering, we're actually looking at almost a 5.0% DPU accretion. In other words, this deal is even better than expected for existing unitholders.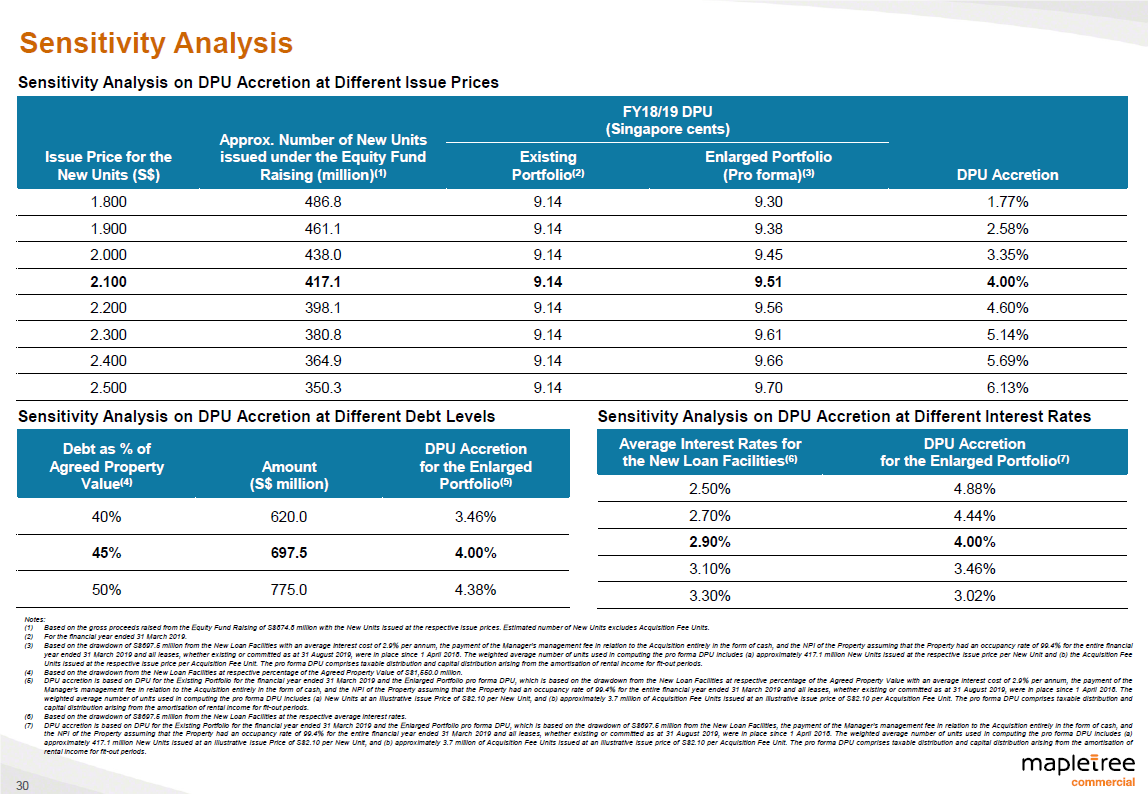 Details of the Preferential Offering
So now the decision point for us as unitholders, is whether to take up our preferential offering units.
It's not a rights issue, so these are non-renounceable (basically means that you can't give up your rights and sell them on the open market, you will need to first subscribe for them, then manually sell them via a broker).
And the preferential offering is 71 units for every 1000 units held, at $2.24 per unit. To illustrate, if you're holding 10,000 units, which is $23,700 worth of units at the current market price, you're able to subscribe for 710 units, or $1,682 at current market price. So it's nice, but it's nothing huge.
And at $2.24 per new unit, you're also buying into Mapletree Commercial Trust at about a 4.28% yield, and a 28% premium to book. Which to put things in perspective, is about where CCT is trading at these days.
Why I have a good mind to skip this preferential offering
Now I know the usual reasons why it's silly to skip a preferential offering. They're issued at a discount to market price, it's a way to add to your position and participate in the long term growth of MCT etc etc.
I get that.
But I'm still quite apprehensive of adding to my position in MCT at $2.24, at a 4.28% yield, and a 28% premium to book. It just seems slightly pricey to me, when I already have a big position at $1.5x.
Plus, given that this is way above my purchase price, I'm also not getting diluted out big even if I don't participate.
And if I don't subscribe, I also get to redeploy the spare cash into higher yielding REITs at 7+ % yields, which is pretty nice in my books.
Sure I could take up the units and then sell them on the SGX immediately after I get them, but that's assuming the units hold up at about $2.3+ from now until then (for it to be worth the effort). And given the next few weeks are gonna be volatile, there's no way of knowing for certain what's going to be happen.
To be really honest with you guys, I haven't made up my mind whether I will be skipping this preferential offering just yet. But I actually have a good mind to, for the reasons described above.
Any fellow Mapletree Commercial Trust (MCT) Unitholders out there? I would love to hear your thoughts on why I should / should not skip this preferential offering. Am I making a big mistake to even think of skipping?
Share your thoughts below!
---
Looking for a comprehensive guide to investing? Check out the FH Complete Guide to Investing for Singapore investors.
Support the site as a Patron and get market and stock watch updates. Big shoutout to all Patrons for their support!
Like the Financial Horse Facebook Page and join the Facebook Group (Singapore) or Facebook Group (China) to continue the discussion!