I know a lot of you are in the market for high yielding fixed deposit to park your cash, risk free.
So I just wanted to do a quick shout out that OCBC is running a Chinese New Year Promotion for Fixed Deposit right now.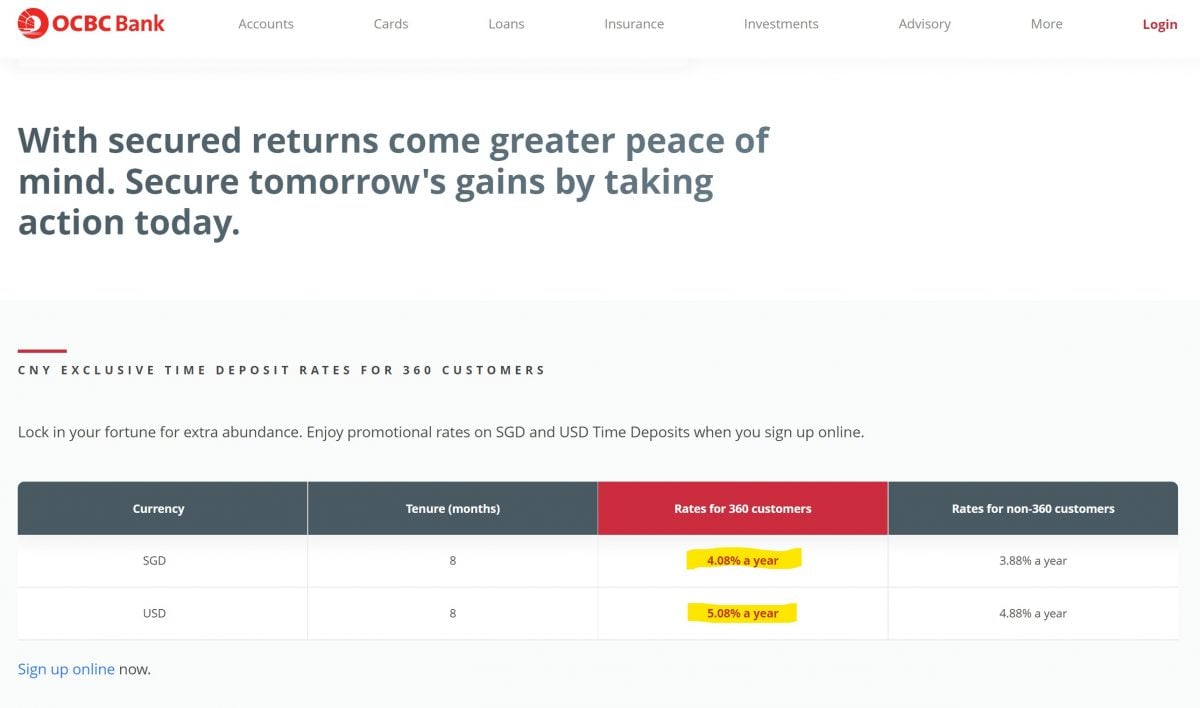 OCBC Fixed Deposit yields 4.08% (for SGD) and 5.08% (for USD)
If you have an existing OCBC 360 account, you can get 4.08% p.a. on your SGD fixed deposit with an 8 months tenure.
This goes up to 5.08% p.a. for USD, which is frankly very attractive if you have some USD lying around (by contrast DBS pays only 4.5% for USD Fixed Deposits).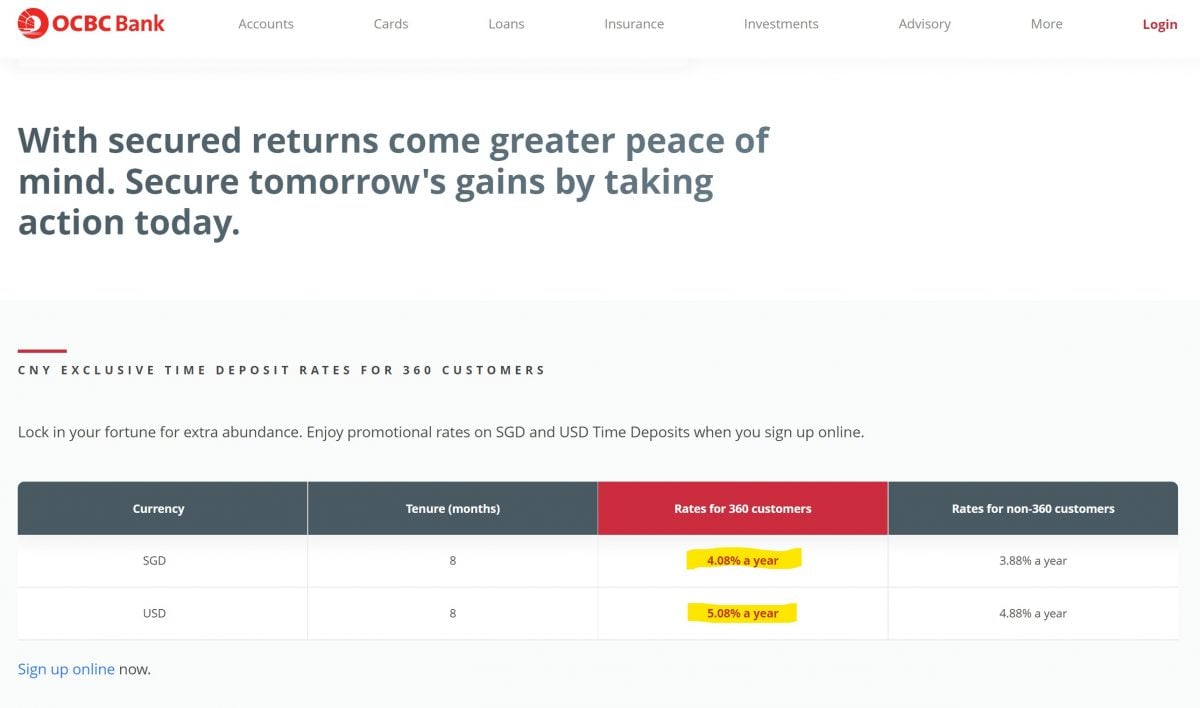 In fact if you're premier banking, you can get 4.18% p.a. for 8 months (SGD).

Minimum Fixed Deposit for OCBC is $20,000
Per the T&Cs, minimum deposit is $20,000.
"The minimum placement amount for the above SGD promotion is S$20,000. The maximum placement amount for all the above Time Deposit promotions is S$999,999 or equivalent. For deposits above S$1 million, please contact us at 1800 363 3333 or visit any OCBC Bank branch. This promotion is not available for placements via Supplementary Retirement Scheme (SRS) funds."
By contrast UOB pays only 3.85%, and you need to deposit $50,000 minimum.
So actually the $20,000 minimum deposit for OCBC's Fixed Deposit is pretty attractive (especially if all your cash is already tied up in T-Bills 😉)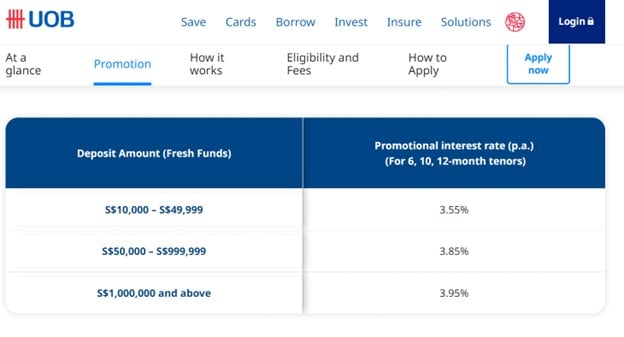 Maximum deposit is $999,999 – but c'mon, if you have $1 million to put into fixed deposit at one go, OCBC will probably give you even better rates.
Is this the most attractive Fixed Deposit in Singapore right now?
For the record – if you wanted the absolute best fixed deposit interest rates right now.
Then CIMB is offering 4.15% p.a. for 12 months (4.20% if you're preferred banking).
That said, CIMB's rate drops to 4.05% p.a. for a 9 months fixed deposit.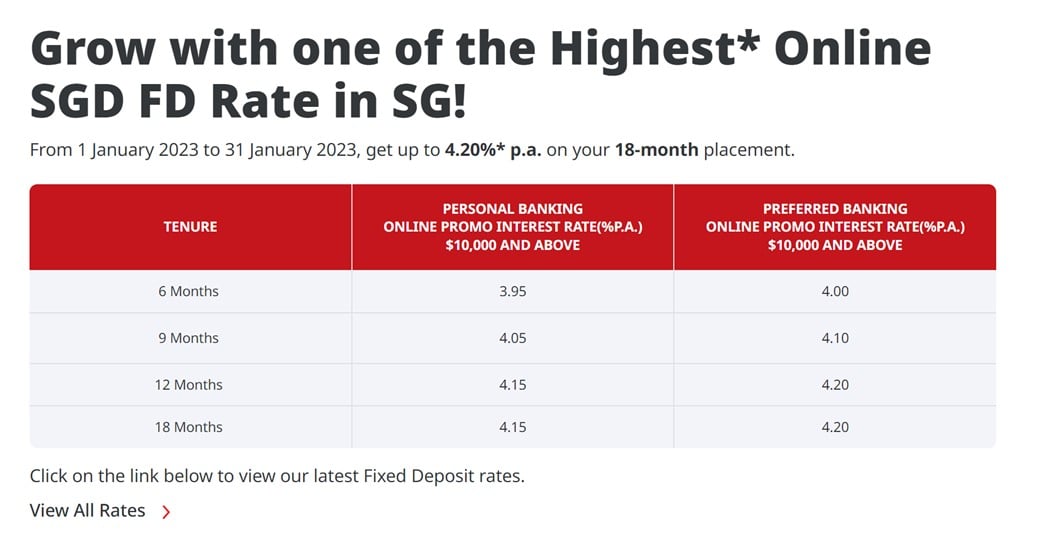 BTW – we share commentary on Singapore Investments every week, so do join our Telegram Channel (or Telegram Group), Facebook and Instagram to stay up to date!

I also share great tips on Twitter.
Don't forget to sign up for our free weekly newsletter too!
[mc4wp_form id="173″]
Don't forget the benefits of Fixed Deposit with a Singapore Bank…
The biggest benefit of OCBC vs CIMB though?
OCBC is a Singapore bank.
Yes, I get that bank deposits are SDIC insured up to $75,000.
But any amount beyond that is technically uninsured.
And hey call me old fashioned, but when I put money into Fixed Deposit I want it to be ZERO RISK.
If I wanted to take risk I would be investing in stocks or REITs instead.
Sticking with a Singapore bank – that's as close to zero risk as it gets in my view.
Administrative benefits of a Singapore bank for your fixed deposit
And administratively – being a Singapore bank, most of us should already have an account with OCBC, so there's no need to open a new account (unlike CIMB for example).
I'm hearing fixed deposit account opening times with the foreign banks are quite slow if you do it online (due to high demand) so this is a pretty big plus point.
It's also the same online banking interface and app UI you're used to, so no need to bother with a new bank.
You do need an OCBC 360 account to enjoy these promotional rates
You do need to have an OCBC 360 savings account to enjoy this promotion though.
Most of you should already have one because many years back it was one of the most attractive savings accounts to deposit salary into (I myself have one).
But frankly even if you don't, it's very quick to open one if you already have an account with OCBC.
If you don't have any existing account with OCBC at all (are you even a Singaporean), then you'll probably need to go down to the bank to get it set up.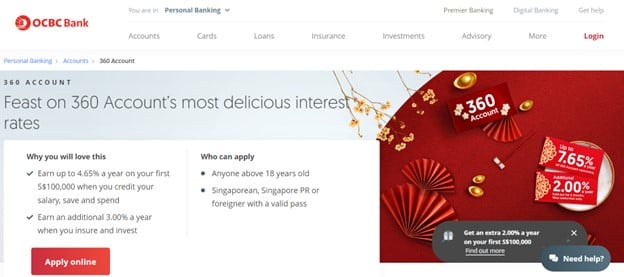 Trust Bank Account (Partnership between Standard Chartered and NTUC)
Sign up for a Trust Bank Account and get:
$35 NTUC voucher
1.5% base interest on your first $75,000 (up to 2.5%)
Whole bunch of freebies
 Fully SDIC insured as well.
It's worth it in my view, a lot of freebies for very little effort.
Full review here, or use Promo Code N0D61KGY when you sign up to get the vouchers!
WeBull Account – Free USD150 ($212) cash voucher
I did a review on WeBull and I really like this brokerage – Free US Stock, Options and ETF trading, in a very easy to use platform.
I use it for my own trades in fact.
They're running a promo now with a free USD 150 (S$212) cash voucher.
You just need to:
Sign up here and fund S$2000
Make 1 US Stock or ETF trade (you get USD100)
Make 1 Options trade (you get USD50)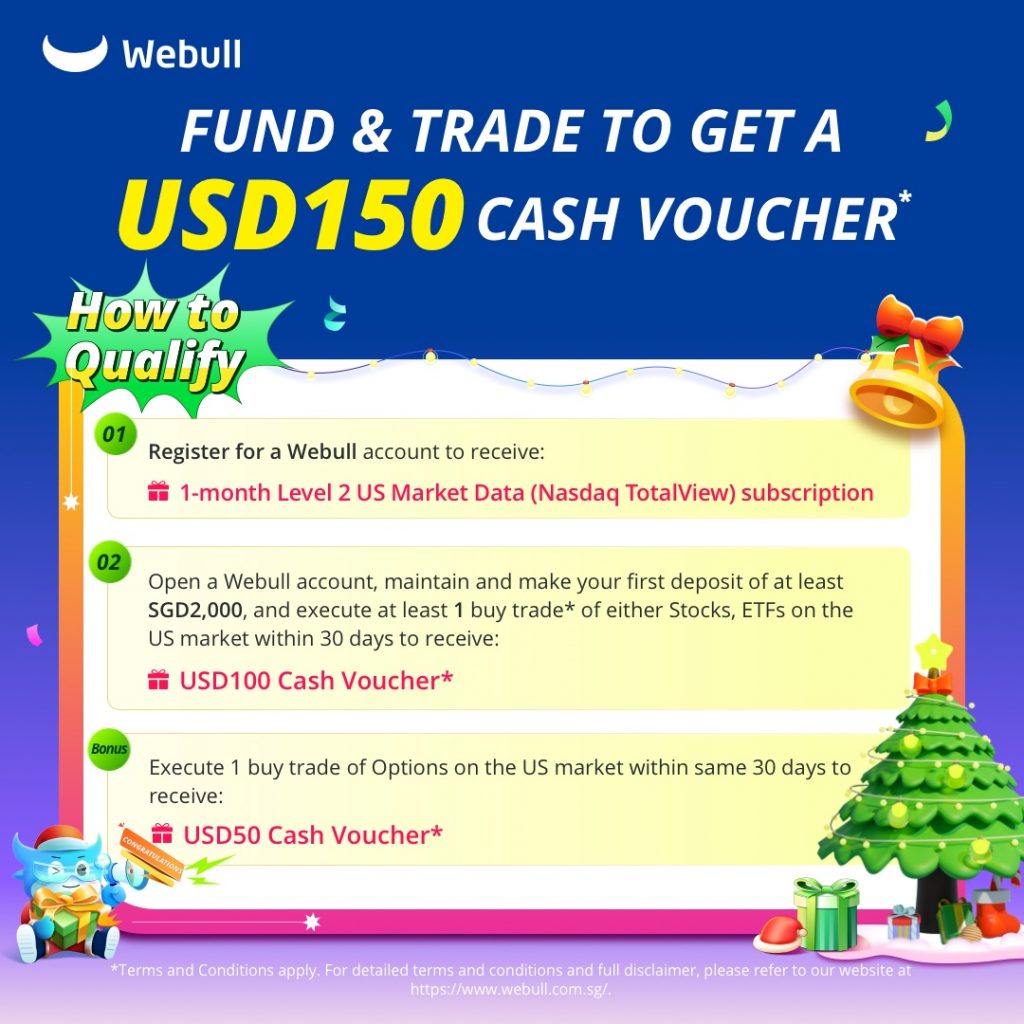 Looking for a low cost broker to buy US, China or Singapore stocks?
Get a free stock and commission free trading Webull.
Get a free stock and commission free trading with MooMoo.
Get a free stock and commission free trading with Tiger Brokers.
Special account opening bonus for Saxo Brokers too (drop email to [email protected] for full steps).
Or Interactive Brokers for competitive FX and commissions.
Do like and follow our Facebook and Instagram, or join the Telegram Channel. Never miss another post from Financial Horse!
Looking for a comprehensive guide to investing that covers stocks, REITs, bonds, CPF and asset allocation? Check out the FH Complete Guide to Investing.
Or if you're a more advanced investor, check out the REITs Investing Masterclass, which goes in-depth into REITs investing – everything from how much REITs to own, which economic conditions to buy REITs, how to pick REITs etc.
Want to learn everything there is to know about stocks? Check out our Stocks Masterclass – learn how to pick growth and dividend stocks, how to position size, when to buy stocks, how to use options to supercharge returns, and more!
All are THE best quality investment courses available to Singapore investors out there!