In case you missed it – Shopee (Sea Ltd) reported their quarterly earnings this week.
And boy… their share price was absolutely clobbered.
Down 29% last night alone.
This is especially painful considering that Sea had almost doubled from their lows of 40, going as high as 90 at one point earlier this year.
With the latest collapse in share price, Shopee shares are back at the lows hit in Nov 2022:
Zooming out into the 5 year chart is an unbelievable sight.
From the highs of $350, Shopee (Sea) shares are down 89%.
I am reminded of the archetypical "market bubble" chart.
I mean just compare the 2 charts – are they not a splitting image of each other?
Was the sell-off justified though?
I dug into the quarterly results out of interest, and here were my 3 big takeways:
Is this really a growth stock – Revenue is only up 5% year on year?
Shopee is actually doing okay… it's gaming that is not doing well
Shopee (Sea) is focussing on growth again? Instead of cost cutting?
This is a premium Patreon post written on 16 August. If you find it useful, do consider signing up as a Patreon for more premium market commentary like this.  
(1) Is this really a growth stock – Revenue is only up 5% year on year?
Here's GAAP revenue.
Up a mind blowing 5% year on year.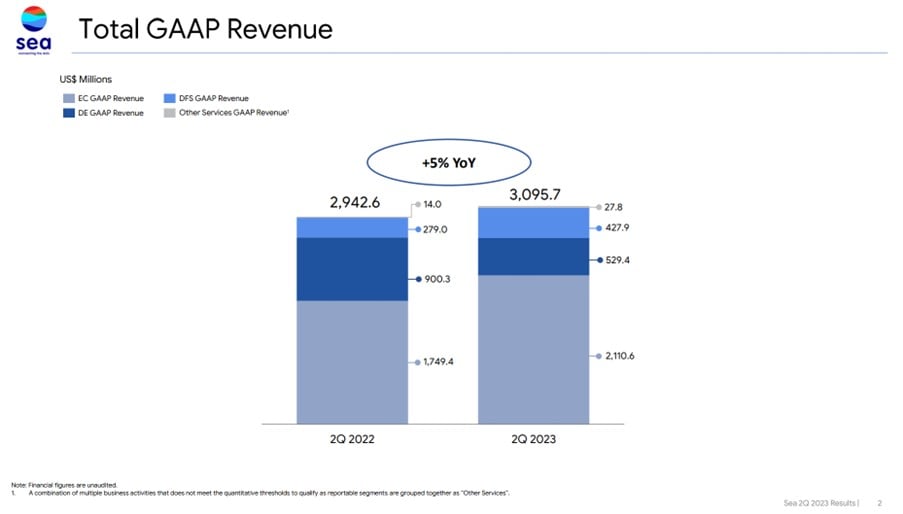 In case it wasn't clear, I meant that in a sarcastic tone.
I mean… this horse is old enough to remember when Shopee was growing revenue in excess of 100% year on year.
If you grow revenue in excess of 100% year on year – sure, even a valuation of 100x P/E can be justified (just look at NVIDIA).
But when a formerly high-flying growth stock only grows revenue 5% year on year.
Is it even a growth stock – or is it a value stock?
And if you're a value stock, then boy the valuation metrics you use are completely different from growth stocks (not in a good way).
Shopee (Sea)'s share price was clobbered because of the slow revenue growth
For what it's worth, the collapse in share price was largely due to the slower revenue growth.
Estimates were for $3.2b revenue, so the reported $3.09 billion was below estimates, leading to the selloff.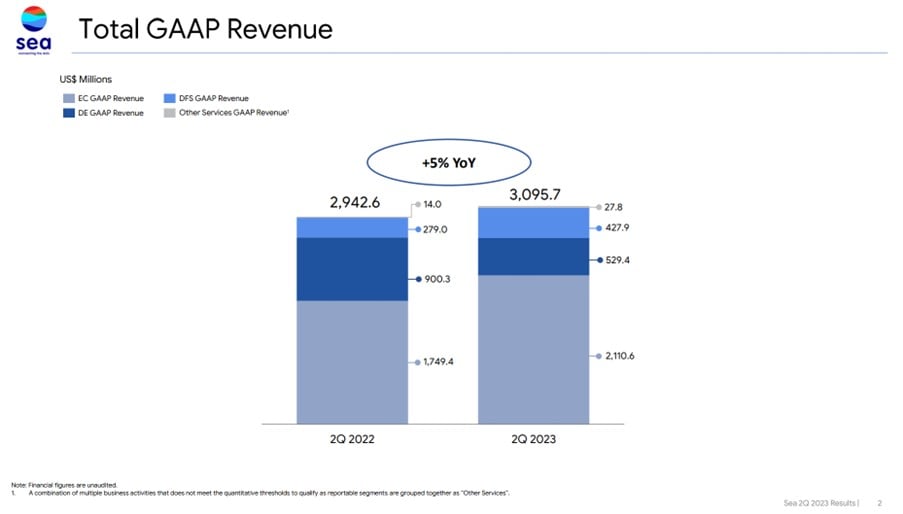 Earnings actually outperformed though.
Earnings per share came in at 54 cents per share, 12 cents above estimates.
But like I said, it's the revenue miss that hurts.
When the market thinks of you as a growth stock, and you suddenly become a value stock – that's a painful transition.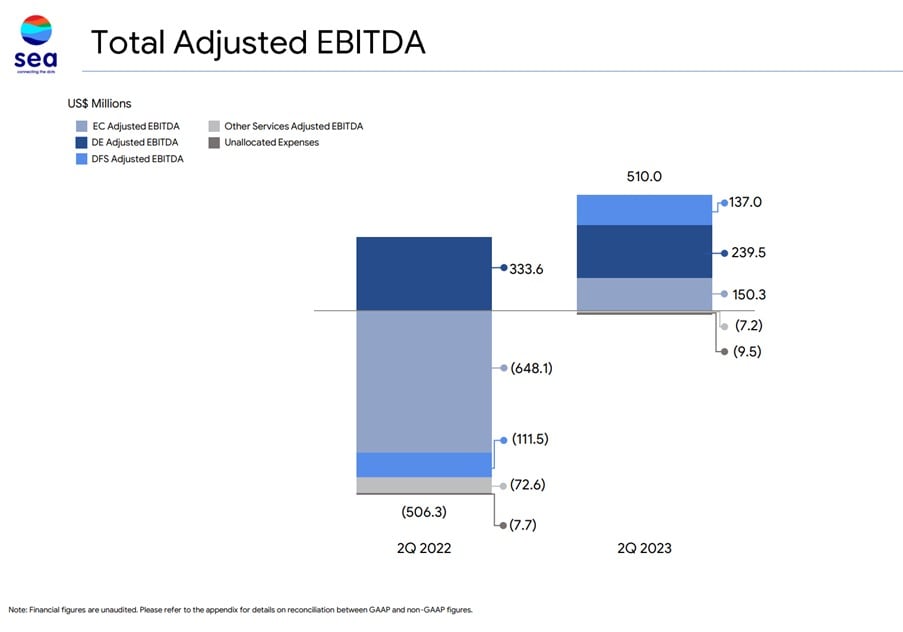 (2) Shopee is actually doing okay… it's gaming that is not doing well
If you dig deeper into the earnings.
You'll find that actually they're not all that bad.
Shopee (the e-Commerce business) is actually growing at 28% year on year revenue.
That's impressive, considering that COVID is over and the world has reopened.
To grow revenues 28% despite all the headwinds for e-Commerce is pretty commendable.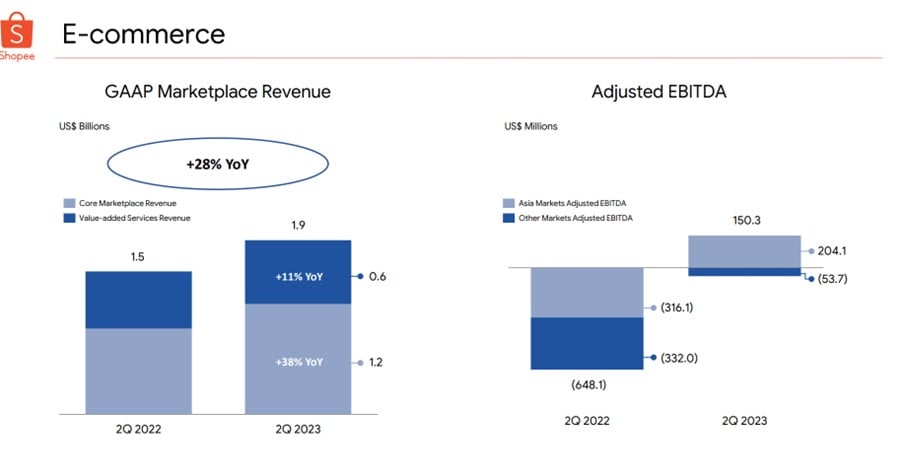 It's the gaming business that is a disaster though.
Revenue is down 4% quarter on quarter.
The underlying metrics are showing sign of improvement though – quarterly active users up 11% quarter on quarter. Quarterly paying user ratio up 7.9%.
For those of you who've been following gaming you'll know that the gaming sector has been in an earnings recession of sorts the past 12 months.
Viewed this way, there does appear to be some signs of stabilisation / bottoming in gaming.
But… is Garena competitive in gaming?
That said, the longer term question is whether Garena can be a big player in the gaming world.
Remember you're not buying a games studio like Activision Blizzard with a multi-year track record in creating hit games like Warcraft, Diablo and Call of Duty.
Garena has had one hit game – Free Fire.
It remains to be seen if they can replicate that success going forward.
BTW – we share commentary on Singapore Investments every week, so do join our Telegram Channel (or Telegram Group), Facebook and Instagram to stay up to date!

I also share great tips on Twitter.
Don't forget to sign up for our free weekly newsletter too!
(3) Shopee (Sea) is focussing on growth again? Instead of cost cutting?
If you remember, a few quarters ago Shopee (Sea) laid off a lot of staff and talked about cost cutting and the focus on profitability.
Well, it looks like the emphasis has shifted away from profitability, and back to growth again.
Here's the exact remarks from CEO Forrest Li, emphasis mine:
"In the past couple of quarters, we have not only achieved self-sufficiency, but also demonstrated the profitability of our model and our ability to manage fast and significant shifts in operational focus as we see fit. Given this, we have strengthened our execution capabilities and increased the stickiness of our ecosystem. We believe we are now on firmer footing to better serve our communities.
Meanwhile, the economies of our region have remained resilient with inflation largely under control. This further boosts confidence in the long-term growth prospects of our markets. We are also excited to see recent ecosystem developments in diversified user engagement through live streaming and short form videos as well as affiliate programs, which already brought new growth to Shopee. Such developments in our ecosystem offer us further opportunities to expand our long-term profitable TAM.
Given these positive developments and trends, we have started, and will continue, to ramp up our investments in growing the e-commerce business across our markets. Such investments will have impact on our bottom-line and may result in losses for Shopee and our group as a whole in certain periods. However, this does not change our unwavering emphasis on self-sufficiency and improving cost efficiency as a key competitive moat. Moreover, we believe that the efficiency gains and stronger footing we have achieved through our past efforts have further strengthened our ability to invest efficiently in growth. Most importantly, we will remain highly agile and prudent by closely monitoring the conditions of each market and adapting our focus and pace accordingly from period to period. As I discuss Shopee's performance later, I will further elaborate on some of our focus areas in the near-term."
Not quite sure to make of this.
So… Shopee is refocussing on growth.
While also trying to focus on profitability?
Sounds like having your cake and eating it.
For what it's worth, Forrest Li's track record in execution has been commendable.
When interest rates were low he focussed on growth, and delivered breakneck growth.
When interest rates shot up last year he focussed on profitability, and today Shopee (Sea) is profitable.
So their management team does have a track record of delivering results, although share price is another story.
Would I buy Shopee (Sea) shares at $40?
Full disclosure that I have no position in Shopee (Sea).
Nor have I ever.
I watched this stock go from $20 pre-COVID to $350 in the 2021 free money euphoria.
And then back down to $40.
And never took a position in this stock – although I have been watching with much interest from the sidelines.
Does that change today?
Technical Analysis – Better to wait for a trend to emerge
I mean I'm not an idiot.
If I look purely at the chart below and put aside all the fundamentals, no way in hell I would open a position.
Stock has plunged on high volume yesterday, which is never a good thing.
Even if you are inclined to trade this position, at the very least you need to let it play out and watch for signs of stabilisation / an uptrend to emerge.
If an uptrend emerges though?
That could be interesting.
The last time Shopee (Sea) bottomed at $40 the stock then went as high as $85 which is a >100% gain.
Fundamental Analysis – If you value Shopee (Sea) as a value stock… numbers are not pretty…
EPS was $0.54, and estimated EPS for next quarter is $0.48.
Let's say we assume $0.50 average EPS moving forward.
And a conservative 15x P/E to take into account declining gaming earnings and high interest rates.
That gives you a share price of $30.
Like I said, if you value a growth stock on value stock metrics the numbers look ugly.
But of course, if they deliver on e-Commerce growth.
Or stem the bleeding in gaming.
Or interest rates drop in 2024.
That's just upside for you.
Note that if you use a 20x P/E using the same numbers above, that gives you a price of $40 where the stock is trading today.
So… it really depends on the execution.
Will I buy Shopee (Sea) shares at $40?
As I write this article, Shopee (Sea) shares are down 3% pre-market.
So for now at least, it's clear than until they break out of their downtrend I'm not touching this stock.
If they do though, and the technical picture starts to improve.
Who knows, this could be an interesting trade.
I like the track record of Forrest Li and his management team, and if he says he is going to focus on growth while prioritising profitability, you know I actually kind of believe him on this one.
Whatever the case, I have no position in Sea today, nor have I had any position in them this cycle.
Let's see if I change my mind in the months ahead.
This is a premium Patreon post. If you find it useful, do consider signing up as a Patreon for more premium market commentary like this.  
This article was written on 16 August 2023 and will not be updated going forward. For my latest up to date views on markets, my personal REIT and Stock Watchlist, and my personal portfolio positioning, do sign up as a Patreon.
WeBull Account – Get up to USD 580 worth of shares
I did a review on WeBull and I really like this brokerage – Free US Stock, Options and ETF trading, in a very easy to use platform.
I use it for my own trades in fact.
They're running a promo now with up to USD 580 free fractional shares.
You just need to:
Sign up here and fund $300 SGD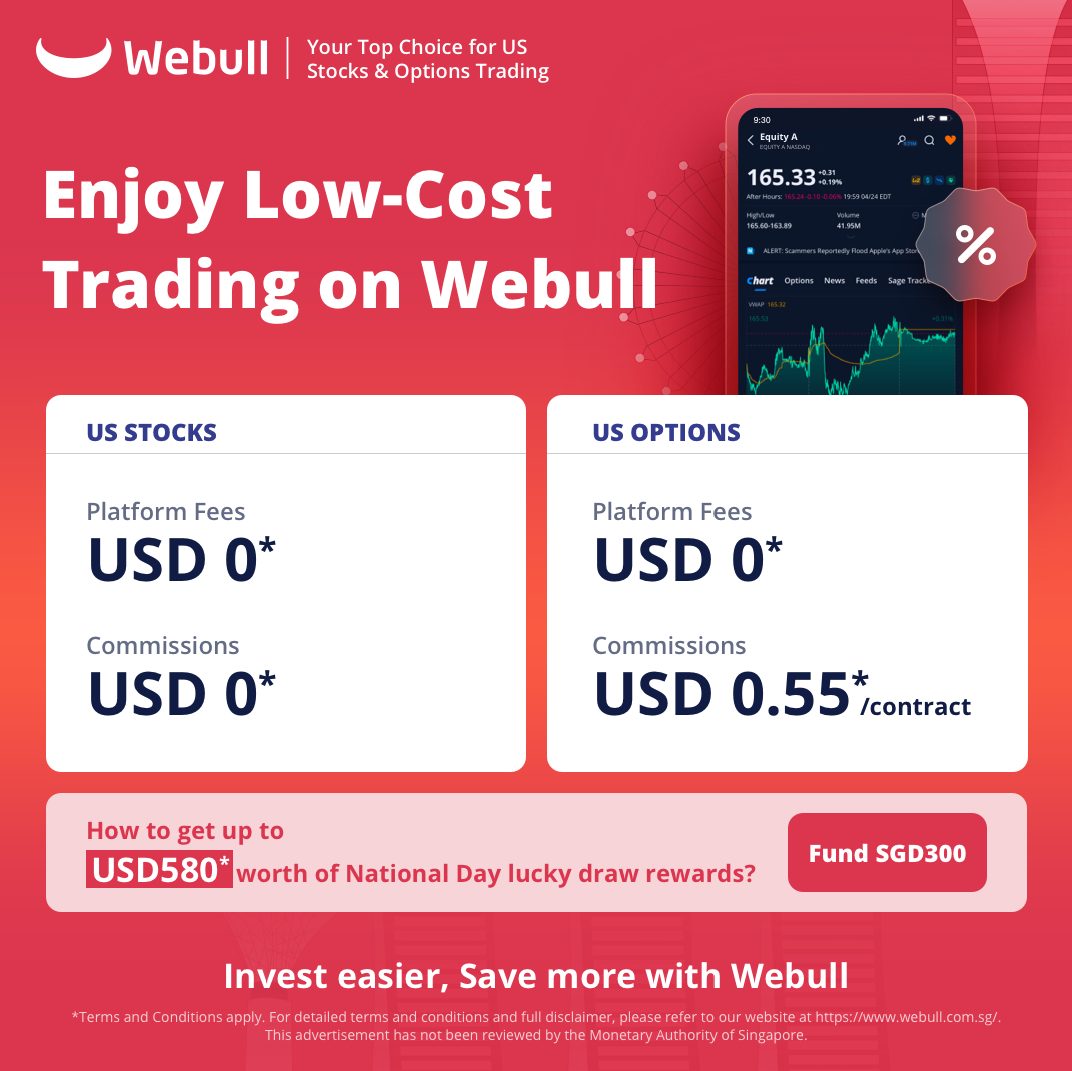 Trust Bank Account (Partnership between Standard Chartered and NTUC)
Sign up for a Trust Bank Account and get:
$35 NTUC voucher
1.5% base interest on your first $75,000 (up to 2.5%)
Whole bunch of freebies
 Fully SDIC insured as well.
It's worth it in my view, a lot of freebies for very little effort.
Full review here, or use Promo Code N0D61KGY when you sign up to get the vouchers!
Portfolio tracker to track your Singapore dividend stocks?
I use StocksCafe to track my portfolio and dividend stocks. Check out my full review on StocksCafe.
Low cost broker to buy US, China or Singapore stocks?
Get a free stock and commission free trading Webull.
Get a free stock and commission free trading with MooMoo.
Get a free stock and commission free trading with Tiger Brokers.
Special account opening bonus for Saxo Brokers too (drop email to [email protected] for full steps).
Or Interactive Brokers for competitive FX and commissions.
Check out my personal recommendations for a reading list here.