What a week!
Over the past week or so, we've seen:
3 US Banks fail.
The Feds rush in to bail out depositors at 2 US banks.
The market price in interest rate cuts as early as June 2023.
And last night, we had a potential run on a Global Systemically Important Bank in Credit Suisse.
That resulted in the Swiss Central Bank coming in to provide a liquidity line.
So to say that we've had an eventful week is probably a bit of an understatement.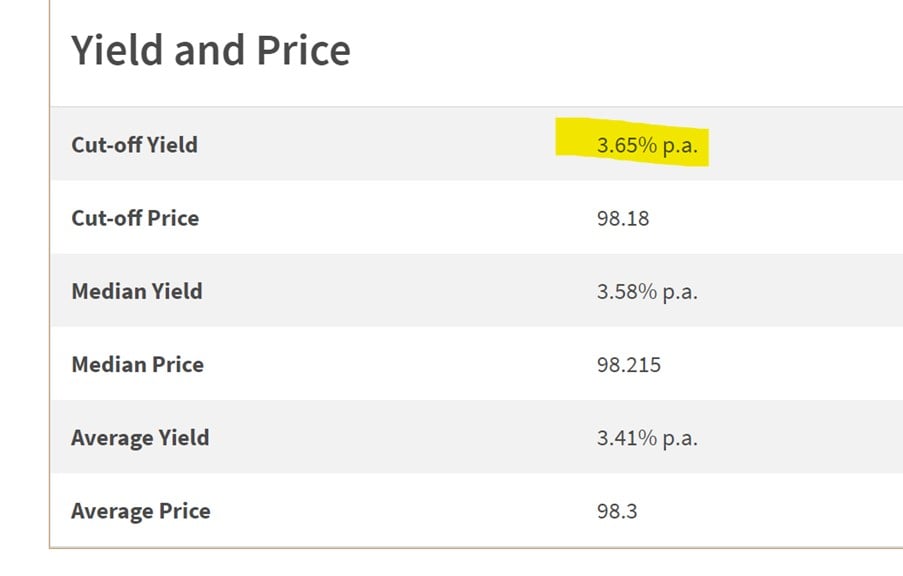 T-Bills Auction the most closely watched in a while – Due to the global flight to safety
This made the 16 March 2023 T-Bills auction one of the most closely watched auctions in a while, to get a better sensing of market sentiment.
And boy… it did not disappoint.
Because interest rates plunged from 3.98% the previous auction – to a disappointing 3.65% this auction.
Which btw – is a lesson to never submit non-competitive bids for T-Bills.
You never know when a banking crisis might come in to screw up your bids. 😉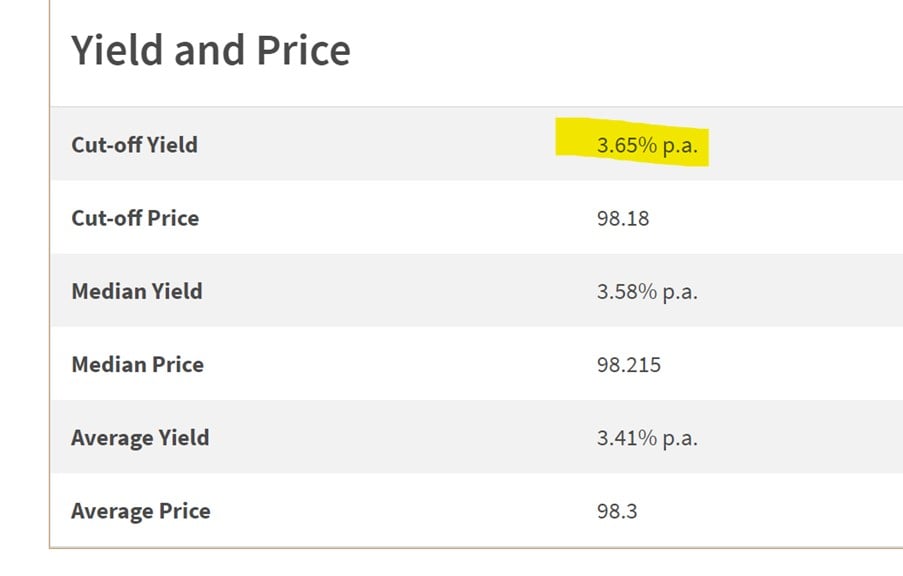 Diving into the T-Bills Auction / Allotment Numbers
The numbers are not even that bad.
Application amount of $12.7 billion is actually lower than last auction's $13 billion.
So you can't even blame this result on CPF-OA investors or retirees submitting low-ball bids.
It genuinely looks like a flight to safety here, as investors flood into the safety of T-Bills given current market volatility.
The cut-off yield of 3.65% for this auction is the lowest since October 2022 – waaay back when the Feds were still raising 0.75% per meeting.
That sure feels like an eternity ago right now.
T-Bills Auction Results in line with global interest rate moves
For the record, this is very much in line with global interest rate moves, which has reflected the flight to safety.
US 2 year yield plunged from 5.00% just last week, to 3.99% yesterday.
That's an absolute monster of a move, one of the biggest since 1987's Black Monday.
That gives you an idea of the volatility we're seeing in markets right now.
Market Pricing in Interest Rate cuts as early as June 2023
If you think that was a shocker, just wait until you see the market pricing on Fed Funds Rates.
Whereas just a week ago we were looking at a 5.75% terminal interest rate and no rate cuts in 2023.
Market is now pricing in just 1 more interest rate hike to a 5.00% terminal rate.
And the Feds to start cutting interest rates by June 2023.
You're reading that right – market thinks we could be seeing rate cuts as early as 3 months from today.
BTW – we share commentary on Singapore Investments every week, so do join our Telegram Channel (or Telegram Group), Facebook and Instagram to stay up to date!

I also share great tips on Twitter.
Don't forget to sign up for our free weekly newsletter too!
[mc4wp_form id="173″]
My Thoughts? Fixed Deposit a screaming buy now?
Coming back to T-Bills.
I think that if you're seeing 3.65% on T-Bills.
Then Fixed Deposit is a screaming buy for cash investments right now – especially when you can get up to 4.00% on Fixed Deposits still.
I'll do a roundup on the best Fixed Deposit rates this weekend in light of this.
Just in case the banks start slashing Fixed Deposit rates.
What about the "banking crisis"?
The so called "banking crisis" is a bit more tricky.
I'll share more detailed views this weekend.
But I still don't see this as a banking crisis like 2008 per se.
The more I think about it, the more I think investors expecting the banks to be the ground zero for this crisis are getting it wrong.
Rather, I think the ground zero for this crisis is going to be the areas that geared up to the gills and feasted on a decade of easy money.
It is going to be loss making tech startups, venture capital (VC), private equity (PE), private Commercial Real Estate.
The failure of Silicon Valley Bank is not a warning bell for the banking sector.
It is a warning bell for the loss making tech startups and their difficulty in raising cash.
Remember – Silicon Valley bank was highly exposed to both (a) loss making tech startups and (b) rising interest rate risk.
That's the real story here in my view.
Whatever the case, we're getting to the point of the cycle where the costs of raising interest rates to fight inflation are getting very real.
And how Jerome Powell balances the inflation fight, against the desire to avoid breaking things in the real economy, gets much harder.
Eyes wide open here – risks are getting very real.
As always, this article is written on 16 March 2023 and will not be updated going forward.
If you are keen, my full REIT and stock watchlist (with price targets) is available on Patreon, together with weekly premium macro updates. You can access my full personal portfolio to check out how I am positioned as well.
Trust Bank Account (Partnership between Standard Chartered and NTUC)
Sign up for a Trust Bank Account and get:
$35 NTUC voucher
1.5% base interest on your first $75,000 (up to 2.5%)
Whole bunch of freebies
 Fully SDIC insured as well.
It's worth it in my view, a lot of freebies for very little effort.
Full review here, or use Promo Code N0D61KGY when you sign up to get the vouchers!
WeBull Account – Get up to USD 500 worth of fractional shares
I did a review on WeBull and I really like this brokerage – Free US Stock, Options and ETF trading, in a very easy to use platform.
I use it for my own trades in fact.
They're running a promo now with up to USD 500 free fractional shares.
You just need to:
Sign up here and fund any amount
Maintain for 30 days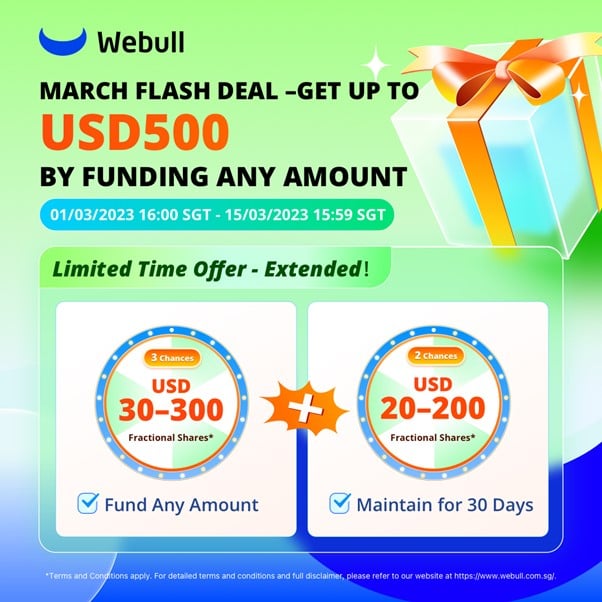 Looking for a low cost broker to buy US, China or Singapore stocks?
Get a free stock and commission free trading Webull.
Get a free stock and commission free trading with MooMoo.
Get a free stock and commission free trading with Tiger Brokers.
Special account opening bonus for Saxo Brokers too (drop email to [email protected] for full steps).
Or Interactive Brokers for competitive FX and commissions.
Do like and follow our Facebook and Instagram, or join the Telegram Channel. Never miss another post from Financial Horse!
Looking for a comprehensive guide to investing that covers stocks, REITs, bonds, CPF and asset allocation? Check out the FH Complete Guide to Investing.
Or if you're a more advanced investor, check out the REITs Investing Masterclass, which goes in-depth into REITs investing – everything from how much REITs to own, which economic conditions to buy REITs, how to pick REITs etc.
Want to learn everything there is to know about stocks? Check out our Stocks Masterclass – learn how to pick growth and dividend stocks, how to position size, when to buy stocks, how to use options to supercharge returns, and more!
All are THE best quality investment courses available to Singapore investors out there!