In Part 1 of this article, we examined how Starbucks has maintained its position as the largest coffeehouse chain in the world.
A quick recap of 3 of its competitive advantages:
Starbucks's powerful brand means loyal customers are willing to pay a premium for their products.
Despite having over 34,000 stores in 80 countries, Starbucks still sees a long runway for growth in the U.S. and international markets, especially China.
Starbucks Rewards Program results in data-driven business decisions.
This article was submitted by a Guest Contributor. The opinions expressed in this publication are those of the Guest Contributor.
However, as Starbucks expands internationally, it is coming up against increasing competition.
In this article, we'll take a deeper look at its competitors in Asia.
Powered by several venture capital-backed startups, the last 5 years has seen a proliferation of grab and go coffee chains. 
Grab and go coffee chains in Asia
Starbucks positions itself as a "Third Place" between home and work.
However, a new model has emerged in Asia catering to grab and go coffee buyers.
Luckin Coffee is the leader in China.
In Indonesia, Kopi Kenangan, Kopi Janji Jiwa, Fore Coffee — among others — are gunning for the top spot.
There are also regional players like Flash Coffee, which launched in Singapore and several Southeast Asian markets from the on-start.
Their value proposition is simple: better coffee than Starbucks at a cheaper price.
Offering higher quality at lower prices sounds like a case of wanting to have your cake and eat it too.
But the model is proving to be resilient.
Grab and go chains achieve this by using a combination of technology, lean store design and thrifty real estate locations to slash operating costs. These savings are then passed along to the consumer in the form of lower prices.
A latte in Starbucks costs $6.90 in Singapore. Flash Coffee sells the equivalent item for $4.30 —  38% cheaper.
Grab and go chains achieve this by using a combination of technology, lean store design and thrifty real estate locations to slash operating costs. These savings are then passed along to the consumer in the form of lower prices.
How the grab and go model works
The grab and go model has two key characteristics: a digital-first strategy, and small store sizes.
Digital-first strategy
Grab and go chains embrace a digital-first strategy to differentiate itself from traditional F&B businesses.
This strategy can be traced back to the "New Retail" vision first laid out by Jack Ma in 2016. The Alibaba founder laid out a vision where online and offline commerce is seamlessly integrated.
Although this might seem quite obvious now, coffee chains adopted practices that made it more convenient for customers to purchase food and drinks.
Customers could place their orders through the mobile app, and either pick it up at their preferred outlet or have it delivered to their doorstep.
For the time-starved office worker or tech-savvy Millennial, either option beats the hassle of standing in a snaking queue.
A digital-first strategy extends beyond what the customer sees.
It generates efficiencies for other functions like operations to marketing.
For example, driving users to transact through their app allows the company to suck up copious amounts of data about their users – more so than if it used a third-party app. Capturing their entire user journey on their app allows the business to collect data on purchase history, payment activities, addresses, and more.
Over time, this can produce powerful insights about the customer.
Businesses can make informed decisions on new product launches backed by data on customer preferences. They can use AI to personalise the app homepage to provide more relevant recommendations that delight the customer.
Small store sizes
Rent and labour makes up a high percentage of Starbucks' cost. That's because the in-store experience is so important to them.
Training baristas, outfitting stores and setting up amenities – all add to the operating costs.
In contrast, grab and go chains are much more spartan.
A typical outlet has just enough space for the baristas to operate. There are limited seats (if any) and bare interiors.
WiFi and toilets are rare. Eliminating these niceties significantly reduces the outlet size.
For example, Kopi Kenangan, a grab and go chain in Indonesia, has stores five to 10 times smaller than a normal cafe.
Smaller stores translate to lower rent and fewer employees.
This significantly reduces each store's operational costs, allowing chains to offer lower prices while maintaining a healthy margin. This leaner model also allows chains to expand more quickly.
The top grab and go chains in Asia
Luckin Coffee
For years, Starbucks had a practical monopoly over the coffee market in China. It opened its first outlet in Beijing in 1999, and toiled for years to single-handedly create a market of coffee drinkers in a tea loving nation.
Despite its huge lead, Starbucks was also slow to adapt to the shifts and retail trends in China, such as delivery. That opened the door for Luckin Coffee to swoop in.
Founded in 2017, Luckin spread quickly across China and became an overnight challenger to Starbucks. They allowed users to order easily on its app and enabled deliveries, two features Starbucks hadn't offered. Starbucks relied on customers buying in-store.
Luckin also took a different approach to Starbucks' retail strategy.
Where Starbucks offered its products only at premium locations in first-tier cities, Luckin Coffee chose cheaper and more remote locations. It opened units tucked away in the corner of a mall, or inside university campuses.
Luckin's rapid rise felt too good to be true — and it was.
The company fell apart in 2020 after it was revealed to have faked more than $300 million of sales. Luckin was delisted by Nasdaq and forced to pay $180 million in fines. But two years later, Luckin is staging an audacious comeback.
With new management, led by CEO Guo Jinyi, Luckin claims to have flushed out the bad seeds and overhauled its company culture.
Their new strategy involves closing down underperforming stores and increasing its prices by 60% to an average of $2.50. This is a healthier margin, but still half the price of a similar item at Starbucks.
Luckin now has more than 6,500 stores in China, about 930 more than Starbucks.
Kopi Kenangan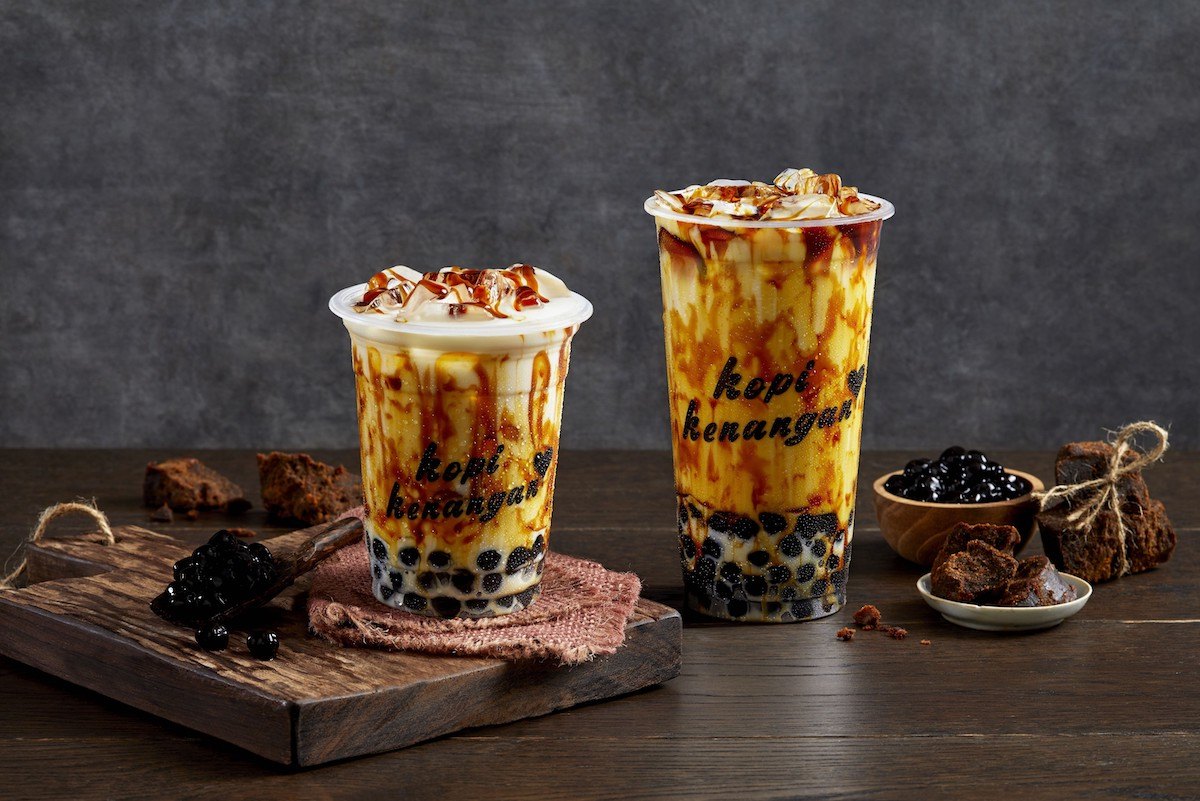 The grab and go market In Indonesia is much more fragmented compared to China. Multiple startups are vying for the top spot. One of the pioneers of the model is Kopi Kenangan, founded in 2017.
It has 670 stores across 45 cities in Indonesia. In December 2021, it entered a rare club of Indonesian unicorns. Its latest US$96 million fundraise made it the first "new retail" F&B unicorn from Southeast Asia.
Kopi Kenangan carved a position for itself by providing a middle-ground between high-priced coffee chains and the cheap instant coffee sold in street stalls.
The brand is hyperlocal whereas Starbucks is a symbol of globalisation.
Kopi Kenangan translates to "coffee memories", and their menu items are creatively designed around that theme.
For instance, their signature drink is Es Kopi Kenangan Mantan – memories of an ex-lover – is distinctive for its local flavour (gula melaka is the main ingredient) and creative drink names.
Unlike Starbucks, Kopi Kenangan actually gained ground during Covid. With its focus on takeaway and deliveries, they avoided opening stores in the city centre, with its expensive rent and heavy competition. Instead they expanded in unconventional locations like gas stations, commercial offices and local shophouses.
Doubling down on its presence in residential areas boosted its business during the nationwide lockdowns. Kopi Kenangan was a huge beneficiary in the huge spike in food deliveries. Moving forward, it plans to continue expanding across Indonesia and in Southeast Asia.
Flash Coffee
Launched in 2020, Flash Coffee's iconic yellow storefronts have sprouted up all across Asia. In just two years they've grown to over 250 outlets in seven markets: Singapore, Indonesia, Thailand, Hong Kong, Taiwan and South Korea.
Flash Coffee is unique in its ambition to be a regional coffee chain from its inception. They have an audacious mission to open a Flash Coffee every 500 metres in most major Asia countries. It plans to open stores in the Philippines, Malaysia and Vietnam by the end of the year.
To cater to the different preferences in each market, Flash Coffee also crafts locally-exclusive beverages.
For example, Hong Kong's menu includes local exclusive flavours like peanut butter condensed milk, black sesame latte and yuen yeung (a mixture between coffee and tea).
With its tagline being a "tech-enabled coffee chain", the Flash Coffee app claims to have an advanced loyalty programme. Users can also take part in gamified "Challenges" to accumulate points and redeem them for free products and merchandise.
Tech also helps on the backend to reduce operational costs. For example, Flash Coffee is exploring how it can leverage data to forecast individual store's consumption of key ingredients like coffee and milk. This will help to reduce waste and more accurate schedule orders.
How Starbucks is responding to challengers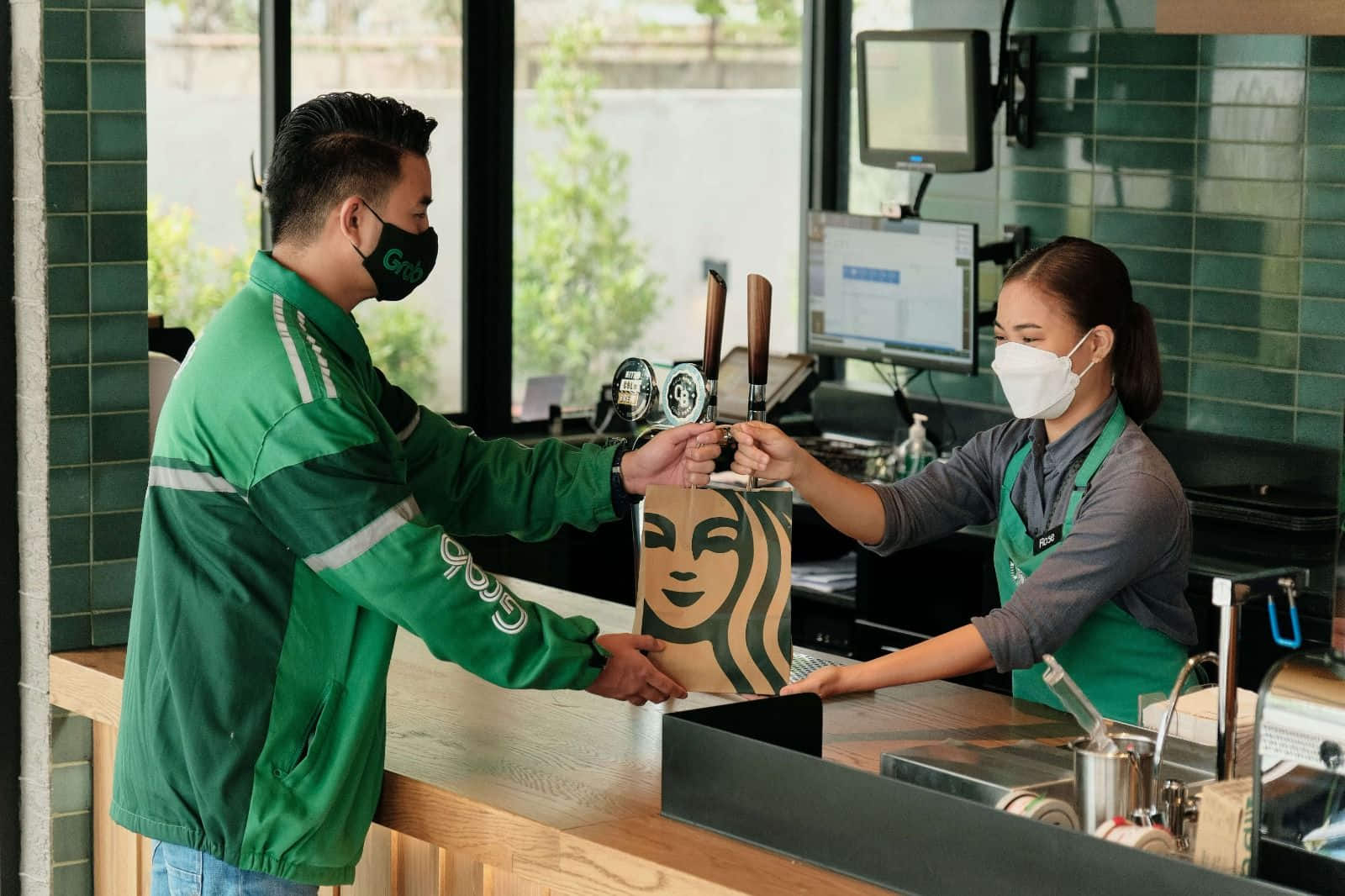 In response to the competition grab and go chains pose, Starbucks stepped up its tech capabilities through strategic partnerships.
In China, Starbucks announced a strategic partnership with Alibaba to enhance its capabilities to close the gap with Luckin.
For example, they opened "Star Kitchens" in Hema supermarkets owned by Alibaba. This allowed Starbucks to tap on Hema's fulfilment and delivery capabilities to expand Starbucks delivery radius.
Shortly after, it announced new features to open up its pre-order and in-store pickup feature, which was previously only available on the Starbucks app. The feature was extended to four Alibaba platforms, including Alipay.
This year Starbucks signed a regional partnership with Grab to boost their capabilities within Southeast Asia.
One key element of the tie up allows customers to earn Starbucks Rewards points for orders made through GrabFood. This ensures Starbucks' loyalty programme remains relevant as more customers opt for delivery. Customers can also get instant delivery through GrabExpress when they place an order through the Starbucks app.
Conclusion
Asia's coffee consumption has grown by 1.5% in the past five years, compared to 0.5% growth in Europe and 1.2% in the U.S, according to the International Coffee Organization.
This statistic – combined with the emergence of several large VC-backed startups – underscores the importance of the Asia market.
Competitors also have a large war chest to wage a discount war to win over more price-sensitive customers. Starbucks will have to navigate these competitors if it wants to thrive in the long-term.
For more personal finance & investing content, follow Financial Horse on Social Media!