Now I talk a lot REITs, banks and GLCs on Financial Horse.
But I realise I've never done a dedicated post on growth stocks.
Growth stocks had a monster of a 2020 – many of them up 3x or 4x.
But they've undergone a pretty big correction since Feb 2021, creating opportunities in this space.
So let's correct that today – Let's look at the top 5 growth stocks to buy for Singapore investors, in 2021.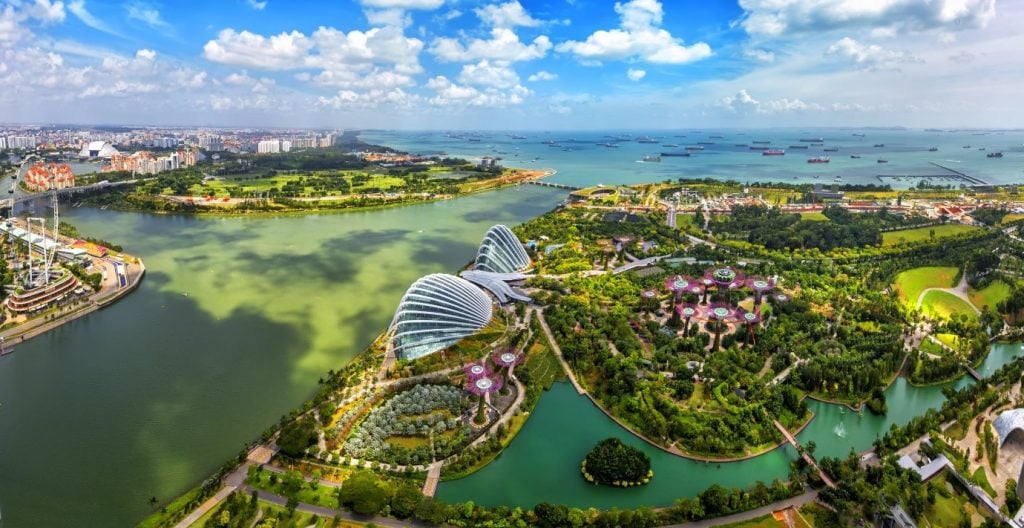 Macro Outlook for Growth Stocks in 2021
Quick macro discussion – I don't think 2021 is favourable for growth stocks.
It works like this – as the world continues to open up, interest rates around the world will continue going up.
We already see the Feds pseudo-tightening the past week, starting to sell the corporate bonds they bought in 2021.
I expect that to be the broader trend in 2021, with the emergency liquidity gradually being withdrawn.
As interest rates go up, the hardest hit are the long duration plays.
Unfortunately, small/mid cap tech tends to fall squarely within that category. You're buying these names for the growth over the next 5 to 10 years, and as interest rate goes up, you need to discount these future earnings more and more.
That said, I'm very bullish on tech longer term.
I think we're on the cusp of the next big phase in tech – powered by 5G, Electric Vehicles, IOT, Cloud, Edge computing, Machine learning etc.
Think about how the smart phone and the app ecosystem changed the world the past 10 years, and imagine how much it can change in the next 10 with the new wave of tech.
So for investors with holding power and ability to average in, I think the rest of 2021 will present great opportunities to accumulate growth stocks.
For obvious reasons – this article should not be taken as financial advice. Do ensure you do your due diligence and consult with a financial advisor before investing your money.
Why are Growth Stocks not listed in Singapore?
Unfortunately, most of the growth stocks are not listed in Singapore.
Even homegrown names like SEA (or razer) have chosen to list overseas, for better valuations and liquidity.
But with the rise of low-cost brokers, that's not an issue these days (if you're in need of a cheap broker, check out our reviews and recommendations here).
1. SEA Ltd (NYSE: SE)
Market Cap: $135 billion, Price to Sales: 23
I don't think this list would be complete without at least some mention of SEA.
A monster of a stock that went from $10 in Dec 2018 to $250 today.
A 25x return, in 2.5 years.
SEA generates massive free cash flow from their gaming business – Garena Free Fire, and plows it into their eCommerce business (Shopee). Which is now one of the leading eCommerce platforms in South East Asia.
Oh, and they're also building up a fintech arm (SeaMoney).
What more do you want in a growth stock?
It's very pricey though, and there's a lot of upcoming competition from Grab and Gojek-Tokopedia. Both will complete their IPOs this year, building up a warchest on which to fight SEA.
So far, SEA's execution on both gaming, eCommerce and Fintech has been impeccable.
And I am really excited to see how they continue to evolve in the next 3 to 5 years.
Can they grow to justify their current valuations? Only time will tell.
2. Cloudflare (NYSE: NET)
Market Cap: $26 billion, Price to Sales: 53
It's not easy to describe Cloudflare in a non-techy way.
It's a reverse proxy network that sits on the edge of 2 big technology waves – Edge Networks and Zero Trust.
Or in simpler words, it's a cloud player that's riding on edge computing, and cybersecurity. Edge computing is about bringing the servers closer to users, and cybersecurity is well, cybersecurity.
I've a big fan of Cloudflare (my other interest outside of finance is tech, if you haven't realised 😉).
Heck, even Financial Horse is powered by Cloudflare.
Along with 81% of all websites on CDNs, and 17% of the entire internet.
A lot of people like to compare Cloudflare with Fastly, a content delivery network that makes your website load faster.
But I don't think that's a fair comparison, because I see Cloudflare as trying to build up an entire infrastructure to support Web 3.0.
It's not just making stuff fast, it's also making it more secure, and allowing distributed computing to happen seamlessly. In time to come, this could power much of the cloud infrastructure if they play their cards well.
Their main problem as I see it, is that this company is run by techies, not business people. They build good tech, but they cannot monetise it well. Which is why the Price/Sales looks ridiculous at 53.
That's fine by me though, I'm happy to take a long term perspective on Cloudflare.
If they manage to become the backbone of Web 3.0, the payoff here could be massive. If they don't, then let's hope I won't lose too much of my capital.
But that's the nature of investing in growth stocks, where the earnings are in the future. There's always an element of uncertainty.
If you want a deep dive into Cloudflare, there is a massive 12,000 word article here that covers all you need to know. Can be pretty technical though.
BTW – we share commentary on financial markets every week, so do sign up for our mailing list, its absolutely free (goes out every Sunday).
Don't forget to join our Telegram Channel and Instagram or (YouTube)!
[mc4wp_form id="173″]
3. Tencent Music Entertainment (NYSE: TME)
Market Cap: $26 billion, Price to Sales: 5.6
Tencent Music's had a rough 2021.
First it was the Archegos forced unwinding (he held a big position in Tencent Music).
And the moment the selling stabilised, the CCP started investigating Tencent Music for anticompetitive practices.
This stock just can't catch a break – and is down 50% from its high of $30.
Tencent Music owns the 3 biggest music streaming apps in China.
Short term, I do expect Tencent Music to have to make some concessions as part of the CCP investigation.
They'll probably have to share some music with the No. 2 competitor Netease Music (who is coincidentally going to IPO soon).
So their "monopoly" position should weaken after this, but they *should* still remain the number 1 player in music/audio in China.
Funnily enough, I don't see Tencent Music's main competitor as Netease Music.
I see their main competitor as Bilibili, Bytedance, Kuaishou.
In today's world, every app is fighting for a slice of your time. And the true competition with audio, is video. It's entertainment.
I'm cautiously optimistic that audio as a format will remain relevant in China for years to come, but I could be wrong.
Couple that with the ongoing CCP investigation, and there are definitely some headwinds for this stock.
I've been building a long term position though, let's hope I'm right.
4. Bilibili (NASDAQ: BILI)
Market Cap: $40 billion, Price to Sales: 19
Another fast growing player in the entertainment space in China – Bilibili's self-branded focus is on Animation, Comic and Games (ACG).
At least that's how it started, because they've since grown into a video streaming powerhouse, with 170 million monthly active users and more than a million content creators.
It's the closest Chinese equivalent to YouTube.
Valuations are at nosebleed levels though – so that growth doesn't come cheap.
But I'm mega bullish on the entertainment space in China.
The current generation of youths in China are not like the previous generation.
This is no longer the generation that lived through the cultural revolution, and watched China grow from third world developing status into potential superpower.
This is the generation that grew up with gleaming skyscrapers, smartphones, and all the material comforts that we have.
In short – they're no different from youths anywhere else in the developed world. Strawberry generation like us, preferring to spend time online than working on day jobs.
I would expect an explosion in demand for entertainment content. And as purchasing power grows in the coming decade – the ability to pay for that content will grow.
Another 5 – 10 year play for me. If the execution from Bilibili is good, the pay-off will be huge.
5. Airbnb (NASDAQ: ABNB)
Market Cap: $90 billion, Price to Sales: 22
Everybody knows that after COVID, travel will explode.
After a year of being stuck at home, people are dying to get out again.
What's the best way to bet on that recovery?
Airlines are not a good way because it's a commoditised product with little pricing power, and every country out there is bailing out their airlines (preserving the excess supply).
And Hotels are a scale business – unless you're Marriott with 1.4 million rooms, you don't have much bargaining power.
Online Travel Agents (OTAs) are one potential way.
In today's world, they control access to the accommodation.
If you travel to a new country today – will you go to the individual hotel website? Or do you go to Booking.com (for hotels) or Airbnb (home renting).
The network effects here are massive. Once a player has grown to the size of Booking.com / Airbnb, it's incredibly hard to displace them.
And once you have that level of scale and customers, it becomes very easy to upsell your existing user base, because customer acquisition cost is so low. For eg. Airbnb can sell air tickets, car rentals, attraction tickets etc.
The equivalent would be Meituan in China.
Just like everything on this list, valuations are high, and growth is speculative. But there are strong tailwinds in place, and if the company executes well, the payoff could be great.
Honourable Mention – Other great growth stocks
Honourable Mention for a bunch of stocks that I really like, but didn't make it onto this list for some reason.
Palantir
Market Cap: $40 billion, Price to Sales: 47
Palantir is a name that's really popular with the Reddit and younger crowd.
They basically do data analytics, at scale, for governments. They started out doing work for the CIA and US Army, but have since expanded to private companies.
Because the work they do is so secretive, it's very hard to get information on how strong the underlying tech is.
This isn't google where you can just fire it up and do a search.
So as an investor, there's a certain element of just having to take it at face level.
But the tailwinds for data analytics are absolutely massive.
In time to come, I expect every single company out there to generate and analyse tons of customer information.
It could be a rising tide lift all boats scenario – benefitting all players in this space.
Snowflake is another big name in this space, if you're interested.
Ping An Good Doctor (or JD Health)
Market Cap: $13 billion, Price to Sales: 10.7
Healthtech is another big growth sector. China's existing healthcare infrastructure is not the best, and as the population gets richer, I think there will be demand for more efficient private healthcare.
It's still very early stage, and there's a lot of regulatory risk.
So I think it's still quite a speculative bet.
Crypto
As shared in a previous article, I think Blockchain technology will change the world.
And I see crypto as the best way to get some exposure to Blockchain.
If Blockchain takes off, the network effects will kick in, potentially benefitting many of the coins.
But this is a very speculative space, and it's like tech in 1999.
The crash will come at some point, and many coins may go to zero.
But the industry will emerge stronger because of it.
Another 5 to 10 year play.
Meituan
Market Cap: $242 billion, Price to Sales: 11.1
I like Meituan, and I think it has the strongest potential to become a rival to the current duo of Tencent and Alibaba.
But it's very expensive, and at $242 billion, I didn't think it fair to call it a growth stock.
It's already become a juggernaut in its own right.
Closing Thoughts
Full Disclosure – I own positions in most of the stocks mentioned above.
You can take a look at my full portfolio here to understand how I'm positioned.
I find that a barbell approach works well for Singapore investors.
I use Singapore for my old world plays – the banks, REITs, GLCs.
And I use US/China to the tech exposure.
Combine them together, and it creates a good value + growth portfolio. Good diversification, and performs well in multiple economic regimes. Throw in some commodities, gold and bonds, and it rounds off a strong portfolio.
As always, this article is written on 4 June 2021 and will not be updated going forward. You can check out my full stock watch (including REITs and banks etc) on Patron.
Love to hear what you think!
---
Do like and follow our Facebook and Instagram, or join the Telegram Channel. Never miss another post from Financial Horse!
[mc4wp_form id="173″]
Looking for a comprehensive guide to investing that covers stocks, REITs, bonds, CPF and asset allocation? Check out the FH Complete Guide to Investing.
Or if you're a more advanced investor, check out the REITs Investing Masterclass, which goes in-depth into REITs investing – everything from how much REITs to own, which economic conditions to buy REITs, how to pick REITs etc.
Both are THE best quality investment courses available to Singapore investors out there!