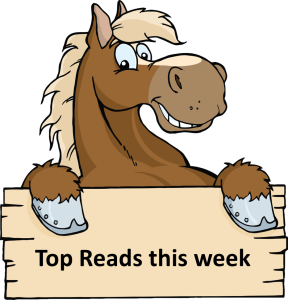 Rounding up top investing articles from around the web, including articles shared by fellow investors in the Financial Horse Facebook Group.
---
Finance Minister Lawrence Wong disclosed in Parliament on Monday (July 5) that the Government will capitalise about $0.6 billion in development expenditure for the Deep Tunnel Sewerage System and the North-South Corridor under the Significant Infrastructure Government Loan Act (Singa).
The money earmarked for the two projects will go towards funding part of the $1.2 billion support package to help businesses and workers during the period of heightened alert.
The other half of the $1.2 billion to fund the Covid-19 support measures will be reallocated from development expenditure that was underutilised mainly due to delays in projects arising from Covid-19.
---
Emperador Inc., a liquor company owned by businessman Andrew Tan, is considering a secondary listing in Singapore that could raise a maximum of S$1 billion (P36.9 billion). Bloomberg reported that Emperador started engaging financial advisers on the planned listing which could happen before the end of the year.
Emperador's global footprint spans over 100 countries, across six continents and a portfolio of iconic and well-diversified brandy and whisky brands. It owns Emperador Distillers Inc.; United Kingdom-based Whyte and Mackay Group, the fifth largest Scotch whisky manufacturer in the world; Bodegas Fundador S.L.U in Spain, owner of the iconic brand Fundador; and Domecq Bodega Las Copas, S.L which has presence in North and South America.
---
Relying on foreign labour is one of the key ways that Singapore will be able to cope with its shrinking working-age population, Ravi Menon, managing director of the Monetary Authority of Singapore said. 
Menon's comment follow a similar defence by top ministers Tuesday in parliament of Singapore's commitments to free trade agreements and openness to foreign professionals amid criticism from political opponents that they made it harder for locals to find jobs.
---
Mr Lee said in a Facebook post on Tuesday (July 6) that Health Minister Ong Ye Kung and Manpower Minister Tan See Leng had set out the facts about free trade agreements and Ceca to put the public debate on a sound factual basis.
"Singaporeans are anxious about jobs, foreign competition, as well as the impact of the large number of foreigners working and living here," he said.
"These are valid concerns which we will address. But if we put the blame on Ceca, that will not solve our problem but instead make it worse."
---
Singapore buyout firm Novo Tellus Capital Partners is considering setting up a special purpose acquisition company (Spac) to list in the city-state as regulators prepare to authorise the vehicles in the local market, sources said.
Novo Tellus would join Vertex Holdings, a unit of Temasek, in seeking to be among the first to launch a blank-cheque company in the city-state, Bloomberg News reported this week. 
Novo Tellus raised US$250 million for its second South-east Asia fund in December, according to its website. The firm's portfolio includes stakes in Tessolve Semiconductor, an Indian semiconductor engineering services firm, and Procurri Corp, a Singaporean provider of equipment and services to data centres.
---
Sincere Property Holdings, the second-largest shareholder of Chongqing Sincere, is preparing to work with stakeholders and creditors on a restructuring of the builder, said the sources, asking not to be identified discussing private information. Singapore's City Developments Ltd (CDL), owned by the billionaire Kwek family, has a 51 per cent stake in the developer.
A restructuring would close a painful chapter for CDL, which posted a record annual loss last year after writing off almost all of its S$1.9 billion investment in Chongqing Sincere. CDL chief executive officer Sherman Kwek once hailed the 2020 deal as "game-changing" before vowing not to inject further funds until the unit returned to health.
---
First Reit will not be redeeming its S$60 million, 5.68 per cent perpetual securities on its first call date on July 8, the Reit's manager announced in a late night regulatory filing on Wednesday.
Also, it announced the reset distribution rate of 4.9817 per cent per annum for the period from the first reset date on July 8 to the next one five years later. This comes from the prevailing five-year swap offer rate of 1.0567 per cent per annum plus the initial spread of 3.925 per cent. And it is lower than the 5.68 per cent when the issue was launched in 2016.
---
Investors need to "see through" the current crackdown and "get back" to fundamentals, according to HSBC Global Asset Management's Alexander Davey.
Regulatory fears over China's technology companies resurfaced in recent days after local authorities announced late Friday that ride-hailing giant Didi Chuxing was under investigation.
While there are clear concerns in the short run due to increased regulatory scrutiny, Davey said buying opportunities could come for companies with strong fundamentals if their stocks drop amid investor fears.
---
---
SAMR has dished out 22 new fines of half a million yuan each to the country's Big Tech firms for merger irregularities
Fines come as Beijing ups its scrutiny of Big Tech across a range of issues, including data security, consumer privacy and anticompetitive practices
---
The world's largest oil company, Saudi Aramco, is planning to raise tens of billions of dollars by selling more stakes in its businesses. The Saudi Arabian state-controlled firm created a new team to review its assets last year, soon after the coronavirus pandemic triggered a plunge in energy prices and strained its balance sheet. Aramco raised US$12.4 billion by selling leasing rights over oil pipelines to a US-led group of investors in April.
---
British fintech giant Wise had a solid stock market debut Wednesday, giving the company a market value of more than £8 billion ($11 billion). Shares of Wise, formerly known as TransferWise, opened at £8 a share Wednesday morning. The stock rallied as much as 10% to £8.88 by the market close.
The money transfer firm opted to list in London through a
direct listing
, a rare method of going public that was pioneered by 
Spotify
in the U.S. back in 2018. Rather than raising money in an IPO, Wise's private backers are selling their existing shares to the public. The listing is a victory for London, which is aiming to become a top global tech hub following the U.K.'s withdrawal from the European Union.
---
Among the executives to move to the Asian financial hub are Changpeng Zhao, founder of Binance, a crypto exchange that processes trillions of dollars in trades per year. Gemini, a US exchange founded by the Winklevoss twins, is also boosting its headcount in Singapore. The city has yet to issue licences to cryptocurrency companies, but it has granted exemptions to some of the industry's biggest players, allowing them to serve local retail and institutional investors. While growth in the crypto industry has been supercharged this year, regulators in markets including the US, UK, and China have clamped down on the sector. Hong Kong, a rival Asian financial centre, is set to limit crypto trading to accredited or institutional investors under a new law.
---
A man who robbed the Standard Chartered branch in Holland Village of S$30,450 before fleeing the country five years ago was sentenced by a Singapore court on Wednesday (Jul 7). 
The sentence came exactly five years after Roach robbed the bank on Jul 7, 2016, by handing over a note to a pregnant bank teller and placing his hand in a black sling bag on the counter, pretending it was a gun.
---
Haitian President Jovenel Moise was shot dead by unidentified attackers in his private residence overnight in a "barbaric act", the government said on Wednesday, stirring fears of escalating turmoil in the impoverished Caribbean nation. With Haiti politically polarised and facing a growing humanitarian crisis and shortages of food, fears of widespread chaos are spreading. The Dominican Republic said it was closing the border it shares with Haiti on the island of Hispaniola.
---
Japan's government is set to declare a state of emergency for Tokyo through August 22 amid a new wave of infections, a key minister said on Thursday, casting a shadow over the Olympic Games.
Economy minister Yasutoshi Nishimura, who is heading the government's coronavirus response, said the state of emergency is set to begin on July 12.
---
Looking for a comprehensive guide to investing? Check out the Financial Horse Complete Guide to Investing and REITs Masterclass for Singapore investors.
2021 Stock Watch: Support the site as a Patron and get stock market updates. Like our Facebook Page and join our Telegram Channel for weekly updates!