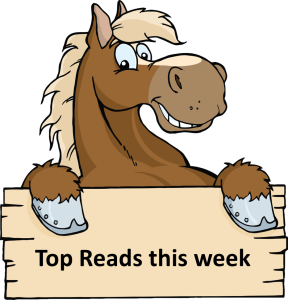 Rounding up top investing articles from around the web, including articles shared on Twitter.
---
 Public housing schemes will be adjusted to keep them fair and inclusive for all, and ensure flats remain accessible and affordable for Singaporeans of all income groups.
There will also be extra help for some older workers who have not built up enough Central Provident Fund (CPF) savings for retirement, said Prime Minister Lee Hsien Loong on Tuesday.
---
Singaporeans who are going to miss the National Day fireworks on Wednesday can look forward to a light show of a different kind on Sunday.
At about 4am on Sunday, stargazers may be able to catch a display of meteor streaks with the naked eye if the conditions are right.
The meteor shower, which happens between mid-July and late August, is one of the most spectacular meteor showers of the year.
---
Speaker of Parliament Seah Kian Peng will be stepping down from his role as group chief executive officer of NTUC Enterprise (NE), as well as the boards of its social enterprises.
This will enable Mr Seah, who was sworn into his new role on Aug 2, to carry out his duties as Speaker with singular focus and commitment, said NE in a press statement on Monday.
Ms Adeline Sum, 55, the current deputy CEO, will replace Mr Seah from Oct 1.
---
Prime Minister Lee Hsien Loong has sent a letter to congratulate newly appointed Cambodian Prime Minister Hun Manet.
Mr Hun Manet, 45, was appointed by royal decree as the country's prime minister on Monday by Cambodian King Norodom Sihamoni.
Following the ruling Cambodian People's Party's landslide victory in July's elections, party leader and Prime Minister Hun Sen named Mr Hun Manet, his eldest son, as his successor.
Mr Hun Sen came to power in 1985 and as Cambodia's leader, helped modernise the country.
---
In a statement released on Monday, the humanitarian organisation announced its partnership with Triple-A, the first crypto payment gateway licensed by the Monetary Authority of Singapore.
Donations in cryptocurrencies, including Bitcoin, Ethereum, Tether and USD Coin, will be accepted. The new option is now live on the Singapore Red Cross website.
According to a Triple-A spokesman, cryptocurrency donors do not receive tax deductions.
All crypto donations received will be converted into fiat currency, which is government-issued currency, and settled via bank transfer within one business day. This ensures the funds are readily accessible to support the organisation's humanitarian initiatives.
---
She highlighted economic resilience, harmony and the Forward Singapore nationwide engagement exercise in her message.
She said Singapore's economic success depends on its ability to stay relevant and add value to the world. The country has been consistently punching above its weight despite its constraints, and Madam Halimah said: "Our ability to add value and stay relevant is even more important now in the face of unprecedented challenges arising from rapid technological changes, geopolitical rivalry, increasing protectionism and high inflation and interest rates.
---
Among the smaller lenders receiving an official ratings downgrade were M&T Bank, Pinnacle Financial, BOK Financial and Webster Financial.
Major lenders Bank of New York Mellon, U.S. Bancorp, State Street, Truist Financial, Cullen/Frost Bankers and Northern Trust are now under review for a potential downgrade.
---
Total credit card indebtedness increased by $45 billion in the April-through-June period, a rise of more than 4% and just above $1 trillion.
The Fed's measure of credit card debt 30 or more days late rose to 7.2% in the second quarter, the highest rate since the first quarter of 2012.
---
PayPal is entering an extremely crowded market already dominated by stablecoins like tether and USDC. In an interview with CNBC's MacKenzie Sigalos, crypto chief Jose Fernandez da Ponte explained why.
In general, stablecoins offer improved settlement time and programmability, said da Ponte.
Why PayPal? The company already has 435 million users, and understands and complies with regulatory regimes related to moving currency around the world.
---
Western microchips used to power smartphones and laptops are continuing to enter Russia and fuel its military arsenal, new analysis shows.
Moscow has been sourcing an increased number of advanced Western technologies through intermediary countries such as China, according to trade data and manifests analyzed by CNBC.
In 2022, the year Moscow launched its full-scale invasion of Ukraine, Russia imported $2.5 billion worth of semiconductor technologies, up from $1.8 billion in 2021.
---
WeWork said in a filing Tuesday that there's doubt about the company's ability to keep operating as a "going concern."
The company's stock price has been trading below $1 since early this year.
Membership has been weaker than expected, which the company attributed in part to a struggling economy.
Looking for a comprehensive guide to investing? Check out the FH Complete Guide to Investing, Stocks Masterclass and REITs Masterclass for Singapore investors.
2023 Stock Watch: Support the site as a Patron and get stock market updates. Like our Facebook Page and join our Telegram Channel for weekly updates!
Join Financial Horse's Investing Community!