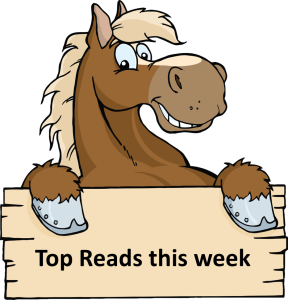 Rounding up top investing articles from around the web, including articles shared by fellow investors in the Financial Horse Facebook Group.
---
Details of the order filed on June 4 and seen by The Straits Times showed that of the six properties in Singapore, three are good-class bungalows in Bukit Timah and in Tanglin Hill. The remaining three Singapore properties include two condominium units in Stevens Road – one owned by Mr Evan Lim and another by Ms Lim. According to the court order, Ms Lim also has a condominium in Bukit Timah and three other properties in Queensland and New South Wales, Australia. 
---
Judicial managers of Hyflux have applied for the water treatment company to be liquidated. Their success would mark an end to one of the most long drawn out, controversial and unfortunate chapters in Singapore's corporate history. Hard questions have been asked about Tuaspring, the integrated water and power project that was the centrepiece of Hyflux's ill-fated diversification into electricity production.
---
The company said it expects to complete its merger with Altimeter Growth, an investment vehicle backed by Silicon Valley's Altimeter Capital Management, in the fourth quarter and go public with a listing on the Nasdaq stock exchange thereafter. When the deal was first announced in April, Grab had said it expected the merger to close in the "coming months," without specifics.
---
ainboard-listed tourism player Straco Corporation, which operates the beleaguered Singapore Flyer, has won a financial arbitration case that could have a significant impact on its bottom line for the current financial year. In an announcement to the Singapore Exchange a few days ago, Straco said it had been awarded some $8.2 million with interest at 5.33 per cent per annum from April 26, 2018, until the date of payment.
---
On average, Reddit stocks' runs lasted nine trading days from the start to their first big drop during the initial frenzy in January, according to a CNBC analysis.
Durations varied and some experienced significant volatility even before finally cratering.
The trading mania made a resurgence this week as day traders on Reddit rotated from AMC Entertainment to Clover Health and Wendy's and to Clean Energy Fuels.
When a certain meme stock catches on and explodes in prices, institutional investors could use the volatility to their benefit by using more complex options strategies for outsized profits.
---
The world's richest countries have proposed laying out new international tax rules that will only add to the challenges that trade-and investment-dependent countries like Singapore face in the coming months and years. Most economies worldwide are still struggling with an uneven and unequal recovery from the coronavirus-induced economic downturn. This means they will have to lean even more heavily on trade revenues and foreign investment.
CIX – a joint effort by DBS Bank, the Singapore Exchange, Standard Chartered and Temasek Holdings unveiled last month – will be the first global carbon exchange, and one premised on scaling the voluntary carbon market to help companies address the climate crisis.
---
Shun Tak Holdings, one of the flagship companies controlled by the clan that dominates Macau's gambling industry, has smashed Singapore's price record for luxury homes with its high-profile entry into the city state's high-end property market. Park Nova, a collection of 54 large apartments in a high-rise tower about 10 minutes' walk from the Orchard Road shopping belt, set a record when a penthouse measuring 5,899 sq ft (548 square metres) sold for S$34.38 million (US$26 million). Translating to HK$33,800 per square foot, the duplex – the largest of three penthouse units – features five bedrooms, a family room and study.
---
The spotlight is also on Pansy, who turns 58 in August, to unite the interests of a clan whose infighting, and legal wrangles had been the fodder for Hong Kong's gossip press for decades. The family's combined fortunes are estimated at US$15 billion, spanning more than half of Macau's casinos, real estate, hotels and shipping. She declined to comment for this article.
Born in 1962, Pansy is the eldest child of Ho's second wife, and the fifth out of 16 children in the extended clan. Younger than Angela and Deborah from Ho's first marriage to Clementina Leitao, Pansy was described by the late magnate as the child who is most like him in personality. Father and daughter would go hunting for partridges and wild ducks, Pansy
said in a 2009 interview with 
South China Morning Post.
The site at www.robinsons.com.sg, described in the Thursday (Jun 10) media release as "a fully digital, state-of-the-art, vertically integrated online department store", will go live on Jun 24.
---
The Royal Astronomical Society of Canada is collaborating with Timeanddate.com to host a livestream of the solar eclipse that you can watch anywhere in the world. 
---
Researchers in Singapore have developed a blood test which will not only allow doctors to determine the effectiveness of cancer treatment within 24 hours, but also detect the disease in annual check-ups.
---
The biggest decline belonged to Larry Xiangdong Chen, whose New York-listed education firm Gaotu (formerly known as GSX Techedu) lost 90% of its value since peaking in late January. Based on his Gaotu stake, Chen, 49, has been left with a net worth of $1.6 billion–and although it's a considerable sum, it still marks a sharp reversal from the $16.5 billion he had earlier this year.
The entrepreneur's wealth drop is followed by 41-year-old Zhang Bangxin, who saw his fortune tumble $10 billion to $5.5 billion as his TAL Education–which is also listed in New York– dropped more than 60% over the same period. A third education billionaire, New Oriental Education & Technology's Michael Minhong Yu, lost $2.1 billion as his New York-listed company halved in value.
The reversal of fortunes was triggered by Chinese regulators launching a campaign to rein in private tutoring, putting the brakes on a once booming industry that saw tens of millions of students going online to study as many schools were forced to suspend classes during the pandemic. But as the tutoring services raised more money and chased further growth, malpractices like pricing fraud as well as false and misleading advertising began to appear, says Guo Jingwen, a Shenzhen-based analyst at research firm Blue Lotus Capital Advisors.
---
Bitcoin surged on Wednesday after El Salvador passed a law to adopt bitcoin as legal tender.
The cryptocurrency was trading at $37,176.44 at around 11:42 p.m. ET, up 13% from the previous 24 hours, according to CoinDesk data.
Bitcoin proponents, who have long seen the digital coin as a viable alternative to fiat currencies, welcomed El Salvador's moves.
---
Police in China arrested over 1,100 people suspected of using cryptocurrencies to launder illegal proceeds from telephone and Internet scams in a recent crackdown.
The arrests came as authorities in China step up their crackdown on cryptocurrency trading.
The money launderers charged their criminal clients a commission of 1.5% to 5% to convert illegal proceeds into virtual currencies via crypto exchange.
---
Auckland in New Zealand has been named the most livable city globally by The Economist Intelligence Unit (EIU).
Asia-Pacific cities dominated the top 10 rankings this year even as the pandemic caused overall livability around the world to decline.
But on a regional average, Asia ranked well below North America and Western Europe, according to the survey.
---
Looking for a comprehensive guide to investing? Check out the FH Complete Guide to Investing and FH REITs Masterclass for Singapore investors.
2021 Stock Watch: Support the site as a Patron and get stock market updates. Like our Facebook Page and join our Telegram Channel for weekly updates!