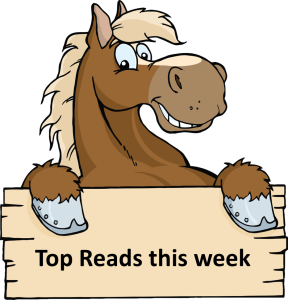 Rounding up top investing articles from around the web, including articles shared on Twitter.
---
The United Nations (UN) said Israel's military informed it late on Thursday that 1.1 million Palestinians in Gaza should relocate to the enclave's south within the next 24 hours, in what Palestinians fear could be a precursor to a planned Israeli ground offensive following a deadly Hamas militant attack.
UN officials in Gaza "were informed by their liaison officers in the Israeli military that the entire population of Gaza north of Wadi Gaza should relocate to southern Gaza within the next 24 hours", UN spokesman Stephane Dujarric said in a statement in New York.
"This amounts to approximately 1.1 million people," Mr Dujarric added, or nearly half of Gaza's 2.3 million population. The areas north of Wadi Gaza include Gaza City, the enclave's largest city.
Mr Dujarric said the UN "considers it impossible for such a movement to take place without devastating humanitarian consequences".
---
Singapore's economy grew at a faster than expected pace in the third quarter of 2023, boosted by tourism and with manufacturing returning to a small quarter-on-quarter growth.
Gross domestic product (GDP) for the July-September period grew 0.7 per cent year on year, according to advance estimates from the Ministry of Trade and Industry (MTI) on Friday.
This was better than the second quarter, when the economy grew 0.5 per cent year on year. 
On a quarter-on-quarter seasonally adjusted basis, the economy expanded 1 per cent, faster than the 0.1 per cent growth in the preceding quarter.
---
n a highly anticipated decision, Singapore's central bank on Friday kept its monetary policy settings unchanged, as it balances between the risks of a slower-than-expected economic recovery and a possible flare-up of inflation.
The Monetary Authority of Singapore (MAS) said it expects growth in 2023 to come in at the lower half of the 0.5 per cent to 1.5 per cent official forecast range.
This is despite advance estimates released on Friday showing the Singapore economy expanded faster than expected in the third quarter.
Flash estimates put growth at 1 per cent on a quarter-on-quarter seasonally adjusted basis, up from just 0.1 per cent in the in second quarter.
"Singapore's GDP (gross domestic product) growth is expected to improve gradually over 2024," MAS said in its biannual policy statement. "However, the global economic outlook remains uncertain and the domestic recovery could be weaker than expected."
Despite the clouded outlook, MAS did not pivot from its stance of allowing the Singapore dollar to appreciate – due to the risks of potential price pressures both from within and from outside Singapore.
---
China's trade slumped this year amid lackluster global demand for Chinese good and muted domestic demand.
The world's second largest economy is set to release trade data for September on Friday.
---
A woman who filmed herself arguing with the police at Singapore General Hospital (SGH) was on Friday handed six charges, including one count of being a public nuisance.
Han Feizi, 29, a Chinese national, was also handed two charges of using abusive language against a public servant.
Another two counts of assaulting or using criminal force on a security officer and one charge of intentionally causing harassment on Oct 3 under the Private Security Industry Act were handed to her following a separate incident at The Sail at Marina Bay, a condominium in Marina Boulevard.
Han appeared in court via video link at around 9.40am, wearing a black shirt. She told the court she intends to plead guilty and apologised for her actions.
---
Consumer prices rose more than expected
The U.S. consumer price index, a closely followed inflation gauge, increased 0.4% on the month in September and 3.7% from a year ago. That's more than the expected 0.3% and 3.6% rise, respectively. Core CPI, which excludes volatile food and energy prices, increased 0.3% on the month and 4.1% on a 12-month basis, both in line with expectations.
U.S. markets end lower, Europe stays afloat
The three main U.S. stocks gauges fell Thursday, pressured by rising Treasury yields as data showing persistent U.S. inflation sparked worries of interest rates remaining higher for longer. European stock markets closed higher, with the Stoxx 600 index up 0.1%.
Bank earnings kick off
American banks are closing out another quarter in which interest rates surged, reviving concerns about shrinking margins and rising loan losses — though some analysts see a silver lining to the industry's woes. Earnings season kicks off Friday with reports from JPMorgan Chase, Citigroup and Wells Fargo
---
Comcast and Disney have hired investment banks to appraise Hulu.
On Nov. 1, Comcast and Disney can both trigger an option that will kick off a sale process where Disney will acquire Comcast's minority stake in Hulu.
Hulu has a minimum valuation of $27.5 billion, as set in 2019; Comcast CEO Brian Roberts said last month he believes Hulu is 'way more valuable today.'
---
Lim, who has been out on bail of S$4 million, said through a Mandarin interpreter that he would be testifying.
Fifteen days have been set aside for the defence's case. Lim is represented by lawyers from Davinder Singh Chambers.
Mr Navin Thevar told the court that his client would be one of two witnesses – the second being Dr Yeo Seem Huat.
On questioning by the judge, the defence lawyer said Lim's children would not be called to testify "at the moment".
He added that he would be asking for more breaks for Lim, who is of ill health and wheelchair-bound.
The lawyer also said Lim would be giving oral testimony, unless he gives instructions otherwise. In that case, he might give testimony by way of conditioned statements.
---
he former chief executive officer of offshore gas and oil contractor Swiber Holdings and seven ex-directors of the collapsed firm were charged in court on Friday (Oct 13) over the misleading announcement of a US$710 million (S$972 million) project it claimed to have secured in the West African market in 2014.
Instead, Swiber had signed only a letter of intent authorising it to spend up to US$2 million.
In the two years following the announcement, some directors also failed to inform the Singapore Exchange that Swiber Offshore Construction had lost its Champion Waterflood Project in 2014. 
This disclosure was necessary to avoid establishing a false market in the mainboard-listed Swiber's securities, and was required under the SGX Mainboard Rules.
The chargings come almost seven years after investigations first began into Swiber's possible breaches of the Securities and Futures Act, and after Swiber Holdings was delisted with effect from June this year.
---
It was reported in 2021 that the Singapore Veterinary Association (SVA) and NParks' Animal and Veterinary Service (AVS) were looking at the need for a professional body for the vet sector, with a review being conducted to raise standards and address gaps in the sector. 
Announced by Senior Minister of State for National Development and Communications and Information Tan Kiat How, the council will be a professional body under NParks and legislation will be enacted to support its functions. 
Looking for a comprehensive guide to investing? Check out the FH Complete Guide to Investing, Stocks Masterclass and REITs Masterclass for Singapore investors.
2023 Stock Watch: Support the site as a Patron and get stock market updates. Like our Facebook Page and join our Telegram Channel for weekly updates!
Join Financial Horse's Investing Community!