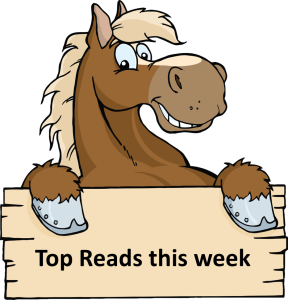 Rounding up top investing articles from around the web, including articles shared on Twitter.
---
Asia's growth is set to outpace that of the U.S. and Europe's by the end of this year as the region was not as buffeted by rate shocks as its western counterparts were, said Morgan Stanley.
"By the fourth quarter of this year, we think Asia's growth will be outperforming U.S. and Europe by about 450 basis points," the investment bank's Chief Asia Economist.
---
Southeast Asia, a region with a collective population of 630 million — half of them under 30 — is one of TikTok's biggest markets in terms of user numbers.
"We're going to invest billions of dollars in Indonesia and Southeast Asia over the next few years," TikTok CEO Shou Zi Chew said at a forum it organised in Jakarta to highlight the social and economic impact of the app in the region.
---
Singapore showed signs of cooling labour demand in the latest market data released on Thursday as total employment expanded at a slower pace, retrenchments rose and job vacancies, while still high, dropped for a fourth straight quarter.
Retrenchments also rose for the third consecutive quarter to 3,820 from 2,990 in the fourth quarter of 2022, according to the Ministry of Manpower's (MOM) labour market report for the first quarter.
But testifying to the still tight labour market, 71.7 per cent of retrenched Singaporeans and permanent residents (PRs) – or about than 7 in 10 – were able to find a job within six months. Unemployment rates also remained low.
---
"Mr Goh did not enter the contest on a whim. It was a decision made seven years ago after he saw that changes to the Constitution stacked the chances against a private-sector candidate, especially businessmen, contesting the election," Mr Goh's media team said.
According to market data from The Wall Street Journal, Ossia International, which distributes and retails consumer products, averaged about $50 million in shareholders' equity from 2021 to 2023.
Mr Goh's team said on Monday that he has owned more than 100 companies over the past four decades, including five that he listed on the stock exchanges of Singapore and the United Kingdom. He also acquired two other companies, which were publicly listed as well. In all, they have a collective market capitalisation value of $3.15 billion.
---
China's youth unemployment rose to a record in May, while major data missed expectations, according to data released Thursday by the National Bureau of Statistics.
The unemployment rate for young people ages 16 to 24 rose to 20.8% in May, a record and above the high set in April. The jobless rate for people of all ages in cities was 5.2% in May.
Retail sales for May rose by 12.7% in May from a year ago, below expectations for 13.6% growth forecast by a Reuters poll.
Industrial production rose by 3.5% in May from a year ago, slower than the 3.6% expected by the Reuters poll.
Analysts predicted a 4.4% increase in fixed asset investment for the first five months of the year from a year ago. Fixed asset investment for the first five months of the year rose by 4% from a year ago, slower than the 4.4% predicted by Reuters.
"The national economy sustained the recovery momentum," the statistics bureau said in a release in English.
---
---
According to fresh statistics from the Land Transport Authority (LTA), BYD registered 303 electric cars from January to May, followed by Tesla (283) and BMW (249).
About 20 per cent of BYD sales were to private-hire operators.
Newcomers to the top 10 bestsellers' list were Opel and Volvo.
---
The student was contacted on June 2 by scammers, who told him that he was wanted by the authorities.
They instructed him to fly to the coastal city of Sihanoukville in Cambodia and go into hiding. But once he arrived there, the scammers held him captive and took a video for his parents.
They then sent the footage to the student's parents, and demanded a ransom of 3 million yuan (S$562,000) for his release.
The Chinese Embassy in Singapore said after the parents filed a police report on June 4, it contacted the Chinese Embassy in Cambodia to organise rescue efforts with the local police.
---
Data showed that a net 10,800 high-net-worth individuals migrated out of China in 2022, and another net 13,500 are expected to leave this year. 
This is not an issue that started with during the coronavirus pandemic, however, and has been going on for the last 10 years. 
Australia could outrank the United Arab Emirates this year in welcoming the highest net number of millionaires this year. 
Looking for a comprehensive guide to investing? Check out the FH Complete Guide to Investing, Stocks Masterclass and REITs Masterclass for Singapore investors.
2023 Stock Watch: Support the site as a Patron and get stock market updates. Like our Facebook Page and join our Telegram Channel for weekly updates!
Join Financial Horse's Investing Community!