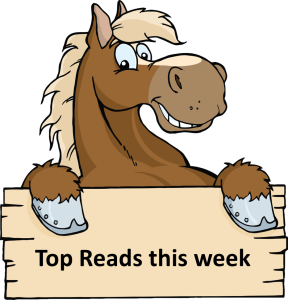 Rounding up top investing articles from around the web, including articles shared by fellow investors in the Financial Horse Facebook Group.
---
Singapore's total population saw its lowest decade of growth since independence between 2010 and 2020, increasing by 1.1 per cent a year – a slowdown from the 2.5 per cent per year between 2000 and 2010.
---
US dating app OkCupid has introduced Singapore-specific questions for local millennials looking for matches who share similar values and beliefs, as part of its latest campaign titled Love, Your Way. 
These questions include: "Do you think you are more kiasu or kiasi?" and "When will you be ready to introduce your partner to your parents?". 
---
FOOD manufacturing group and brand builder OTS Holdings began its trading debut at S$0.30 on the Singapore Exchange's (SGX) Catalist board on Thursday, 30.4 per cent or S$0.07 above its initial public offering (IPO) price of S$0.23 per share.
OTS's portfolio of brands include Golden Bridge, Kelly's, Golden Lion and Orchid. It has targeted the growing halal food market through retail brand El-Dina and food-service brand Kizmiq through its subsidiary, Ellaziq Singapore.
---
Singapore's online automotive marketplace Carro has joined the unicorn club after completing a $360 million funding round led by SoftBank, which is aimed at supporting its expansion into Southeast Asia.
Founded in 2015 by Tan and two of his university schoolmates, Carro aims to tackle the lack of transparency in Southeast Asia's vehicle trading market. The online platform allows customers and wholesale businesses to buy and sell cars with a pricing algorithm that locates the best deals. It also offers insurance and financial services such as loans for second-hand cars.
---
The Federal Reserve on Wednesday considerably raised its expectations for inflation this year and brought forward the time frame on when it will next raise interest rates.
However, the central bank gave no indication as to when it will begin cutting back on its aggressive bond-buying program, though Fed Chairman Jerome Powell acknowledged that officials discussed the issue at the meeting.
As expected, the policymaking Federal Open Market Committee unanimously left its benchmark short-term borrowing rate anchored near zero.
---
Asset sales in a liquidation process at Hyflux, Singapore's highest-profile distressed company, would likely bring in less than S$200 million, a person familiar with the matter said, a fraction of the amount creditors are claiming.
Hyflux's judicial manager Borrelli Walsh filed a court application earlier this month to wind up the water-treatment and power company, and said there are six bids involving individual assets.
---
SUNTEC Real Estate Investment Trust (Suntec Reit) has sold its 30 per cent interest in 9 Penang Road, formerly known as Park Mall, to Haiyi Holdings. The buyer will pay about S$89.9 million for the 15 million ordinary shares and 678 redeemable preference shares that Suntec Reit held in the joint venture (JV) company, which indirectly owns the property. Net proceeds are expected to be around S$88.2 million, Suntec Reit's manager said in a filing on Wednesday evening. 
---
Both have said they hope their talks in a lakeside Geneva villa can lead to more stable and predictable relations, even though they remain at odds over everything from arms control and cyber-hacking to election interference and Ukraine.
"We're not expecting a big set of deliverables out of this meeting," a senior US official told reporters aboard Air Force One as Biden flew to Geneva, saying the two are expected to talk for four or five hours starting at around 1.30pm (11.30am GMT).
---
FAIRFAX Asia, which launched a cash offer for Singapore Reinsurance in March, will exercise its right to compulsorily acquire all the shares of dissenting shareholders. After that, the offeror will delist the mainboard-listed company, which underwrites general reinsurance and is also involved in investment activities of its non-reinsurance funds.
---
Waymo, Alphabet's self-driving car unit, said it raised US$2.5 billion in a recent funding round to help advance its technology and replace a management team rocked by departures.
Earlier this spring, Waymo had been talking to outside investors about raising as much as US$4 billion, Bloomberg has reported. But the Google sibling has lost six key executives in rapid succession since February, including the chief executive officer, chief financial officer and several lieutenants, raising questions about its strategy and competitive strength.
---
Intel CEO Pat Gelsinger said that he expects 10 "good years" of growth in the semiconductor industry during a panel at CNBC's Evolve conference on Wednesday.
The remark suggests that Intel's investments in chip production, such as plans to spend $20 billion to build a chip fabrication plant in Arizona, will create capacity that will be used even after the current global microchip shortage abates.
Qualcomm CEO Cristiano Amon said he sees an opportunity to partner with Intel and its foundry service.
---
According to data released by the Urban Redevelopment Authority (URA) on Tuesday (Jun 15), developers sold 891 units private residential units in May, excluding executive condominiums. 
The Outside Central Region led new home sales in May, with 401 units sold, followed by the Rest of Central Region with 299 units sold and the Core Central Region with 191 units sold, URA data showed. The top five projects which saw the most units sold in May were One Bernam, with 83 units sold, followed by Treasure at Tampines, Normanton Park, Midwood and Affinity at Serangoon.
---
Singapore's financial regulator reprimanded the local entities of AIA Group Ltd., Aviva Plc and Prudential Plc for breaching requirements related to risk management and supervisors' pay. The Monetary Authority of Singapore found numerous instances where supervisors at these firms were paid in contravention of requirements under the Financial Advisers Act, relating to the sale of investment products and premium life policies, it said in a statement on Tuesday.
---
Singapore Human Resources Institute (SHRI) president Low Peck Kem told The Straits Times that unless there is a business need, employers should not compel staff to disclose if they have had a jab or take punitive action against those who do not get inoculated or refuse to update their vaccination status.
"Even if there is a strong business need, such as needing to know in order to determine if the employee can travel for business or to deploy to higher-risk front-line facing roles, do explain clearly why the company needs to know the status and generally, most employees will comply," she said. Institute for Human Resource Professionals (IHRP) chief executive Mayank Parekh said that bosses should not use non-vaccination as a reason to terminate employment as there could be medical reasons for why a staff member did not get a shot.
---
The delta variant has spread to more than 80 countries worldwide.
Delta now makes up 10% of new cases in the U.S., up from 6% last week.
The WHO added a new variant called lambda to its list of variants of interest.
---
China launched the first astronauts to its space station on Thursday.
The three astronauts — Nie Haisheng, Liu Boming and Tang Hongbo — were taken up on a Shenzhou-12 spacecraft which was launched atop a Long March 2F rocket at around 9:22 a.m. China time.
Beijing has made space exploration a top priority as China looks to challenge the U.S. in a number of areas of technology.
---
Shares of Sunrun jumped more than 10% on Wednesday after Morgan Stanley reiterated its overweight rating on the company, calling it "the most compelling clean energy stock" across the firm's coverage. His bullish call is based on several factors, including Sunrun's growth opportunity, as well as its low financing costs. Consumer demand for reliability — especially as Texas and California's grids come under pressure — should also drive adoption.
---
Hindenburg Research claimed in a lengthy report that SBTech, a firm that DraftKings merged with when it went public last year, "brings exposure to extensive dealings in black-market gaming, money laundering and organized crime."
The stock rebounded after the company issued a statement denying the allegations from Hindenburg. "Our business combination with SBTech was completed in 2020. We conducted a thorough review of their business practices and we were comfortable with the findings," DraftKings said in a statement.
But Hindenburg said in the report that its findings were "based on conversations with multiple former employees, a review of SEC & international filings, and inspection of back-end infrastructure at illicit international gaming websites." The research company has also accused SBTech of running illegal sports betting operations in Vietnam, Thailand, Malaysia and Iran.
---
The "alternative" crypto coin is up around 240% this year, while the world's best-known cryptocurrency is up less than 38%. It's been a volatile few months in the crypto world, with bitcoin's value peaking in April at around $65,000 before falling back to around $30,000, while Ether peaked in May at around $4,000 and is now trading around $2,500.
---
Sadly, that means an economy that should be leading Asia in the creation of tech "unicorns" is going in circles, too. The bigger the Samsung's of Korea get, the less space there is for startups with world-changing ideas to thrive.
Trouble is, as Korea grapples with global fallout from Covid-19, supply-chain disruptions and semiconductor shortages, the public is losing patience for this reform process. Polls show that Koreans in their 20s and 30s are among the least optimistic in the Organization for Economic Cooperation and Development ranks. A key reason: as wages stagnate, Seoul apartment prices skyrocketed about 60% on Moon's watch, widening the gulf between the haves and have nots.
To be fair, many Koreans seem keen on Moon giving Lee a pardon, perhaps figuring the end justifies the means. Polls show that as many as two-thirds of voters are fine with Lee returning to Samsung to help address chip shortages reverberating through the economy. There's also hope that a freed Lee could help the execution of the new deal for Samsung Biologics Co. to manufacture Moderna Inc.'s Covid-19 vaccine.
---
Looking for a comprehensive guide to investing? Check out the FH Complete Guide to Investing and FH REITs Masterclass for Singapore investors.
2021 Stock Watch: Support the site as a Patron and get stock market updates. Like our Facebook Page and join our Telegram Channel for weekly updates!