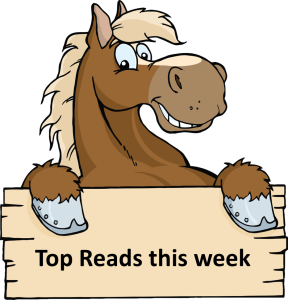 Rounding up top investing articles from around the web, including articles shared by fellow investors in the Financial Horse Facebook Group.
Complete Guide to Investing + REITs Masterclass: CNY PROMO ENDING TODAY!
---
In Budget 2021, the JSS will be extended for sectors that continue to be hit hard by the pandemic.  
For firms in Tier 1 sectors such as aviation, aerospace and tourism: 
JSS will be extended by six months. 
Firms will receive 30 per cent support for wages paid from April to June 2021.
Firms will receive 10 per cent support for wages paid from July to September 2021. 
For firms in Tier 2 sectors such as retail, arts and culture, food services and marine & offshore: 
JSS will be extended by three months. 
Firms will receive 10 per cent support for wages from April to June 2021. 
---
Mr Benny Tay, 45, was "a bit disappointed" when he heard that he had to pay more for petrol from Tuesday (Feb 16). As a Gojek driver, he had been hoping that petrol prices would go down, especially since demand for private hire cars has yet to return to pre-coronavirus levels. Because the distance he covers on the job requires him to refill his tank daily, Mr Tay estimates that the 10 cents a litre increase in duty for 95-octane petrol, which he uses, translates to an extra $5.50 to $6 in costs every day.
---
ingapore's Deputy Prime Minister and Finance Minister Heng Swee Keat warned that low interest rates can lead to distortions in asset prices, amid speculation that the Government may take fresh steps to cool the housing market.
"Interest rates today are ultra-low, and in some cases even negative, so this can lead to a significant mispricing of asset prices and a significant risk of investing in the wrong places," Mr Heng said in an interview with Bloomberg Television on Wednesday (Feb 17).
"When individuals commit to buying a property, they are (putting) a big part of their life savings in it and we want to make sure that it is something that's sustainable," he said.
---
The subscription to Disney+ will give you access to a massive library of films and shows from Disney, Marvel, Star Wars, Pixar, National Geographic, and Star, and that's definitely a good reason to stay home. Singapore is the first market globally that Disney+ will launch with all six content brands: Disney, Marvel, Star Wars, Pixar, National Geographic, and Star.
---
AirAsia food, budget carrier AirAsia's delivery service, is looking to spread its wings and start operations in Singapore. AirAsia's chief executive Tony Fernandes said in a LinkedIn post on Wednesday (Feb 17) that his company's latest venture will be coming to "Singapore with a roar", although he did not specify when. The food delivery service started almost a year ago and was reportedly gearing up for operations in major Malaysian cities. Coming to Singapore would be its first overseas foray.
---
Kandasamy is accused of taking gold ceremonial ornaments from the temple and pawning them repeatedly to shops between 2016 and 2020, rolling the cash. The pawn value of the jewellery amounted to more than S$2 million, the prosecutor told the court. Kandasamy, an Indian national, allegedly transferred more than S$141,000 in criminal proceeds out of the country.
---
Personal information of about 129,000 Singtel customers was stolen after a recent data breach of a third-party file sharing system, the local telco said on Wednesday (Feb 17).
---
Deputy Prime Minister and Finance Minister Heng Swee Keat said in his Budget speech on Tuesday (Feb 16) that the move, which kicks in on Jan 1, 2023, will cover goods valued up to S$400. This effectively imposes GST on all online shopping from overseas retailers, as imported goods brought in via sea or land, or valued above S$400, are already subjected to GST.
---
OCBC announced a new strategic partnership with local EV solutions firm Charge+ to encourage the widespread adoption of EV usage among its clients in Singapore. Under its memorandum of understanding signed with Charge+, the bank intends to encourage its property developer and property owner customers to install charging points at their premises. OCBC will implement digital payment solutions for Charge+ charging points, as well as look into the financing for the infrastructure.
---
FOLLOWING the extensive spending in FY2020 to support the ailing economy amid the Covid-19 crisis, a narrower budget deficit of S$11.01 billion is expected for FY2021. The deficit amounts to 2.2 per cent of gross domestic product (GDP) and will be Singapore's third consecutive deficit as the government continues to offer support for economic recovery with a focus on preparing for the future.
Total spending by the ministries is projected at S$102.34 billion in FY2021, or 8.8 per cent more year-on-year; this comes mainly on the back of increased spending in social development, particularly in health care.
---
"It is a mania. I know that word scares people, but it shouldn't," the Bianco Research president told CNBC's "Trading Nation" on Tuesday. "The great thing about a mania is you make a lot of money fast. The hard thing about a mania is getting out with that money." Bianco suggests it's the wrong time to bail on stocks. He believes the market is early in the manic stage, and he draws a comparison to the 1990s boom.
---
Bitcoin surged to yet another record high on Wednesday (Feb 17), a day after the virtual currency vaulted to the US$50,000 (S$66,390) hurdle, even as analysts warned against the sustainability of such prices amid elevated volatility. The world's biggest digital currency, with a market capitalization of over US$900 billion, hit a record of US$52,577.50, fueled by signs it is winning acceptance among mainstream investors and companies, such as Tesla, Mastercard and BNY Mellon.
---
Many bank stocks have still not regained the ground lost when they were pounded during the Great Recession, but they could prove to be winners post-Covid.
Banks have cleaned up their balance sheets and are stronger than they were in the past, so a pickup in interest rates should help their bottom lines.
Wells Fargo bank analyst Mike Mayo said a "bank bonanza" is coming, but the industry has been hurt by low rates and it's still in the process of bottoming.
---
Tech billionaire Peter Thiel-backed data analytics firm Palantir Technologies on Tuesday signalled revenue growth would slow this year, casting a shadow on its better-than-expected quarterly results and sending its shares down 9 per cent. Known for its work with the Central Intelligence Agency and other government agencies, Palantir has also been partnering with big private sector names including Rio Tinto and IBM for data analytics.
---
Market expectations for U.S. inflation rates have reached their highest levels in a decade, driven by prospects of a large fiscal package, progress on vaccine rollouts and pent-up consumer demand.
The yield on the benchmark U.S. 10-year Treasury note climbed above 1.3% for the first time since February 2020, while the 30-year bond also hit its highest level for a year.
---
Keith Gill, the former MassMutual wellness education director who advocated for shares of GameStop in his free time, is prepared to tell a House committee on Thursday that he never provided investment advice for a fee and did not "solicit anyone to buy or sell the stock for my own profit."
---
Though investors are still laser-focused on President Joe Biden's lofty $1.9 trillion stimulus proposal, a separate recovery package is expected to plow another $2 trillion into the economy's infrastructure this year to bolster clean energy efforts and combat climate change.
"The research is clear: Without efforts to slow climate change, GDP growth will fall," Bank of America economists led by Michelle Meyer said in a note to clients Friday, citing top economists, including Treasury Secretary Janet Yellen, who estimate unmitigated climate change could reduce global gross domestic product by up to 25% this century.
Biden's climate change plan will be a "double-edged sword" for the U.S. economy as a result of tougher environmental regulations, higher fuel standards and a limited expansion of "dirty" energy that could yield long-term damage to the commodities-oriented sectors, as well as oil and gas firms.
---
Foreign investors cannot ignore the biggest players at the forefront of the nation's push into new-energy industries, a Chinese asset manager said after making more than 130 per cent gain in 2020. Locally-listed shares of new-energy vehicle (NEV) makers, renewable energy generators and their suppliers, for example, are expected to be in demand and likely become major targets for offshore investors, according to Li You, a money manager at Shenzhen-based TruValue Asset Management.
---
The MSCI China A Onshore Index surged more than 40 per cent last year. This rally reflects the resilience of domestic company earnings after China acted quickly to reopen its economy from lockdowns. Further, it highlights the positive outlook for earnings in the year ahead.
Nonetheless, investors can still find relative value in A shares. With a forward price-to-earnings ratio of 17 times (based on 2021 earnings forecast), the MSCI China A Onshore Index is trading above its historical average. However, it remains at a 40 per cent discount to the S&P 500 on a price-to-book basis and is 23 per cent cheaper on a price-to-earnings basis. These valuation levels appear well supported, too, with consensus earnings growth forecasts for 2021 comfortably in double digits for companies in the MSCI China A Onshore Index.
---
---
Looking for a comprehensive guide to investing? Check out the FH Complete Guide to Investing and REITs Masterclass for Singapore investors. CNY Promo ending TODAY!
2021 Stock Watch: Support the site as a Patron and get stock market updates. Like our Facebook Page and join our Telegram Channel for weekly updates!