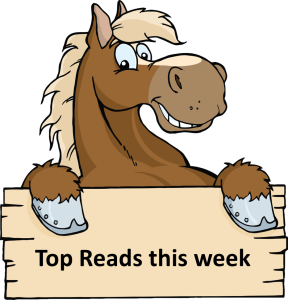 Rounding up top investing articles from around the web, including articles shared by fellow investors in the Financial Horse Facebook Group.
---
This could mean implementing further restrictions ahead of Chinese New Year in February, when more social interaction is expected to take place, said Education Minister Lawrence Wong, who co-chairs the task force tackling the pandemic. He pointed out that the number of Covid-19 cases in the community has been inching up roughly two weeks after the year-end festive period.
---
But for Ms Julie Ong, 54, it is a grim reminder of what she went through a year ago, so much so that she has mixed feelings about this festive season. On Feb 8 last year, she tested positive for Covid-19 and was announced as Case 38. She was warded at the National Centre for Infectious Diseases (NCID) for 10 days. Before being diagnosed, she attended a Chinese New Year gathering. Her family members and friends who had contact with her were quarantined and eventually tested negative.
---
THE US dollar (USD) could continue to trend downwards amid positive risk sentiment in markets, which could benefit Asian assets, with little downside expected for Singapore stocks with US exposure, say analysts.
---
The trading platform offers issuance, custody and trading of digitized securities using distributed ledger technology. It aims to attract issuers and investors with instant trade settlement, lower costs and fractional ownership.
---
One decision is how much pension wealth to hold in the CPF. For most of us, this involves deciding whether to leave the CPF savings intact or withdraw some for housing, education and other current needs. Where applicable, members may also consider topping up their own or loved ones' CPF accounts using voluntary savings. For some older members, the choice between leaving the funds in the retirement account or making substantial lump sum withdrawals will affect their total CPF balances remaining in the system. Another decision pertains to investing through the CPF Investment Scheme (CPFIS) to enhance retirement savings. 
---
President Halimah Yacob and Prime Minister Lee Hsien Loong have written congratulatory letters to US President Joe Biden on his inauguration on Wednesday (Jan 20).
---
Local gamers have been supportive in their patronage of tables at the two integrated resorts (IRs): Genting Singapore's Resorts World and Marina Bay Sands.
---
Since Netflix released Bling Empire, its latest reality series that follows an all-Asian American cast around Los Angeles, members of the cast have lit up social media as people around the world try to find out more about each member. Here in Singapore, all eyes are on Kane Lim—the sole Singaporean repping the little red dot on the show.
---
HSBC Holdings and Malayan Banking's insurance venture are among shortlisted bidders for AXA's business in Singapore, which could raise about US$700 million (S$928 million) in a sale, according to people familiar with the matter.
---
Self-awareness about the edge of your own competence – Knowing the edge of your circle of competence is crucial as an investor. If you are not sure if something is within it, the answer is simple: it's not. The penalty for waiting in investing is low, as long as you are aggressively pursuing the few great investment opportunities that you encounter. And yet so many try to answer hard questions that as an investor they should be leaving in the "too tough" pile and moving on. If that's not overconfidence bias in action, I don't know what is.
---
Improving market conditions, a Brexit deal and the German company's plans to increase its share in its Chinese joint venture to 75per cent from 50per cent in 2022 should all help push BMW back to its pre-pandemic operating margin target of 8per cent to 10per cent. A surge in premium car sales in China, the world's largest autos market, provided much-needed help for BMW's business – it also boosted German rivals Daimler and VolkswagenDE> – and it should report a 2020 operating margin of between 2per cent and 3per cent, Peter said.
Changing car line-ups from petrol and diesel to electric versions to meet emissions targets in China and Europe, not to mention trying to compete with electric carmaker Tesla, is hugely expensive, and was a driving factor in the recent merger of PSA and Fiat Chrysler to form Stellantis, the world's fourth-largest carmaker.
---
Electronics and chemicals were the top two sources of investment commitments in 2020, accounting for 37.7 per cent and 24 per cent respectively. Dr Beh noted that every eight to 10 years, there is an up-cycle in investments, driven by two industries – semiconductors, and energy and chemicals. If not for Covid-19, 2020 FAI numbers might well have been higher, he added, as some projects were delayed.
---
ART, wine, jewellery, classic cars – these are the alternative assets affluent investors often buy when they want to diversify their holdings and have some fun collecting beautiful objects.
Investors and entrepreneurs are committing serious capital to farming protein-rich bugs. Astanor Ventures, a Brussels-based firm, raised US$325 million last year to invest in sustainable agri-food startups. One of its portfolio companies, Ynsect, is farming mealworm beetles by the tonne in France for pet food, fertiliser and fishmeal. Actor Robert Downey Jr is one of the company's top investors via his venture firm, Footprint Coalition.
---
Indian stocks hit record highs on Thursday (Jan 21), tracking a global rally after the inauguration of US President Joe Biden and reflecting hopes of a domestic economic recovery following this month's vaccine roll-out.
---
Today's heated debate about lofty asset prices – particularly the very expensive US stock market – is a perfect example of the risks in timing a market that is plainly in the grips of excessive exuberance, but which could still enjoy further gains in the coming months.
The debate is fiercer this time round because of two unprecedented forces which, for the time being, provide ammunition for bulls and bears alike. On the one hand, while vaccines  are starting to be deployed, the Covid-19 pandemic continues to rage in Europe and America, with renewed restrictions increasing the risk of double-dip recessions. On the other hand, government bond yields stand at record lows, justifying high valuations of risk assets.
Yet, while the disconnect between frothy markets and a virus-ravaged global economy could persist for some time, signs of speculative excess are glaringly apparent, and have contaminated large parts of the market. Not only are valuations dangerously stretched, the behaviour of investors suggests many traders have lost touch with reality.
---
Oil prices rose in early trade on Wednesday, adding to solid gains overnight, on expectations the incoming U.S. administration will go ahead with massive stimulus spending that would boost fuel demand and draw down crude stocks.
---
TikTok-owner ByteDance Ltd. has launched its own digital payment platform, setting the stage for the short video powerhouse to square off against China's tech titans like Alibaba and Tencent in the massive e-commerce market.
Douyin, the sister app of TikTok for internet users in China, debuted its eponymous e-wallet Douyin Pay on Tuesday, putting itself in direct competition with Alipay and WeChat Pay by allowing users to purchase items from third-party vendors, buy virtual gifts for performers and pay to watch their shows, as well as buy goods during livestreamed e-commerce sessions. These sales events exploded into prominence in China last year, as consumers left homebound turned to online shopping and entertainment.
The launch comes as ByteDance accelerates its move into the nation's e-commerce sector after it removed links to third-party shopping platforms like Taobao, JD.com and Pinduoduo from its app in October. Gross merchandise volume sold via livestreaming events more than tripled to over 400 billion yuan ($61.2 billion) in 2019 compared with the previous year, according to a report by consulting firm Bain and Co. Douyin held a 13% share by transactions of these scheduled selling sessions, according to Everbright Securities.
---
Embattled billionaire Jack Ma made his first public appearance in nearly three months, speaking via a video link at a philanthropic event on Wednesday, easing speculation about his safety and whereabouts.
In a sign that regulatory pressure on Ant isn't easing, the People's Bank of China on Wednesday afternoon released draft rules for nonbank payment companies that could threaten Alipay's dominant market position in China.
The rules said companies that have a large share of the electronic payments market—either on their own or in combination with one or two rivals—could be deemed as having market dominance and could be broken up or face additional regulatory scrutiny.
---
Piff said the experiment reveals a fundamental bias that most humans share. "When something good happens to you, we think about the things that we did that contributed to that success," Piff said. That can be a problem when it comes to inequality, which has skyrocketed in advanced economies in recent decades. 
"It can get people who are winning at the game of life — who have more money, who have more privilege, who have more power — to think about their resources as things that they deserve; to be less likely to think that inequality is a problem, because after all, they deserve what they have; and as a result, to be less willing to do things about it," Piff said.
---
President Joe Biden on Wednesday signed an executive order rejoining the U.S. into the Paris climate accord, his first major action to tackle global warming.
Nearly every country in the world is part of the Paris Agreement, a landmark nonbinding accord among nations to reduce their carbon emissions.
Trump withdrew from the agreement in 2017.
Biden vows to move quickly on climate change action, and his inclusion of scientists throughout the government marks the beginning of a major policy reversal after four years of the Trump administration's environmental rollbacks.
---
During remarks at the White House on Thursday, the government's top infectious disease doctor Anthony Fauci said that Johnson & Johnson would have enough data on its vaccine to begin analysis within a week or two.
"I do know that J&J is making a very large supply, going all out with its production, both here in the U.S. and elsewhere around the world, with the goal of having perhaps enough vaccines for 100 million Americans by spring, by this April or so," said J&J board member Dr. Mark McClellan.
The U.S. is averaging about 883,000 jabs of the Covid vaccine per day, over the past six days, according to the CDC, but despite that, under 50% of the 37,960,000 doses distributed has made its way into people's arms.
---
Bitcoin closed in on the lowest in three weeks as the cryptocurrency's sizzlying rally gives way to pessimism that prices are too high. Bitcoin tumbled as much as 8.3 per cent in the European morning, sliding below US$33,000. The largest digital asset has trended lower ever since breaking through US$40,000, and losses have accelerated in the past two days. While soaring crypto prices fueled a speculative mania among the Robinhood crowd, it's also made professional investors reluctant to buy at the top. Prices are still more than double the levels from early November and some technical analysts have argued that a retracement is overdue.
---
alk of another round of property cooling measures has intensified in the wake of recent ministerial remarks that the government is keeping a close watch on the market, which has so far defied the pandemic-induced recession.
This comes as URA flash estimates showed private home prices rose 2.1 per cent for the fourth quarter – the steepest quarterly increase since second quarter 2018 when they jumped 3.4 per cent before property cooling measures hit in July that year. This is despite Singapore's economy appearing on track to shrink 6 per cent for 2020 and unemployment hitting 3.6 per cent in Q3 compared with 2.3 per cent a year ago. Strong sales at Normanton Park, the largest and first new launch this year with close to one-third of its 1,862 units sold – were cited as another factor.
But some analysts believe that it is premature for more cooling measures to be implemented at this point.
---
Looking for a comprehensive guide to investing? Check out the FH Complete Guide to Investing and FH REITs Masterclass for Singapore investors.
2021 Stock Watch: Support the site as a Patron and get stock market updates. Like our Facebook Page and join the Facebook Group to continue the discussion!