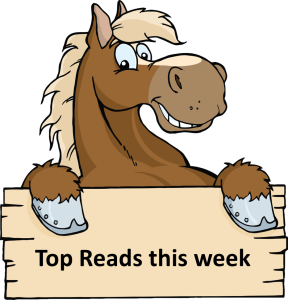 Rounding up top investing articles from around the web, including articles shared by fellow investors in the Financial Horse Facebook Group.
---
DBS Group has agreed to buy a 13 per cent stake in privately-owned Shenzhen Rural Commercial Bank Corp (SZRCB) for 5.29 billion yuan (US$814.3 million), marking the Southeast Asian lender's biggest acquisition in China.
The investment "strategically positions DBS well to increase its stake in SZRCB given liberalisation of the financial services sector in China," Singapore-based DBS said. SZRCB operates one of the largest bank branch networks in Shenzhen, where 210 of its 217 branches are located.
---
The ministry said that the man received his first dose of COVID-19 vaccine on 12 March, and the second dose on 13 April. They "likely" accounted for his positive serology test result as he has produced antibodies following vaccination, the MOH added. "However as it typically takes a few weeks for an individual to build up immunity after completing vaccination, he was likely to have been infected before he was conferred protection after vaccination," it said.
This comes as the ministry announced earlier on Tuesday a slew of revised border measures, including stricter ones for travellers arriving from India, to take effect from 11.59pm on Thursday.
---
The chief medical officer of BioNTech told CNBC that people will likely need a third shot of its two-dose Covid-19 vaccine as immunity against the virus wanes.
Dr. Ozlem Tureci, co-founder and CMO of BioNTech, which developed a Covid vaccine with Pfizer, said she also expects people will need to get vaccinated against the coronavirus annually, like for the seasonal flu.
---
James Dyson has switched his residency from Singapore to the UK, reversing a move he made about two years ago after his technology firm revealed plans to relocate its headquarters to the city-state.
Mr Dyson, a prominent Brexit supporter who's worth US$29 billion, faced criticism from UK lawmakers for relocating his company. Now he's at the centre of another controversy after he texted Prime Minister Boris Johnson in March 2020 to get assurance that his staff wouldn't face a change in their tax situation if they came to the UK to help make ventilators in response to Covid-19, according to a BBC report.
---
Blackstone Real Estate have agreed to acquire The Sandcrawler, an iconic Grade A business-park building in Singapore, for S$176 million from Lucas Real Estate.
---
Citi plans to hire up to 1,500 more employees in Singapore, as it looks to ramp up its consumer wealth management businesses amid a significant revamp. The new hires will support its plans to triple its assets under management and increase wealth clients by two and a half times by 2025, a spokesperson told CNA on Monday (Apr 19).
---
Among the Singapore-based individuals who made the list is Ms Serene Cai, co-founder of digital health start-up Speedoc, which provides services such as booking of healthcare professionals and medicine deliveries.
Mr Harsh Dalal, 19, co-founder of software development company Team Labs, is also one of those who made the prestigious list under the consumer technology category.
Other honourees include Mr Edward Yee, 26, co-founder of social enterprise fund GivFunds and Ms Oh Chu Xian, 27, co-founder of waste tech start-up Magorium.
---
ingapore Reinsurance on Tuesday (April 20) said offeror Fairfax Asia does not intend to increase its 35.35 cents offer price "under any circumstances whatsoever". Fairfax Asia is making a cash offer for Singapore Reinsurance's 71.82 per cent stakes that it and its concert parties do not own. The offer is conditional on them garnering more than 50 per cent stakes. As at 6pm on Tuesday, the number of shares owned, controlled or agreed to be acquired by Fairfax Asia and its concert parties, including public acceptances, stood at 49.84 per cent. The offer remains open for acceptances until May 4, 5.30pm.
---
Goldman Sachs analysts predict that in four years, new government policies mean electric cars will account for a greater share of auto sales in Europe and the U.S., versus China, although it is the largest market.
U.S.-listed Nio has said it would enter Europe in the second half of this year. And on Monday, co-founder and president Lihong Qin said the company expects to make an official announcement about such an expansion within a month.
"It's no secret now that most of the China EV startups have global ambitions," said Tu Le, founder of Beijing-based advisory firm Sino Auto Insights. "That'll continue as these companies chase growth and value and see opportunity due to the lack of viable EVs products in the region."
---
Apple announced a long-awaited gadget called AirTag. Users can attach the $29 coin-sized device to valuables such as keys or a backpack, then, if the item gets lost, locate it on a live map inside Apple's built-in Find My software.
But AirTag's most important differentiating feature isn't the technology inside the $29 coin-sized stainless steel gadget. It's other people's iPhones. AirTag doesn't have a GPS signal, which would rapidly drain its battery and raise privacy questions. Instead, when it's attached to a lost object, it sends out scrambled Bluetooth signals. For those signals to reach the internet and inform the person who's looking for their lost device, they'll need to find an iPhone that's listening for them.
---
Australia has cancelled two Chinese "Belt and Road" infrastructure building initiative deals with a state government, provoking an angry response from Beijing.
The bilateral deals with Victoria state were among four vetoed under new laws that give the federal government power to overrule international agreements by lower-level administrations that violate the national interest.
The Chinese Embassy in Australia said in a statement the decision "further shows that the Australian government has no sincerity in improving China-Australia relations."
---
Grab's 2023 maturity wall, which comprises convertible redeemable preference shares, will fall away with a public listing as the redemption rights of the bondholders are converted into equity.
Grab has heavily relied on funding from investors in the form of convertible securities, from which the company raised almost US$10 billion since 2014. According to S&P, the estimated proceeds from Grab's IPO and special purpose acquisition company (SPAC) merger could provide it with additional funds to buffer cash burn, support future expansion, and lower existing debt.
Despite the optimism, S&P believes that Grab will continue to be loss-making over the next two years. It noted that the ride-hailing company currently has a currency mismatch between its debt, which is predominantly in US dollars, and its operating cash flows, which are mostly in Asia-Pacific currencies.
---
Norway's US$1.3 trillion sovereign wealth fund, the world's largest, posted a first-quarter profit thanks to strong stock markets, it said on Wednesday. The fund had a 4 per cent return on investment, earning US$45.7 billionbetween January and March, beating its own benchmark index. While stocks earned a return of 6.6 per cent, the fixed income portfolio had a loss of 3.2 per cent while unlisted real estate had a positive return of 1.4 per cent.
---
Maybank Kim Eng analyst Kareen Chan has kept her "buy" call on Thai Beverage (ThaiBev) with an unchanged target price of 95 cents just days after the group said that it would be deferring its listing of BeerCo on the Singapore Exchange (SGX). The potential listing of BeerCo, a subsidiary of ThaiBev, was announced on April 16. The decision was due to the uncertain market conditions and volatile outlook, although, the way Chan sees it, the deferment of BeerCo's IPO is more likely due to a lower-than-expected valuation for the business. ThaiBev was initially seeking a valuation of around US$10 billion ($13.28 billion) for the spin-off IPO.
To Chan, the deferment of the IPO coupled with the resurgence of Covid-19 cases in Thailand and Vietnam may pose share price weakness for ThaiBev. That said, the weakness may present an opportunity for investors to accumulate the "laggard" counter as a post-Covid-19 recovery play, she writes in an April 19 report.
---
Dogecoin's price plunged on Wednesday, a day after fans tried to push it to $1 as they celebrated 'Dogeday'.
The surge coincided with a flurry of social media attention around what fans of the cryptocurrency called 'dogeday' — a day of celebration dedicated to the meme cryptocurrency that coincided with the unofficial marijuana holiday 420.
---
Called the X-Phy Cyber Secure SSD, the solid state drive can also automatically wipe its stored information in under a second if it is physically tampered with, said maker Flexxon. The memory-storage product maker launched the product on Monday (April 19) after receiving co-funding from the Government, one of the organisations that have placed sample orders.
---
The former personal assistant to the director-general of the Singapore Food Agency (SFA) was charged on Wednesday (Apr 21) under the Official Secrets Act (OSA) with leaking an unreleased statement about school closures during the COVID-19 "circuit breaker" last year.
---
SG Cares Volunteer Centre @ Yishun performs a critical role in meeting community needs by mobilising volunteers, coordinating resources and linking up social service agencies and ground-up initiatives in collaborative projects.
---
Looking for a comprehensive guide to investing? Check out the FH Complete Guide to Investing and FH REITs Masterclass for Singapore investors.
2021 Stock Watch: Support the site as a Patron and get stock market updates. Like our Facebook Page and join our Telegram Channel for weekly updates!