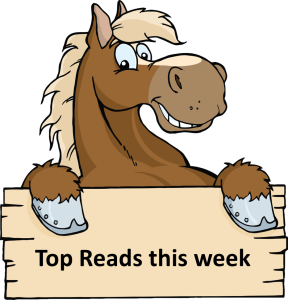 Rounding up top investing articles from around the web, including articles shared on Twitter.
---
For the first time in its annual report, published since 2019, the risk was rated Red, mainly due to a severe dry spell forecast in the second half of 2023. The scale goes from Green (low risk) to Amber (medium risk) and Red (high risk).
"Every prediction indicates the weather in 2023 will be hotter and drier, with the return of El Nino," said the report, citing the forecast of the United States National Ocean and Atmospheric Administration (NOAA) that there is an 84 per cent chance of El Nino going beyond the moderate range into a strong event.
---
Passengers seeking a glimpse of the RMS Titanic aboard the submersible that disappeared in the North Atlantic this week have to endure hours in a dangerous drop to the ocean floor aboard a cramped craft with a single porthole.
Mr Mike Reiss, a producer and writer for The Simpsons, boarded the vessel, known as the Titan, last summer.
He said passengers were required to sign a waiver that mentioned death three times on the first page.
Passengers on his 10-hour journey – a trip that can cost up to US$250,000 (S$336,000) – were composed but excited, he said.
Sandwiches and water were available on the vessel, but he recalled being told that many passengers did not eat during the journey because of excitement, and that the rudimentary toilet on board had never been used.
OceanGate Expeditions, which operates the vessel, has described the trip on its website as a "thrilling and unique travel experience". The company did not immediately respond to a request for more information on Tuesday.
The Titan is a tight fit. Mr David Pogue, a CBS reporter and former New York Times tech columnist who has been on board, described the cylinder as "about the size of a minivan".
---
Certificate of entitlement (COE) prices ended mixed in the latest tender on Wednesday, though they still remain among the highest seen since the quota system started in 1990.
The COE for smaller, less powerful cars finished at $96,206, down from $98,001 two weeks ago. COE for bigger, more powerful cars closed at $121,000, up from $120,702.
The Open COE, which can be used for any vehicle type except motorcycles but which ends up mostly for bigger cars, was priced at $123,000, up from $120,889.
---
It takes an average of 32.3 years to climb the wealth ladder from the first level of financial stability to the highest level of financial abundance.
This was what wealth manager St James's Place posits in its report Accelerating The Wealth Journey – From Stability to Abundance, after interviewing 1,000 affluent Singaporeans between the ages of 25 and 64 between February and March 2023.
The respondents had a minimum annual household income of $70,000 to over $250,000, and held investments in stocks, property, shares and funds.
Mr Wickham also suggested that individuals at the financially stable stage should equip themselves with basic financial education and understand the benefits of long-term investing.
This would ready him for the next stage, financial security, which the study found would take an average of 6.1 years to attain. Someone in a financially secure position can, on top of being able to save a portion of his income, choose to invest his money.
An individual then needs another 6.5 years to get to a stage of financial flexibility, where he has sufficient financial investments and assets to cover his living expenses for up to a year.
Getting to financial freedom will take another 8.7 years on average, while 11 more years are needed to reach financial abundance.
---
A Singaporean and a Chinese national were arrested last Friday for allegedly evading duty and Goods and Services Tax (GST) amounting to some $231,730.
Singapore Customs seized 2,165 cartons of duty-unpaid cigarettes in two operations in Jalan Boon Lay and Senang Crescent in Kembangan.
---
---
Core inflation — which excludes volatile energy, food, alcohol and tobacco prices — rose by an annual 7.1%, up from 6.8% in April and the highest rate since March 1992, according to the Office for National Statistics.
Sticky inflation and a persistently tight labor market have led economists in recent weeks to increase their forecast for peak interest rates, and the cycle of monetary policy tightening is now expected to last longer than previously expected.
The Organization for Economic Cooperation and Development projected earlier this month that the U.K. will post annual headline inflation of 6.9% this year, the highest level among all advanced economies.
The persistence of the country's cost of living crisis, with U.K. CPI the highest in the G7, will also be a headache for the government. Prime Minister Rishi Sunak promised to halve inflation by the end of this year ahead of a general election in 2024.
---
Biden's comment at a Tuesday fundraiser comes just days after Secretary of State Antony Blinken wrapped up his first official visit to Beijing.
That trip was aimed at mending ties between the two global powers that have hit rock bottom after the U.S. in February shot down what it described as a surveillance balloon — a claim China denies.
---
Tech giant Dyson is known for its consumer gadgets such as vacuum cleaners, hair styling products and air purifiers, but it is now breaking into a new generation of products.
The company is trying to hire another 2,000 engineers globally, according to Dyson's director of upstream robotics, Kashyap Chandrasekar.
A key part of Dyson's global investment scheme is a 247,000-square-feet battery plant in Singapore.
---
German energy prices are so high that some companies are considering leaving the country altogether, according to Siegfried Russwurm, head of the German Industry Federation (BDI).
He added that business conditions in Germany have created a "cocktail" of obstacles for companies.
In May, the German government revealed plans to set aside around 4 billion euros ($4.4 billion) each year to subsidize electricity prices for energy-intensive industries, in an attempt to shield businesses from high electricity prices.
---
Chinese electric car company Nio announced Tuesday it received $738.5 million in new capital from a fund owned by the Abu Dhabi government.
The deal was priced at $8.72 a share, a release said. That's 6.7% below where Nio's U.S.-listed shares closed Tuesday.
In the last several months, Middle East investors have increasingly looked for opportunities in China, especially in electric cars.
Looking for a comprehensive guide to investing? Check out the FH Complete Guide to Investing, Stocks Masterclass and REITs Masterclass for Singapore investors.
2023 Stock Watch: Support the site as a Patron and get stock market updates. Like our Facebook Page and join our Telegram Channel for weekly updates!
Join Financial Horse's Investing Community!