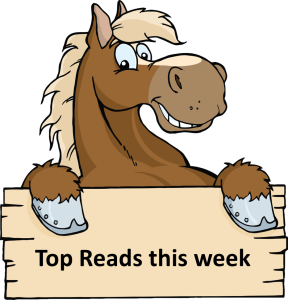 Rounding up top investing articles from around the web, including articles shared on Twitter.
---
A report released on Tuesday said that 83 per cent of Singapore employers think their workplaces support flexible arrangements, while only 61 per cent of employees feel the same way.
"This shows that employers' understanding of flexibility isn't the same as employees'," said the report by job search platform Indeed.
The sector with the greatest divide between the views of employers versus employees is retail, with only 42 per cent of employees believing that they have flexibility despite 80 per cent of employers claiming to provide flexible work arrangements.
Perceptions were most aligned in the finance industry, where 73 per cent of employees thought they had flexibility, and 78 per cent of employers felt they offered it.
---
Guests at Bali's Mercure Kuta ran out of their rooms after feeling the tremor for a few seconds, hotel manager Suadi told Reuters by phone.
"Several guests left their rooms but were still in the hotel area," he said, adding they had since returned and there was no damage to the building.
---
Commissions paid to agents for the sale or rental of property caught up in the $1 billion money laundering case could be clawed back, say lawyers.
The process would be a legally complex one and would rest on how much knowledge an agent had when a property transaction was under way.
A wider net has been cast in the $1 billion money laundering probe, with the Law Ministry sending out a notice to dealers of precious metals and stones with the names of 34 individuals who could be linked to suspicious transactions.
The list of names included the 10 foreigners who were charged in court on Aug 16 with various offences including forgery and money laundering.
---
As investment prospects darken, financiers increasingly view the game as a way to build "guanxi", or connections, with officials who hold the purse strings on local projects, especially those overseas investors might consider too risky.
"In finance, information is currency," said Mr Yang, for whom a game of Guandan has become a standard gambit before wining and dining local officials.
"During a game which can stretch for hours, we are bound to chit-chat, and sometimes useful information gets passed around after people feel comfortable and trust you."
---
But amid Solomon's push to unload or shutter several businesses tied to his ill-fated retail banking plan, the PFM business was deemed too small in the context of Goldman's larger aspirations in wealth and asset management. Goldman said in February that it only had about 1% of the high net worth market, or those who have between $1 million and $10 million to invest.
"This transaction is progress toward executing the goals and targets we outlined at our investor day in February," Marc Nachmann, global head of asset and wealth management at Goldman, said Monday in a statement. The sale "allows us to focus on the execution of our premier ultra-high net worth wealth management and workplace growth strategy" while continuing to support high net worth clients through a strategic partnership with Creative Planning, he said.
---
Google is planning to sell new mapping APIs that would allow companies to build products that use energy and environmental data.
The company has data on over 350 million buildings, according to documents viewed by CNBC.
The company sees a range of potential customers including Zillow, Marriott and Tesla and PG&E.
---
Elon Musk's X Corp. is facing 2,200 arbitration cases, a court filing in Delaware revealed on Monday.
Ex-Twitter employees are suing Musk's social media business saying the company not only failed to pay them promised severance, but then delayed their arbitration cases by failing to pay filing fees.
Filing fees to get Twitter's 2,200 arbitration cases rolling through the JAMS alternative dispute resolution system could amount to $3.5 million with more to follow.
---
OpenAI on Monday announced its biggest news since ChatGPT's debut: It's launching ChatGPT Enterprise, the AI chatbot's business tier, available starting today. 
The tool has been in development for "less than a year" and had the help of more than 20 companies of varying sizes and industries, OpenAI COO Brad Lightcap told CNBC, including Block, Canva and The Estée Lauder Cos.
ChatGPT Enterprise includes access to GPT-4 with no usage caps, as well as performance up to two times faster than previous versions and API credits.
---
Last year, the iPhone 13 was the bestselling device on the market, indicating consumers were still buying flagship devices but at the entry level rather than the top end.
This year, the iPhone 14 Pro Max, the most expensive of the Cupertino, California, tech giant's smartphone array, has taken the crown.
It reflects a growing shift among consumers toward the more higher-end parts of the market.
---
An analysis of CryptoQuant data from both spot and derivatives exchanges shows the total volume of bitcoin held on all exchanges is 2019 lows.
As of Aug. 26, bitcoin trading volume on all exchanges sat at 129,307 BTC, according to CryptoQuant. It's now off the March high of 3.5 million BTC by about 94%, according to the data provider.
On Aug. 12, trading volume fell as low as 112,317 BTC, its lowest level since Nov. 10, 2018.
---
Indonesia has plans to relocate its capital from Jakarta to Nusantara in East Kalimantan, but researchers say the move will come with a slew of challenges.
Although the government has committed to investing $35 billion in the project, that's only 20% of the funds needed and relying on foreign investors has not worked in the Jokowi administration's favor.
With a lack of visibility on the success of the project, researchers agreed that the government may have to increase their funding or there will be delays in the project.
Looking for a comprehensive guide to investing? Check out the FH Complete Guide to Investing, Stocks Masterclass and REITs Masterclass for Singapore investors.
2023 Stock Watch: Support the site as a Patron and get stock market updates. Like our Facebook Page and join our Telegram Channel for weekly updates!
Join Financial Horse's Investing Community!