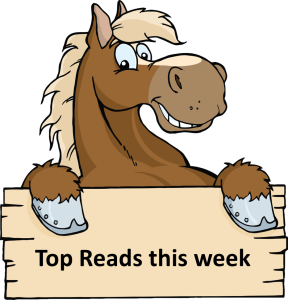 Rounding up top investing articles from around the web, including articles shared on Twitter.
---
Wedding bells were busy ringing in 2022, as the number of marriages registered in the year reached a record high of 29,389.
This was 3.7 per cent higher than the 28,329 marriages registered in 2021, the Statistics on Marriages and Divorces 2022 report released on Wednesday morning by the Department of Statistics (DOS) showed.
In fact, the number of marriages registered in 2022 was the highest since data on marriages was first compiled and published in 1961. The previous record high was in 2014, when 28,407 couples said "I do".
Meanwhile, fewer couples broke up in 2022.
A total of 7,107 marriages ended in a divorce or annulment in 2022, a fall of 9.9 per cent from the 7,890 marital dissolutions in 2021.
The age at which couples tie the knot continues to rise, which has bearings on fertility rates and family sizes.
The median age at first marriage for grooms was 30.7 years in 2022, up from 30.1 years a decade ago.
For brides, it was 29.3 years in 2022, up from 28 years a decade ago.
---
Singapore sovereign wealth fund GIC Pte reported its worst five-year returns since 2016, citing the slowing global economy as it warned the consequences of rising interest rates are yet to fully play out.
The firm, which the Sovereign Wealth Fund Institute has estimated runs $690 billion, posted annualized nominal returns of 3.7% for the five years ending March 31, the lowest in seven years. Its 20-year real return hit an eight-year high of 4.6% after moving past 2003, a fiscal year when markets slumped. The fund doesn't publish one-year results or its assets under management.
The returns underscore how institutional investors have been grappling with the fallout from rising interest rates and geopolitical tensions as well as a correction in global bonds and equities. Earlier this month, Singapore state-owned peer Temasek Holdings Pte warned of an uncertain road ahead as it suffered a rare annual net loss.
"We are not out of the woods yet," said GIC Chief Executive Officer Lim Chow Kiat. "The consequences of the policy tightening are still being felt in the economy and markets."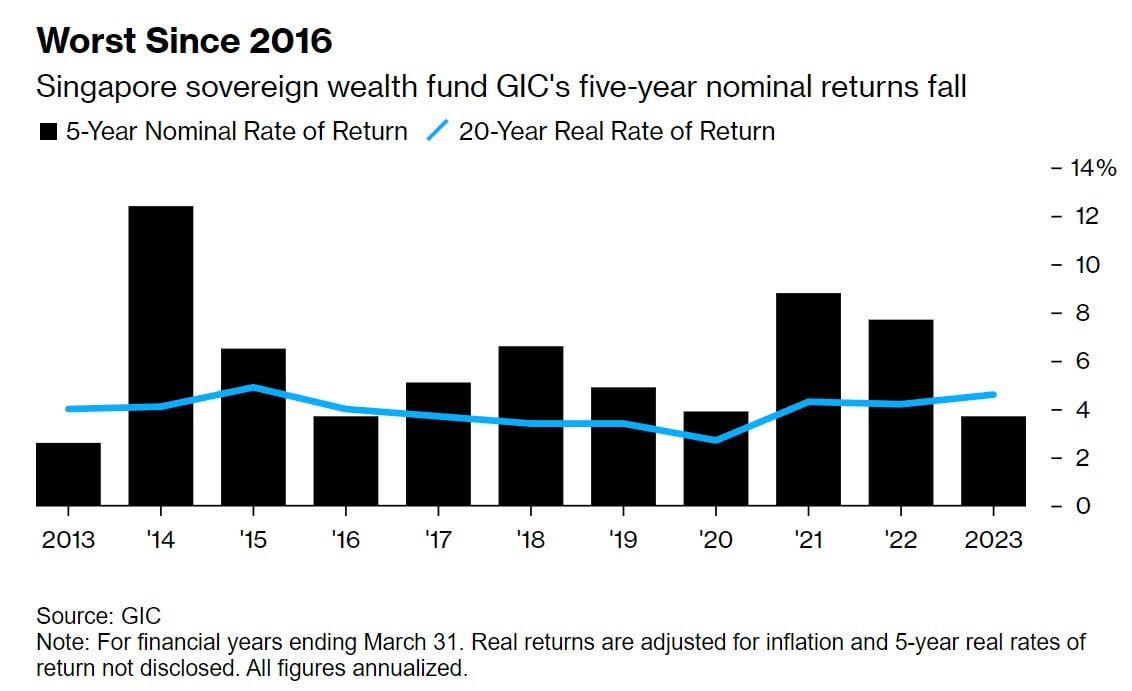 GIC has 17% of its portfolio invested in private equity but with the cost of borrowing going up, Chief Investment Officer Jeffrey Jaensubhakij sees private credit – the business of lending money to companies – as a big opportunity.
"Both through our managers but also with our internal teams, this is the asset class that has a risk reward that seems the most attractive currently," he said.
Jaensubhakij added the five-year returns are symptomatic of both the rocky markets it warned about even when times were good and its chosen solution – a shift to sectors like infrastructure that he said will deliver better returns amid rising inflation and volatility.
Its real estate allocation rose to 13% as of March 2023 compared to 7% three years ago. Part of that has been driven by infrastructure deals, with the team for such investments now consisting of about 70 staff.
---
In its 2022/23 annual report released on Wednesday (Jul 26), GIC said its 20-year annualised real rate of return came in at 4.6 per cent for the year ended Mar 31. This was up from 4.2 per cent in the previous financial year, and its highest since 2015 when real returns hit 4.9 per cent.
The 20-year metric – a primary indicator of GIC's investment performance – is a "rolling" return where years are dropped and added as the computation window moves.
GIC noted in its report that 2022 was a challenging year marked by soaring inflation and aggressive monetary policy tightening, Russia's invasion of Ukraine and a deterioration in US-China relations. Both equity and bond markets corrected amid the difficult market environment.
A diversified portfolio and cautious investment stance provided it with some cushion from the market correction, it said.
The drop-out of "a very weak year" – caused by the dotcom crash in the early 2000s – from the 20-year window also helped to shore up GIC's key return metric, said chief executive officer Lim Chow Kiat at a press briefing ahead of the report's release.
He said uncertainty remained "high" with multiple headwinds persisting on the horizon.
Apart from sticky inflation and chronic geopolitical risks, GIC sees disruptions to businesses arising from the shift to a regime of higher interest rates, along with the emergence of generative artificial intelligence (AI).
Asked what that would mean for future returns, Mr Lim said: "We have been warning about lower returns over time.
"Even for the 20-year number, it's hard to foretell what that number is (year to year). But generally, the investment environment is uncertain … so I think it is better to assume that the return prospects are challenging."
---
An annual report on employment standards released on Tuesday laid out data on salary and wrongful dismissal claims lodged formally in 2022.
Among other things, the report by the Ministry of Manpower (MOM) and the Tripartite Alliance for Dispute Management (TADM) said that more than eight in 10 salary claims were resolved with the help of trained mediators at TADM.
---
Prices of resale condominium units climbed for the fifth consecutive quarter between April and June, albeit at a slower pace than before as fewer units changed hands.
Prices inched up by 0.6 per cent in the second quarter, compared with 2.9 per cent in the first three months of 2023, based on a report by real estate firm OrangeTee & Tie released on Tuesday.
On a year-on-year basis, prices went up by 7.8 per cent, the report said, citing data from the Urban Redevelopment Authority's Realis property statistics portal.
In the second quarter of 2023, resale volumes dipped 1.5 per cent, with 2,376 units changing hands. By comparison, 2,413 units were sold in the first quarter.
OrangeTee & Tie expects the resale market to record more sales activity in the second half of 2023 as more condominiums are completed.
---
Mr Lee Hsien Yang has been asked to carry a correction notice on a Facebook post he made on Sunday that commented on the Ridout Road saga.
Mr Lee, the younger son of Singapore's first prime minister Lee Kuan Yew and the brother of Prime Minister Lee Hsien Loong, was issued the correction direction under the Protection from Online Falsehoods and Manipulation Act (Pofma), Singapore's fake news law.
The direction to do so was issued by Minister for Culture, Community and Youth and Second Minister for Law Edwin Tong. A press release from the Law Ministry said on Tuesday that Mr Lee's Facebook post on Sunday had made three untrue statements.
That the state had paid for the renovations to No. 26 and 31 Ridout Road because the properties were leased by Law and Home Affairs Minister K. Shanmugam and Foreign Minister Vivian Balakrishnan.
That trees at the two properties were allowed to be felled because the properties were leased by the two ministers.
That SPH Media Trust had fraudulently inflated its circulation numbers.
Mr Lee's Facebook post had said that trust in the People's Action Party, which PM Lee leads, "has been shattered".
He said: "Two ministers have leased state-owned mansions from the agency that one of them controls, felling trees and getting state-sponsored renovations… SPH Media, an entity being given almost a billion dollars of taxpayers' monies, has fraudulently inflated its circulation numbers."
---
Qin Gang, 57, made his last public appearance in Beijing on June 25, when he held talks with counterparts from Vietnam, Sri Lanka and key trade partner Russia.
He progressively rose up the ranks of Beijing's diplomatic service, including a two-year stint as ambassador to the United States, before being promoted to lead the Foreign Ministry in December.
Qin's dismissal and the appointment of Wang, 69, followed an extraordinary session of the National People's Congress Standing Committee — China's head legislative body.
″[Qin] he keeps his more senior position as a state councilor, So not 100% sure this is a purge," Neil Thomas, fellow on Chinese politics at the Asia Society Policy Institute's Center for China Analysis, said on X, previously known as Twitter. "Wang now has two jobs. Could be a temporary arrangement."
---
A lack of affordable flights and protracted waiting times for travel visas to go abroad have slowed China's outbound recovery, says Wolfgang Georg Arlt, founder and chief executive of Chinese Outbound Tourism Research Institute.
Domestic airline capacity in China has fully recovered, yet international flight capacity is still less than half of pre-pandemic levels, down nearly 5 million seats, according to Skift Research's "State of Travel 2023" report published last week.
"However, another reason is that domestic tourism has won in prestige and also in quality," Arlt told CNBC Travel.
---
Elon Musk officially changed Twitter's famous bird logo to an "X" in his bid to make the service into "the everything app."
Musk's goal is to transform X into a "super app" which was pioneered in China and has taken off in other parts of Asia.
Tencent's WeChat, which is the biggest super app in the world with 1.3 billion users, is likely Musk's inspiration as the billionaire in the past has called the Chinese app "great."
Looking for a comprehensive guide to investing? Check out the FH Complete Guide to Investing, Stocks Masterclass and REITs Masterclass for Singapore investors.
2023 Stock Watch: Support the site as a Patron and get stock market updates. Like our Facebook Page and join our Telegram Channel for weekly updates!
Join Financial Horse's Investing Community!