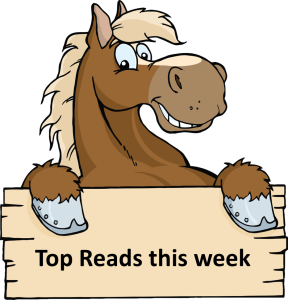 Rounding up top investing articles from around the web, including articles shared by fellow investors in the Financial Horse Facebook Group.
---
ingapore plastics manufacturer Omni-Plus System (OPS) on Tuesday (June 29) made its initial public offering (IPO) debut on the Tokyo Stock Exchange (TSE). The company, which was founded in 2002 with only two people, designs and sells raw polymer materials to manufacturers for use in their end products.
It counts Dyson, Braun and Nokia among its clients, with its materials found in household appliances, office automation equipment, cars and mobile phones. OPS is the first Singapore company to list in Tokyo, and just the second foreign firm to list on the TSE Mothers Index for high-growth and emerging stocks.
---
Carousell Pte, a Singapore-based online classifieds marketplace operator, is considering a U.S. listing via a merger with a blank-check company, according to people with knowledge of the matter. The startup is working with an adviser on the potential transaction that could value the company at as much as $1.5 billion, said the people, who asked not to be named as the process is private. A listing through a special purpose acquisition company could take place as soon as the end of this year, the people said.
---
Ian Ang, the co-founder of the gaming chair firm Secretlab, is ploughing S$51 million in just a week on two luxury properties – a GCB in Caldecott Hill and a penthouse near the Botanic Gardens. The 28-year-old started Secretlab in 2015 with fellow co-founder Alaric Choo.
A local tech entrepreneur in his thirties, who recently sold a startup firm, was reported in May to be in the early stages of buying a freehold bungalow under construction along Cluny Hill for S$63.7 million. Due diligence by The Business Times then suggested that the buyer may be Tommy Ong, who entered into a deal in March to sell the Singapore-based e-commerce marketing platform Stamped.io to Canada-listed WeCommerce Holdings for up to US$110 million.
---
Other notable names allegedly cheated by Ng include the chairman of Vickers Capital Group Finian Tan and chief executive officer of Chuan Hup Holdings Terence Peh. The charge sheets state that the investment professionals were swindled of US$19.2 million and S$3 million respectively.
As of last month, at least four lawsuits had been filed by investors seeking to claim some S$50 million from Envy Global Trading and Ng. The Commercial Affairs Department has seized about S$100 million of assets from him. Neither of Ng's firms is licensed by the Monetary Authority of Singapore.
---
Suntec REIT— which counts tycoon Gordon Tang among its biggest shareholders—has agreed to buy an office building in London for 353 million pounds ($489 million) as the Singapore-based office landlord moves to diversify its assets.
The acquisition of the Minster Building in London will be Suntec's second investment in the U.K. where it holds a 50% stake in Nova Properties, owner of two grade A office buildings in London's West End near Buckingham Palace.
---
Two sons of former Singapore president Ong Teng Cheong are facing off in court in a dispute over shareholdings in the holding company that controls the family business.
Older brother Tze Guan, who has a 28.45 per cent stake in Ong&Ong Holdings, has sued his younger brother Tze Boon and six other shareholders for minority oppression.
---
Shares of Didi Chuxing closed up a modest 1% Wednesday afternoon after spiking as much as 28.6% in the Chinese ride-hailing giant's market debut.
Didi was most recently valued at $62 billion following an August fundraising round, according to PitchBook data. The valuation as of Wednesday's first trade is more muted than the $100 billion that some had predicted. Still, it ranks among the largest U.S. IPOs over the past decade.
Didi closing in the green bucks the trend of rideshare giants closing below their first trade price. The company's American counterparts, Uber and Lyft, both closed below the initial trade in their 2019 debuts. Lyft began trading at $87.24 and closed the day at $78.29, while Uber opened at $42 apiece and dipped to $41.57.
Didi's listing on the New York Stock Exchange comes as demand for ride-hailing services shoots back up in tandem with falling Covid-19 cases and a roll out of vaccines. Uber and Lyft also have both said they'll be profitable on an adjusted basis by the end of this year, thanks to the recovery.
---
Singapore welcomed yet another digital telco earlier this month with the soft launch of Gorilla Mobile. The firm joins over a dozen mobile virtual network operators (MVNOs) in Singapore including Circles Life, MyRepublic, and other telco-run digital offerings. 
MVNOs are virtual telco providers who do not own their own wireless network infrastructures but lease them from a mobile network operator.
---
"We have never bullied, oppressed or subjugated the people of any other country, and we never will," said the Chinese leader as he stood atop Tiananmen overlooking the square and thousands who had gathered to mark the centenary of the founding of the Chinese Communist Party (CCP).
China will never permit anyone to bully or oppress it, Mr Xi said.
"Anyone who would attempt to do so will find themselves on a collision course with a great wall of steel forged by over 1.4 billion Chinese people," said President Xi, in a raised tone, to thunderous applause and cheers from the crowd.
---
The CPC marks its 100th founding anniversary on Jul 1. The party has ruled China since 1949. Mr Lee said the goals laid out in the CPC's 14th five-year plan will bring China "another step closer to its vision of a modern socialist economy". "A stable, prosperous, and successful China that is well-integrated into the international system benefits not just China, but also the rest of Asia and the world," he wrote. 
Mr Lee added that the PAP and the CPC share warm and friendly ties, underpinned by regular exchanges.
---
Singapore's central bank is aware of the actions taken by other regulatory authorities against cryptocurrency exchange Binance and will follow up as appropriate.
In response to queries from The Straits Times, the Monetary Authority of Singapore (MAS) noted that Binance's Singapore arm Binance Asia Services is exempted from holding a licence under the Payment Services Act for the provision of digital payment token services as its licence application is being reviewed.
The offices of the Manhattan District Attorney and New York Attorney General have obtained indictments against the Trump Organization and its longtime finance chief Allen Weisselberg, two people familiar with the matter told NBC News.
The indictments against the organization and Weisselberg, handed up by a New York grand jury, are expected to be unsealed in court Thursday afternoon in Manhattan, a Trump representative told NBC.
NBC previously reported the charges center around allegations of Weisselberg and other Trump Organization executives receiving benefits without reporting them properly on their tax returns.
---
Swedish automaker Volvo unveiled a new concept EV that previews the future design direction of the company's lineup as it transitions to only offer EVs by 2030.
The vehicle, called the "Concept Recharge," features a sleek exterior design with a simplistic interior, reminiscent of newer Tesla vehicles but with two screens instead of one.
---
Looking for a comprehensive guide to investing? Check out the FH Complete Guide to Investing and FH REITs Masterclass for Singapore investors.
2021 Stock Watch: Support the site as a Patron and get stock market updates. Like our Facebook Page and join our Telegram Channel for weekly updates!