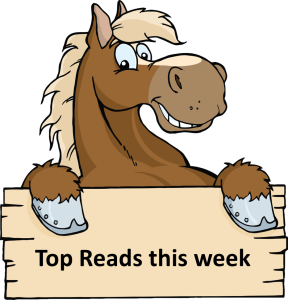 Rounding up top investing articles from around the web, including articles shared on Twitter.
---
Israeli forces on Thursday encircled Gaza City – the Gaza Strip's main city – in their assault on Hamas, the military said, but the Palestinian militant group resisted their drive with hit-and-run attacks from underground tunnels.
The city in the north of the Gaza Strip has become the focus of attack for Israel, which has vowed to annihilate the Islamist group's command structure and has told civilians to flee to the south.
---
The House approved a nearly US$14.5 billion military aid package on Thursday (Nov 2) for Israel, a muscular US response to the war with Hamas but also a partisan approach by new Speaker Mike Johnson that poses a direct challenge to Democrats and President Joe Biden.
In a departure from norms, Johnson's package required that the emergency aid be offset with cuts in government spending elsewhere. That tack established the new House GOP's conservative leadership, but it also turned what would typically be a bipartisan vote into one dividing Democrats and Republicans. Biden has said he would veto the bill, which was approved 226-196, with 12 Democrats joining most Republicans on a largely party-line vote.
---
Countries developing and deploying "frontier AI" must cooperate for the sake of mutual security, despite the inevitable competition, Prime Minister Lee Hsien Loong said on Thursday (Nov 2) after joining world leaders virtually at the inaugural global AI safety summit.
The first wave of mainstream AI applications like ChatGPT are often called frontier AI.
"No one benefits when AI systems go rogue," Mr Lee said in a Facebook post on Thursday.
"Countries will ultimately need to establish some global understanding to make AI systems safer, and avoid AI creating strategic risks and instability," he added.
---
Speaking in conversation with U.K. Prime Minister Rishi Sunak, tech billionaire Elon Musk said that AI will has the potential to become the "most disruptive force in history."
Musk has on multiple occasions warned of the threats AI poses to humanity, most recently urging for a pause to development of AI more advanced than OpenAI's GPT-4.
---
The Significant Investments Review Bill, as it is called, seeks to regulate both local and foreign investments into entities "critical to Singapore's national security interests", though these entities have not yet been identified.
Minister for Trade and Industry Gan Kim Yong told reporters that because of the increasingly complex economic environment, it is important for Singapore to "take a broader view on how we can effectively manage the risks that may arise from significant investments in some of these critical entities".
Although most critical entities here are already adequately covered by existing sectoral legislation, there are some which may not be covered adequately, or may be in sectors not covered by those rules, he noted.
---
In a research note published on Thursday, RHB Bank research analysts said the management team at DBS could give more details on the impact of MAS' regulatory action, when its third-quarter results are released.
"But the direct impact looks to involve higher opex (compliance cost, tech spending) and capex," the analysts wrote, referring to operational expenditure and capital expenditure.
"In our view, the impact does not represent too much of a setback to DBS," the analysts told CNA separately.
The ban on acquiring new business ventures in the next six months may also have a limited impact on DBS, with five analysts telling CNA they were unaware of any upcoming acquisition plans.
DBS took over India's Lakshmi Vilas Bank in late 2020 and completed its acquisition of Citi's consumer banking business in Taiwan in August this year.
MAS will review the progress made by DBS after the six-month window, and may extend the duration of measures, vary the additional capital requirement or take further actions.
---
The Popular bookstore chain has been acquired by a Hong Kong investment company for an undisclosed sum, Chinese newspaper Lianhe Zaobao reported on Thursday.
The report said Hong Kong-headquartered ZQ Capital has acquired Popular Holdings.
Popular Holdings' businesses include the Popular and other bookstore chains in Singapore, Malaysia, China and the United States.
It has 169 retail outlets in Singapore, Malaysia and Hong Kong, according to its website. Popular also operates e-learning, publishing and property development arms.
---
The monthlong trial of Sam Bankman-Fried wrapped up on Thursday, leaving the jury to decide the fate of the FTX founder.
Bankman-Fried pleaded not guilty to criminal fraud charges tied to the collapse late late year of crypto exchange FTX and sister hedge fund Alameda Research.
The prosecution's key witnesses were former members of Bankman-Fried's inner circle.
A jury has found Sam Bankman-Fried guilty of all seven criminal counts against him, according to Reuters. The former FTX CEO faces a maximum sentence of 115 years in prison.
---
After a $4 million takeover in July, World of Neopia CEO Dominic Law is aiming to revive Neopets, a 24-year-old web browser game that at one point, boasted an active player count of 35 million players.
To do that, he plans to utilize the game's intellectual property to create merchandise and open a new revenue stream, as well as create more new games using the Neopets brand.
---
Apple indicated on Thursday that it doesn't expect revenue growth in the December quarter, which is the busiest time of the year.
CFO Luca Maestri said revenue in the period will be "similar" to a year ago, while analysts were expecting growth of about 5%.
For the latest period, Apple reported its fourth straight quarterly revenue drop.
---
For the first time in more than 40 years, Housing Board flats will be built on Pearl's Hill in Chinatown as part of efforts to provide a mix of housing options in central locations.
About 6,000 public and private homes, including Build-to-Order (BTO) and rental flats, will be progressively developed on the hill over the next decade.
These homes will offer "unique hillside living in the city", said the Urban Redevelopment Authority (URA) on Friday.
An exhibition displaying plans for new neighbourhoods in Pearl's Hill and Marina South has been launched at The URA Centre in Maxwell Road.
Looking for a comprehensive guide to investing? Check out the FH Complete Guide to Investing, Stocks Masterclass and REITs Masterclass for Singapore investors.
2023 Stock Watch: Support the site as a Patron and get stock market updates. Like our Facebook Page and join our Telegram Channel for weekly updates!
Join Financial Horse's Investing Community!