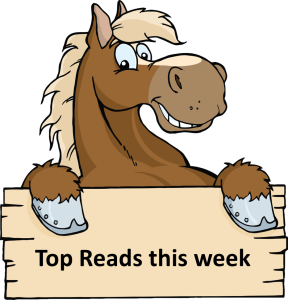 Rounding up top investing articles from around the web, including articles shared by fellow investors in the Financial Horse Facebook Group.
---
SHARES of mainboard-listed Oceanus Group continued to sink on Wednesday after plummeting on Tuesday, prompting a query from the Singapore Exchange (SGX) about the "unusual price movements". 
Oceanus was the most traded counter by volume on the Singapore bourse at market close, with 1.4 billion shares having changed hands. The counter was down 34.4  per cent or 2.2 Singapore cents to 4.2 cents. On Tuesday, Oceanus' short-sell volume nearly doubled to 70.3 million shares, from 35.3 million shares the day before. 
Two hours after the SGX query, Oceanus' board said the company continues to make efforts to grow its business. It added that it was unaware of any information not previously announced which, if known, might explain the trading activity.
---
Medtecs International Corporation Limited ("Medtecs") is the world's leading supplier of personal protective equipment ("PPE") and a multi-national PPE stockpiling solutions provider to governments and group purchasing organizations around the world. The Group commenced operations in the Philippines in 1989 and has since established a strong presence in the United States, Europe, and Asia Pacific. Medtecs currently is headquartered in Taipei, Taiwan. 
Medtecs International Corporation Limited has released its FY2020 results on 1st March 2021. In this article, we will be looking at the highlights of their result announcement and the management outlook for the group. 
---
US-LISTED Sea will be eligible for inclusion in the MSCI Singapore Indices from the May semi-annual index review (SAIR). The inclusion of a large tech counter could be positive news for Singapore, as it brings the index in line with other global indices.
Apart from Sea, MSCI said two other foreign-listed counters – Hong Kong-listed Razer and US-listed Maxeon Solar Tech – would be eligible for the MSCI Singapore Indices as of the February review.
---
he ETF (ticker: ARKK), actively managed by Cathie Wood, founder of ARK Investment Management, was one of the star performers of 2020. It gained more than 150% by riding stay-at home stars like Tesla (TSLA), Roku (ROKU), and Square (SQ) to new heights. This year started off well too, with the ETF rising 25% to $156 on Feb. 12, from $124.49 on Dec. 31.
It's been all downhill since then. The ETF closed at $125.11 on Wednesday, down 20% in the 12 trading days since the February high. That was faster than the 13 days it took to fall more than 20% in March 2020 as pandemic fears hit stocks. Other tech stocks are also slumping as investors move into financials, energy, and sectors they used to shy away from.
---
The Nasdaq ended sharply lower on Wednesday after investors sold high-flying technology shares and pivoted to sectors viewed as more likely to benefit from an economic recovery on the back of fiscal stimulus and vaccination programs. Microsoft Corp, Apple Inc and Amazon.com Inc dropped more than 2per cent, weighing more than any other stocks on the S&P 500.
The S&P 500 financial and industrial sector indexes reached intra-day record highs. Most other S&P 500 sectors declined.
"Today is the perfect encapsulation of the big theme we've been seeing in the past couple of months: The vaccine rollout is going well and the economy improving, and that is sending yields and rate expectations higher, which is hurting growth stocks," said Baird investment strategist Ross Mayfield, in Louisville, Kentucky.
---
About 300 positions will be impacted by the end of 2021, the oil major said. 
ExxonMobil has more than 4,000 employees in Singapore, which houses the company's largest refinery with a capacity of about 592,000 barrels per day.
"This is a difficult but necessary step to improve our company's competitiveness and strengthen the foundation of our business for future success," said Ms Geraldine Chin, chairman and managing director of ExxonMobil Asia Pacific.
---
Goldman Sachs Group plans to add about 100 staff in Singapore, taking its headcount in the South-east Asian financial hub to a record, following a tumultuous period in the region.
All of the new positions will mainly be in technology, and the appointments will take the number of employees in the city to more than 1,000, EG Morse, head of Goldman Sachs' regional operations, said in an interview. About 60 per cent of existing staff work in support and technology roles.
---
Malaysian budget carrier AirAsia has launched its food delivery service in Singapore as it continues to seek alternative sources of income outside of the battered aviation sector. Its airasia food platform will initially feature about 80 restaurants.
The platform will charge restaurants 15 per cent commission per delivery, instead of going ahead with plans for a zero-commission model. The rate is still lower than those offered by the three major food delivery operators – GrabFood, foodpanda and Deliveroo. AirAsia said the lower commission would in turn lead to lower charges for customers. AirAsia also said it had recruited about 500 delivery riders, and aims to double that number by the third quarter of the year.
---
SINGAPORE must be mindful not to send the wrong signals to the world and jeopardise its hard-won reputation for openness, Trade and Industry Minister Chan Chun Sing warned in a parliament speech on Tuesday. Singapore's ecosystem of global and local companies attracts even more firms to come here and tap this network, in a virtuous cycle, he said during the debate on his ministry's spending plans for the new financial year. "If we do the wrong things and damage this reputation and ecosystem, we can quickly lose it all," he added.
Such "wrong things" include inconsistent policies on business, taxation, manpower and talent, and "sending the world the wrong signals that detract from our intent to enable our companies to form globally competitive teams to compete with the world".
---
"We're on the cusp of a post-Covid boom that now looks to be pushed forward happening much sooner than expected," Cramer said.
He added that money managers "now want the obvious reopening plays, the ones that are in terrible shape, but could be huge winners as the world goes back to normal."
---
SpaceX's latest Starship prototype landed for the first time after a high-altitude flight test but then exploded a few minutes after as it stood on the concrete pad.
The cause of the explosion, or whether it was intentional, was not immediately clear.
The company test flew Starship rocket Serial Number 10, or SN10, on a flight to about 32,800 feet altitude before returning to land on a concrete pad a few minutes later.
---
Emerging Towns & Cities Singapore (ETC) on Tuesday night (March 2) requested that trading in its shares be suspended while the property developer conducts an independent review of its contracts with Myanmar government ministries and departments.
ETC is among companies being called out by activists over its links to the Myanmar military, which seized power from the country's elected government in a Feb 1 coup.
The Singapore Exchange last week issued a list of queries to the company, which is developing a commercial and residential project in Myanmar called Golden City that is being built on land leased from the Myanmar army. In its report, rights group Justice for Myanmar said Golden City "channels millions of dollars" to the army.
---
Singapore has become one of the world's most sought-after locations for buying investment homes as its safe-haven reputation has been further strengthened by successfully managing the coronavirus pandemic and supporting businesses. According to Knight Frank's Wealth Report, while private home prices in Singapore's prime districts dipped 0.2 per cent in 2020 as travel restrictions kept foreign buyers away, demand is expected to recover this year as such properties remain relatively affordable, and as the vaccine roll-out continues and borders reopen.
Knight Frank's survey of over 600 private bankers, wealth advisers, intermediaries and family offices, found "a change in strategy" by ultra-high net worth individuals – those whose net wealth exceeds US$30 million (S$40 million) – due to global uncertainty in the wake of the pandemic.
"As a result, they are investing in additional homes domestically wherever they can, followed by second homes in cities and countries that best fit their needs in the new normal," said Ms Victoria Garrett, head of residential property in Asia-Pacific at Knight Frank.
---
NASDAQ-LISTED Futu Holdings has set up its South-east Asia headquarters in Singapore, where the tech-oriented online broker will soon officially launch its services and use the city-state as a springboard into the region
---
ingapore has developed a "globally inter-operable" standard based on blockchain technology to facilitate cross-border verification of health documents, such as pre-departure COVID-19 test results, said Minister-in-charge of the Smart Nation Initiative Vivian Balakrishnan on Friday (Feb 26).
Speaking at the Committee of Supply debate for the Prime Minister's Office, Dr Balakrishnan said that these notarised pre-departure test results will be available on the SingPass mobile app. The Government will also look into extending this to vaccine certificates.
---
Patients who go under the blade to correct their myopia will now be able to freeze tissue from their own corneas, preserving it to potentially treat long-sightedness and other eye conditions they develop in the future. Called OptiQ, the service is the first of its kind in Asia. It was launched on Wednesday (March 3) by local company Cordlife Group, which owns a series of international cord blood banks.
Professor Donald Tan, an adjunct professor with the Singapore National Eye Centre (SNEC) and medical adviser to OptiQ, said: "A laser cuts a lens-shape piece of tissue within your cornea, which matches your myopia, and then we remove it through a little keyhole incision at the side. "And that piece which we remove, which is essentially your myopia, is the corneal lenticule."
---
ingapore's first arts university will be established in an alliance between the Nanyang Academy of Fine Arts (NAFA) and LASALLE College of the Arts, Minister for Education Lawrence Wong announced on Wednesday (Mar 3). It will be a private university supported by the Government, with LASALLE and NAFA as its two constituent colleges, and both will continue to remain as distinct schools offering their own programmes, he added. 
---
The Two Sessions, or "lianghui", are annual parliamentary meetings in Beijing during which lawmakers and advisers review the annual targets of the world's second-largest economy. This year, the meetings, comprising the Chinese People's Political Consultative Conference (CPPCC) and the National People's Congress (NPC), will begin on Thursday (March 4) and are expected to end on March 11. The CPPCC is the country's top political advisory body, while the NPC is China's top legislature.
This year, the two bodies will focus on China's next five-year plan between 2021 and 2025 and the Communist Party's centenary year. They will review economic benchmarks and budgets at the national and local levels.
A key policy focus this year will be on developing domestic technology and self-reliance, as China braces itself for a decoupling from foreign technology.
---
President Joe Biden singled out a "growing rivalry with China" as a key challenge facing the United States, with his top diplomat describing the Asian country as "the biggest geopolitical test" of this century.
The administration rolled out its thinking in a 24-page document outlining Biden's national security policies along with the first major foreign policy speech by Secretary of State Antony Blinken.
"It is the only competitor potentially capable of combining its economic, diplomatic, military and technological power to mount a sustained challenge to a stable and open international system," the national security document said of China.
---
Looking for a comprehensive guide to investing? Check out the FH Complete Guide to Investing and FH REITs Masterclass for Singapore investors.
2021 Stock Watch: Support the site as a Patron and get stock market updates. Like our Facebook Page and join our Telegram Channel for weekly updates!