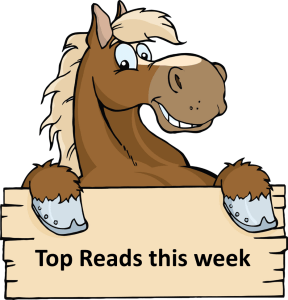 Rounding up top reads from around the web, including articles shared by fellow investors in the Financial Horse Facebook Group.
---
Asian shares made guarded gains on Monday as investors dared to hope for some progress in the endless Sino-U.S. trade dispute, while the outperformance of recent U.S. economic data gave the dollar a leg up on its peers.
MSCI's broadest index of Asia-Pacific shares outside Japan .MIAPJ0000PUS bounced 0.8%, after losing 0.4% last week. Japan's Nikkei .N225 firmed 0.9%, while Australian stocks .AXJO rose 0.5% and Shanghai blue chips .CSI300 0.4%. E-Mini futures for the S&P 500 ESc1 added 0.3%, while EUROSTOXX 50 futures STXEc1 gained 0.6%.
On Saturday, U.S. national security adviser Robert O'Brien said an initial trade agreement with China is still possible by the end of the year, though he warned Washington would not turn a blind eye to what happens in Hong Kong.
---
Chinese e-commerce giant Alibaba Group will raise up to US$12.9 billion from its landmark Hong Kong listing and is set to price its shares at HK$176 (S$30.62) each, or a 2.8 per cent discount to their New York close, sources with direct knowledge of the matter said.
The deal – the largest share sale in the city for nine years and a world record cross-border secondary share sale – will be seen as a boost to Hong Kong following more than five months of anti-government protests and its recent slide into its first recession in a decade.
---
Traders take the help of technical analysis to estimate the right time to sell or buy a scrip. Traders are not worried about what the business model or future growth prospects of a company is. They base their decisions on hearsay, media reports or by analysing charts and graphs to find the right entry and exit points. Investing on the other hand, takes a long-term approach. Investors look to be a part of a business, which is backed by strong corporate governance and constant innovation and clear competitive advantage.
Due to the nature of trading, a trader needs to be someone who is constantly alert, takes tough calls quickly and is always on his toes. On the other hand, an investor is slow and steady in his approach, the tendency is to take time to analyse a company thoroughly, buy stocks he believes in and then hold them for a long period.
A trader has high risk tolerance, there will be good trades and bad trades but he is ready to take the risks for short term gains. Investors, on the other hand, are of a moderate risk profile and remain invested for the long haul.
---
Fortune: We're going on 11 years of a bull market in the U.S., but many investors have spent the past couple of years wondering when the other shoe is going to drop. We've had slowing GDP growth, we've had declining corporate earnings. Are we staring at something worse, like a recession?
Josh Brown: I'm going to start by correcting you. We're in a secular bull market that began in 2013. That's the first time we made a new high since the 2007 crash, and that's important because we don't measure the 1982 to 2000 bull run from the lows of 1974.
There's also the cyclical bull that's making new highs as we speak. In December 2018, we were down 20% in the S&P 500. So this is not quite as long of a bull as you might suspect if you just look at the starting point and the end point. [Pause] I'll leave now, if you want.
Karina Funk: I don't foresee playing defense in a potential recession scenario. Some of the most compelling investment opportunities today are the companies that are solving customer problems, and frankly solving some of our thorniest social problems as well. In terms of access to better health care, whether it's access to data in computation or whether it's access to clean water, we're not going to need any less of those things anytime soon.
Angela Strange: A lot of companies I'm investing in have got a seven- to 10-year view before they'll even hit the public markets. But some of the best companies launch when the market dips. People start to look to save more money, they look for better services, and they're apt to switch from incumbents. And so sometimes it is a better time to get started as a company.
Rob Sharps: Because we've had a record-long expansion, does it imply that we're headed into a recession or that the bull market needs to be over? I would say no. We could have the global manufacturing sector begin to pick up. And could be in a period of time where we do resume earnings growth.
---
Mercadolibre, Inc. (MELI) Mercadolibre was developed as an online marketplace for consumers in Latin American countries, with it now expanding its services to cater to the region's under-banked community through its digital payments system, Mercado Pago. Given that $13.4 billion worth of goods are sold on the marketplace as well as its 93% year-to-date climb, it's no wonder Wall Street is intrigued.
JD.com, Inc. (JD) The Chinese e-commerce company just posted an earnings beat of monster proportions. As a result, several members of the Street believe that now is the time to add JD (up 53% year-to-date) to your shopping cart.
Yandex N.V. (YNDX) Yandex is a Russian internet and technology company that operates a popular search engine. On the heels of its announcement that it will be updating its corporate governance, some analysts are standing firmly behind YNDX, stating that the company's 48% year-to-date growth is just the beginning.
---
Institutional investors are fighting back against the prospect of dual-class shares in the UK after Downing Street held exploratory talks about altering listing rules to attract high-growth companies. The FT reported this month that Number 10 had suggested introducing dual-class shares as part of its efforts to ensure London remains one of the pre-eminent markets to list on after Brexit. The share structures, which are often popular with start-up founders who want to retain significant control, have been used by tech companies including Google, Alibaba and Facebook. But three big investors have pushed back against the possible introduction of dual-class shares, with one arguing the structures "have been the scourge of corporate governance for some time".
---
One of the best options to re-enter the workforce after a long break is teaching. Especially if you have a university degree, this is one of the easiest to get into due to the ever-green demand. Even if you don't have a degree, there is still a wide variety of options, and almost any skill or interest you have can be transferable as a "teachable" option. For instance, music, art, fitness or even coding for kids! With technology, you can even consider online teaching, which expands the variety of jobs you are able to take on by accessing the global student marketplace.
If you have unique skills and interests, creative industries such as art classes, pottery classes, or even calligraphy are great fields that you can teach to both kids & adults. Another lucrative area are music classes such as violin or piano. If you have a science or math background, you can consider Coding Camps for kids. If you're a fitness enthusiast, there are so many areas you could explore. From taekwondo to kids, yoga and pilates classes, and even personal training. As you can see, the variety of teaching fields are only getting wider, so be open to opportunities and think outside the box!
---
1) Trick: Assuming your money is going where you want it to go
You're making ends meets, so you're on top of your money right? Maybe not. Money has a sneaky way of slipping away if you're not careful.
2) Trick: Thinking a financial emergency won't happen to you
Unexpected expenses can creep up on you even if you're young and healthy. A job loss? An accident? It may not happen, but it could—and it could cost you big time if you're not prepared. Build an emergency fund. Aim to cover three-to-six months of essential living expenses by setting aside cash in an easily accessible savings or money market account.
3) Trick: Confusing good and bad debt
Debt like a mortgage or a student loan that's low interest, possibly tax-deductible, and is used for a potentially appreciating asset can actually work in your favor. That's the good kind. Credit cards and other high-interest, non-deductible consumer debt? Even though it's convenient, that definitely falls into the "bad" category.
---
What is so funny about the way we think about money is we've been conditioned to minimize ourselves and minimize our dreams. "Oh, I don't want to be rich. I just want to pay off my debt." No, it's okay to be rich. It's okay to be financially comfortable…It's okay to say, "I can take my extended family to Rome. I can put them all up in a massive AirBnB, and we can create memories together." That's okay. I hate seeing people minimize their dreams. I want to hear you maximize it because once you get comfortable saying, "I want this, I deserve it, I'm willing to work for it," then you can start to do the hard work of achieving it.
---
Lots of personal finance books teach you about money, but "The Millionaire Next Door" taught me about perspective.
I used to think that frugality was for people who need money, and that looking for deals and coupons was for people who couldn't spare an extra few cents. I spent years building and living with debt, thinking it was normal.
But "The Millionaire Next Door" showed me that many millionaires are thoughtful about building wealth, and frugal in their day-to-day lives. It was mind-blowing for me, and changed the way I managed my money going forward.
---
When there are so many choices in the market, investors depend on readily available information and shortcuts like media headlines to guide their investment decisions. That means investors are more prone to purchase stock of which prices were temporarily inflated, leading to disappointing subsequent returns.
A study conducted by Shlomo Benartzi and Richard Thaler (2007) found that the percentage that employees invested in their retirement savings plans correlated positively and significantly with the relative number of equity funds in the plan. This means when confronted with too many choices, investors will divide their assets evenly across all options, instead of selecting only suitable investments and allocating according to their financial goals.
---
"The problem is this capital is unable to make its way to the emerging markets mainly because of definitions, data and, most importantly, the mismatch of investment need," said Daniel Klier, head of sustainable finance at HSBC Holdings, the biggest underwriter of green, social and sustainability bonds this year. "About two-thirds of the investments needed every year need to go to emerging markets, but we are only doing around 20 per cent."
To ease choked-up fund flows, many market participants say that so-called transition bonds can help develop responsible investing, particularly in Asia. This type of debt would allow companies shifting towards cleaner energy to access capital, and provide a broader range of potential investments.
---
Scammers had misused names related to Changi Airport Group (CAG) — such as the Millionaire draw — to obtain victims' credit card and bank account details, police said.
Victims would receive unsolicited calls via phone applications such as Viber, informing them that they had won a prize in a lucky draw organised by CAG. If the victims responded to the calls, they would be asked to provide their credit or debit card details and bank account information to claim their prizes. The culprits would also request for their victims' One-Time Password (OTP) that was sent to their mobile phones.
---
Singaporeans are the world's 6th richest people, according to a new Credit Suisse report. There are 207,000 millionaires here, and almost half the adult population is among the world's richest 10%.
Five per cent of Singaporeans – or 226,000 individuals – belonged to the world's richest 1 per cent of people, which was defined as those with over US$936,400 to their name. In addition, a whopping 2.18 million Singaporeans were among the world's richest 10 per cent, with wealth over US$109,400.
Despite this, inequality is "not extreme" compared to other countries, it said. In 2019, the average Singaporean had US$300,000 to their name – triple the average in year 2000, thanks to high savings, increased asset prices, and a better exchange rate. The report noted that despite poor job prospects and high house prices, millennials were accumulating wealth thanks to financial aid from their parents.
---
The Big Three banks in Singapore will likely continue to see narrowed net interest margin (NIM), deteriorating asset quality and slowing loan growth, as experienced in the third quarter this year, according to a report by Fitch Ratings on Tuesday (Nov 26).
Fitch Ratings also said the earnings of DBS, OCBC Bank and United Overseas Bank (UOB) may have peaked in this cycle. However, their capital and liquidity profiles remain "sound" and should provide adequate buffers, the rating agency noted.
---
"When I had trouble with my sit-in communist students, squatting in school premises and keeping their teachers captive, I cordoned off the whole area around the schools, shut off the water and electricity, and just waited," he said. "I told their parents that health conditions were deteriorating, dysentery was going to spread. And they broke it up without any difficulty. "I said to Li Peng, you had the world's television cameras there waiting for the meeting with [then Soviet Union leader Mikhail] Gorbachev, and you stage this grand show. His answer was: 'We are completely inexperienced in these matters'," said Lee, who led the city state from 1959 to 1990.
Looking for a comprehensive guide to investing? Check out the FH Complete Guide to Investing for Singapore investors.
Support the site as a Patron and get market and stock watch updates. Like our Facebook Page and join the Facebook Group to continue the discussion!