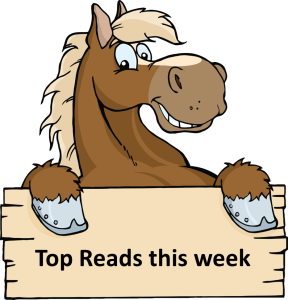 Rounding up top reads from around the web, including articles shared by fellow investors in the Financial Horse Facebook Group.
---
The PAP won 83 out of 93 seats in Parliament, and 61.2 per cent of the popular vote. Mr Lee described the vote share as "respectable". Despite losing the new Sengkang GRC to the Workers' Party (WP), Mr Lee said the overall result "reflects broad-based support for the PAP".
---
1. WEST COAST GRC: PAP 51.69%, PSP 48.31%
2. SENGKANG GRC: WP 52.13%, PAP 47.87%
3. EAST COAST GRC: PAP 53.41%, WP 46.59%
4. BUKIT PANJANG SMC: PAP: 53.74%, SDP 46.26%
5. BUKIT BATOK SMC: PAP 54.8%, SDP 45.2%
---
President Donald Trump has formally moved to withdraw the US from the World Health Organization (WHO). The president had made his intentions clear in late May, accusing the WHO of being under China's control in the wake of the coronavirus pandemic. Despite calls from the EU and others, he said he would pull out of the UN agency and redirect funds elsewhere. Stéphane Dujarric, spokesman for the UN secretary-general, confirmed the US had notified it of its withdrawal, effective as of 6 July 2021.
---
For Category A cars, or those 1,600cc and below with horsepower not exceeding 130bhp, premiums closed at S$33,520, up from S$31,210 in the last exercise in March. Premiums for larger and more powerful cars in Category B rose to S$35,889 from S$30,012. Open category COEs, which can be used for any vehicle type but end up being used mainly for large cars, rose to S$34,989 from S$32,500.
---
 Airbus deliveries rose 50 per cent in June compared with May and reached their highest level since the coronavirus crisis spread to Europe in March, but the accelerating recovery failed to prevent first-half deliveries from sliding to a 16-year low.
---
Tesla's blistering stock rally is putting Chief Executive Elon Musk in reach of a payday potentially worth US$1.8 billion, his second jackpot from the electric car maker in about two months. Fueled by stronger-than-expected car deliveries, shares of Tesla have surged over 40 per cent in the past seven sessions, elevating the company's market capitalization to US$259 billion. More important for Musk's personal finances, Tesla's six-month average market capitalization has reached a record US$138 billion. Hitting a six-month average market capitalization of US$150 billion would trigger the vesting of the second of 12 tranches of options granted to the billionaire to buy Tesla stock as part of his 2018 pay package. In early May, Musk's first tranche vested after Tesla's six-month average stock market value reached US$100 billion.
---
Fast-growing video-sharing app TikTok on Wednesday (Jul 8) launched a self-serve ad platform, underscoring its ambition to compete with rival social platforms even as it faces new scrutiny in the US and elsewhere. The new global TikTok For Business platform is aimed at small and mid-size businesses and offers "innovative tools with which to create authentic, creative content unique to the app," according to a statement from TikTok, which is owned by China-based ByteDance and has an estimated one billion users worldwide.
---
The US Justice Department is examining whether German payment company Wirecard AG played a critical role in an alleged US$100 million bank-fraud conspiracy connected to an online marijuana marketplace, the Wall Street Journal reported on Wednesday (Jul 8). Two businessmen have already been charged in the alleged fraud, accused of conspiring with third-party payment processors and others to trick U.S. banks into approving credit-card payments for marijuana products, the report said, citing people familiar with the investigation.
---
ZenRock Commodities Trading Pte Ltd. is among a handful of trading houses in the spotlight after oil's historic plunge earlier this year, which has sparked feuds with international lenders and accusations of dishonest deals in Asia's commodities hub. The company is expected to hand over responsibilities to a judicial manager, said the people, who asked not to be identified as the information is private. KPMG LLP was named interim judicial manager in May, just as ZenRock was raided by police following the allegations it used the same oil cargo to obtain more than one bank loan, according to court documents seen by Bloomberg.
---
Most hotel owners here are financially strong, so only those which are over-leveraged – and these are scarce – may have to slash prices by up to 30 per cent to attract buyers, said Govinda Singh, Colliers International executive director, valuations & advisory services, hotels.
---
BUYERS of Toyota and Lexus cars now have another financing alternative for their car loans, with options to pay zero instalments for the first year as well as zero down payments. Toyota Financial Services, a wholly owned subsidiary of Japanese carmaker Toyota, on Thursday launched its services in Singapore – its 39th country globally – with an initial investment of S$23 million.
---
During a televised live debate on Wednesday, the Progress Singapore Party's (PSP) Mr Francis Yuen, who is leading PSP's four-person team in Chua Chu Kang GRC against the ruling People's Action Party (PAP), said: "We have a lot of foreign professionals, managers, executives and technicians (PMETs) working here. I think there are about 400,000 of them, and yet we have about more than 100,000 of (local) PMETs who are out of a job. "We believe that we need foreign PMETs to complement but we need to believe that there is opportunity for us to slow it down."
---
$300 billion as at 31 March 2020", Ms Ho said in her Facebook post. "The audited portfolio performance should be finalized over the next couple of weeks, and is unlikely to be very far from the above." Earlier this year, it fully underwrote an $8.8 billion rights issue by Singapore Airlines (SIA), of which it is the controlling shareholder. It took up its full pro-rata entitlement of 986 million rights shares as well as about $3.35 billion in mandatory convertible bonds issued by the national carrier. Temasek announced last Thursday that it would release its annual report in September instead of July to accommodate the delay in consolidating financial reporting for its portfolio companies around the world.
---
Temasek unit Heliconia Capital Management has emerged as a substantial shareholder in mainboard-listed tech company CSE Global. This follows its acquisition of a 25.03 per cent stake through a married deal with Malaysia's Serba Dinamik International. CSE Global said yesterday that it hopes to leverage Heliconia's network and expertise to support its growth plans.
---
U.S. stocks closed lower Tuesday, breaking a five-session streak of gains as investors weighed the prospects of a global recovery with spreading coronavirus outbreaks. Government stimulus and hopes for an economic turnaround have kept investor sentiment upbeat recently, helped by stronger-than-expected data that have bolstered hopes that a recovery is underway. But pandemic uncertainties are lingering, and the situation is fragile. The U.S. has seen almost 3 million confirmed cases and more than 130,000 deaths, according to Johns Hopkins University data. Globally, there have been 11.6 million cases and almost 540,000 deaths.
---
The Trump administration said on Monday that foreign university students will have to leave the country if their classes are all taught online – clouding the future of tens of thousands of enrollees and potentially straining budgets at schools struggling to reopen during the coronavirus pandemic. About 1.1 million foreign students attended U.S. higher education institutions in the 2018-19 school year, according to a report issued by the State Department and the Institute of International Education (IIE), and they made up 5.5% of the entire U.S. higher education enrollment.
Foreign students' financial contributions are keenly felt in some schools and communities, where they pay higher tuition bills than some local students, and support real estate markets and local jobs. Foreign students contributed $44.7 billion to the U.S. economy during 2018, the IIE report says, citing the U.S. Department of Commerce.
---
The economic picture coming out of China has been mixed. The most prominent economic data point released by the Chinese government to date is the 6.8 percent drop in China's first-quarter GDP — an unprecedented contraction since the country began its reform and opening over 40 years ago. Yet, China's official unemployment data showed very little change, increasing from 5.3 percent in January, when COVID-19 first broke out, to 6 percent in early June. That workforce data, however, is limited to a survey of urban workers. It does not include the approximately 170 million rural migrant workers, nor the underemployed and informal workers for whom the impact of the pandemic has been severe. More recently, there have been some positive signs of a rebound: the May Purchasing Manager's Index (PMI) figure expanded to 50.7 and exports grew by a surprising 3.5 percent in April. The overall economic picture, in other words, is still unclear and yet to be determined.
---
White House officials on Tuesday warned a federally administered retirement plan for railroad workers against investing in Chinese companies and said that additional sanctions could be on the way in return for China's role in spreading the coronavirus.
---
What was your first experience with money? Describe it in detail. Did you have any positive or negative feelings towards it?
What are some positive aspects of learning about money?
How do your parents interact with money?
How do your friends interact with money?
After your money reflections, think about what parts of your personal finance life require little more attention. Do you need a place to organize all your money-related documents? Are there any holidays or birthdays coming up? Have you created a budget plan? Write a running list of essential money tasks. Then get that file cabinet and notebook to track spending, liabilities and assets weekly.
---
Looking for a comprehensive guide to investing? Check out the FH Complete Guide to Investing and FH REITs Masterclass for Singapore investors.
Stock Watch 2020: Support the site as a Patron and get market updates. Like our Facebook Page and join the Facebook Group to continue the discussion!