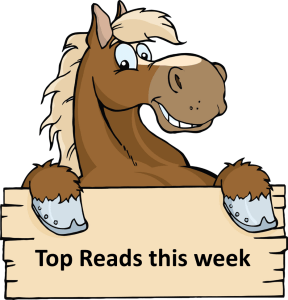 Rounding up top reads from around the web, including articles shared by fellow investors in the Financial Horse Facebook Group.
---
"Singapore improves from an already high base," the World Economic Forum said yesterday, adding that the country ranked first for infrastructure – one of the index's 12 assessment pillars. Singapore was also No. 1 for two of the index's other pillars – citizens' healthy life expectancy years and labour markets. Singapore also scored well because of its financial system, market efficiency and macroeconomic stability.
The report said Singapore came in third for the skill sets of the current workforce, but 28th for the skills of its future workforce.
The report said Singapore will need to promote entrepreneurship to become a global innovation hub. The difficulties of hiring foreign labour were also highlighted in the report, with Singapore ranked 93rd.
---
Amazon is giving online shoppers in Singapore access to a wider selection of offerings, with the launch of Amazon.sg
The local online marketplace, which was launched yesterday, not only stocks a larger range of international goods but also has products from local small and medium-sized businesses. The move will see it go head-on against rivals such as Lazada and Shopee.
Singapore is the first country in South-east Asia to get Amazon, which is available in 15 other countries. Previously, though shoppers here could access Amazon.com, many products were not available for shipping to Singapore and those that were available for international shipping would typically charge high shipping fees. The United States company launched its Prime membership programme for Singapore in 2017, offering its fast delivery service through a mobile app. But its initial local selection focused mainly on groceries and household essentials.
Speaking to The Straits Times yesterday, Amazon Singapore country manager Henry Low said: "With Amazon.sg, we want to provide what customers have been asking us for: the ability for everyone to shop on desktop and mobile, more local and international selection from Amazon and trusted sellers, paired with fast and reliable delivery."
---
Shortly after opening at S$0.935 at 2pm, the counter was trading at S$0.94 as at 2.18pm, which is up six cents or 6.8 per cent from its initial public offering (IPO) price of S$0.88. Some 26.2 million units had changed hands, making it one of the most heavily traded securities on the Singapore bourse for the day. Earlier, on Tuesday night, the real estate investment trust's (Reit) manager said the IPO had ended with the public offer tranche 14.5 times subscribed.
---
THE Singapore Exchange on Tuesday queried Hotel Properties Ltd (HPL) on "unusual price movements" in its shares after the counter jumped as high as 7.6 per cent to S$3.82 in morning trade. In its latest company announcements, HPL disclosed that 68 Holdings Pte Ltd had acquired 3 million HPL shares on Sept 27 for S$10.35 million at S$3.45 per share. The acquisition raised the total interest of HPL's managing director, Ong Beng Seng, in the company from 58.11 per cent to 58.69 per cent.
---
The problem with basing your investment decisions on recession fears is that you could miss the periods when the market has its biggest gains. On the other hand, if you get over your investing fears and stay the course, there are two likely outcomes:
There's no recession, and your portfolio does well.
There is a recession. Your portfolio takes a hit, but as long as you don't sell at a low, you wait it out until the market turns around.
Adjust your portfolio based on your age, not the market
The volatility of the stock market isn't something to worry about when you're building a nest egg for decades in the future, but it is an important consideration as you get closer to retirement age. You don't want your retirement fund to lose a large portion of its value right before you need to start using it. If you're within 10 years of retirement, you should gradually adjust your portfolio towards more conservative investments, such as bonds.
Hold your investments. Don't be one of the people who gets nervous from falling market prices and starts selling off their portfolio at a loss.
Continue investing. You have an opportunity to buy at a low point and make big gains when the economy recovers.
---
You're in good financial shape. You've already paid off debts, built up an emergency cash reserve, and invested for retirement. Now you've got some extra cash. What should you do with it? Before investing a sizable amount like $100,000, people should consider their age, goals, net worth and risk tolerance, says Ryan Cole, a private wealth adviser with Citrine Capital.
"Generally, you want to invest more conservatively as you age," Cole says. How much money you already have is also an important factor. "Someone who is already very wealthy and set for retirement can afford to take more risks," he says. "On the other hand, if someone only has $100,000 then they should diversify and be fairly conservative with their investments."
---
Shares of Roku (NASDAQ:ROKU) fell 33% in September 2019, according to data from S&P Global Market Intelligence. The maker of streaming media devices and related services took several ice baths last month
Roku started last month in high spirits, setting fresh all-time highs on the back of positive analyst reports. That changed in a hurry when Apple announced a video streaming service with a miserly subscription fee of $5 per month. Roku's stock took an 18% haircut in two days.
The market hit rewind to play that story again a week later. Roku shares fell as much as 14% when Comcast introduced another streaming service that will provide free set-top boxes to its subscribers.
---
Shares of Hangzhou Hikvision Digital Technology and Zhejiang Dahua Technology Co Ltd, which were among companies blacklisted by Washington, fell sharply in early trading on Thursday.
Hikvision shares dropped over 5%, while Zhejiang Dahua lost roughly 8% as trading resumed. Their shares had been suspended from trading after news that the U.S. put them on a human rights blacklist.
---
The world's largest aerospace company is betting on Richard Branson's dream of making spaceflight a normal part of life. Boeing said on Oct. 8 that its venture fund, HorizonX, will invest $20 million into Virgin Galactic after the company goes public in a reverse merger, a transaction expected to take place in the fourth quarter of 2019. At current valuation, that's equal to a modest two percent of the company.
Branson's Virgin Galactic has spent the last 15 years developing a rocket plane that, for a ticket costing $250,000, can carry passengers on a 20-minute trip to the edge of space before gliding back down to earth. It flew its first passenger in February, and the company is now preparing to begin operations at a spaceport in New Mexico. The vehicle can also carry scientific payloads; last week, the company announced that a group of Italian Air Force researchers would fly in 2020 with a set of experimental devices.
---
The set went on sale on Monday (Oct 7) at 6pm and in under an hour, the McDelivery app and the site went under, prompting the restaurant to issue statements on Facebook.
Comments online called McDonald's out for being unprepared for what should have been an expected surge in traffic. Winnie Ple was "very upset and totally disappointed" that the site was down for over an hour. Others said the chain should have just come clean and admit that the items were out of stock instead of saying the service was down.
On Tuesday afternoon, McDonald's Singapore resurfaced to say that they were working on a dedicated pre-order site for the loungewear that they expect to be up and running by Friday afternoon (Oct 11).
---
Latest COE results:
| | | |
| --- | --- | --- |
| Category | Current COE premium ($) | Previous COE premium ($) |
| A – Car (1,600cc & below) | 34,001 | 31,759 |
| B – Car (above 1,600cc) | 41,361 | 37,000 |
| C – Goods vehicle & bus | 26,509 | 25,556 |
| D – Motorcycle | 3,800 | 3,601 |
| E – Open | 41,001 | 40,000 |
---
Thursday morning was not one for coffee breaks for traders in Asia, with markets whipsawed by contrasting headlines on the chances of some sort of progress in critical U.S.-China trade talks. Futures on the S&P 500 Index initially fell sharply on concerns that the negotiations — scheduled for Thursday and Friday in Washington — might be cut short. They erased most of the losses after news from Bloomberg that next week's tariff hike could be suspended and a report from the New York Times that President Donald Trump could let some U.S. companies supply Huawei Technologies Co.
Japanese shares also recouped most of their decline, while South Korean ones were still well down. Hong Kong and Shanghai edged up. The yuan climbed after sliding earlier, and the yen dipped after seeing early gains. Crude oil was also whipsawed, erasing most of its early losses. Treasuries ticked higher.
---
Hong Kong is facing its first recession since the global financial crisis, with little prospect of an immediate recovery as the city confronts its most violent protests in decades.
From luxury hotels and major shopping malls to neighbourhood stores and restaurants in tourist hubs like Central, Causeway Bay and Kowloon, businesses are closing early or seeing fewer customers. Even when things are open, stores and the airport are quiet, as tourists stay away. The city's subway network, or MTR, was closed entirely for long stretches during the holiday weekend from last Friday (Oct 4) amid the violent backlash to Chief Executive Carrie Lam's attempt to quell months of protests by invoking a colonial-era emergency law.
The economy in Hong Kong contracted in the second quarter, almost certainly did so in the third quarter, and the data is still deteriorating. The question is how deep and prolonged the pain will be.
In response to the immediate downturn, the government announced a US$2.4 billion (S$3.3 billion) stimulus package in August including measures to benefit citizens and companies, and there may be more spending announced in Mrs Lam's annual policy address next Wednesday. There is an opportunity to increase spending in areas such as welfare, healthcare services and facilities that could help to deal with longer-term issues, according to Mr Tommy Wu, senior economist with Oxford Economics in Hong Kong.
"A large, timely and targeted fiscal stimulus package including tax rebates and incentives can alleviate the impact of recession and stimulate the economy in the short run," said Mr Paul Luk, an assistant professor in the department of economics at Hong Kong Baptist University. "The future needs in different welfare areas are known. These areas should have been expanded aggressively a few years back, and it is better late than never to do it now."
---
Looking for a comprehensive guide to investing? Check out the FH Complete Guide to Investing for Singapore investors.
Support the site as a Patron and get market and stock watch updates. Like our Facebook Page and join the Facebook Group to continue the discussion!
Interested in bite-sized finance updates? The top financial news in just 3 minutes. Join 400,000 other insiders here.