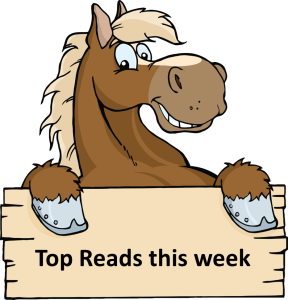 Rounding up top reads from around the web, including articles shared by fellow investors in the Financial Horse Facebook Group.
---
In a statement to the media on Wednesday, the Attorney-General's Chambers (AGC) said Lucien Wong recused himself from reviewing the case "for personal reasons" on Saturday, a day after the High Court verdict. The two men do not have a personal relationship, although they both previously held positions at CapitaLand Limited, AGC said.
---
"After much deliberation, I have decided to bring forward my retirement from the various public service and business roles with Changi Airport Group, Surbana Jurong, Temasek Foundation, and Temasek International with immediate effect," Mr Liew said in a statement to the media. 
---
"Things calmed down a lot," said Fawad Razaqzada, an analyst at ThinkMarkets. "We got the correction we should have had a few weeks ago. Now investors are asking whether they should buy the latest dip." So far, few investors appear to be betting the latest selloff will be a repeat of March when financial markets plunged as it became clear the coronavirus pandemic would batter the economy. Still, many caution that the economy is struggling to recover, the fate of further household stimulus is unclear, and the coming presidential election is likely to bring increased volatility to markets.
---
Stocks rallied Wednesday, and the Nasdaq bounced back after its fastest 10% decline ever, as investors looked for bargains among beaten-down tech and momentum names.
But strategists say it seems more likely the market has not yet hit bottom, and stocks could be in a choppy mode for a while, as investors focus on the election and the economy.
Historically, the market has been a weak performer in September, and stocks could stay under pressure for awhile even there are rallies.
---
China Life Insurance (Singapore) will soon be able to serve individual customers directly as it aims to hire at least 500 consultants in the next five years. The insurer, which currently sells its products through financial companies and banks, will recruit these consultants in various entry- and senior-level positions from Oct 1. This will take place through its Agency Channel, which it launched on Monday (Sept 7).
---
"What was a bit difficult was the balance between empirical data and the points of principle – when the opposition wanted to go with hard data, often, the government ministers responded with points of principle. I am sure that there will be other times when the government ministers want to go with hard data, and the ones raising the issues are going to points of principle," she said.
---
UOB: The bank on Wednesday said it plans to issue US$600 million of 1.75 per cent subordinated notes due in 2031 and callable in 2026. The notes are intended to qualify as Tier 2 regulatory capital of UOB. The counter dropped $0.08 or 0.4 per cent to finish Tuesday at $19.45.
Keppel Corp: The conglomerate on Tuesday night said it will issue eight billion yen (S$103.5 million) worth of five-year notes, carrying a coupon of 0.88 per cent per annum. Keppel shares closed at flat at $4.34 before the announcement.
Sembcorp Industries (SCI): Its shares will begin trading excluding their entitlements on Wednesday. As Sembcorp Marine (SMM) shares had closed at $0.193 on Tuesday, SCI's stock could reasonably be expected to fall from its close at $1.91 the same day. That being said, SCI also looks more attractive now without SMM weighing it down, especially when evaluated against some of its peers.
CapitaLand Mall Trust (CMT): The real estate investment trust has obtained a $200 million sustainability-linked loan from UOB, converted from a revolving credit facility. CMT units finished Tuesday at $1.97, down $0.01 or 0.5 per cent, before the announcement.
UG Healthcare: The glove maker has started work on a new manufacturing facility in Malaysia that will boost its production capacity by 1.2 billion pieces of gloves per annum, it said after market close on Tuesday. Shares of Catalist-listed UG Healthcare rose $0.10 or 4.1 per cent to end the day at $2.55.
Sunningdale Tech: Fund manager Quarz Capital Asia is now deemed a substantial shareholder of mainboard-listed Sunningdale, with the purchase of 4,600 shares via a market transaction bumping its shareholding up to 5.001 per cent. Sunningdale shares lost $0.01 or 0.8 per cent to close at $1.23 on Tuesday, before the bourse filing.
Wing Tai Holdings: The mainboard-listed property and lifestyle company on Tuesday evening proposed to repurchase up to $85 million worth of several series of notes, at prices ranging from 102.55 to 106 per cent of the principal amounts. The stock closed at $1.79, up $0.04 or 2.3 per cent.
SK Jewellery Group: The offeror for the Catalist-listed jeweller's shares has received irrevocable undertakings to accept its voluntary conditional cash offer, from shareholders representing more than 90 per cent of the company's shares. SK Jewellery gained 0.1 cent or 0.7 per cent to end at 14.9 cents, before the announcement.
---
The one-year shareholder return of Singapore's investment company, Temasek, fell into negative territory in its latest financial year, with its net portfolio value taking a dip from last year's record high as well. Temasek's net portfolio was valued at $306 billion as at March 31, 2020, 2.2 per cent lower than last year's record $313 billion, it said in its annual review on Tuesday (Sept 8).
---
Despite deep cuts in the latest quarterly earnings of Singapore-listed companies and trusts, the worst is now behind them, said DBS Group Research in a market strategy report on Monday (Sept 7).
The second-quarter results season had suffered the full impact of global Covid-19 lockdowns, with a sharp 14.9 per cent cut in forecast earnings in financial year 2020 for stocks under DBS' coverage.
Investor interest is likely to pick up for travel or leisure stocks, lifted by progress in Covid-19 vaccine candidates that are under third-phase trials, noted DBS analysts Yeo Kee Yan and Janice Chua.
---
Tiffany & Co sued LVMH on Wednesday after the French luxury goods giant told the U.S. jeweler it could not complete a US$16 billion deal to acquire it because of a French government request and the impact of the coronavirus outbreak. LVMH, led by billionaire Bernard Arnault, said its board had received a letter from the French foreign ministry asking it to delay the acquisition until Jan. 6, 2021, given the threat of additional U.S. tariffs against French products.
---
 Indonesia's main stock index slumped to its intraday lowest in more than two months on Thursday after the governor of Jakarta said he would reinstate social distancing restrictions due to a rise in coronavirus infections.
---
A report that China is planning to overhaul its domestic computer chip industry helped trigger a stock rout last week that shaved about US$100 billion (S$136 billion) off a key semiconductor index. Under discussion now in the US is whether to restrict Chinese access to data on everything from smart refrigerators to exercise monitors, moves that business leaders from Silicon Valley to Shenzhen worry could lead to a decoupling of the entire global economy. "All of this is fundamentally an attack on the internet itself," said Andrew Sullivan, president of the Internet Society, which advocates for open networks across the world.
---
Taiwan's President Tsai Ing-wen wants to create an alliance to defend "freedom, safety, human rights and democracy" in Asia, as the self-ruled island faces renewed pressure from neighboring China.
Though she did not mention China explicitly in her speech, 
given at a security forum in Taipei
, Tsai left little doubt over who she was referring to, saying Taiwan was at the forefront of "defending democracy from authoritarian aggression."
Tsai's speech came as a Chinese state-backed tabloid reported that foreign officials who visit Taiwan, as well as international companies that do business on the self-ruled island, could face sanctions from Beijing — the latest potential move by China to rein in Taiwan's growing stature worldwide.
---
Oil futures on Wednesday clawed back some of the losses they sustained in the previous session, but a rebound in COVID-19 cases in some countries undermined hopes for a steady recovery in global demand.
---
Looking for a comprehensive guide to investing? Check out the FH Complete Guide to Investing and FH REITs Masterclass for Singapore investors.
Stock Watch 2020: Support the site as a Patron and get market updates. Like our Facebook Page and join the Facebook Group to continue the discussion!