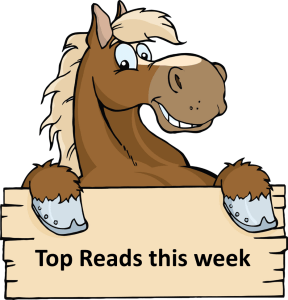 Rounding up top reads from around the web, including articles shared by fellow investors in the Financial Horse Facebook Group.
---
The London Stock Exchange has received a surprise £29.6bn takeover offer from Hong Kong Exchanges and Clearing — a bid that threatens the UK group's £20bn-plus acquisition of US data provider Refinitiv.
Hong Kong's bid underlines the attractiveness of London's financial infrastructure and gives the LSE and its shareholders the choice of deepening ties with Asia or pushing ahead with plans to create a UK data and trading giant through a deal with Refinitiv.
This decision comes at crucial time for London, which is looking to strengthen its position as an international financial centre in the face of Brexit.
---
Ping An Insurance (Group) Co.'s financial technology unit is considering an application for one of Singapore's new digital banking licenses, according to a person familiar with the matter. OneConnect is looking to secure a wholesale license that would allow it to provide banking services to small and medium-sized businesses on the island, said the person, who requested anonymity because the plan is confidential.
The company earlier this year received a virtual banking license in Hong Kong. Singapore is planning to award as many as five digital-only banking licenses to nonbank companies to spur competition in the financial sector. OneConnect provides artificial intelligence and cloud computing technology to more than 3,700 financial enterprises in China and elsewhere.
---
Unlike investing in a publicly traded stock where you own a portion of a large, highly vetted firm, venture capital investments finance startups and small businesses with long term growth potential.
Most venture capital investments come from firms designed to finance startups, wealthy investors, financial institutions or investment banks. Venture capital investing is risky, with the possibility of outsized gains and losses. Venture capital shouldn't be confused with private equity investing, which typically funds larger, more established private firms.
There are many opportunities to explore and fund the next unicorn including stocks, venture capital funds, debt and equity crowdfunding platforms. But be aware that most startups fail. CB Insights' research shows only 1% of startups become unicorns.
Investing in publicly traded stocks and funds offer easy liquidity. When an investor wants to sell, in most cases, it's quick to place an order and find a buyer. Not so with venture capital. There's limited liquidity when investing in venture capital, Taver says. Investors may need to wait several years to receive their principal investment. In some cases, with failed startups, the investment return might be zero.
For investors ready to take the plunge into the venture capital investment waters, there are opportunities for both accredited and less affluent investors. These investments include funds, stocks, venture capital debt and direct investments.
---
We are seeing the very beginning of the Esports craze. While the games themselves may change over time, the underlying trend will not let up. Gaming is the fastest-growing form of entertainment in the world. Revenues have been increasing globally at a clip of 9.7% per year. Last year, video game revenues totaled $139 billion.
There are two easy plays to get invested in Esports phenomenon. The first is by investing in the companies which develop the games themselves. New games are being created all the time. Who knows what the next gaming sensation will be?
The next easy way to invest is through hardware. There are several manufacturers out there in the semiconductor industry making hardware specifically tailored for the demands of gaming. These companies make the graphics cards which PCs need in order to run these games. You also have companies which manufacture gamer-targeted peripherals like keyboards, monitors, headphones, controllers and mice.
---
Singapore and China's Chongqing city have strengthened cooperation with the launch of a dedicated data channel linking both sides, and a slew of project signings that cement the fast growth of the Chongqing Connectivity Initiative (CCI).
A tie-up between Singtel, StarHub and China's big three telcos, the 260Gbps data link will provide users with better network reliability and lower latency. Twelve Chongqing companies including tech giant Tencent and major data centre operator GDS also signed as first customers of the data channel.
The dedicated link will strengthen the digital connectivity between western China and Singapore, and support Singapore firms looking to digitally expand their businesses to Chongqing, a south-west city, and western China, said the Infocomm Media Development Authority.
---
Linkages between the two nations are mushrooming, with Singapore becoming India's top foreign investor in the first quarter of 2019. It is a major source of India's foreign portfolio investments as well as external commercial borrowings. A majority of rupee-denominated bonds are listed on Singapore Exchange.
At the other end, around 20 per cent of foreign investment flowing out of India comes to Singapore. Nearly 9,000 Indian companies have a presence in the city state, forming the largest overseas contingent of firms registered in Singapore.
India is also the third-largest source of tourists to Singapore, with arrivals growing at 10-15 per cent a year. A total of 18 Indian cities are connected to Singapore through over 500 weekly flights.
"For India, Singapore has been over the past three decades the political, economic and intellectual bridge to South-east Asia. And it remains an important gateway to the world for a globalising India," Mr Puri said.
---
We've simplified the 2019 prices for a BTO flat, resale flat, executive condominium, and private condominiums in Singapore.
The initial cost of the 3-room BTO flat, taking into consideration all of the above, is around S$18,181 (including CPF funds used). The monthly cost you have to be prepared to pay is about $827 per month for 25 years.
The initial cost of the condo would be $226,500 (including CPF funds used). The monthly cost is about $3,245 for 25 years.
---
1. Financial infidelity
Financial infidelity, or dishonesty about money issues, is one of the biggest potential relationship killers of all – yet it's an extremely common problem.
2. Being too controlling or judgmental
Money is a very sensitive issue for many people, which is why neither control nor judgment is helpful when making joint financial decisions. Unfortunately, it's very common for one or both partners to try to impose limits on their beloved.
3. Not talking about your finances regularly
If talking about money leads to fights, you may be tempted to just avoid the issue altogether. Unfortunately, this is a big mistake that is guaranteed to lead to problems down the line.
4. Refusing to compromise
The old saying that opposites attract is often true for finances. Spenders frequently get together with savers, and planners frequently partner with people who are much more impulsive than they are. Both partners need to recognize that being in a couple means not always getting their way when it comes to money. Instead, keep discussing big financial issues until you find an agreement that works for both partners.
5. Failing to set joint financial goals
Finally, it's important for couples to have agreed-upon financial goals to work toward.
---
It continues to be a tough year for Uber. Though CEO Dara Khosrowshahi has made clear that he aspires to be the next Jeff Bezos, Uber's highly-anticipated IPO was a bust, investors are tiring of the company's multi-billion dollar losses, and Khosrowshahi is struggling to make the business model work. In July, the former Expedia executive fired a third of Uber's marketing team, put a hold on new hiring, and pushed out two members of his executive team, but overhead continues to be a problem. And so the cost-cutting continues.
The latest round of layoffs, announced on Tuesday, slashes Uber's workforce by about 8%. "Our hope with these changes is to reset and improve how we work day to day—ruthlessly prioritizing, and always holding ourselves accountable to a high bar of performance and agility," an Uber spokesperson told Techcrunch.
---
A Pennsylvania couple is facing felony charges for buying an SUV, a race car, and two four-wheelers, and then handing out $15,000 to their friends after a bank teller accidentally deposited $120,000 into their joint bank account. About three weeks after the deposit switcheroo—but only a day after the couple finished spending more than $107,000 of the money—the bank came calling asking for it all back. Talk about awkward.
---
Money managers at BNY Mellon and Pacific Investment Management Co. have snapped up Japanese bonds. Both companies have made the country the second-largest geographic allocation in some of their biggest international fixed-income funds. Ordinarily that wouldn't seem remarkable, but right now many of Japan's government bonds have a negative yield—it actually costs money to hold them to maturity.
BNY Mellon and Pimco aren't alone. Investors from outside Japan more than doubled purchases of the nation's debt in July. What's the logic? It turns out that buying Japanese bonds can pay better than holding U.S. Treasuries, as long as you happen to be a dollar-based investor and hedge your exposure to currency swings.
---
Stocks rallied, with the Nasdaq Composite Index rising to the highest level since July, as the rotation from momentum to value shares that began at the start of the week slowed. Crude oil plunged after President Donald Trump indicated that sanctions on Iran could be eased.
Happiness is not tied to the amount in our bank accounts but is instead determined by the quality of our relationships, and none is more important than the relationship with our immediate family.
---
DBS is gunning for a 7 to 8 per cent annual growth in assets under management (AUM) over the next couple of years, bringing its current AUM base of about S$234 billion to S$300 billion by 2023.
---
DASIN Retail Trust has received in-principle approval from the Singapore Exchange (SGX), to list 82.35 million new units from a private placement on the mainboard. The private placement that raised S$68.8 million was 1.2 times subscribed, with units issued at S$0.836 apiece, representing a 2.4 per cent discount to the volume weighted average price of S$0.8563 per unit in Dasin Retail Trust for trades on Sept 2, 2019.
Around S$61.3 million, or 89.1 per cent of the gross proceeds of the private placement, will be used to fund the proposed acquisition of the property known as Doumen Metro Mall, which is located at No. 328 Zhongxing Middle Road, Guangdong Province, the People's Republic of China.
---
Corley said he believes that the benchmark for being considered "wealthy" is when a person generates enough passive income to cover their expenses. In other words, they don't need to earn a consistent paycheck from a job to live comfortably.
Someone whose lifestyle costs $150,000 to $160,000 a year would need investments totaling about $3.2 million, he said. Those who live on much less – say, $50,000 to $60,000 a year – would need $1.2 million invested to generate their annual income.
"The key to being wealthy, therefore, is standard-of-living costs that are less than your passive income," he said. "Your standard of living can make you wealthy – or not."
Self-made wealthy people don't always have the fanciest car, house, or jewelry. In fact, it's rare, Corley said. 83% of the self-made millionaires in his study lived in a modest house, purchased good used cars, ate most meals at home, and bought cheap clothes. They also overwhelmingly avoided spontaneous and emotional purchases.
---
For three months, Hong Kongers have told me, the city has been aching from this whiplash. You try to form a view on what is happening and why, how it's morphing and where it may all end. But that thought process is besieged by discord as violence, dissent and the root causes of both are set against glamour, pop-up bubble tea boutiques and Hong Kong's illusory show of business as usual.
What makes this all the more wrenching, though, are the unwritten rules of the protests, which could be seen prevailing on Sunday. At one point, protesters were using gaffer tape and bolt cutters to manufacture metal spears (these were not, in the event, used) from bits of the central reservation. They were doing so with a venom that, by their own testimony, may have democracy and "liberation" as a stated goal but is fuelled in large part by economic disparity and the grinding-down of aspiration. The spear factory was operating near a Blancpain watch shop and under the glare of advertisements for Swiss private banks. And yet none of these symbols of wealth had been touched. Berluti was unlooted; Piaget unpillaged.
---
The former English teacher steps down as executive chairman of China's largest company on his 55th birthday after amassing a $41.8 billion fortune. Over two decades, Ma and his co-founders built a business-to-business marketplace into a $460 billion titan that bested EBay Inc. and Amazon.com Inc., operates one of the world's largest cloud computing businesses, and runs a logistics network that delivers millions of parcels every day. Now the country's most recognizable businessman, he hands the helm on Tuesday to finance maven Daniel Zhang — a momentous transition for Asia's largest corporation.
Despite stepping down, Ma is expected to remain pivotal to a sprawling industrial machine with e-commerce at its heart.
"At this point, it's still unlikely that Zhang would make important decisions without Ma's support," said Brock Silvers, managing director at Shanghai-based Kaiyuan Capital, an investment advisory firm.
---
The roadblock for many younger investors is the fear that they're not knowledgeable enough. "I know it's kind of trite but there is no such thing as a stupid question when it comes to investing," Fox said. "Especially if it's holding you back from the next step."
"As much as people can save, they should save," Vega said. Whether it's $100 or $1,000, start with any amount and gradually increase. Build the habit of saving and investing, and when you start to see some results, it becomes easier.
"I wanted to look into where I'd put that money where it wouldn't be too risky but would give me a really good return," Williams said. She began exploring robo-advisors, which she found appealing because they allowed her to set a comfortable level of risk without an exhaustive amount of research.
"What frustrates me is I didn't start earlier," Williams said. "If I'd started when I was 24, I'd have been able to put away a very small amount of money that would have been beneficial to me when I'm 65."
---
Looking for a comprehensive guide to investing? Check out the FH Complete Guide to Investing for Singapore investors.
Support the site as a Patron and get market and stock watch updates. Like our Facebook Page and join the Facebook Group to continue the discussion!
Interested in bite-sized finance updates? The top financial news in just 3 minutes. Join 400,000 other insiders here.