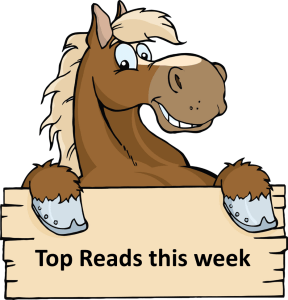 Rounding up top reads from around the web, including articles shared by fellow investors in the Financial Horse Facebook Group.
---
Embattled stock-picker Neil Woodford is struggling to stem outflows from his remaining open fund, with Hargreaves Lansdown dealing a major blow by pulling £45m this week. Woodford's Income Focus Fund has shrunk by 25% since June 3, when the fund manager made the shock decision to suspend trading in his flagship Equity Income Fund. The move trapped thousands of customers' investments for at least 28 days and sparked an exodus from his last openly traded fund.
---
The Malaysian state of Penang is winning from global investors' search for safe havens amid the U.S.-China trade tensions. The state, already home to companies from Intel Corp. to Dell Technologies Inc., makes up 42% of Malaysia's manufacturing FDI. Recent investments in Penang include U.S. semiconductor company Micron Technology Inc.'s new solid-state drive assembly and testing center, and Florida-based Jabil Circuit Inc.'s purchase of 20 acres of land to expand its facility.
"Malaysia is reaping benefits from business relocation as well as trade and investment diversions caused by the trade war," Finance Minister Lim Guan Eng said in a Thursday statement, adding that the rise in investments as well as industrial production signal "healthy" economic growth in the second quarter.
---
As Facebook  explores ways to generate revenue from WhatsApp, the company is now turning to a startup that already has a lead. The social juggernaut said today it has invested in social-commerce startup Meesho in what is the first time the firm takes equity in an Indian startup. Meesho, a Y Combinator alumnus, is an online marketplace that connects sellers with customers on social media platforms such as WhatsApp. The four-year-old startup claims to have a network of more than 2 million resellers who largely deal with apparel, home appliances and electronics items. These resellers are mostly homemakers, most of whom have purchased a smartphone for the first time in recent years.
---
HSBC Global Asset Management is offering a 2.5-year fixed term bond fund to Singapore retail investors. The Global Corporate Fixed Term Bond 2022 aims to generate a monthly dividend and to return net assets upon the bond's maturity in January 2022. The dividend is not guaranteed and may be paid out of capital, which will result in capital erosion and a reduction in net asset value, said HSBC.
---
Frasers Centrepoint Trust's (FCT) $67.7 million preferential offering has been subscribed by almost two times. FCT will raise gross proceeds of about $67.7 million from this offering, which is part of a larger equity funding exercise to finance the acquisition of suburban mall Waterway Point as well as to pare down the bridging loans used for the acquisition of the 18.8 per cent stake in PGIM Real Estate Retail Fund.
The 28.8 million new units from the preferential offering, priced at $2.35 apiece, are expected to be listed and quoted on the Singapore Exchange's mainboard on June 18 at 9am.
---
Possibly like sheep, it is of innate human nature that we seek social proof and validation. When we fall in love with a stock we researched on, we actively seek out affirmation in the media. Often, you would be finding analysts' reports and consensus that are in your favour. The more satisfied you get, the more you want to read up on them. Very soon, you will end up just listening to the analysts' consensus.
While it may sometimes seem assuring to know that the so-called experts out there have the same stand as you, know that to beat the market, you have to think differently. In the short run, the consensus & sentiments may drive the market but in the long run, the truth about the company will prevail. This truth is the fundamental value of the stock, not what the analysts think it is.
---
Campaigners have warned that the law would entangle people in the mainland's opaque courts and hammer Hong Kong's reputation as an international business hub. The protests led authorities to delay the reading of the bill to "a later date".
The Hang Seng Index fell 1.73 per cent, or 480.88 points, to 27,308.46, making it the worst performer in Asia on Tuesday.
---
After the divestment, CapitaLand will continue to benefit from the three malls' "strong and steady" yields and participate in their future growth through its stake in CRCT, said Lucas Loh, president and CEO of China, CapitaLand Group. CapitaLand will also continue to manage the three malls. "Asset recycling is a key part of CapitaLand's strategy to enhance returns and rejuvenate our portfolio," said Mr Loh.
Post-acquisition, CRCT's enlarged portfolio will comprise 14 shopping malls, up from the current 11. Its portfolio size will grow by 18.6 per cent to S$3.8 billion, while NPI will gain 22.8 per cent to 959.3 million yuan on a pro forma basis. There will also be significant scope for repositioning and asset enhancement in the next few years as anchor leases reach expiry at the three China malls, said Mr Tan.
Shares of CapitaLand were trading up 11 Singapore cents or 3.32 per cent at S$3.42 on Tuesday as at 1.38pm, while units of CRCT were trading down two cents at S$1.54.
---
Mapletree Investments is planning to launch up to two more REITs in the next five years, amid what it perceives to be still-healthy demand for Reit IPOs on the Singapore bourse.
---
Australia will soon offer millions of dollars in funding for infrastructure projects in the Pacific, two sources familiar with the plan told Reuters, as part of its efforts to undercut Chinese influence.
China denies it is seeking a sphere of influence in Pacific, insisting it gives aid to help with economic development.
Prime Minister Scott Morrison said last year Australia would create a fund to offer Pacific countries up to A$3 billion (S$2.8 billion) in cheap loans and grants to cement its position in what he declared was "our patch".
---
May's escalation in trade tensions led to a sharp drop in the growth of American investment in China. The US fell to sixth largest foreign investor in China in April from third largest in March. Chinese Ministry of Commerce spokesman Gao Deng told a Beijing press conference on Thursday that "there will be no winner in the trade war, which could cause a recession in the United States and global economies."
---
What advice would you give to an undergrad to help maximize internships?
There's a set duration for an internship, please do it give your all. It's almost unfair to the other applicants who didn't get the spot if you did get a position and choose not to put in maximum effort during the the internship. It will most certainly be unfair to yourself.
During the internship, you should also be assessing whether you genuinely want a career in IBD. It's very much a lifestyle and not just a job.
---
Punishing schedules can pile on extra pressure in investment banking where all-nighters and 100-hour work weeks are not uncommon. JPMorgan has full-time counsellors in nine locations in the United States and its first Britain-based on-site counsellor is due to start work soon at its offices in London.
---
Commenting on reports that Grab may be close to applying for a digital banking licence in Singapore, economists said Malaysian banks would be watching developments closely. Having a digital banking licence will certainly enable Grab to leverage its technological capabilities to incorporate selective banking and financial services into its offerings. This will force conventional banks to become more innovative and accelerate their digital transformation plans. Customers would benefit.
---
Over S$6 billion worth of green bonds have been issued in Singapore so far, with plans to grow the sustainable finance sector even further, said Acting Prime Minister and Minister for Finance Heng Swee Keat on Wednesday. To that end, MAS is seeking to boost the growth of green, social and sustainability bonds, with the expansion of its Green Bond Grant scheme introduced in 2017 to include social and sustainability bonds this year.
---
Enjoyed this article? Do consider supporting the site as a Patron and receive exclusive content. Big shoutout to all Patrons for their generous support, and for helping to keep this site going!
Like our Facebook Page and join the Facebook Group to continue the discussion! Do also join our private Telegram Group for a friendly chat on all things investing related!