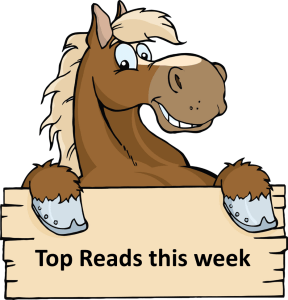 Rounding up top reads from around the web, including articles shared by fellow investors in the Financial Horse Facebook Group.
---
The key concepts of behavioural finance studies why humans make irrational decisions when it comes to investing. It seeks to combine human psychology and traditional finance. It explains why the majority of investors lose money, including myself. The 8 concepts are:
Anchoring
Overreaction and the Availability Bias
Mental Accounting
Confirmation and Hindsight Bias
Gambler's Fallacy
Herd Behaviour
Overconfidence
Prospect Theory & Loss Aversion
---
After reviewing this merger, we think that CapitaLand has structured a fairly well-balanced deal for unitholders on both sides of the equation. Existing Ascott REIT unitholders would benefit from a larger trust with DPU accretion while A-HTrust unitholders stand to realize increased value from their current holdings.
We believe that big is certainly beautiful in the REIT and Trust sectors giving the enlarged entity a much greater following, institutional interest, negotiation leverage and economies of scale. We think that other mergers will likely follow within the S-REIT space. The industrial sector is particularly worth watching.
Existing unitholders have much to gain from it looking at CapitaLand's longer-term strategic direction for trust in the coming years.
---
The FTSE SGX Shariah Index Series, launched by FTSE Group and SGX, reflects the stock performance of companies in the Asia Pacific region whose business activities comply with Islamic Shariah Law.
9 REITs in Singapore with a combined market capitalisation of S$11.2 billion are included in the newly launched FTSE ST Singapore Shariah Index.  The property assets of the REITs, span industrial, e-commerce, commercial and retail space. The nine REITs average an indicative distribution yield of 7.57%.
---
The average person who works in an office nowadays is faced with challenging problems that they must solve with their brains.
It turns out that this type of work is done best in alternating periods of intense work and intense relaxation, not in one eight-hour block of sitting in front of a computer with brief breaks for eating lunch, sitting in meetings, and going to the bathroom.
---
Unfortunately, most people are not actively engaged at their jobs, so sacrificing their youngest years working at a job they don't love just to earn enough money to get the compound interest flywheel spinning isn't an enticing proposition.
Fortunately, there are two ways to get around this:
1. Save enough money in a short enough amount of time that you don't need compound interest to hit your financial goals.
2. Take the slow, traditional approach to saving for retirement to take advantage of compound interest, but actually do work you enjoy along the way so the journey isn't just a retirement waiting game.
---
"The media business continues to be challenged on various fronts including the ongoing trade tensions and the slowing of the Singapore economy, but we remain focused on our digital transformation strategy," said SPH chief executive Ng Yat Chung in the company's results statement. "We see improved recurring income from the property segment which has expanded its portfolio following recent acquisitions," he added.
SPH reported a 44 per cent drop in third-quarter net profit to S$26.2 million from S$46.9 million a year ago as the media business stayed challenged amid falling print advertisement and circulation revenue.
---
Singapore's economy performed worse than expected in the second quarter, slowing again after hitting its lowest rate since the global financial crisis in the first three months of this year. MTI pegged Singapore's economic growth at 0.1 per cent in the second quarter of this year, well below analysts' expectations of 1.1 per cent. This is the lowest growth since the economy contracted by 1.2 per cent in the second quarter of 2009 during the Great Recession.
On a quarter-on-quarter seasonally-adjusted annualised basis, the economy shrank by 3.4 per cent, after posting growth of 3.8 per cent in the preceding three months.
Economists said the latest figures showed weakness across key sectors, with all contracting from the first quarter of the year. Manufacturing shrank 6 per cent from the previous quarter, while construction contracted by 7.6 per cent and services by 1.5 per cent.
---
One in three working adults in Singapore does not invest or find ways to grow his money, a survey showed. Women, especially, regard investing as a form of gambling.
Many Singaporeans are also poorly equipped for financial emergencies, and are far from ready to enjoy their retirement. The survey found that only 42% have saved enough for an emergency, and just half would be able to stretch their savings to last them six months – the average time taken to find a job.
More than 70% of respondents were not on track with their retirement plans. And 65% were behind in accumulating enough funds to maintain their lifestyle after retirement.
These are among the key findings released yesterday from OCBC's inaugural Financial Wellness Index, which surveyed 2,000 working adults aged 21 to 65 here.
---
Shares of Sembcorp Marine  surged amid active trading on Wednesday afternoon (July 17), drawing a query from the bourse operator. The counter had hovered within the $1.41-1.42 range for most of Wednesday, before climbing to $1.495 shortly after 4pm with almost 6 million shares traded.
It reached an intra-day high of $1.53 minutes before the market closed, and ended trading at $1.51, up 7.86 per cent or 11 cents. A total of 21.3 million shares worth $31.76 million changed hands during the day, making it one of the most heavily traded securities on the Singapore bourse.
SGX flagged "unusual price movements" in SembMarine's shares in a letter at around 4.37pm on Wednesday. SembMarine said it was unaware of any information not previously announced concerning the company which might explain the trading activity.
---
There are two kinds of cases. In one situation, the child has a low income and is unable to make ends meet. In the second situation, the young adult is earning a reasonable sum of money to take care of their expenses. They may borrow money from their parents once in 3-6 months, whenever there is case of excessive spending.
You can offer a helping hand, not money. Parents should encourage their children to save. Next, you can help them with investments. Though you may be willing to take care of your child, it is important that they be able to take care of themselves on their own.
The message you need to give your children is this: If they are still unable to meet their own expenses, it is time for them to relook at their finances. They must be told that while it is okay to have aspirations, it cannot be done at the cost of your retirement kitty. They could begin by cutting corners to increase savings: reduce outside meals, avoid expensive concerts and ditch the Uber rides. Once they are out of the debt trap, they can start making smart investment choices and meet their financial goals.
---
Money is the most common cause of stress in relationships, and fights about finances are often cited as the reason for divorce.
Work solo on a budget, but ask for input. Even if your partner says they want nothing to do with budgeting, it's still very important to make them part of the process. Put together your monthly spending plan solo, but ask your partner for their opinion after you're done. Not only will this show them that you care about their input, but they may also have a different viewpoint of various spending categories.
In addition, you can potentially ask your spouse if there are any places to trim the fat that you hadn't thought of. If you've already started setting aside money for a big dream you share, this will make this request even more motivating, since your spouse will recognize that you're trying to reach that dream faster.
---
The search for the best tuition can be tedious. Most parents rely on word of mouth and personal recommendations. Otherwise, parents usually trust name-brand tuition centers or opt for private home tuition for convenience.
If the goal is to improve your child's grades, the most important factor is probably the teacher and the syllabus. This articles explores some considerations that parents can think about when making their choice.
---
The 2019 GEMS report suggests the drive to introduce new products and services that disrupt the market is what is driving entrepreneurs. This means you must always stay on top of your game. Resting on your laurels after being the first in your field may result in someone else disrupting your model, pushing you out of the market whilst you are not paying attention.
---
The Dow Theory argues a true bullish breakout only occurs when the Dow Jones Industrial Average and the Dow Jones Transportation Average reach new highs simultaneously.
While the Dow Jones Industrial Average keeps refreshing its record after hitting a milestone of 27,000 last week, the transport gauge is still almost 7% below its all-time high hit in September.
---
"We humans have to go to space if we are going to continue to have a thriving civilization," Bezos says. "We have become big as a population, as a species, and this planet is relatively small. We see it in things like climate change and pollution and heavy industry. We are in the process of destroying this planet. And we have sent robotic probes to every planet in the solar system — this is the good one. So, we have to preserve this planet."
The first step in that journey is space tourism, Bezos says. Blue Origin is already testing its vehicle, the New Shepherd, for taking humans into space for short tourism trips.
"Everybody who goes to space says they come back a little changed and they realize how beautiful this planet is and how small and fragile it is," Bezos says. "Something that we can't see when we are down here, but from up there it becomes obvious."
---
Enjoyed this article? Do consider supporting the site as a Patron and receive exclusive content. Big shoutout to all Patrons for their generous support, and for helping to keep this site going!
Like our Facebook Page and join the Facebook Group to continue the discussion! Do also join our private Telegram Group for a friendly chat on all things investing related!
Interested in bite-sized finance updates? The top financial news in just 3 minutes. Join 400,000 other insiders here.