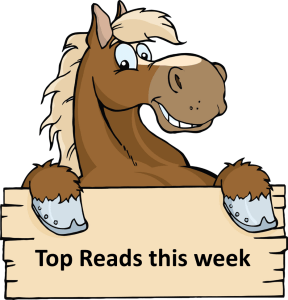 Rounding up top reads from around the web, including articles shared by fellow investors in the Financial Horse Facebook Group.
---
Markets are rallying ahead of Wednesday's open on hopes for a resolution in the US-China trade war. But trade tensions remain a major source of anxiety for investors.
US stocks were up all day Tuesday after President Donald Trump tweeted that he had a "very good" discussion with China's President Xi Jinping, and would meet with him next week at the G20 summit in Japan.
---
Investing in IPOs can be a successful bet in the short-run, especially when a lot of money is chasing new ideas, but that initial euphoria may not last forever. Investors should consider these opportunities with a healthy amount of skepticism. Their stock prices can't continue growing at a torrid pace forever and these companies have a tough road ahead to show sustainable profitability.
---
BlackRock Inc. is shorting the Australian dollar on a bet the central bank will cut interest rates to as low as 0.5% to revive the struggling economy.
---
UOB has rallied for 9 straight days, still a buy?
---
The company prefers to raise funds for acquisitions by selling assets, rather than through bank loans or issuing bonds, group CEO Hiew Yoon Khong said.
Mapletree is also looking at listing two REITs that could be backed by overseas assets in student accommodation and logistics in the next four to five years, with a "sweet spot" for each IPO of about S$2 billion, he said.
---
If you ask any well-known investor for advice to their younger self, many will simply remark that they wished they started sooner. Indeed, as the saying goes, the best time to plant a tree is 10 years ago, the next best time is now. Teach investing to your kids early, and set them up for financial success.
---
My father, whose salary and benefits far outweighed my mother's, lost his job twice in three years, and we had to file for unemployment. Instead of expressing sympathy or understanding the situation, I grew angry towards my parents for being completely unable to keep up my illusion. Now that I have graduated and am financially independent, I have grown an appreciation for my parents' sacrifices. But old habits die hard. I find myself needing to be "flashy." I cannot fully ditch the idea that I need to look the best, act the most refined, and keep up with the Joneses.
---
ESR-REIT will issue about 194.2 million new units under its upsized private placement to raise gross proceeds of S$100 million. The joint global coordinators and bookrunners for the placement, Citigroup Global Markets Singapore and RHB Securities Singapore, closed the order book for the placement on Tuesday.
The issue price was fixed at 51.5 cents per new unit – at the lower end of the 51.5-52.5 cents range earlier announced on Monday.
---
Do not become yield obsessive and always ask ourselves this question – is the dividends sustainable? Compare it with the company's free cashflow rather than following traditional formulas on dividend payout ratio.
---
Financial advisors often laud low fees paid on your investment portfolio as the way to achieving higher returns over the long haul. It's not uncommon to see rates of less than 0.5% for many mutual funds and exchange-traded funds at discount brokerages such as Vanguard, Fidelity, or T. Rowe Price. But when you invest in a private offering or actively managed product, does it ever make sense to pay higher fees and expenses?
"Investors fundamentally need to have the proper asset allocation and managers working for them to perform," DeSantis says. Ask yourself the following questions before you either balk or buy:
Are fees and expenses appropriate based on performance?
Are the investments being privately offered?
Are the investments in fluid or complex asset classes?
Is the fund manager personally invested?
Is the investment niche or themed?


---
Central bankers around the world say Facebook should expect regulatory questions over its new cryptocurrency. Libra, announced earlier this week, is backed by a basket of bank deposits and short-term government securities. Fed Chairman Jerome Powell also says he's spoken with Facebook about the digital currency.
---
Gold futures for August delivery, traded on the Comex division of the New York Mercantile Exchange, were up 2.6% at $1,383.50 per ounce. On Wednesday the Fed kept its benchmark rate unchanged, but signalled it is prepared cut rates amid mounting risks to the economy from slowing inflation and global trade tensions.
"The main question is no longer if the Fed will cut rates in July, but whether the easing will be by 25 or 50 basis points," said Daisuke Karakama, chief market economist at Mizuho Bank, in a Reuters report.
---
Enjoyed this article? Do consider supporting the site as a Patron and receive exclusive content. Big shoutout to all Patrons for their generous support, and for helping to keep this site going!
Like our Facebook Page and join the Facebook Group to continue the discussion! Do also join our private Telegram Group for a friendly chat on all things investing related!