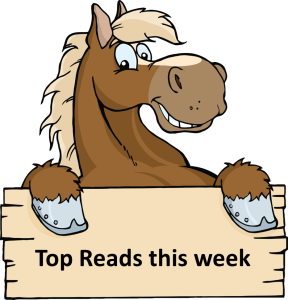 Rounding up top reads from around the web, including articles shared by fellow investors in the Financial Horse Facebook Group.
---
---
Travellers will gradually be allowed to transit through Changi Airport from June 2, as Singapore embarks on its phased exit from the circuit breaker period. Transport Minister Khaw Boon Wan said earlier this month that Changi Airport now handles only around 100 arrival and 700 departure passengers a day.
---
Manpower Minister Josephine Teo has instructed her lawyers to issue formal letters of demand to two people who accused her and her husband of profiteering and corruption in relation to COVID-19 community care facilities developed by Surbana Jurong, calling the allegations untrue and "completely baseless". Mrs Teo's husband, Mr Teo Eng Cheong, is chief executive (International) of Surbana Jurong.
"Some false statements have recently been circulated, accusing me and my spouse of profiteering and corruption in relation to the community care facilities developed by Surbana Jurong," said a statement issued on Wednesday (May 20) by law firm Allen & Gledhill, on behalf of Mrs Teo.
---
The plan outlines a "three-phased approach" for reducing social distancing and proposes the use of six "gating" indicators to assess when to move through another phase. The gating indicators include decreases in newly reported Covid-19 cases and emergency room visits as well as a "robust" testing program.
---
Beyond Meat has found another bull on Wall Street with BTIG initiating a buy rating, even after the stock's massive run since the March lows. It's not the only young public company that has made big moves this year. Zoom Video, Chewy and Peloton are enjoying big gains in 2020. Zoom, the best performer, now has a larger market cap than 75% of the S&P 500.
---
SINGAPORE shares closed lower on Wednesday, snapping a three-day straight win as the vaccine-led rally got a much-needed reality check. Risk-on sentiments took a step back as doubts emerged over biotech company Moderna's vaccine. The directionless trading in US stocks overnight was another bummer as US-China tensions prevailed.
---
Malaysia announced on May 1 that it would allow the majority of the economic sectors to resume operations under the conditional Movement Control Order (MCO). The conditional MCO has since been extended until Jun 9. 
---
Downtown office space could be massively reshaped by COVID-19. More than 80 per cent of the Singapore workforce telecommute today. Current demand has been culled, with knock-on effects for building management, mass transport and F&B in the vicinity.
Yet the completed office space in the country increased by a net 33,000 sq m over this first quarter. Office rents dipped by 0.8 per cent, while prices fell by 4 per cent, as the islandwide vacancy rate of office space rose to 11 per cent, according to the Urban Redevelopment Authority.
---
Prof Teo, dean of the National University of Singapore's Saw Swee Hock School of Public Health, told The Straits Times: "We have seen that the virus is transmitted very well when people dine together, and there have been instances in Singapore where the spread was because people came together for meals."
---
"A lot of people think that we have all the time in the world until next April to call the election," he said following an interview with Bloomberg TV. "That's technically correct, but what people do not remember is that parliament will be dissolved in January because parliament has to be dissolved five years after the first sitting for this term of government."
---
Eighty-five per cent of Singapore's aerospace industry is involved in maintaining and repairing aircraft, and local companies also play a "small but critical" role in the global supply chain, said the Association of Aerospace Industries (Singapore) (AAIS). According to figures from the Economic Development Board, Singapore's aerospace sector employs more than 22,000 people, with the industry's output surpassing S$11 billion in 2018. 
---
Singapore's non-oil domestic exports (NODX) rose unexpectedly by 9.7 per cent year-on-year in April, defying market consensus for a contraction, after shipments were bolstered by a surge in demand for pharmaceuticals and processed food.
---
"Bonds and industrial commodities tend to reflect the outlook for the real economy (i.e., Main Street) whereas stocks reflect the outlook for corporate earnings (i.e., Wall Street)," Berezin writes. "The two often move together but can occasionally diverge in important ways."
This is one such occasion. As he notes, "the real economy is suffering." Millions are unemployed, and the most vulnerable people in the economy have been hit hardest. Despite that, stocks can keep churning higher. The asset class, broadly, is just fine: "Tech and health care are the two largest sectors in the S&P 500," Berezin notes.
---
The nation's top two economic policy leaders offered contrasting visions about the economic outlook, with Treasury Secretary Steven Mnuchin favoring a wait-and-see approach to more federal aid and Federal Reserve Chairman Jerome Powell suggesting more would be needed. Their positions expressed Tuesday reflected differing views on the prospects for a swift economic rebound from the coronavirus pandemic.
Big money managers fear a second wave of COVID-19 cases will derail a V-shaped recovery in the stock market. Fifty-two percent of fund managers surveyed by Bank of America said that's the top tail risk to the current rally in U.S. equities, which climbed 31 percent from a March 23 trough through Tuesday. Permanently high unemployment, cited by 15 percent of respondents, and a break-up of the Eurozone, cited by 11 percent, rounded out the top three biggest tail risks.
---
Toogood said that a lot depended on the "tug of war" between government stimulus and fundamentals.  "The fundamentals are going to stink, there is no question the earnings are going to be extremely challenging. And the bridge is the fiscal stimulus."
---
The central government could also sell as much as 2 trillion yuan in sovereign debt for anti-virus spending, but when considering the stimulus effect investors should look closely at not only the size but also the purpose of the debt. The economic effect will be much larger if the money is borrowed to pay for infrastructure projects rather than general spending.
The government's long-term goal of ending absolute poverty will be center stage this week. That's partly because it was meant to be achieved this year, and also because the virus made the other target of doubling incomes by this year from 2010's level less likely. In the months since the outbreak President Xi Jinping has repeatedly expressed his resolution to accomplish the poverty mission on time.
---
The Senate overwhelmingly approved legislation Wednesday that could lead to Chinese companies such as Alibaba Group Holding Ltd. and Baidu Inc. being barred from listing on U.S. stock exchanges amid increasingly tense relations between the world's two largest economies.
The bill, introduced by Senator John Kennedy, a Republican from Louisiana, and Chris Van Hollen, a Democrat from Maryland, was approved by unanimous consent and would require companies to certify that they are not under the control of a foreign government.
---
"Hong Kong will become the core market for Alibaba trading in the future," said Nelson Yan, head of offshore capital markets investment product at Creditease Wealth Management (Hong Kong) Ltd. "More people will convert their U.S.-listed Alibaba shares into Hong Kong-listed ones, not just because of potential index-related flows but because overall ADR performance is increasingly clouded by accounting concerns."
---
Chinese doctors are seeing the coronavirus manifest differently among patients in its new cluster of cases in the northeast region compared to the original outbreak in Wuhan, suggesting that the pathogen may be changing in unknown ways and complicating efforts to stamp it out. Patients found in the northern provinces of Jilin and Heilongjiang appear to carry the virus for a longer period of time and take longer to test negative, Qiu Haibo, one of China's top critical care doctors, told state television on Tuesday.
---
A man has been sentenced to death in Singapore via a Zoom video-call for his role in a drug deal, the city-state's first case where capital punishment has been delivered remotely.
Singapore has a zero-tolerance policy for illegal drugs.
While rights groups have criticized the use of Zoom in capital cases, the offender's lawyer Peter Fernando said he did not object to the use of video-conferencing for Friday's call since it was only to receive the judge's verdict, which could be heard clearly, and no other legal arguments were presented.
---
Looking for a comprehensive guide to investing? Check out the FH Complete Guide to Investing and FH REITs Masterclass for Singapore investors.
Stock Watch 2020: Support the site as a Patron and get market updates. Like our Facebook Page and join the Facebook Group to continue the discussion!