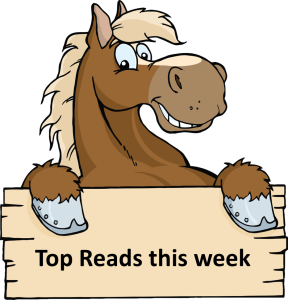 Rounding up top reads from around the web, including articles shared by fellow investors in the Financial Horse Facebook Group.
---
Mr Kwek Leng Peck has resigned from his position as non-executive and non-independent director of City Developments Ltd (CDL), a post he held for over 30 years, after clashing with the property giant's board and management. Mr Kwek, 64, is the cousin of Kwek Leng Beng, the billionaire executive chairman of CDL who also helms the Hong Leong group of companies, and the uncle of CDL's group chief executive Sherman Kwek.
In his letter of resignation, Mr Kwek Leng Peck cited "disagreements with the board and management in relation to the the group's investment in Sincere Property Group and its continuing provision of financial support to Sincere", according to a company filing with the Singapore Exchange during the midday trading break on Wednesday (Oct 21). Also cited were his reservations with the group's approach in the management of Millennium & Copthorne Hotels (M&C). CDL took M&C private last year, and the British company was subsequently delisted from the London Stock Exchange.
---
 More people made top-ups to their Central Provident Fund (CPF) accounts despite the challenging economic conditions this year, including a growing number of first-timers and young adults. The CPF Board said in a news release on Wednesday (Oct 21) that more than 198,000 top-ups were made under the Retirement Sum Topping-Up scheme between January and September, an increase of 34 per cent from the same period last year.
---
Billionaire investor Ray Dalio will make a $25 million grant to Singapore's Wealth Management Institute to launch a program focused on sustainable investing.
---
A cousin of Mustafa Centre boss Mustaq Ahmad told the High Court on Wednesday (Oct 21) that his father came home crying "like a baby" one day in 2004, after making a will stating that he held a 15.12 per cent stake in the company. Mr Fayyaz Ahmad said that his father, Mr Samsuddin Mokhtar Ahmad, felt hurt and cheated by Mr Mustaq, whom he treated as a son. Mr Mustaq's lawyer, Senior Counsel Alvin Yeo, accused Mr Fayyaz of making up the story because the contents of his father's will would hurt his case. Mr Fayyaz and his brother Ansar are claiming a one-third share of the entire Mustafa business empire as well as assets owned by Mr Mustaq in Singapore, India, and various other countries.
---
By the end of December, checking in with the TraceTogether app or token will be mandatory at all public venues in Singapore, including restaurants, workplaces, schools and shopping malls.
---
Those who are more vulnerable to the coronavirus and those at higher risk of getting infected, such as healthcare professionals and others in front-line roles, may get priority for vaccination, the Ministry of Health's director of medical services Kenneth Mak told a virtual press conference yesterday.
---
City Developments Limited (CDL): Its shares tumbled 7.2 per cent to close at S$7.08 on Wednesday, hours after the property giant announced that director Kwek Leng Peck has quit due to disagreements with the management and board.
CapitaLand Mall Trust (CMT): Its distribution per unit (DPU) rose 1.3 per cent on the year to 3.1 Singapore cents for its third quarter. This included the release of S$36.4 million during the three months, or about 78 per cent of the taxable income available for distribution retained in the first half of the year. CMT units closed at S$1.91 on Wednesday, down S$0.01 or 0.5 per cent.
Keppel Infrastructure Trust (KIT): Its distributable cash flow fell 18.8 per cent to S$45.2 million in the third quarter. This was mostly due to a 32.9 per cent fall in distributable cash flow for the distribution and network sector. Its waste and water segment also saw a 3.8 per cent drop. KIT units rose 0.5 Singapore cent or 0.9 per cent to finish at 55.5 cents, before the business update.
Suntec Real Estate Investment Trust (Suntec Reit): It posted a third-quarter DPU of 1.848 Singapore cents, down 21.9 per cent from a year ago. Suntec Reit's manager said the results, released on Thursday, were underpinned by the resilience of the office portfolio in Singapore and Australia. The counter closed up S$0.01 or 0.7 per cent to S$1.46 on Wednesday.
---
The S&P500 is up 53.9 per cent since Mr Trump's inauguration in January 2017, which just pips the 52.3 per cent rise charted by the benchmark index during Barack Obama's second term. The main driver of the market during this period was the slew of corporate-friendly policies that the Trump administration quickly rolled out. Besides deregulating sectors such as financial services and energy, corporate taxes were slashed across the board under the Tax Cuts and Jobs Act of 2017. These corporate tax cuts had a very tangible impact on the market. Specifically, it led to bucket loads of money being pushed into the pockets of investors through share buybacks.
In spite of this, the S&P500 has held up well. While the index dipped to a low of 2,237.40 on March 23, at the height of the Covid-19 panic, it has since rebounded to 3,483.81, which is 7.8 per cent higher than where it was at end-2019. This was the result of massive monetary loosening by the US Federal Reserve, and the strong performance of the largest, tech-oriented stocks within the S&P500, which have businesses that are seemingly impervious to the Covid-19 fallout.
---
Netflix stock fell around 5% in after-hours trading Tuesday after the company posted slowing growth in new subscriptions and lower-than-expected profits, a sign that the streaming giant's pandemic bump may be petering out.
---
CHINA will likely post positive economic growth for the full year and the leverage ratio is expected to stabilise in 2021 after debt climbed in the wake of the coronavirus pandemic, the central bank governor said. The macro leverage ratio – the percentage of debt in households, non-financial enterprises and governments to total gross domestic product (GDP) – "has increased this year due to the fight against the pandemic," governor Yi Gang said in a speech at the Financial Street Forum in Beijing, according to a statement published Wednesday on the central bank's website. "It will become more stable after GDP growth picks up next year." The ratio needed to be maintained on "a reasonable track", he added.
Data this week showed GDP rose 4.9 per cent in the third quarter from a year ago, putting China in line to be the only major economy to expand this year after bringing the pandemic under control. At the same time, debt has climbed, reaching 269.2 per cent of GDP last quarter, according to Bloomberg's calculations.
---
Even after a round of upbeat earnings last week, investors have shied away from the U.S. financial sector which has failed to share in the broader market gains since March. The lack of a rebound indicates deeper, fundamental concerns are holding back bank stocks even if lawmakers hash out a deal, according to Nikolaos Panigirtzoglou, a quantitative strategist at J.P. Morgan.
U.S. financial institutions have retrenched their lending as many looked to guard their balance sheet against the uncertainty presented by the COVID-19 pandemic. The lack of growth has capped their appeal, he said. In addition, investors may be taking into account the copious amounts of bonds bought by the major central banks. Larger central bank balance sheets could cap any rise in longer-term bond yields and thereby limit the steepening of the yield curve as a result of new stimulus spending.
---
China's Ant Group has won the final nod from the country's top securities watchdog for the registration of its Shanghai offering, the regulator said on Wednesday, clearing the last regulatory hurdle for its $35 billion dual-listing. The listing could be the world's largest initial public offering, surpassing the record set by Saudi Aramco's $29.4 billion float last December. The IPO would also be the first simultaneous listing in Hong Kong and on the year-old STAR Market in Shanghai.
---
AstraZeneca shares turned negative after a Brazilian health authority, Anvisa, said a volunteer in its coronavirus vaccine study died.
The Federal University of Sao Paulo, which is helping coordinate late-stage trials in Brazil, separately said that the volunteer was Brazilian, according to Reuters.
The news comes as the Food and Drug Administration still has a late-stage clinical trial from AstraZeneca on hold in the United States.
---
Shares of embattled electric vehicle start-up Nikola jumped double digits during premarket trading Wednesday.
GM President Mark Reuss said while a $2 billion deal with Nikola hasn't been finalized, the automaker continues "to work the opportunity."
The comments were some of the first from a GM executive about the deal after the two sides missed an expected closing date for the transaction late last month.
---
Big Hit Entertainment, the agency behind BTS, K-pop's most popular boy band, raised 963 billion won ($840 million) from 7.13 million newly issued shares, marking South Korea's biggest IPO since 2017, when Celltrion Healthcare raised 1 trillion won. The IPO was oversubscribed by more than 1,100 times by institutional investors. The company's shares began trading on Thursday, making its founder, Bang Shi-hyuk, South Korea's newest billionaire. 
---
Looking for a comprehensive guide to investing? Check out the FH Complete Guide to Investing and FH REITs Masterclass for Singapore investors.
Stock Watch 2020: Support the site as a Patron and get market updates. Like our Facebook Page and join the Facebook Group to continue the discussion!
finews.asia/…/32982-u-s-hedge-fund-billionaire-ray-dalio-makes-splash-for-sustainability-in-singapore