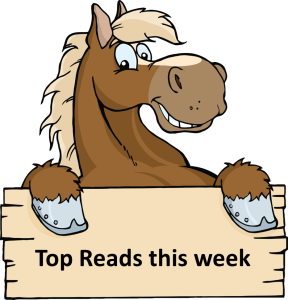 Rounding up top reads from around the web, including articles shared by fellow investors in the Financial Horse Facebook Group.
---
Banks could experience "far more damage" to their balance sheets when stimulus measures that are keeping many businesses afloat are rolled back, said Piyush Gupta, group CEO of Singaporean lender DBS.
He explained that governments cannot keep supporting the business community financially, so "you'll start seeing a lot more default, which in turn means that you'll start seeing the problems spill over to the financial sector."
But banks globally have also entered the current pandemic-induced crisis on stronger footing and can take on "a lot more pain" compared to the global financial crisis more than a decade ago, he added.
Full transcript here.
---
European Union leaders emerged from five days of intense talks with a landmark 750 billion euro ($858 billion) plan to rescue the bloc's economies amid the ongoing assault of the COVID-19 pandemic.
Most notably, the wealthier nations had sought to ensure that the rescue package be made up mostly of loans. Instead, the huge sum will be split between 360 billion euros ($412 billion) in loans and 390 billion euros ($446 billion) in grants that would not need to be repaid. The money will be raised collectively by selling bonds.
---
Founded in 1956, the ESS has corporate members including major banks in Singapore, investment houses and government ministries. The non-profit organisation brings together economists and other professionals to discuss issues surrounding the economies of Singapore and the region. Its honorary fellows include Senior Minister Tharman Shanmugaratnam, former prime minister Goh Chok Tong and Deputy Prime Minister Heng Swee Keat.
---
Global Indices such as the S&P 500 Index and FTSE World Index with strong Technology and Healthcare Sector representation were amongst the strongest performing Indices in 1H20 outperforming Indices more skewed to Bank and Real Estate Sector representation.
Of Singapore's most 100 traded stocks in 1H20, the 20 most defensive stocks included four current STI constituents, with Technology and Healthcare stocks also amongst the strongest performers in the local stock market.
The four STI stocks that ranked amongst these 20 most defensive stocks included Mapletree Industrial Trust, Mapletree Logistic Trust, Ascendas REIT & Venture Corporation. Together the four stocks averaged 10% total returns in 1H20, adding to their average 34% returns in 2019. 
---
A former deputy group director with the Land Transport Authority (LTA) was charged on Friday (Jul 24) with taking about S$1.24 million in bribes in the form of loans to advance contractors or subcontractors' business interests with LTA. Henry Foo Yung Thye, 46, was charged with 36 offences, including obtaining or attempting to obtain bribes in the form of loans from contractors or subcontractors and cheating his colleagues. He is also accused of cheating his LTA colleagues into giving him about S$726,500 in loans between 2008 and 2019. He had "dishonestly" concealed from them that the loans were intended to service his gambling habit and debts, charge sheets state.
---
Residents of Singapore are being encouraged to take a local holiday – dubbed a "Singapoliday" – and rediscover their home country while supporting local business through a S$45 million marketing campaign over the next nine months by the Singapore Tourism Board (STB) and other agencies.
---
THE distribution per unit (DPU) of First Reit fell by 79.5 per cent to 0.44 Singapore cent for Q2 ended June 30, compared to 2.15 cents a year ago. This brings the Reit's DPU for the first half of the year to 2.3 cents, 46.5 per cent lower than the  4.3 cents for the corresponding period last year. Income available for distribution for H1 slid 46 per cent to S$18.4 million, while rental and other income for the period fell 33 per cent to S$38.6 million, due primarily to rental relief initiatives that were extended to all tenants to "cushion the strains" caused by the Covid-19 pandemic. The rental relief, extended in the month of May and June 2020 to all of First Reit's tenants in Singapore, Indonesia and South Korea, amounted to a total of S$19.6 million. 
---
US-Chinese relations, already tense over the coronavirus pandemic and Beijing's crackdown in Hong Kong, deteriorated once again on Wednesday as Washington ordered the closure of the Chinese consulate in Houston within 72 hours. China slammed the US move, which came one day after the unveiling of a US indictment targeting two Chinese nationals for allegedly hacking hundreds of companies worldwide and seeking to steal virus vaccine research.
---
Microsoft on Wednesday reported rising revenues in the past quarter amid strong demand for cloud computing services from pandemic-hit businesses and consumers and big gains in its Xbox gaming operations. Profits in the quarter ending June 30 fell 15 per cent to US$11.2 billion, the result of increased tax charges compared with a year ago. Revenue meanwhile rose 13 per cent to US$38 billion, led by strong gains in its cloud computing and its Xbox gaming services.
---
Plans for an $880m light railway linking Malaysia's southern state of Johor to next-door Singapore have been revived, with Malaysia's transport minister announcing yesterday that an agreement between the two countries will be formalised on 30 July.
---
Monday was the first day of the two-week collection period for the Singapore Together Pack at community clubs or centres (CCs) and residents' committee (RC) centres.
---
Microsoft's professional networking site LinkedIn said on Tuesday (July 21) it would cut about 960 jobs, or 6 per cent of its global workforce, as the coronavirus pandemic is having a sustained impact on demand for its recruitment products.
---
Allegations against Hontop are a worrying development for the city state's financial sector. The recent collapses of fellow traders Agritrade, Hin Leong and ZenRock – also amid allegations of fraud – had already left banks wary of providing further finance to the sector despite regulators' attempts to reassure the market. The case starts with court documents filed at the start of July by the Singapore branch of Malaysian bank CIMB. The bank is seeking to have Hontop, a trading house specialising in the sale of crude and petroleum products, placed under judicial management after what it calls "astonishing allegations" of fraud.
---
 Kishin RK, the 36-year-old heir to a multi-billion dollar Singapore property empire, is joining the fray, creating a network of 1,000 cloud kitchens across Asia, Europe and the U.S. to crack the lucrative home-delivery dining market. Globally, cloud kitchen revenue is estimated to climb to almost $72 billion by 2027 from $43 billion last year, according to Allied Market Research. Also known as dark or shared kitchens, these centralized operations can pump out an array of cuisines for established restaurants looking to broaden their delivery footprint, or for brands that exist nowhere else but behind an app. 
---
Long-time market bull Ed Yardeni is getting nervous for the first time since the March 23 rebound. He warns new risks from the U.S. surge in coronavirus cases to renewed tensions with China could spark a 20% to 30% meltdown. "We've had a melt-up and that's very visible in valuation multiples. Stocks are not cheap, " the Yardeni Research President told CNBC's "Trading Nation" on Friday. "On top of that, we don't seem to be handling the opening up of our economy and social distancing to minimize the flare-ups of the virus as well as they're doing in some parts of Asia and Europe."
---
Speaking to CNBC's "Squawk Box Europe" on Wednesday, RW Advisory Strategist Ron William argued that the market is currently beholden to "asymmetric risk" on technical, seasonal and political fronts.
William highlighted that despite the rally, "smart money" in equities is at a nine-year low, with much of the rally fueled by Robinhood investors, which he termed a "telltale sign for downside risk."
---
"The odds of a relapse, not just the virus but in the economy itself — the so-called dreaded double-dip, is very real," the former Morgan Stanley Asia chairman told CNBC's "Trading Nation" on Wednesday. He notes recessions are historically double-dip. Roach anticipates this contraction will follow the same pattern despite its unusual origin. "This behavioral capitulation on the demand side of the U.S. economy is going to continue to create a lot of problems for businesses, business hirings, [and] potential corporate bankruptcies in the second half of this year," he said.
Roach, who's one of the world's leading experts on Asia, predicted in January the coronavirus outbreak would eclipse the SARS impact in 2003 and could shock the global economy, including here at home. Using China as a model, Roach believes U.S. consumer demand will face a difficult recovery despite reopenings.
---
A secretary was aware that her Singapore-based firm and related companies were unlawfully supplying luxury items to North Korea, but she failed to alert the authorities as she feared losing her job. Singaporean Lam Hon Lan, 40, was fined $6,000 on Tuesday (July 21) after pleading guilty to three charges under the United Nations Act involving perfumes and cosmetics worth more than $82,000. The court considered 40 other similar charges involving goods worth nearly $500,000 during sentencing. United Nations sanctions prohibit people in Singapore or Singaporeans outside the country from selling or supplying certain luxury items to anyone in North Korea. Anyone with information about such transactions must alert the authorities.
---
Looking for a comprehensive guide to investing? Check out the FH Complete Guide to Investing and FH REITs Masterclass for Singapore investors.
Stock Watch 2020: Support the site as a Patron and get market updates. Like our Facebook Page and join the Facebook Group to continue the discussion!