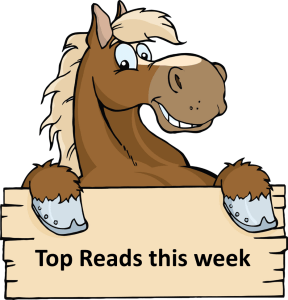 Rounding up top reads from around the web, including articles shared by fellow investors in the Financial Horse Facebook Group.
---
The study, that was published on 6 Oct, found that children from middle-income families tend to end up worse off than their parents, with over 50 per cent of these children who grew up in private properties having to downgrade to public housing when they are older. Noting that children from middle-class families were facing downward mobility and that there is little room for these children to surpass their parents, the researchers said that it is difficult for the sandwiched group to move up the social ladder because of the "high price and also the lack of government subsidies"for private housing.
Responding to the findings of the study, Mdm Ho vouched for public housing and called on people to make a "smarter wealth choice" and opt to live in HDB housing.
Calling on policymakers to consider removing the income ceiling for first-time HDB buyers, she added: "Over time, we should perhaps remove the income ceiling for buying HDB flats for 1st time property buyers/owners." Calling the ownership of public housing a beneficial opportunity and one that everyone should be able to take advantage of, Mdm Ho suggested: "Now that we have stabilised the HDB housing supply, we can perhaps add a premium to the posted HDB price for new builds, based on some % of the income above the current ceiling."That way, everybody who doesn't already own a property can benefit from the opportunity to own and live in HDB regardless of income levels."
---
Earlier Wednesday, the yield on the benchmark 10-year Treasury note was at 1.623%, below the 2-year yield at 1.634%.
The last inversion of this part of the yield curve was in December 2005, two years before a recession brought on by the financial crisis hit. A recession occurs, on average, 22 months following such an inversion, according to Credit Suisse.
---
There are three types of declines.
Rebounds happen quicker in smaller declines.
October is the most volatile month.
Multiple reasons can trigger larger corrections.
There's a debate over the last official bear market.
Corrections happen in individual stocks and sectors.
Markets can correct over time.
Know when bear markets bottom and bull markets begin.
Prepare portfolios for the inevitable stock market correction.
---
"Most people are not told by financial advisors that their future returns will likely be much lower than in the past, and their future taxes will likely be much higher," Mitchell tells CNBC Make It.
Other experts agree. The economists at investing giant Vanguard predict that, over the next 10 years, annual U.S. stock market returns will likely average 3% to 5%. When you factor in inflation — which, luckily, Vanguard predicts will be below 2% — the real rate of return is expected to be under 3%.
The ST was told by the Ministry of Finance (MOF) and the Ministry of Law (MinLaw) that the total amount of unclaimed funds from the Government in the past six years reached S$240 million in unclaimed funds.
The majority of this amount had belonged to people who had died without saying who was to receive their CPF funds. The other part, S$29 million, now in the possession of different agencies, is made up of tax refunds, levy bonds, and immigration deposits, according to ST.
They are considered as unclaimed since the rightful owners of the funds can no longer be reached by the agencies, despite numerous endeavours to do so. But a spokesman from the MOP said that no matter how long the funds have been in possession of the agencies, should a valid claim come forward, it will be repaid.
---
Legal marijuana in California as a business was supposed to be a no-brainer. How could it not be profitable in a liberal state pushing 40 million residents where some of the best weed in the world has been grown for decades? But nearly three years after Proposition 64, the law legalizing the adult use of the drug, was passed, California cannabis producers are not seeing the windfalls predicted. They tell Sharyn Alfonsi that regulations and a robust black market are cutting into legal pot profits.
---
Tesla posted a surprising profit of $143 million in its latest quarter, raising hopes the electric car pioneer may finally be turning the corner after posting mostly losses during its first decade as a publicly held company. The positive results announced Wednesday came after Tesla lost $1.1 billion during the first half of the year. That had caused many investors to lose faith in the company even as it boosted sales of its vehicles.
Doubts about Tesla forced its stock to fall by 23% so far this year, while the bellwether Standard & Poor's 500 index has climbed 20%. But Tesla's shares recovered a big chunk of those losses after its third-quarter numbers came out, soaring by nearly 18% to $299.41 in extended trading.
---
Using my monthly budget as catharsis — but not as a tool for informing my spending.
Keeping a budget is crucial for good financial health, but for me, the practice was more about catharsis — "phew, I spent way too much on drinks last night, but now it's in my budget; I have repented and can move on." I wasn't looking critically at the way I was spending money, which meant that I just kept spending. Instead, I should have been balancing out that high drink spend with a few more nights spent in.
---
Smaller companies can add diversification without sacrificing potential for growth.
---
Berkshire Hathaway publishes its portfolio every quarter. Here's how Warren Buffett is investing. See full list here.
---
Office-sharing startup WeWork is planning to cut as many as 4,000 jobs as a part of a turnaround plan put in place by top shareholder Japan's SoftBank Group after it took control of the company this week, Financial Times reported on Wednesday. The job cut will amount to just under a third of WeWork's global workforce, and about 1,000 of the cuts will hit employees such as janitorial staff, the report said, citing people with direct knowledge of the plans. SoftBank agreed to spend more than $10 billion to take over WeWork on Tuesday, giving a near $1.7 billion payoff to the startup's co-founder Adam Neumann to relinquish control.
---
Mark Zuckerberg conceded on Wednesday that there is a scenario in which Facebook might have to rethink its involvement in its controversial cryptocurrency project, Libra, if the currency does not receive appropriate US regulatory approval.
Maxine Waters, the chair of the committee, kicked off the hearing by listing off the company's history of running discriminatory housing ads, failing to protect consumer data and having its platform used for election interference. She also questioned Zuckerberg over his company's policy of not subjecting ads by political candidates to third-party fact-checking.
---
FOCUS. Iger says it's extremely important to allocate your time, energy and resources to the issues and goals that are the most important at that moment. And it's imperative to convey your priorities clearly and repeatedly to your team.
"If you don't articulate your priorities clearly, then the people around you don't know what their own should be. Time and energy and capital get wasted," Iger writes. Additionally, Iger cautions against letting your ambition get ahead of current opportunities and responsibilities. "By fixating on a future job or project, you become impatient with where you are. You don't tend enough to the responsibilities you do have, and so ambition can become counterproductive."
---
Looking for a comprehensive guide to investing? Check out the FH Complete Guide to Investing for Singapore investors.
Support the site as a Patron and get market and stock watch updates. Like our Facebook Page and join the Facebook Group to continue the discussion!