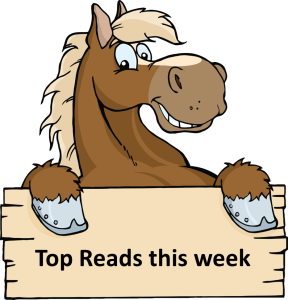 Rounding up top reads from around the web, including articles shared by fellow investors in the Financial Horse Facebook Group.
---
Gold is the ultimate store of value, and offers protection from inflation caused by reckless money printing by central banks. Currently, governments want inflation, as politically it's the easiest way of lowering the debt burden. On May 7, 2020, Ray Dalio wrote, "Printing money is the most expedient, least well-understood, and most common big way of restructuring debts."
The stock market is currently overvalued, as economic growth around the world is collapsing due to the corona crisis. Stock indices haven't corrected yet, because they are high on the newly printed money. On June 24, 2020, Money Manager Jesse Felder wrote (based on calculations), "the current disconnect between stock prices and sustainable profits is, in fact, greater than anything we have seen in modern history." Hence, I believe gold will perform better than stocks in the years ahead.
---
Wirecard filed for insolvency after the once high-flying payments group revealed a multiyear fraud that led to the arrest of its former chief executive. In a remarkable collapse of a company once regarded as a European tech champion, Wirecard said in a statement on Thursday morning that it faced "impending insolvency and over-indebtedness".
The first failure of a member of Germany's prestigious Dax index is expected to inflict big losses on creditors and reputational damage on regulators led by BaFin and Wirecard's longstanding auditors EY.
---
EY failed for more than three years to request crucial account information from a Singapore bank where Wirecard claimed it had up to €1bn in cash — a routine audit procedure that could have uncovered the vast fraud at the German payments group. The accountancy firm, which audited Wirecard for a decade, has come under fire after the once high-flying fintech company filed for insolvency this week, revealing that €1.9bn in cash probably did "not exist". 
People with first-hand knowledge told the Financial Times that the auditor between 2016 and 2018 did not check directly with Singapore's OCBC Bank to confirm that the lender held large amounts of cash on behalf of Wirecard. Instead, EY relied on documents and screenshots provided by a third-party trustee and Wirecard itself.  
---
Singaporeans will go to the polls on July 10, in a general election that will take place in a time of crisis as the country grapples with the coronavirus pandemic.
The widely anticipated announcement of the election date came yesterday, when President Halimah Yacob dissolved Singapore's 13th Parliament and issued the Writ of Election.
Nomination Day will be next Tuesday, with the minimum nine days of campaigning before Cooling-Off Day on July 9.
Polling Day will be on July 10 – a Friday and a public holiday.
---
An effective Covid-19 vaccine is likely to be readily available only this time next year at the earliest, several experts have said.
"We may have some good science by the end of the year, and I think we have some leading vaccine candidates," said Duke Human Vaccine Institute chief operating officer Thomas Denny.
But to manufacture and administer the vaccine at scale will require more time, he said during a recent webinar hosted by three Duke researchers.
---
Texas and Florida took steps to reverse their reopening plans on Friday as the US recorded its largest one-day increase in coronavirus cases since the pandemic began, raising fears the country's economic rebound could be shortlived. Florida had the biggest rise in new cases on record, reporting 8,942 new infections over the preceding 24 hours — compared with the 5,004 cases tallied on Thursday — pushing the nationwide total to 44,373, the third straight day US cases rose at a record rate. The new outbreak has prompted several governors to put plans to ease lockdowns on hold, led by Texas governor Greg Abbott, who on Friday ordered all bars to close and limited public gatherings to fewer than 100 people.
---
Unilever, one of the world's largest advertisers, said it would stop spending money with Facebook's properties this year.
The decision by the maker of major consumer goods like Dove soap and Hellmann's mayonnaise to follow other brands in an advertising boycott, prompted a rare reaction from Facebook's investors. Shares plunged 8.3% on the news, eliminating $56 billion in market value. Unilever's pledge applies immediate pressure on other big companies and presents a risk to Facebook's dominant business. Later Friday, Coca-Cola Co. said it would pause ads on all social media platforms for at least 30 days, while Honda Motor Co.'s U.S. unit, Hershey Co. and several smaller brands said they would join the boycott.
---
Luckin Coffee Inc. LK, -54.00% said Friday that it will be delisted from the Nasdaq. The Beijing-based coffee purveyor and Starbucks Corp. SBUX, -3.08% rival, received two notices from the Nasdaq about its failure to adhere to listing rules.
On May 22, Luckin requested a hearing on the issue, which had been scheduled for June 25. The day before, Luckin withdrew the hearing request and the company's shares will be suspended at the open of business on Monday.
Luckin has been embroiled in a financial misconduct investigation that has sent the stock plummeting 89% over the past three months, led to the terminations of key executives, including the chief executive, and contributed to a delay in the company's annual report. Luckin stock fell more than 32% in Friday premarket trading after the delisting news.
---
The European Union moved closer to recommending that travelers from the U.S. shouldn't be allowed to enter the bloc even after July 1, according to a draft decision being considered by governments.
Diplomats have agreed on a provisional list of 15 countries, including Canada, Japan, Australia and South Korea, that should be allowed into the EU because their level of new Covid-19 cases meets the bloc's safety criteria, according to a draft seen by Bloomberg. Chinese residents will also be allowed to visit the EU, on the condition that Beijing confirms that it will also allow European citizens to travel to China, according to the document.
---
Looking for a comprehensive guide to investing? Check out the FH Complete Guide to Investing and FH REITs Masterclass for Singapore investors.
Stock Watch 2020: Support the site as a Patron and get market updates. Like our Facebook Page and join the Facebook Group to continue the discussion!