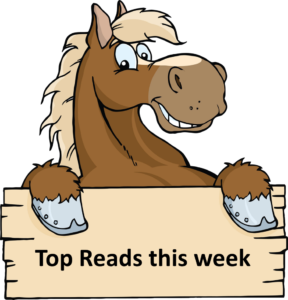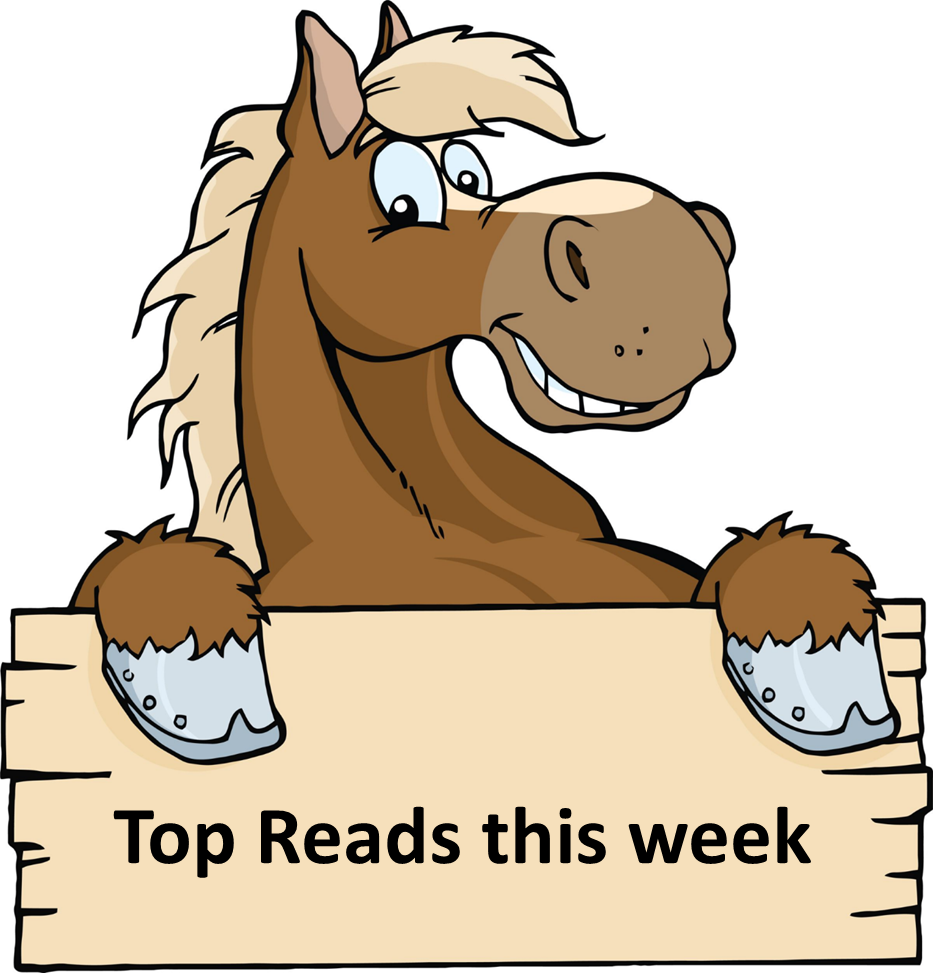 Rounding up top reads from around the web, including articles shared by fellow investors in the Financial Horse Facebook Group.
---
UOB has sold the first negative-yielding bond out of Singapore, and market watchers say it won't be the last from the Singapore banks. The bank priced one billion euros (S$1.6 billion) of seven-year covered bonds at 0.01 per cent. The reoffer spread of 17 basis points above the mid-swap – a reference point – equates to a reoffer yield of -0.21 per cent. A negative bond yield is when an investor receives less money at the bond's maturity than the original purchase price. Covered bonds are debt issued by banks, secured by a pool of assets, typically mortgages.
---
A spurt of missed debt repayments by three Chinese state-owned firms – a coal miner, a chipmaker and an automobile company – has shaken local markets and heightened speculation that a campaign to wean the economy off heavy credit is back. The defaults have angered investors, who say their faith in the firms' top-notch ratings, seemingly sound finances and implicit state backing has been violated. While the notable lack of state support for struggling state-owned enterprises (SOEs) suggests Beijing now has more confidence in the economy's ability to absorb such failures, it has caught many bondholders off guard.
A default late last month by Huachen Automotive Group Holdings, the parent of German automaker BMW's Chinese joint venture partner, exemplified opaque risks, underdeveloped pricing mechanisms and investor naivety in China's corporate bond market.
---
Even amid the COVID-19 pandemic, the Economic Development Board (EDB) managed to secure S$13 billion worth of fixed asset investment commitments in the first four months of 2020. That was among the highest in recent years, and reflected businesses' confidence in Singapore's "high levels of connectivity, openness, and brand of trust", according to the latest public sector report released on Thursday (Nov 26).
---
Singapore has begun importing frozen shrimps from Saudi Arabia, the first time it is doing so from the Middle Eastern kingdom, part of its efforts to diversify its supply chains to safeguard food security.
---
By value, SIA was the most actively traded counter on the Singapore bourse on Wednesday morning. The bulk of its volume came from large trades – each valued at more than S$150,000. Almost a hundred such large trades were done as at 10.59am on Wednesday, according to ShareInvestor data.
Cathay Pacific likewise recovered on Tuesday, advancing 7.8 per cent to HK$7.36 at the close, before moving up further by about 1 per cent to trade at HK$7.43 as at 10.48am on Wednesday. The air travel bubble was put on hold at the eleventh hour, less than 24 hours before the scheduled launch on Sunday. A flight each from SIA and Cathay Pacific were originally planned to take off at 10am. The Singapore and Hong Kong governments will announce in early December as to when the flights will restart.
---
Travel and tourism players on Wednesday (Nov 25) welcomed Singapore's – and the Asia-Pacific's – first physical trade show since the Covid-19 outbreak, a key step towards having more such trade shows held here.
---
While some developers trimmed prices by as much as 10% during the partial lockdown this past summer, the luxury-home market in this prosperous Southeast Asian island-nation bounced back more quickly than most other global cities. In central Singapore, where home prices are high, 2,177 apartments were sold from January to September, up from 1,797 in the year-ago period, government data show. The median price per square footage also increased, by 7.5% to $1,705.
---
South Korean shares climbed nearly 1 per cent on Thursday as gains in Samsung Electronics and economic recovery hopes outweighed coronavirus worries. The Kospi index rose 24.37 points, or 0.94 per cent, to 2,625.91, after declining 0.6 per cent in the previous session. Shares in chip giants Samsung Electronics and SK Hynix were up 2.1 per cent and 2.3 per cent, respectively, while those of LG Chem gained 3.6 per cent.
South Korea's central bank kept its policy rate steady as it marginally raised its growth outlook for this year and next, despite concerns over surging infections. The country reported 583 new coronavirus cases on Thursday, the highest since March, as it grapples with a third wave of infections that appears to be worsening despite tough new social distancing measures. Foreigners were net buyers of US$229.92 million worth of Kospi shares, after snapping a 14-session buying spree on Wednesday.
---
NEWS of thousands of Top Glove Corp workers testing positive for Covid-19 and the expected delivery delays from its shuttered operations continued to weigh on the company's stock price. Shares of the world's biggest rubber glove maker sank to a 2.5-month low on Wednesday, dropping 2.9 per cent or 6.5 Singapore cents to S$2.185 as at 9.32am, a level not seen since Sept 10. As at 4.50pm on Wednesday, the stock was down 2.7 per cent or S$0.06 to trade at S$2.19, on almost four million shares changing hands.
The Malaysian government has ordered a full probe into Top Glove's working and housing conditions, The Star reported. The newspaper also stated that Human Resource Minister M Saravanan described the employees' housing conditions as deplorable.
---
UOB: The bank on Wednesday said it has priced one billion euros (S$1.6 billion) of seven-year covered bonds at 0.01 per cent. The bonds will be issued above par, at 101.553 per cent. UOB shares closed at S$23.60 on Tuesday, up S$0.47 or 2 per cent.
Singapore Airlines (SIA): The national carrier has priced S$500 million worth of 3.5 per cent notes due 2030 under its S$10 billion multi-currency medium-term note programme, which it has upsized from S$5 billion previously. Shares of SIA closed at S$4.41 on Tuesday, up S$0.34 or 8.4 per cent.
ST Engineering: US-based investment management holding company The Capital Group Companies is now deemed a substantial shareholder of ST Engineering, after its purchase of 1.38 million shares via a market transaction on Nov 20 bumped its shareholding from 4.96 per cent to 5.01 per cent. Shares of ST Engineering closed at S$4.04 on Tuesday, up S$0.07 or 1.8 per cent.
---
Mining profits: Palantir's stock jumped 22% on Wednesday. The data-mining company has had an impressive debut; its share price tripled from what it had been immediately after its late September IPO. Palantir's software lets companies take their data and combine it with operational execution and decision-making. The idea behind Palantir's platform is to help users get actionable guidance from the data they collect.
Snowflake: Meanwhile, Snowflake picked up more than 7% Wednesday. The cloud-based data warehouse specialist has gotten a lot of attention after it came public at a lofty price. Yet so far, Snowflake has defied negative predictions, instead building on its first-day double to move ever higher.
---
The health care arm of Alibaba Group turned around in the latest interim report as Covid-19 raised awareness and demand
Stock has risen 127 per cent this year as demand for health care stocks has taken hold, with JD Health next in line with its US$4 billion IPO
---
JD Health, a unit of Chinese e-commerce giant JD.com, is looking to raise more than $3 billion in its Hong Kong debut. The firm is planning to sell 381.9 million shares at a range of 62.80 to 70.58 Hong Kong dollars (around $8.10-$9.11), according to a filing with the Hong Kong stock exchange.
The summary of the Fed meeting from earlier this month indicated that U.S. central bank officials discussed ways of getting more money into the economy, which is still recovering from the coronavirus pandemic.
---
The life expectancy of Singaporeans is among the highest in the world at 81.4 and 85.7 for men and women respectively in 2019, according to the latest public sector report released on Thursday (Nov 26).
---
Singapore may not be able to generate most forms of renewable energy, but in future, it may be able to tap low-carbon energy sources – such as wind or hydro power – in the region. Last week, Singapore, Laos, Thailand and Malaysia announced their commitment to initiate cross-border trade of up to 100MW of electricity under the Laos-Thailand-Malaysia-Singapore Power Integration Project.
---
"The world is now entering a phase where the crisis is long, drawn-out, the peak of the crisis is behind us, but we're not in full recovery," Mr Ravi Menon, managing director of the Monetary Authority of Singapore (MAS), told Bloomberg.
"In this undefined twilight zone of sorts, what is the appropriate policy mix?" He said fiscal policy would have to start unwinding, but gradually, while monetary policymakers must recognise that extraordinary measures cannot continue indefinitely.
If officials do not start the process now of fine-tuning their stimulus, they risk seeing a destabilising "fiscal-cliff effect" later if support has to be withdrawn all at once, Mr Menon said in a separate interview with Bloomberg Television's Haslinda Amin. As virus outbreaks worsen, including in the United States and across Europe, officials are under pressure to pump in more aid, even as some earlier stimulus may still be making its way to the intended targets and as long-term debt worries linger.
"If you unwind too rapidly, that will harm the recovery," Mr Menon said. "But if you stay on current levels of support – be it monetary or fiscal – that will create its own problems, the most prominent being debt accumulation." He said monetary policymakers have been playing a "very accommodative and complementary role" to governments, providing ample liquidity and in some cases buying up government debt in addition to keeping rates low.
---
Singapore's economy contracted by 5.8% in the third quarter compared to a year ago — coming in better than initial estimates, the country's Ministry of Trade and Industry said on Monday.
On a quarter-on-quarter seasonally adjusted basis, Singapore's gross domestic product or GDP grew by 9.2% in the three months ended September.
The Singapore economy is now expected to shrink between 6% and 6.5% in 2020, before bouncing back to a growth of between 4% and 6% next year, said the ministry.
---
Electric-car stocks BYD (BYDFF), Xpeng (XPEV) and Li Auto (LI) sold off on news of a probe in China though Nio (Nio) ticked up, while Nikola (NKLA) failed to assuage investors on a proposed General Motors (GM) partnership. According to Nikkei Asia, China's top economic planning body has launched a nationwide review of EV projects. Specifically, the National Development and Reform Commission has asked local branches of Evergrande Auto to submit investment and production data for the past five years.
---
Despite the pandemic, about one in two retailers in Singapore still experienced higher sales from September to October this year than last year, but banking on local demand may not be sustainable. That is according to an American Express survey released on Monday (Nov 23), of 300 small and medium enterprises (SMEs) in Singapore with annual revenues of $100 million or less.
Disney will layoff 32,000 employees in the first half of fiscal 2021.
This figure includes the 28,000 workers that the company previously announced in September.
In addition, as of Oct. 3, around 37,000 employees who were not expected to be laid off were placed on furlough.
---
China has accused India of discriminatory practices that violate World Trade Organization rules after the latter banned more Chinese mobile apps.
New Delhi issued an order on Tuesday to block 43 apps, claiming they were engaged in activities that threatened India's national security.
To-date, India has blocked 220 Chinese mobile apps, some of them made by China's prominent consumer-facing tech companies like ByteDance, Tencent and Alibaba.
---
For the fifth consecutive year, 98.4 per cent of Primary 6 students who sat for the Primary School Leaving Examination (PSLE) made it to secondary school. A total of 39,995 candidates sat for the PSLE this year, of which 39,361 students were assessed suitable to progress to secondary school, the Ministry of Education (MOE) and Singapore Examinations and Assessment Board (SEAB) said in a press release on Wednesday (Nov 25). About two-thirds, or 66.3 per cent, are eligible for the Express course, while 21.2 per cent are eligible for the Normal (Academic) course and 11 per cent for the Normal (Technical) course. These proportions are similar to last year's Primary 6 cohort, MOE and SEAB said.
---
Chinese President Xi Jinping on Wednesday congratulated Joe Biden on winning the Nov. 3 U.S. presidential election, voicing hope the two countries could promote a healthy and stable development of bilateral ties, the official Xinhua news agency reported.
Sino-U.S. relations have deteriorated to their worst in decades during incumbent U.S. President's Donald Trump's four years in office, with disputes simmering over issues from trade and technology to Hong Kong and the coronavirus.
---
The US Chamber of Commerce said on Monday (Nov 16) it was concerned the United States was being left behind after 15 Asia-Pacific economies on Sunday formed the world's largest free-trade bloc, cementing China's dominant role in regional trade. The Chamber welcomed the trade-liberalising benefits of the new Regional Comprehensive Partnership Agreement (RCEP), saying US exporters, workers and farmers needed greater access to Asian markets. But it said Washington should not join the bloc. RCEP covers 30 per cent of the global economy and 30 per cent of the global population, joining for the first time Asian powers China, Japan and South Korea. It aims in coming years to progressively lower tariffs across many areas.
---
Looking for a comprehensive guide to investing? Check out the FH Complete Guide to Investing and FH REITs Masterclass for Singapore investors.
Stock Watch 2020: Support the site as a Patron and get market updates. Like our Facebook Page and join the Facebook Group to continue the discussion!