Rounding up top reads from around the web, including articles shared by fellow investors in the Financial Horse Facebook Group.
---
Singapore kick-started its national Covid-19 vaccination programme on Wednesday (Dec 30) morning, with a senior staff nurse at the National Centre for Infectious Diseases (NCID) the first to roll up her sleeve for the Pfizer-BioNTech jab. Ms Sarah Lim, 46, is part of the team that screens suspected Covid-19 cases.
---
A Singapore Airlines pilot and a work pass holder have tested preliminarily positive for the new B117 strain of the coronavirus that is circulating in the United Kingdom.
---
The aviation sector here will receive additional government support to the tune of $84 million, as continued recovery from the Covid-19 pandemic is expected to be slow.
---
City Developments Limited (CDL): Another board member, Koh Thiam Hock, has resigned from the property giant over concerns with its investment in Sincere Property Group in China, said CDL late Tuesday night. Meanwhile, Carol Fong has been appointed as an independent non-executive director. CDL shares lost S$0.01 or 0.1 per cent to close at S$8.03.
Singapore Airlines (SIA), SATS: The Singapore government has earmarked S$84 million in additional aid to support the aviation sector through the Covid-19 crisis. This will include waiving some fees paid by Singapore-based airlines and a 50 per cent rebate for licence fees for ground handling and catering services. At Tuesday's close, before the announcement, SIA shares fell S$0.02 or 0.5 per cent to S$4.24, while SATS rose S$0.05 or 1.3 per cent to S$4.03.
Jardine Matheson Holdings (JMH), Sembcorp Industries, Jardine Strategic Holdings (JSH), CapitaLand: The four stocks were the Straits Times Index's strongest performers in the quarter to date, and ranked highly for value factors, said the Singapore Exchange in a market update. All four were in the green at Tuesday's close: JMH gained US$0.35 or 0.6 per cent to US$55.70, Sembcorp closed S$0.03 or 1.8 per cent higher at S$1.73, JSH climbed US$0.61 or 2.5 per cent to US$25.41, and CapitaLand rose S$0.04 or 1.2 per cent to S$3.29.
---
Chinese regulators said Sunday that Ant Group had been ordered to revamp its business by returning to its origins as an online payments platform. The fintech firm was told it needs to "rectify" its credit, insurance and wealth management businesses, according to a statement from the People's Bank of China. 
The central bank's statement came less than two months after regulators blocked Ant's initial public offerings in Hong Kong and Shanghai that had been set to raise $34.5 billion. Chinese leaders reportedly halted the deal after Ma publicly complained that the regulators were too focused on controlling risk at the expense of innovation that was needed to build a healthy financial system.
---
The S&P 500 has gone up by just over 68% since hitting its nadir on March 23.
Tech stocks – including Apple, Amazon and Zoom – have driven the rally for months as consumers hunkered down amid the pandemic.
We have also had weeks reminiscent of days nearly two decades ago when most of my top ten positions, including AOL, Yahoo, Millennium Pharmaceuticals, and Cisco, jumped by 5% to 10% each trading session.
The drop in Cisco and other dot-com darlings could happen again to some of these new hot names, but they are a smaller part of the overall stock market today than those past bubble stars.
---
In an exchange filing on Monday morning, First Reit's manager proposed the renounceable rights issue to raise gross proceeds of around S$158.2 million, which it said was "critical" for the Reit to meet its debt covenants, and "avoid an imminent default" of 39.8 per cent of total debt, or about S$196.6 million, due on March 1 next year.
---
---
The Singapore dollar, euro, Aussie and New Zealand dollars all posted more than two-year highs against the struggling greenback. The Singapore dollar was trading at US$1.3230 on Thursday morning (Dec 31), up 1.7 per cent for the year. This is also its highest for the Singdollar since April 2018. Investors are betting that an improving economic outlook as Covid-19 vaccines are rolled out and unprecedented fiscal and monetary stimulus will boost global growth and asset prices in 2021.
US economic growth is expected to drag behind peers, however, with the US currency also suffering from rising fiscal and current account deficits as the government increases spending to tackle coronavirus-related business shutdowns. Data on Wednesday showed that the advance US goods trade deficit rose to a record US$84.8 billion (S$112 billion) in November, from US$80.3 billion in November.
---
One in eight American adults in December reported going hungry during the previous week. This was, according to the Census Bureau's regular surveys, the worst result of the final three months of 2020. That tracked other measures of financial distress—the share of Americans estimated to be in poverty or reporting difficulties paying for housing—which have increased as the covid-19 epidemic entered a third, wintry phase and chilled the economic recovery. The burden has been felt most by the disadvantaged: in households with less than $25,000 in income, 32% of adults reported having to miss meals in the past seven days. More than 40% of black and Hispanic renters have little to no confidence in being able to pay for housing in the coming month.
All this—to say nothing of the death toll of the virus, which is now above 330,000—got worse while Congress debated for seven months whether the economy needed more support. The big fiscal stimulus passed in March, costing $2.2trn, made a real and measurable dent in hardship in the first months of virus-induced lockdowns. One-time cheques of $1,200 for most American adults and generous top-ups of $600 a week to unemployment benefits were part of a temporary experiment with a European-style safety-net. Government expenditure in 2020 increased by about 50% compared with the previous year, easily the greatest increase since 1963, when the Congressional Budget Office started counting. The result was that the savings rate among families went up, not down. Poverty was probably cut by 15%, the biggest one-off reduction recorded since measurement began.
Deputy Prime Minister and Minister for Finance Heng Swee Keat will unveil Budget 2021 in Parliament on Feb 16, a Tuesday.
---
The minimum legal age for the purchase, use, possession, sale and supply of tobacco products will be raised from the current 20 years to 21 on Jan 1, 2021.
---
In May 2019, when MacKenzie Scott, the former wife of Amazon CEO Jeff Bezos, signed the Giving Pledge—a commitment by some of the world's wealthiest couples and individuals to give away their fortunes—she made an additional vow to swiftly dispense of her billions: "I won't wait," she wrote. Based on the past 18 months, we should take the elusive Scott at her word. In a Medium post on Tuesday, Scott announced that she's given away $4.2 billion in the past four months, on top of $1.7 billion in gifts she announced in July.
The COVID-19 crisis, as we well know, has exacerbated inequalities that already existed. The world's richest people offer the starkest example. An October report found that the 500 wealthiest people had gained $813 billion collectively so far in 2020. On his own, the world's richest person, Scott's ex, has accrued $70.5 billion in new wealth this year. Many constituents of the 99%, meanwhile, lost their jobs, lost their homes, and joined food lines.
Scott is one of the few beneficiaries of the pandemic to acknowledge—even indirectly—this ugly truth; that she's gotten richer because of a crisis that's devastated so many.
She says as much in her Medium post: "This pandemic has been a wrecking ball in the lives of Americans already struggling. Economic losses and health outcomes alike have been worse for women, for people of color, and for people living in poverty. Meanwhile, it has substantially increased the wealth of billionaires."
---
Over 20,000 workers were retrenched in the first three quarters of the year, compared with slightly over 8,000 people who were axed in the same period last year, according to Ministry of Manpower (MOM) data. About 250,000 employees also had their pay cut between March and September this year.
$100m Donations to Covid-19-related causes through the Community Chest, the Sayang Sayang Fund and Giving.sg from January to August, according to Deputy Prime Minister Heng Swee Keat. This amount exceeded the donations received by the Community Chest and Giving.sg for the whole of last year.
---
We've talked a lot about how 2021 will be the year that investors need to sift through the post-COVID carnage, and figure out what thrives and what dies in this "new normal". And invest in the ones where it's not already priced into the stock. I've set out a table below that communicates this concept. They're split by how well they're doing now (during COVID phase), and how well they're likely to do post-COVID.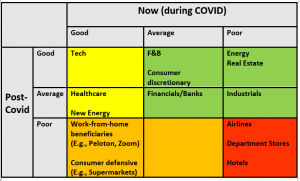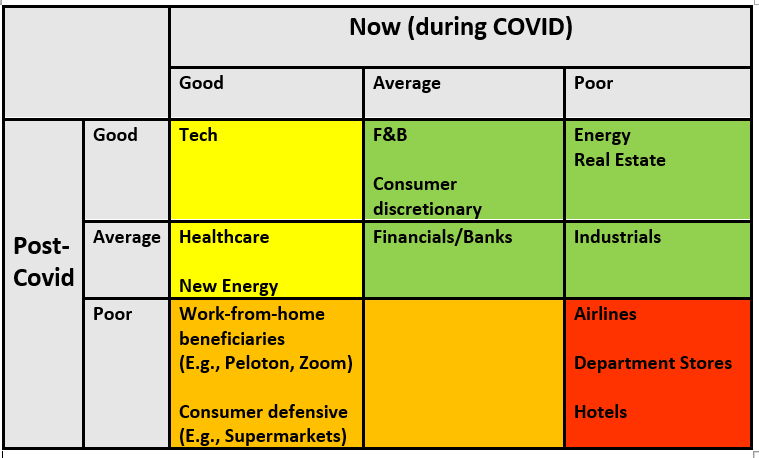 ---
Looking for a comprehensive guide to investing? Check out the FH Complete Guide to Investing and FH REITs Masterclass for Singapore investors.
Stock Watch 2021: Support the site as a Patron and get market updates. Like our Facebook Page and join the Facebook Group to continue the discussion!