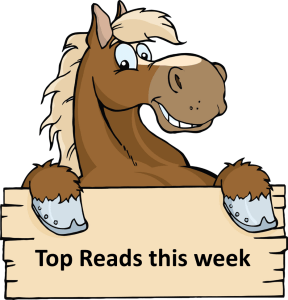 Rounding up top reads from around the web, including articles shared by fellow investors in the Financial Horse Facebook Group.
---
Stock picking has never been more important and investors today have a choice: like many overseas investors, they could shun the UK, or look at this as a great contrarian opportunity to scoop up good companies. Relative to the US, the UK is 25 per cent cheaper — a valuation cushion that's hard to ignore.
Either way, given the range of uncertainties over Brexit and the economy, perhaps the answer lies in having a good balance of growth and value-focused funds. Differing combinations of the two can provide capital growth, income or, some of each. Whether you think the glass is half full or half empty, there's no disputing that now probably isn't the time for a big bet either way.
---
Employers here have turned cautious when it comes to hiring as the Singapore economy hits the brakes in face of global headwinds, said the Monetary Authority of Singapore (MAS) on Wednesday (Oct 30). It expects the labour market to soften moving forward as the slowdown in growth dampens hiring, although the impact could be uneven across industries, the central bank added in its latest half-yearly macroeconomic review. The resident unemployment rate had edged up to 3.1 per cent in the second quarter, it said in its report.
---
A study of credit cards in Singapore has found that customer satisfaction levels vary widely across the major card issuers, with customers of American Express, DBS and POSB expressing the highest satisfaction.
Based on a 1,000-point scale, the 2019 Singapore Credit Card Satisfaction Study measured satisfaction in six factors: interaction, rewards, credit card terms, communications, benefits and services, and key moments. This year, overall satisfaction level fell six points to 712.
---
Bank of Singapore's clients are pursuing even more untraditional paper fuelled in part by equity risk aversion despite a strong year for the asset class, the bank's global head of products Marc Van de Walle told finews.asia.
Although equity markets have performed quite well this year – it is not an asset class that is very loved by our clients, Van de Walle said. On the other hand, the hunt for yield continues and clients are moving into fixed income. Some fixed income ideas we have been advising on include short duration bonds, cash-plus money market funds and other paper that is hard to access directly.
---
Temasek's newly-minted joint venture (JV) Reefknot Investments has made its first investment of an undisclosed amount in UK artificial intelligence (AI) startup Prowler.io.
Prowler.io is the first portfolio company Reefknot is committing to as part of a global US$50 million (S$68 million) fund that it closed earlier this year. Singapore-headquartered Reefknot is a JV between Temasek and Swiss transport and logistics giant Kuehne + Nagel, that has a remit to invest in startups "at the forefront" of the logistics and supply chain industry.
---
The NERD ETF, which launched in June, is competing for attention (and investor dollars) with the likes of the VanEck Vectors Video Gaming and eSports ETF (ESPO), the ETFMG Video Game Tech ETF (GAMR) and Defiance NextGen Video Gaming ETF (VIDG). The field is about to get even more crowded. ETF company Global X announced Tuesday that it will soon launch the Global X Video Games & Esports ETF with the ticker symbol of "HERO." It will be based on the Solactive Video Games & Esports Index, which has 38 companies in it.
But what sets the NERD ETF apart is that it is much more focused on the esports aspect of gaming and not just the makers of popular video games and consoles.
In fact, Will Hershey, co-founder and CEO of Roundhill Investments, said in an interview with CNN Business that the company does not own video game hardware makers Microsoft (MSFT), Sony (SNE) or Nintendo (NTDOF).
---
So far the reality has been very different for investors. Analysts at Canadian investment house Canaccord Genuity said its index of stocks in the sector, where Canada is ahead of the curve, was down 22 per cent since the beginning of August, with many local Canadian stocks trading at less than half of their 2019 peak around March. Returns from cannabis-related stocks have not been helped by poor corporate newsflow and lacklustre recent earnings.
---
MX Player, a popular video app that offers both local playback and streaming services, said on Wednesday that it has raised $110.8 million in a new financing round led by Chinese internet giant Tencent as the video app looks to expand its business in India and other international markets.
---
One biotech startup is taking DNA data to the next level and is using a new approach on how they collect their data by purchasing it right from people directly.
Genomelink is a free web platform that enables consumers to upload their raw DNA report and discover more about their DNA traits that go beyond ancestry. Users can obtain their DNA data from DNA test companies like AncestryDNA and 23andMe, and upload that to the platform to access over 150+ traits spanning nutrition, fitness, personality and cognitive ability.
---
Uber is creating a new division called Uber Money to handle its growing financial services business. The group will oversee everything from the company's credit and debit card offerings, to digital wallets for riders, to products used by drivers to get paid in a timely manner.
To start out, Uber drivers will have an improved way to get the money they earn on rides instantly, the company says. Now, drivers and other freelance workers like Uber Eats couriers will have "real-time access to their earnings after every trip through the Uber Debit account," the company says.
---
Several brokerage houses in Singapore were hit by distributed denial-of-service (DDoS) attacks on October 24, the Monetary Authority of Singapore (MAS) said on Wednesday, in response to media queries. The affected brokerages included Phillip Securities and Phillip Futures.
---
---
Ever dream of flying across the sea while lying in bed and surfing the internet? Then StarLux Airlines new services appear to be tailored exactly to you. The airline will offer every passenger free WiFi while those in first class can also lie down in flat beds when it launches its first flights in January, StarLux public relations head Ma Chun says. Economy class passengers will also have access to a 15.6-inch 1080p in-flight entertainment system, he says. Look too for a customized on-call function to personalize sleeping, eating and drinking times.
---
Louis Vuitton owner LVMH has approached Tiffany & Co with a US$14.5 billion acquisition offer, people familiar with the matter said, at a time when the U.S. luxury jeweler grapples with the impact of tariffs on its exports to China.
LVMH, which has for years been looking for ways to expand in the U.S. market, submitted a preliminary, non-binding offer to Tiffany earlier this month, one of the sources said. LVMH's offer valued Tiffany at about US$120 per share, another of the sources added. Tiffany shares ended trading on Friday at US$98.55.
---
The Malaysian financier at the heart of the massive 1MDB graft scandal has struck a settlement to forfeit assets worth US$700 million including a Beverly Hills hotel and a private jet, the US Justice Department said on Wednesday.
Jho Low will relinquish the assets under the largest ever US civil forfeiture, intended to recover cash allegedly stolen in the 1MDB scandal which helped topple Malaysia's corruption-plagued former regime.
---
Looking for a comprehensive guide to investing? Check out the FH Complete Guide to Investing for Singapore investors.
Support the site as a Patron and get market and stock watch updates. Like our Facebook Page and join the Facebook Group to continue the discussion!
Interested in bite-sized finance updates? The top financial news in just 3 minutes. Join 400,000 other insiders here.