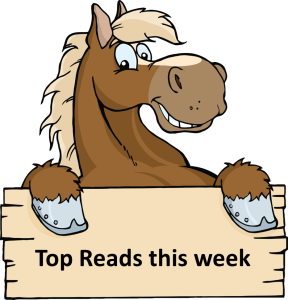 Rounding up top reads from around the web, including articles shared by fellow investors in the Financial Horse Facebook Group.
---
However, the biggest risk to equities is the Sino-U.S. relationship, which is likely to worsen after U.S. Secretary of State Mike Pompeo that Hong Kong no longer warranted special treatment under U.S. law.
Gold investors, on the other hand, appeared to shrug off geopolitical risks and focused instead on optimism around the re-opening of the world economy, paring their holdings of the safe-haven metal. Prices extended overnight losses and spot gold traded at US$1,708.60 per ounce.
---
China's proposed national security law will cause "huge harm" to Hong Kong's independent judiciary and create "turbulence" in the business sector, according to an academic.
The concern is that the "ultimate interpretation of the law" would lie with the National People's Congress, rather than Hong Kong's court system, said Bruce Lui, senior lecturer at Hong Kong Baptist University's journalism department.
Lui explained that the fear is the proposed law would also allow for Beijing to set up its own agency in the city to supervise and direct the local government in enforcing the measures.
---
Billionaire among six prominent business figures in Hong Kong expressing support for central government's plan to introduce national security law for city
Hongkongers need not 'over-hypothesise' pending legislation, Li argues, saying a 'positive outlook' will prevail once it is passed
---
Eligible investors, which can range from brokers to insurers or individuals with at least 500,000 yuan (S$99,000) in their trading accounts, acquired US$35.3 billion (S$50 billion) of the shares so far this year, the most for the period in data going back to 2017. Buying accelerated as Beijing's plan to impose a security law on the city sparked an equity crash on Friday (May 22). The top targets of inflows were Chinese state-owned firms.
History shows mainland buying tends to pick up when Hong Kong shares drop. Onshore investors bought the dip in March when the Hang Seng Index fell to its lowest in more than three years. State-backed funds have also stood by to help steady Hong Kong's markets around key political events, such as in 2017 when Xi Jinping visited the city to mark 20 years of Chinese rule.
Nervousness is building in Hong Kong's financial markets after China confirmed plans for new national security laws that critics say would curtail the rights and freedoms of the city's citizens. The US is considering a range of sanctions on Chinese officials and businesses in response, as well as whether to declare that the former colony has lost its autonomy from Beijing. 
---
China's upstart Luckin Coffee Inc. grew at a blinding pace. It opened stores faster than Starbucks Corp., doubled its valuation to $12 billion eight months after going public and pleased its big-name investors in the U.S. Then, on April 2, Luckin said many of its sales had been faked. The shock brought a screeching stop to the three-year-old juggernaut, sending its stock plunging 75% overnight. Since then, investigators have delved into the books, executives have lost jobs and a stock exchange has moved to delist Luckin, but no one has explained just what went on inside the onetime corporate rocket ship.
It turns out that Luckin sold vouchers redeemable for tens of millions of cups of coffee to companies that had ties to Luckin's chairman and controlling shareholder, Charles Lu, according to internal documents and public records reviewed by The Wall Street Journal. Their purchases helped the company book sharply higher revenue than its coffee shops produced.
Meanwhile, other internal documents showed a procurement employee called Lynn Liang processing more than $140 million of payments for raw materials such as juice, delivery and human-resources services. Ms. Liang was fictitious, according to people familiar with Luckin's business.
---
At a time of mass unemployment, mounting bankruptcies and a historic collapse in GDP, these mega companies are powering a 
V-shaped recovery on Wall Street. 
Facebook (
FB
), Netflix and Amazon (
AMZN
) have all hit record highs in recent days. Apple and Google owner Alphabet (
GOOGL
) aren't far behind.
"There is much more confidence and visibility in the tech sector. Investors are willing to pay a premium for that," said Keith Lerner, chief market strategist at Truist/SunTrust Advisory. Earnings estimates for the tech sector have dipped only 3% over the past month, according to Lerner. Thecommunication services sector, home to Facebook and Alphabet, is down 14%. Both are much better than the 21% drop in earnings estimates for the S&P 500 overall.
---
The latest tranche of measures brings Singapore's stimulus spending to US$65 billion, or about 20 per cent of GDP, putting it alongside Germany and Japan
Markets gained on hopes its neighbours would follow suit, but analysts said without deep reserves, countries should consider the risks of ultra-cheap loans
---
China will soon relax its border controls for Singapore and several countries, allowing certain categories of people to travel to some cities. Chinese state media on Wednesday reported that the Civil Aviation Administration of China (CAAC) will let domestic and foreign airlines apply for "green channels" for chartered flights to airports in the mainland.
The countries given the green light are Singapore, Japan, Britain, Germany, France, Italy and Switzerland, said the media reports.
---
But the true turning point in the decline for oil demand would be the speed and efficiency in which countries come out of their lockdowns. "We are not going to see huge leisure travel yet, but even travel for necessity, travel to work, I think travel for key critical functions has to come back. And if that comes back and we don't see a second wave then probably the worst for the oil market might be behind us," he said. Going one step further, KPMG's Mr Somani said that the future for Singapore lies in evolving from an oil trading hub into an energy trading hub.   
---
Pharmaceutical output in Singapore has spiked 86 per cent so far this year. Singapore is one of the few countries in the world that exports more pharmaceuticals than it imports, according to Fitch Solutions. It has more than 50 pharmaceutical manufacturing facilities, including plants owned by eight of the world's 10 biggest pharma firms. Companies and governments around the world are building large inventories of active pharmaceutical ingredients (APIs) and drugs to ensure supplies of medicine remain uninterrupted and can be made close to market, said How Ti Hwei, president of the Singapore Association of Pharmaceutical Industries.
---
The fall in dividends comes amid a stark outlook following the implementation of Singapore's circuit breaker since April 7, which is projected to trigger a shrinkage of gross domestic product by more than 4 per cent, said IHS Markit in its APAC 2020 dividends report. Banking, property-related and telecommunication sectors will contribute around 70 per cent of total dividends. Singapore's trio of banking stocks – DBS, OCBC and UOB – play a "decisive role" in the trajectory of overall level of payments from the Singapore market, contributing 38.9 per cent of total dividends. Payments from these stocks are forecast to decline "moderately" by 3.1 per cent to US$5.4 billion.
---
The SSBs' June edition opened in May with a first-year interest rate of 0.57 per cent and an average return of 1.05 per cent per annum for the 10-year holding period. These are the lowest rates since the bonds were launched in 2015. In fact, as major central banks around the world have slashed interest rates to tackle the economic impact of the novel coronavirus, the price of money seems to be headed in only one direction. At best, interest rates would stay at the present low level in the foreseeable future. In some countries, they have even turned negative.
---
Hong Kong's stock exchange group took a big step in its efforts to broaden its appeal to international investors on Wednesday when it snatched a key derivatives licensing agreement from the hands of its Singapore rival after 23 years, sending SGX's shares tumbling. The deal will allow Hong Kong Exchanges and Clearing to offer futures and options contracts based on 37 of MSCI's equities indices, mostly in Asia, from June. SGX warned analysts that its loss of the contract would hit 2021 profits by 10-15 per cent. Its shares fell by 12 per cent, its largest one-day drop in more than a decade.
---
Banks have approved about nine in 10 applications by property buyers to defer the payment of their mortgages. They have also approved more than 90 per cent of applications submitted by small and medium-sized enterprises (SMEs) to defer payments on secured loans. In total, there were 31,300 such applications from property buyers and 3,300 applications from SMEs as of May 10, he added.
---
One major reason stocks have surged is that investors are hoping a successful Covid-19 vaccine will be developed. Biotechs Novavax (NVAX) and Moderna (MRNA) are among the many companies working on a treatment. Still, even if a viable coronavirus vaccine is rushed into mass production, it will still take some time before many consumers and businesses may be willing to go back to life pre-Covid-19. That's why analysts expect profits to plunge for the rest of 2020 and economists are forecasting a steep Great Depression-like drop in the nation's gross domestic product for the second quarter.
"The stock market is anticipating the comeback will be sharp and quick. They are not viewing this as a fundamental problem with the economy. It was an exogenous shock," said George Calhoun, professor of quantitative finance at Stevens Institute of Technology. Calhoun added that this is not your average recession. It was not caused by any financial excesses like the tech bubble in 2000 or subprime mortgage meltdown in 2008. This, he said, is more like the equivalent of an asteroid slamming into the Earth.
And because the Fed and other global central banks — as well as President Trump and Congress — have quickly reacted by pumping trillions of stimulus dollars into the economy, the bond market reaction makes sense too. Bond investors are pricing in an infinite amount of quantitative easing from the Fed, Calhoun said, so bond yields will (and should) remain this low even if the stock market keeps rallying. In other words, the Fed's actions are working as planned. The bond purchases, including the unprecedented move by the central bank to purchase junk bond ETFs, is helping to keep rates low in order to encourage investors to buy stocks.
Two NTUC FairPrice supermarkets in Bukit Panjang and a market and hawker centre in Jurong West have been added to a list of public places visited by Covid-19 patients. The ministry said the list of locations where Covid-19 patients visited for more than 30 minutes is being given as a precautionary measure to inform those who were at these locations to monitor their health closely for two weeks from the date of their visit. They should see a doctor promptly if they develop symptoms.
On May 17, an active Covid-19 case was at the Jurong West Market and Food Centre at Block 505 Jurong West Street 52, from 9am to 9.30am. An active case was also at the same location on May 25, from 11am to noon. A community case who was infectious was at the FairPrice outlet in Hillion Mall on May 24, from 12.30pm to 1pm, while on the same day, an active case was also at the FairPrice Finest outlet in Bukit Panjang Plaza from noon to 12.30pm.
---
Looking for a comprehensive guide to investing? Check out the FH Complete Guide to Investing and FH REITs Masterclass for Singapore investors.
Stock Watch 2020: Support the site as a Patron and get market updates. Like our Facebook Page and join the Facebook Group to continue the discussion!