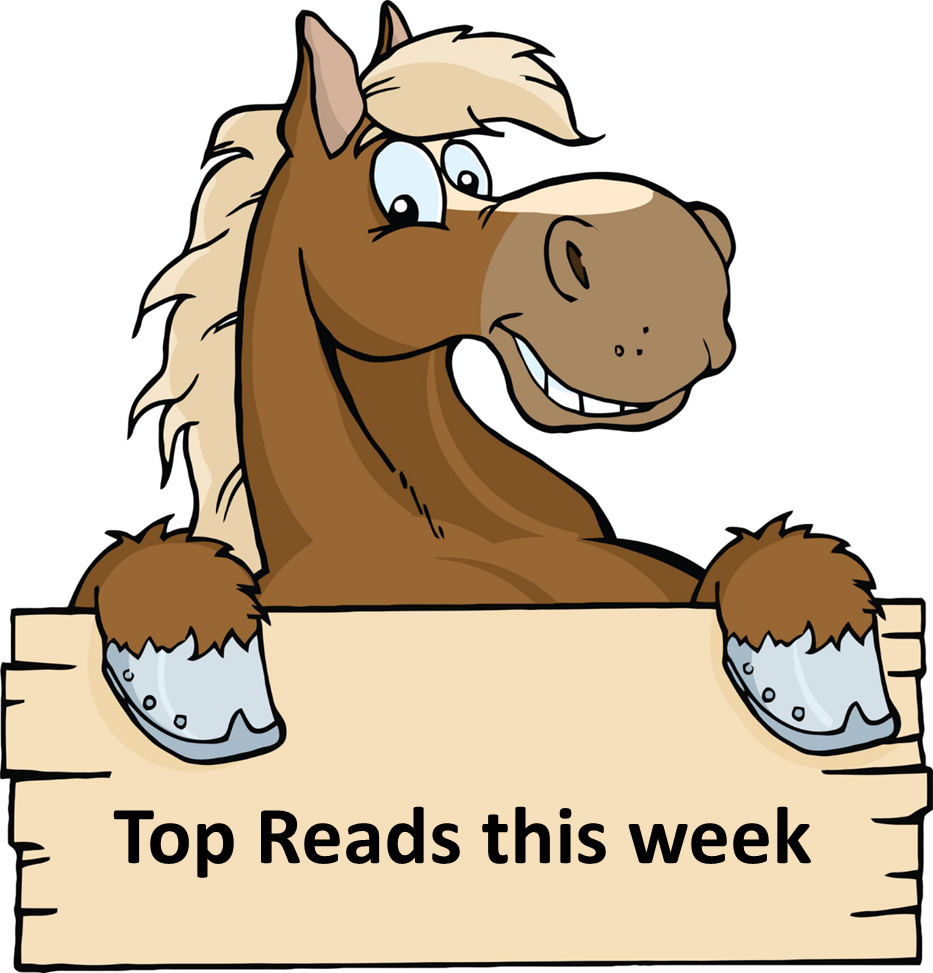 Rounding up top reads from around the web, including articles shared by fellow investors in the Financial Horse Facebook Group.
---
The world's 500 richest people added $1.2 trillion to their collective net worths in 2019, according to Bloomberg.
Increased demand for luxury goods in China grew the fortunes of Francois Pinault, Bernard Arnault, and Francoise Bettencourt Meyers.
In the tech sector, Microsoft's stock surge made two of the software developer's largest shareholders over $10 billion apiece in 2019.
---
According to the 2019 Global Wealth Report by Credit Suisse Group, China has hit a global milestone this year with 99.9 million Chinese people in the top 10 per cent of global wealth distribution. With that, China surpassed the U.S. for the first time, with 98.8 million people in the top 10 per cent of global wealth distribution.
With 4.4 million millionaires in the country, China is the has the second-most millionaires in the world behind the U.S., which still houses 40 per cent of the world's 47 million millionaires. The United States still has the highest number of people placing in the top 1 per cent of global wealth distribution in the world, quadrupling China in the category.
---
Looking ahead, there are some tentative green shoots on the macroeconomic front, including favourable borrowing conditions and a slightly stronger outlook for emerging markets. 
The greying of the Singapore population with attendant health, retirement and housing planning needs could also strain fiscal resources over the long term. The rise of the gig economy also poses fresh challenges for policymakers who now have to think about how to strengthen job security, plan for medium-term career development and approach retirement needs for workers in this new economy.
The good news is major economies appear to be navigating global economic headwinds well thus far, although Eurozone growth remains sluggish for now. That said, the US is heading into an election cycle and if the impeachment process against incumbent president Trump is any guide, the noise level is likely to remain elevated in 2020. In Asia, regional economies are carefully treading the bifurcation of manufacturing supply and trading chains as businesses adopt a "China plus one" approach to avoid US-China trade tariffs.
The biggest risk for the Singapore economy remains the fragility of the external environment and the prospect of anaemic global growth amid uncertainties pertaining to US-China tensions beyond trade, Brexit, China's slowdown, and geopolitical hotspots (such as the Hong Kong unrest) which could continue to weigh on business and consumer confidence.
There is space for a stronger fiscal response at the upcoming 2020 Budget, after a more accommodative monetary policy in 2019. Market attention is increasingly focused on what is touted to be a pre-election budget. 
---
Money is powerful and can be profoundly seductive. Its impact upon our lives can appear outwardly positive, while at the same time it slowly erodes the things that truly are of lasting value – the human relationships that cost us nothing, but give us everything.
---
Local governments in China are selling debt to raise cash earlier than ever to help shore up a slowing economy.The acceleration comes as policy makers seek to manage the pace of a long-term slowdown, even though China's economy is showing signs of stabilising at a time an initial trade deal has been reached with the US. Analysts predict the debt will be well received by investors seeking lower-risk alternatives to corporate bonds, which are seeing rising defaults. The central bank's liquidity injections should also help – it said Wednesday it will cut the amount of cash lenders need to hold as reserves from Jan 6, unleashing about 800 billion yuan in funds.
---
A multi-year programme to renew the North-South, East-West MRT lines – Singapore's oldest and most heavily used – will cost more than S$2.5 billion. Revealing the figure during a visit to the North-South Line's Bukit Batok station on Thursday morning, Transport Minister Khaw Boon Wan said the second phase of the programme was underway. This involves replacing the power supply system, track circuits, and first-generation trains. The first phase replaced the rail sleepers, third rail and signalling system of the two lines, which opened more than 30 years ago in 1987. The renewal programme first began in 2013 and is expected to be completed by 2024.
---
Manpower Minister Josephine Teo said on Facebook yesterday: "Expect stronger deterrence for discrimination against Singaporeans when hiring, but also stronger support for employers who are committed to giving our people a fair chance." Mrs Teo also outlined the ministry's milestones last year, including adopting a 10-year road map to raise the retirement and re-employment ages.
The Fair Consideration Framework was introduced in 2014 on the back of a slowdown in the inflow of foreign workers after Singaporeans voiced unhappiness about them taking away good-paying professional, managerial and executive jobs from locals.
---
1. Amazon
2. JPMorgan Chase
3. PNC Financial Services
4. Delta Air Lines
5. Red Hat
6. Bank of America
7. US Bancorp
8. RH
9. Occidental Petroleum
---
Contrary to Cook's note of caution, Apple's stock would go on a tear and have its strongest year since 2009. Its stock finished 2019 at $293.65 a share on Tuesday, making for a 89% annual gain and triple the 29% rise for the benchmark S&P 500 Index.
---
Optimism fuelled by e-commerce gains has more than trebled the stock value of New York-listed Sea Ltd in 2019 – despite its US$1.18 billion net loss for the nine months ended Sept 30, 2019. Previously known as Garena, Singapore-based Sea has seen its shares climb 244.61 per cent in the year to Dec 23, outperforming the S&P 500 index, which only rose 28.5 per cent in the same period.
Garena continued to see strong traction in 2019, aided by its Free Fire growth and the consistent performance of online game Arena of Valor. The latest release of first-person shooter game Call of Duty in end-October should see sales ramp up into 2020. However, analysts estimate that growth from digital entertainment might cool to about 10 per cent in 2020 barring the release of a hit game. As such, eyes are now on e-commerce platform Shopee to drive revenue.
However, a rapidly rising e-commerce gross merchandise volume (GMV) will not guarantee Shopee's profitability in the long-term. While Sea's stock has soared over the past year, the company has not turned a profit since listing in 2017, continuing to book greater losses each year. Even so, the market's general wariness towards loss-incurring companies did not seem to apply here. Analysts remain bullish about Sea, expecting its e-commerce arm to be the key share price driver next year.
---
General Electric (ticker: GE) isn't in the Dow Jones Industrial Average any longer. It was removed in 2018. Walgreens (WBA) was given its place. Still, given the year that GE had, Barron's thinks the iconic American manufacturer deserves its own review. It was a good year for GE shareholders. But to keep it going in 2020, CEO Larry Culp must continue to make progress on costs and culture.
---
Lesson 1: Talk about money.
Lesson 2: There are a ton of ways to make money.
Lesson 3: Focus on gratitude and happiness
Lesson 4: Things can change. Fast. But you can also adapt. Fast. 
The final lesson we learned was that things can change in the blink of an eye — for better or for worse. It took one day for my partner to lose her job. It took four months for us to rack up $15,000 in debt and lose a car. It took one bad pipe to flood our apartment. It also took one interview for me to land a job with a mediocre salary but great benefits and a free furnished apartment (working as live-in staff on a college campus) allowing us to cut our expenses significantly. My partner went from being unemployed to a director of marketing at a software startup, making solid money with even better benefits. 
---
The upgraded Agreement between New Zealand and Singapore on a Closer Economic Partnership (ANZSCEP) has been ratified by the two nations and will enter into force on Jan 1, 2020. The upgraded agreement adds e-commerce and regulatory cooperation chapters to the ANZSCEP, Singapore's first and New Zealand's second bilateral Free Trade Agreement (FTA) that became effective Jan 1, 2001, the Ministry for Trade and Industry said on Monday (Dec 30).
---
"We are committed to investing in and creating opportunities for Singaporeans to make a better life, and ensuring that no one is left behind if they put in effort," said Mr Heng, who is the ruling party's first assistant secretary-general and also Finance Minister.
Mr Heng, who will announce the Budget in February, said that in the coming year, the Government will also step up support for businesses to transform and help workers acquire new skills, in addition to supporting families and caring for seniors.
---
---
Looking for a comprehensive guide to investing? Check out the FH Complete Guide to Investing for Singapore investors.
Support the site as a Patron and get market and stock watch updates. Like our Facebook Page and join the Facebook Group to continue the discussion!