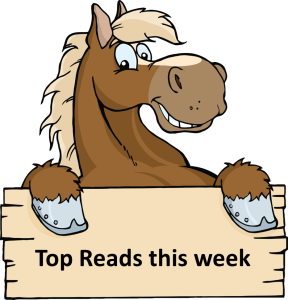 Rounding up top reads from around the web, including articles shared by fellow investors in the Financial Horse Facebook Group.
---
The estimated total retail sales value in June was about S$2.6 billion, with online retail sales making up an estimated 18.1 per cent. Online retail sales of computer and telecommunications equipment, furniture and household equipment, as well as supermarkets and hypermarkets industries made up 69.9 per cent, 45.6 per cent and 10.7 per cent of the total sales of their respective industries. Sales of F&B services fell 43.5 per cent year-on-year, compared to the 50.1 per cent decline in the previous month, said SingStat. 
---
---
HSBC reported a 65% fall in pre-tax profits for the first half of 2020 to $4.3 billion — missing analysts' expectations.
Chief Executive Noel Quinn said the bank was "impacted by the Covid-19 pandemic, falling interest rates, increased geopolitical risk and heightened levels of market volatility."
HSBC shares in Hong Kong tumbled by more than 3% when trading resumed after a lunch break. 
---
China's top diplomat has called out the U.S. for attempting to start a new Cold War between the two largest economies, and in the process plunging the world into "chaos and division."
Chinese State Councilor and Foreign Minister Wang Yi told state media Xinhua News Agency that China is not the former Soviet Union and has "no intention of becoming another United States."
Wang said relations between the two countries are "facing the gravest challenge since the establishment of diplomatic ties" and blamed the U.S. for that deterioration.
---
Shares of Chinese tech firms listed in Hong Kong fell by Friday afternoon after U.S. President Donald Trump issued executive orders targeted at major tech firms Tencent and ByteDance.
The Hang Seng Tech index, which tracks the 30 largest technology companies listed in Hong Kong that pass the screening criteria, also fell 3.37%. In mainland China, the Nasdaq-style start-up board Chinext slipped 2.828%
---
Don't invest your life savings in the hope that it will be Google or Facebook," he said. "Most IPOs will not provide that same kind of performance. Gold tends to perform better when the stock market is struggling, which can be tempting to those who want to time the market. However, timing is not easy to get right. All cryptocurrency has the same underlying risk, Francis says. You need to know its place in your portfolio. And that place is not the money you'll need in retirement to buy food and pay your living expenses. 
---
#Top up CPF SA
#Top up Parents' CPF SA
#Donate money to get tax relief 
#Get a BTO
#Invest in REITs for dividends
---
The 47 companies collectively hire about 2,000 employment pass holders and more than 2,800 local professionals, managers, executives and technicians (PMETs). Of the 47 employers, 30 are in the financial and professional services sectors. MOM said that all 30 of the financial and professional services employers have a "high concentration of PMETs from single nationalities". In one wealth management firm, for example, almost three-quarters of their PMETs are of the same nationality, said MOM.
---
DBS Group Holdings reported a 22% fall in second-quarter net profit compared to a year ago as it set aside more money for loan losses that could arise from the economic impact of the coronavirus pandemic.
The bank said net profit fell to 1.25 billion Singapore dollars ($912.9 million) in the April-to-June quarter — down from 1.6 billion Singapore dollars a year ago but beating Refinitiv estimates.
Separately, smaller rival United Overseas Bank reported a 40% year-over-year decline in second-quarter net profit to 703 million Singapore dollars — below estimates by Refinitiv. 
---
Singapore sought out U.S. Covid-19 vaccine developer Arcturus Therapeutics Holdings Inc. and is funding its research in order to secure the first doses of any successful final product, in a reflection of the growing urgency in the race for immunization. San Diego-based Arcturus, in a partnership with Duke-NUS Medical School, is now in the early stages of human testing with the goal of producing a single-shot vaccine to immunize the Southeast Asian country's population, said Chief Executive Officer Joseph Payne.
---
Sea Ltd has quietly become the world's best-performing large-cap stock, stoking a debate on Wall Street over whether the Singapore-based gaming, e-commerce and payments company is the next great Internet colossus or just Exhibit A in a global tech bubble that's destined to burst.
Sea has already claimed the title of biggest company in South-east Asia after its market value swelled to US$65 billion, topping DBS Group and PT Bank Central Asia for the first time earlier this year. Revenue has also grown quickly, jumping 163 per cent to US$2.2 billion in 2019, though it's still just a fraction of DBS's US$11 billion.
As for Sea's US$1.46 billion net loss last year? Mr Jacobs isn't bothered by it. "They are thoughtful and prudent about building a business," he said. "We are very much of the view that the company has all this under control."
---
"As an entrepreneur, I don't think you should chase ideas. I think you have to go back to why you founded the business in the first place," said Tsai. "Look at what the mission was and the problem you were trying to solve. And if the same problems still exist and the same customers are still there, then it makes sense to continue your business."
"But if you're just chasing ideas, then you don't have the passion. You're chasing it because it's a money-making opportunity and not because you really love pursuing your mission. Let your mission guide your direction."
Just like for Alibaba, that may mean innovating and coming up with new ways to reach that goal amid current limitations. "You can definitely look inward to change your bad hand," said Tsai. "Let's say you're in the restaurant business and the restaurant has shut down — there's nothing you can do about it. (But) I think a lot of companies now are thinking of alternatives."
---
Japanese video game maker Nintendo on Thursday reported a multi-fold increase in quarterly profit on the back of strong demand for its flagship Switch console as well as the runaway success of social simulation game "Animal Crossing: New Horizons."
Analysts appear divided on the company's outlook.
---
Wiluan, also founder of Indonesia's Citramas Group, was accused of instructing his employee, Ho Chee Yen, to instruct a trading representative from CIMB Securities (Singapore) to execute trades in the shares of KS Energy through the trading account of Pacific One Energy, a company controlled by Wiluan, on various occasions between December 2014 and September 2016, to "push up" the share price of the mainboard-listed company.
---
Mainboard-listed developer Yanlord Land Group is partnering Singapore sovereign wealth fund GIC to co-invest in residential projects in China. Under a "cooperation programme", the two parties will invest up to 7 billion yuan (S$1.38 billion) over a seven-year period. They have the option to extend the programme by another two years. Yanlord will own 51 per cent of each of the project companies and joint venture companies to be co-invested in, while the GIC affiliate will own the remainder.
---
The price of gold continues to be supported by ongoing weakness in the dollar as well as light-at-the-end-of-the-tunnel of negotiations for a new COVID-related aid package in the U.S.
---
For 1H FY2020, Manulife US REIT's gross revenue came in at US$98.6 million and net property income came in US$62.2 million, and it represent a year-on-year growth of 18.3% and 18.8% respectively. The growth can be attributed from the rental contribution from Centerpointe and Capitol that were acquired in FY2019. The rental contribution is more than enough to offset the lower rental income from Michelson and lower portfolio carpark income. Despite the strong growth in gross income and net property income, Manulife REIT's Distribution Per Unit ("DPU") only registered a year-on-year growth of 0.3% to 3.05 US cents in 1H FY2020. This was due to an enlarged unit base from the private placement that happened in 2019.  
---
The Central Depository (CDP) and two other organisations have been fined a total of $47,000 for breaching data privacy laws. The CDP received the biggest fine of $32,000 after it mailed dividend cheques to outdated addresses, putting more than 200 account holders at risk of having their personal data disclosed.
---
The marketing agency founder expressed his regret in purchasing a Lexus sedan nearly 10 years ago, which he first bought when he was 19 years old. This was even before he had a license to drive it, but after finding some success in business, he bought the car and hired a driver because he "wanted to look like a baller". 
---
A 25-year-old person has become the youngest to die from dengue this year. Without revealing more details of the case, the Ministry of Health (MOH) said on Wednesday (Aug 5) that the latest death takes the number of people who have died from dengue this year to 20 as of Sunday.
---
Looking for a comprehensive guide to investing? Check out the FH Complete Guide to Investing and FH REITs Masterclass for Singapore investors.
Stock Watch 2020: Support the site as a Patron and get market updates. Like our Facebook Page and join the Facebook Group to continue the discussion!