A lot of you asked me for my views on REITs in late 2022.
And my view back then – I just didn't see the case to buy REITs in a big way, as a long term investor.
Feds were still hiking aggressively, investor sentiment was too eager to buy the dip in REITs, and real estate valuations hadn't really adjusted to reflect the new reality of higher interest rates.
So as regular readers will know, I have been bearish and underweight REITs for much of this hiking cycle.
But at this point in the cycle.
I am starting to get more constructive (or should I say less bearish) on REITs.
And I think an argument can be made for increasing REIT exposure at this point in the cycle.
I originally shared my views with Patreons on this, but I thought this was important enough that I wanted to share with regular readers as well.
This is a modified version of the article that I first wrote for Patrons.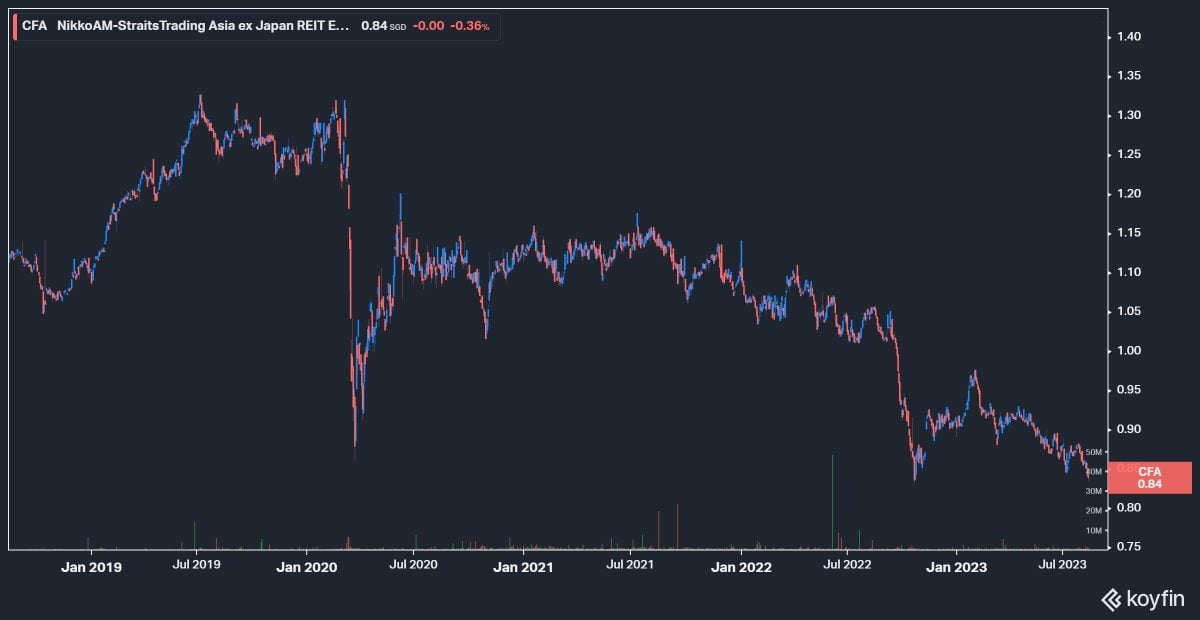 Why I am buying REITs again?
It comes down to 3 key reasons for me:
We are close to peak interest rates here
REIT valuations have come down
Investor sentiment has shifted
(1) Close to peak interest rates
Let's put it this way.
Unlike in 2022, where we are today – the bulk of the interest rate hikes are already behind us.
And every interest rate hike cycle in history ends in rate cuts.
So today, the most important question is when will the Feds cut interest rates, and how quickly will they cut when that happens.
What is priced into the market?
Historically speaking – the Feds usually hold rates steady for about 6 – 12 months on average, before cutting rates.
That would mean interest rate cuts some time in 1H 2024.
This is in line with what is priced into the market today:
36% chance of 1 more rate hike.
38% chance of the first rate cut in January 2024.
4 rate cuts in 2024.
Is this correct?
You guys know me.
For the past 12 months I've gone on and on about how market is not pricing in enough rate hikes, and is too optimistic about rate cuts.
But today when I look at market pricing, I'm not so sure if the Feds will be able to keep interest rates this high for this long.
Core CPI today is running at 4.65%, which means for the first time this cycle we are running positive real rates (inflation adjusted).
And the more that CPI goes down, the higher nominal interest rates will be relative to CPI (real rates go up).
If you ask me, I think the risk here is for interest rates to surprise on the downside.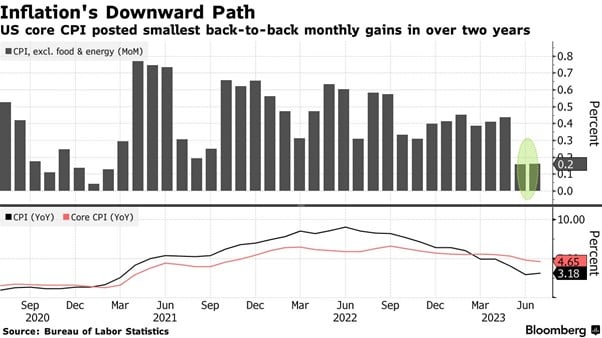 What does this all mean for REITs?
Long story short – a year ago the Feds were hiking 75 bps a meeting.
That was terrible news for interest rate sensitive asset classes like REITs.
Today, Feds are very close to peak interest rates (if not already).
And the question is when will Feds start cutting, and how quickly do they cut when the time comes.
That's a 180 paradigm shift in interest rates.
(2) REIT Valuations have come down
At the same time, REIT valuations have come down.
Here's the Nikko AM REIT ETF, which is an ETF of blue chip REITs in Singapore.
Down almost 30% from highs.
Back at 2022 lows.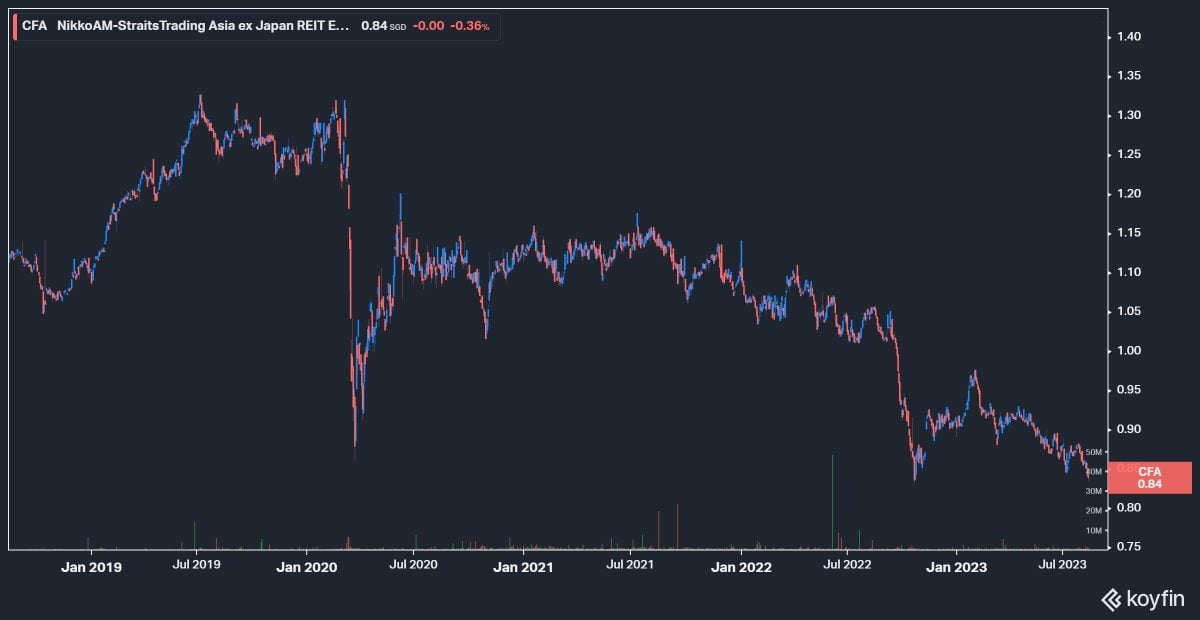 With a 6% dividend yield.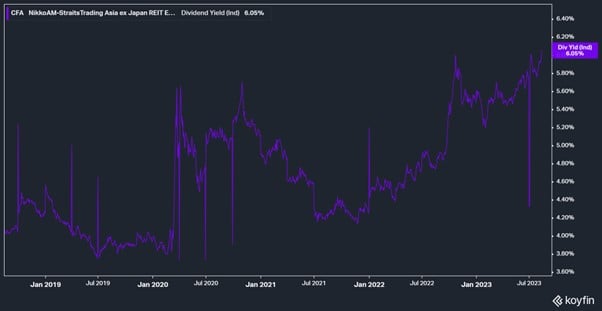 What is a "fair" valuation for REITs?
The difficulty with coming up with a "fair" valuation for REITs today, is that it really depends on the interest rate outlook.
The longer interest rates stay high, the higher financing costs will go – and the lower the dividend.
How you value REITs with short term interest rates at 5%, and short term interest rates at 3%, are completely different.
The latest REIT earnings reports are showing 5% – 10% DPU drops simply because of higher interest expenses.
FH… Venture a guess?
If I were to venture a guess though, I would say a 3% yield spread for the blue chip REITs is probably fair.
If you assume a long term 10 Year SGS yield of 3%, that gives you a "fair value" yield of 6% for the blue-chip REITs.
Where we are close to today.
But you can see the danger in this analysis.
Because if you assume a long term 10 year SGS yield of 3.5%, then suddenly REITs are looking expensive.
Big picture view for REITs?
What I would say though, is this.
Across the board, many REIT prices are very close to their lows hit in 2022.
Unlike in 2022 though, the interest rate outlook is for rate cuts in 2024, and not rate hikes.
That's a sea change right there.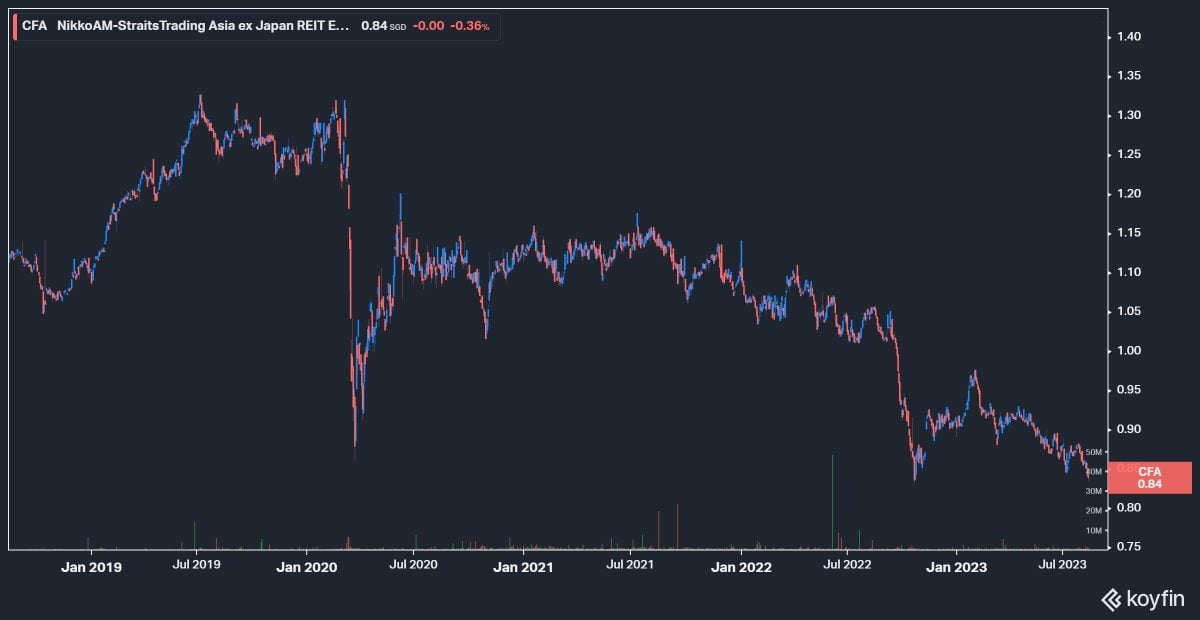 (3) Investor positioning is underweight REITs
When I wrote articles last year saying that I was bearish REITs – those did not go down well with investors.
Many investors wanted to buy the dip in REITs, and disagreed with my views.
Today, it seems like nobody wants to touch REITs.
Rather everybody seems to want to buy DBS / UOB / OCBC – which benefit from higher interest rates.
And sentiment is usually a powerful contrarian indicator.
This is US data below, which shows that fund managers are as underweight REITs today as they were in December 2008 (although to be fair the US REIT situation is much worse because the remote working trend means many of their offices are in deep distress).
I don't have the same data for Singapore, so if anyone has information on this I would be most grateful.
Anecdotally, I don't think Singapore investors are as bearish on REITs as the US.
But I would say that sentiment on REITs has flipped markedly from late 2022.
Singapore investors today overwhelmingly favour banks over REITs, and sentiment is usually a contrarian indicator.
That said – this is probably not the bottom for REITs?
If you notice though, all of the factors above (with maybe the exception of (3)) are fundamental factors.
And fundamental factors are not a timing tool.
They tell you roughly where you are in the cycle, but they don't help you identify the turning point.
For that technical analysis is more useful.
Technicals don't show sign of reversal in REITs yet
And if you look at the charts, you'll find that the downtrend for REITs that started in mid 2021 is still very much intact.
Sure, maybe current level of REIT prices will be a support if they hold.
But it's also very clear that the downtrend hasn't been broken.
There is no clear uptrend in REITs just yet.
Until that happens, REITs remain very much a falling knife.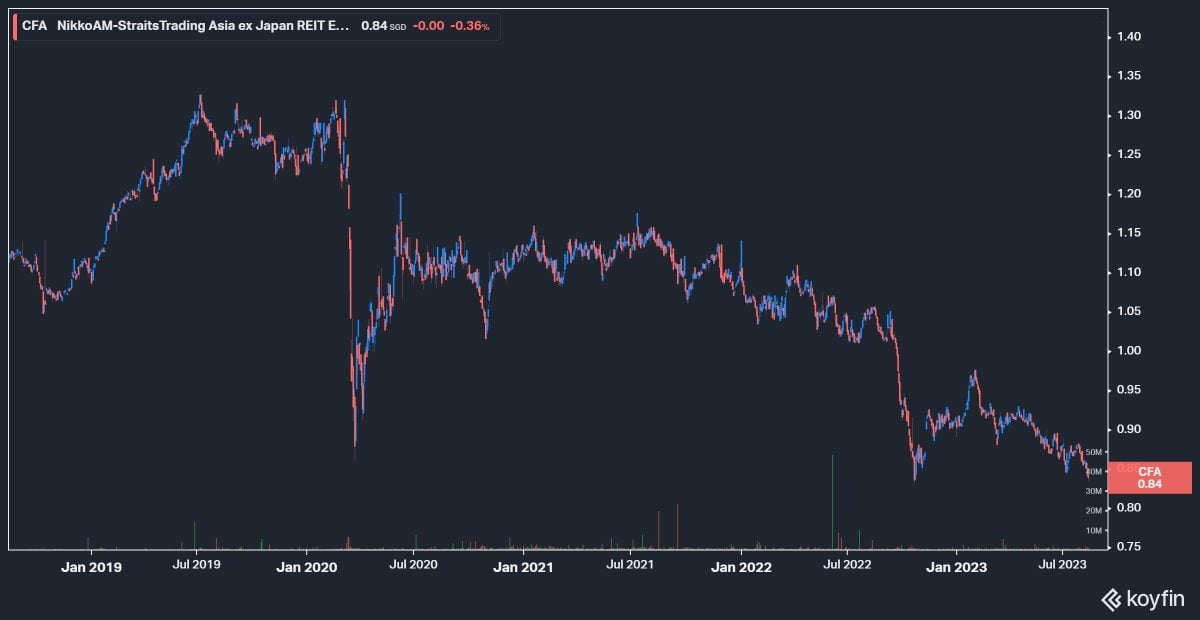 Here's the chart for US real estate – showing the same downtrend:
Long end interest rates are going up – Spelling trouble for REITs
What's even more troubling is the sharp rise in the US long term interest rates.
That's a whole story in itself, but the long and short (pun intended) is that increased issuance of long term US Treasuries has led to the market frontrunning the trade, and pricing in higher long term interest rates.
The US 10 Year is basically the definition of the global risk free rate – that determines pricing for global asset prices.
If the risk free rate goes up – everything else needs to become cheaper by comparison.
And that's exactly what we've seen the past few weeks – as the US 10 year rising to cycle highs has sparked a sell-off across all assets.
Until the US 10 year peaks, I don't think you can confidently call a bottom in REITs.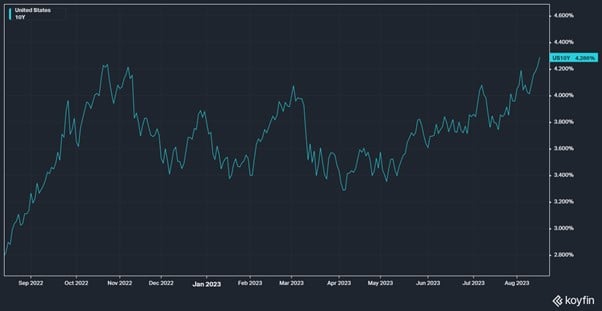 Singapore markets tend to lag the US by a bit
One point I would add, is that the Singapore market tends to lag the US by a bit.
So if you're a savvy investor, most of the time you can take your cues from the US market, and replicate the same in Singapore.
Which also means that there is no need to try and be a cowboy here, and frontrun Fed rate cuts or US market.
You could also just wait for the Feds to cut and the picture to become clearer, before buying REITs in size.
Sure by doing that you'll miss the bottom, but it's also better than buying early and taking a big loss catching a falling knife.
BTW – we share commentary on Singapore Investments every week, so do join our Telegram Channel (or Telegram Group), Facebook and Instagram to stay up to date!

I also share great tips on Twitter.
Don't forget to sign up for our free weekly newsletter too!
If we get a recession – How will REITs perform?
Here's another risk.
There is still significant uncertainty as to whether we'll see a recession in the next 6 – 12 months.
If we get a recession, yes REITs will benefit strongly from the resulting interest rate cuts.
But what would be the impact to rentals and occupancy rates?
Will the falling interest rates be sufficient to offset the lower rentals and occupancy?
It really depends on the depth of the recession we see – not an easy question to answer.
So a big risk investors need to bear in mind.
Perversely, the other big risk is that the economy powers on, and we see no rate cuts in 2024.
As of today, that doesn't look likely – but if it happens that would be a disaster for REITs because of higher funding costs.
What am I doing? Am I buying REITs?
As of today, I still hold an underweight position in REITs.
Given the cash levels I am running (shared on Patreon), I don't mind deploying some of that cash into REITs at these prices.
And for the record, I'm doing so with the full knowledge that they are still in a downtrend, and this may not be the bottom.
Reason really because I could well be wrong, and I don't know what I don't know.
And with prices at close to 2022 lows and the interest rates tilted to the downside in 2024, it's probably a decent buy for a long term investor.
What timeframe to average into REITs? How much to buy now vs later?
Assuming an investor wants to buy REITs.
What kind of timeframe makes sense?
Historically speaking – the Feds usually pause for 6 – 12 months before starting to cut rates.
This means you should see interest rate cuts some time in 1H 2024.
If we get a recession though, usually the worst impact only comes after the Feds start cutting.
Which would mean 2H 2024.
Which broadly speaking may suggest buying a portion this year, and the rest in 2024 depending on how the rate cut / economic outlook plays out.
If it looks like a bad recession is coming in 2024 you probably want to save some for the recession, if it looks like a perfect soft landing maybe you frontload the REIT buys.
But economic forecasting is never an exact science, and there are a million ways the timeline above could be wrong.
Which REITs would I buy?
I shared my full views with Patreons earlier this week on the REITs that I am looking at.
I will also be updating the REIT & Stock Watchlist on Patreon this weekend to take into account the sharp move in prices the past few weeks, so do sign up if you are keen. It sets out the REITs I am keen to purchase, and approximate price targets.
Generally speaking, the blue chips from CapitaLand / Mapletree etc are still holding up well, so comparatively there is less value there.
It is the mid cap space that looks very interesting to me.
You can get 6.5 – 8% yields from quite sound properties backed by a decent sponsor if you know where to look.
Sure, maybe this isn't the bottom, but risk-reward for a long term investor is starting to shift.
The Hong Kong related names look interesting as well, as investors start dumping everything China related on contagion fears.
Mapletree Pan Asia Commercial Trust for example is almost at COVID lows.
And Link REIT – at 2017 prices and a 7% yield, for one of the largest REITs in Asia. This REIT was trading at 3-4%  yields just a few years back, which goes to show you how quickly fortunes turn.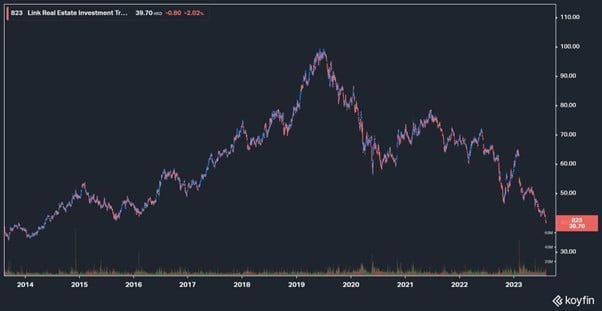 Like I said, this probably isn't the bottom for the reasons mentioned above.
But the risk-reward is starting to shift.
Nobody is saying to all-in at this point at the cycle, but it's important to recognise the underlying forces are starting to turn.
Closing Thoughts: How to hedge REITs?
I also wrote a long piece for Patreons this week on how to hedge REIT positions, and/or alternative ways to bet on falling interest rates in 2024.
It's too long to be summarised easily here.
But what I would say is that if you're running an equity heavy portfolio today.
The biggest risks you face are of course a recession, and perversely a strong economy.
The reason being that if you have a strong economy, the Feds may need to hike even higher to combat inflation (or hold rates at this level), and that might not be pretty for asset prices.
Bill Ackman recently shared his short Treasuries position – where he shorted the long term treasuries to hedge against a rise in long term interest rates.
Which is one way to hedge this.
I will be updating the REIT & Stock Watchlist on Patreon this weekend to take into account the sharp move in prices the past few weeks. It sets out the REITs I am keen to purchase, and approximate price targets – so do sign up if you are keen.
This article was written on 25 August 2023 and will not be updated going forward. For my latest up to date views on markets, my personal REIT and Stock Watchlist, and my personal portfolio positioning, do sign up as a Patreon.
WeBull Account – Get up to USD 580 worth of shares
I did a review on WeBull and I really like this brokerage – Free US Stock, Options and ETF trading, in a very easy to use platform.
I use it for my own trades in fact.
They're running a promo now with up to USD 580 free fractional shares.
You just need to:
Sign up here and fund $300 SGD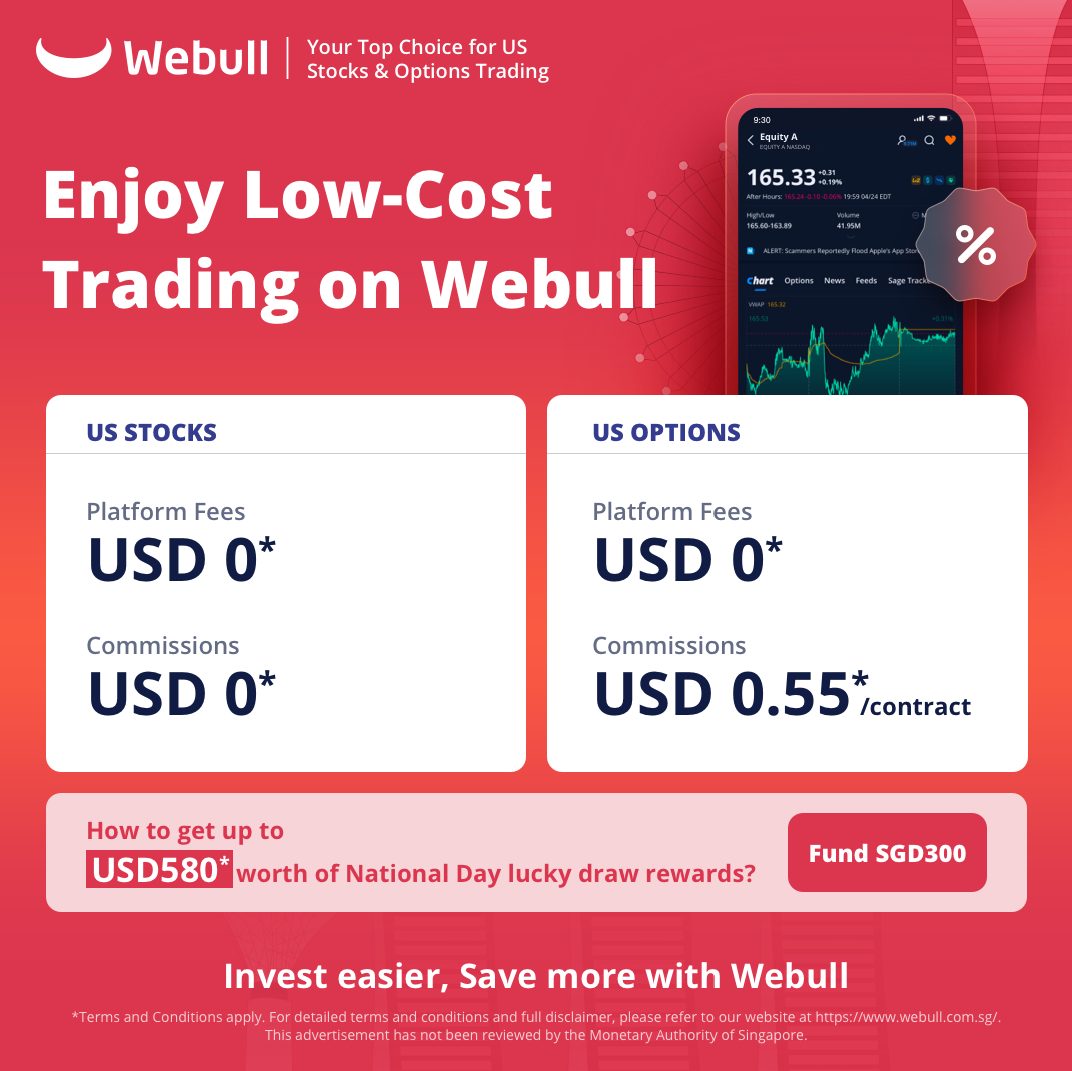 Trust Bank Account (Partnership between Standard Chartered and NTUC)
Sign up for a Trust Bank Account and get:
$35 NTUC voucher
1.5% base interest on your first $75,000 (up to 2.5%)
Whole bunch of freebies
 Fully SDIC insured as well.
It's worth it in my view, a lot of freebies for very little effort.
Full review here, or use Promo Code N0D61KGY when you sign up to get the vouchers!
Portfolio tracker to track your Singapore dividend stocks?
I use StocksCafe to track my portfolio and dividend stocks. Check out my full review on StocksCafe.
Low cost broker to buy US, China or Singapore stocks?
Get a free stock and commission free trading Webull.
Get a free stock and commission free trading with MooMoo.
Get a free stock and commission free trading with Tiger Brokers.
Special account opening bonus for Saxo Brokers too (drop email to [email protected] for full steps).
Or Interactive Brokers for competitive FX and commissions.
Check out my personal recommendations for a reading list here.