Here at Financial Horse, we talk a lot about investing and building wealth.
As clearly demonstrated by the past few years, health is wealth.
With an increasingly fast-paced society, the pressures of work and life can get overwhelming.
In celebration of World Mental Health Day on 10 October, we are excited to interview Theodoric Chew, co-founder and CEO of Intellect Singapore to share his personal insights on mental health.
Full disclaimer: this is NOT a sponsored post.
We are sharing this because, well… we think mental health matters!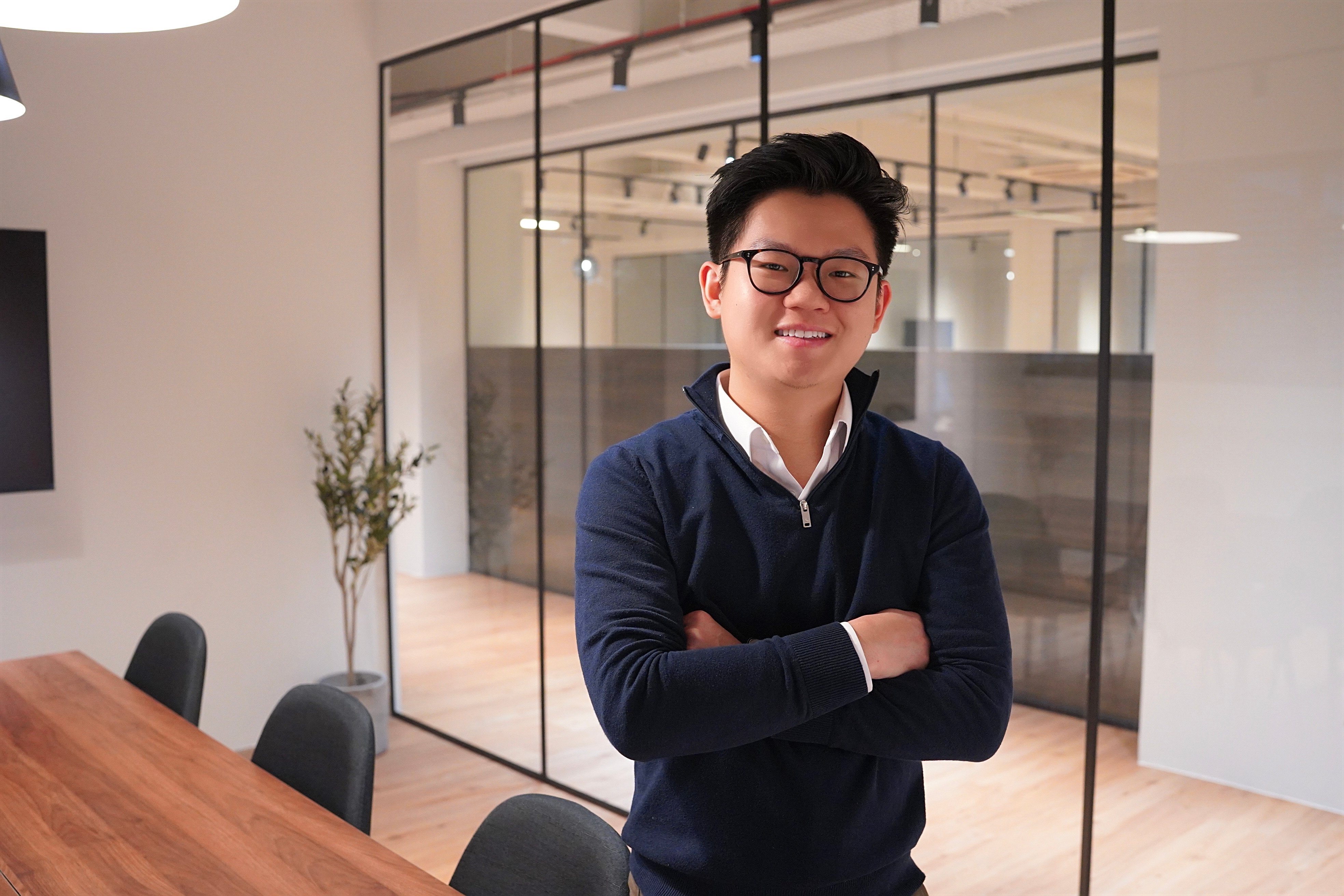 Why is mental health such an important topic for you?
On a personal level, my own mental health journey played a significant role. I encountered my first panic attack at the age of 16 and, like many individuals in Singapore, followed a path of intense studying to secure a promising future.
I encountered my first panic attack at the age of 16 and, like many individuals in Singapore, followed a path of intense studying to secure a promising future.
However, this approach resulted in heightened anxiety.
Seeking help, I began therapy and witnessed firsthand the immense benefits of working with a professional.
This experience made it clear to me that therapy had the potential to be more widely embraced if its true value was understood, counteracting common misconceptions. 
Given that many of our peers grapple with work-related stress and the challenges of everyday life, it became evident that accessible and relatable care options were lacking.
Any advice for advice for students who are studying and facing a lot of stress?
Managing stress while studying is crucial for both academic success and overall well-being, and it's important to find a balance that works.
Students who find themselves constantly overwhelmed can consider reaching out to a trusted adult, counsellor, or mental health professional for additional support.
While there is a lot of focus on academic success in our society, taking care of both your mental and physical well-being should be just as big a priority for long-term success in life.
What kind of practices do you employ to protect your mental health?
I always try to practise what I preach.
As much as I can, I make an effort to take care of my mental health by drawing clear boundaries between work and my personal life and working with my therapist where I'm able to on a regular basis.
Importantly and applicable to my and any person's daily life, is to also spend time and effort to build and have a good circle o social support around you.
This means taking time out to spend with family, loved ones, and close friends outside of work, and self.
What is something you wish more people knew about mental health?
One thing I wish more people knew about mental health is the importance of early intervention and prevention.
Mental health is not solely about addressing problems once they become severe or crisis-level; it's also about proactively taking care of our psychological well-being.
Here are a few key points I'd like to emphasize:
1) Mental Health is on a Spectrum:
Mental health exists on a spectrum, just like physical health. Just as we engage in preventive measures like exercise and a balanced diet to maintain physical health, we can take proactive steps to nurture our mental well-being.
2) Stigma Hinders Progress:
Stigma surrounding mental health issues can prevent people from seeking help or talking openly about their struggles. It's essential to break down this stigma and create an environment where people feel comfortable discussing their mental health.
3) Early Intervention Matters:
Addressing mental health concerns in their early stages can prevent them from becoming more severe. It's crucial to recognize the signs and symptoms of mental health issues and seek help when needed.
What do you think are the common misconceptions about therapy?
It's often misunderstood that therapy is exclusively for individuals facing severe mental health challenges.
The truth is that everyday obstacles like chronic procrastination, low self-confidence, and difficulties in communicating with authority figures are all areas that can be addressed and improved through therapy with a clinical psychologist or a counsellor.
Do you think there is a stigma associated with going to therapy in Singapore? What would you say to those people who are afraid of reaching out to a therapist?
For those who are afraid of reaching out to a therapist in Singapore or any other location, know that seeking help is a sign of courage and self-awareness, not a weakness.
It takes strength to acknowledge when you need support. 
It takes strength to acknowledge when you need support. 
What are some warning signs that people should take note of?
Warning signs can differ from person to person, and between scenarios, so we tend to focus on watching for trends in behavior.
Establishing a "baseline" for how people generally behave, and taking note of any sudden changes in behavior or demeanor, is a good way to approach mental health.
For example, a naturally introverted person may tend to be quieter when interacting with others, so it's important not to conflate that with disinterest or something being 'wrong'. 
How should people approach 'prevention'?
There is no one-size-fits-all approach to mental health care.
Rather than pigeonholing yourself into a single self-care methodology, there are numerous ways for you to practice self-care, whether through breathwork, journalling, psychoeducation, or a familiar face and soothing voice on the other end of the line. 
Due to the differences between individuals, Intellect's focus has been on creating accessible solutions for all – from self-guided learning paths, to rescue sessions and 1:1 counselling sessions.
This provides care that is more active than passive, helping to address issues before they worsen. On top of attending to people in distress, we also help them avoid it by developing healthier mindsets and behaviors.
Investing in your mental health
Do you think investing in your mental health is important?
As someone who faced mental health struggles since I was 16 and continue to work with a therapist today, I can attest that when you prioritize your mental health, you enhance your overall quality of life. 
Good mental health enables you to better handle stress, build stronger relationships, and experience a greater sense of fulfillment and happiness.
For organisations, investing in your employees' mental health pays off in terms of returns on productivity, lower turnover, and higher engagement.
Happier employees equates to happier clients and customers.
What kind of 'investments' people should make to secure their mental health?
I always recommend having someone in your corner, whether its a coach, counsellor, or therapist, can be one of the best investments one makes in their life.
The guidance of a professional can provide valuable insights on one's personal situation and equip an individual to better manage stress, anxiety, depression, and other mental health challenges.
Investing in mental health doesn't always need to cost money.
Having good sleeping habits can be essential for mental health as well, and this is a topic we see high demand amongst our clients for. Lack of sleep can lead to poor mood, and has been linked to stress, anxiety, and depression. 
Finally, prioritizing time for regular self-care routines, such as taking time for self-reflection, setting personal boundaries, and practicing self-compassion, are essential for maintaining good mental health.
BTW – we share commentary on Singapore Investments every week, so do join our Telegram Channel (or Telegram Group), Facebook and Instagram to stay up to date!
I also share great tips on Twitter.
Don't forget to sign up for our free weekly newsletter too!
Intellect platform
Your journey to creating Intellect from the beginning
Both professionally and personally, the inspiration behind starting this business stems from a combination of factors.
Professionally, my involvement in the tech industry spanned several years, including launching my first startup seven years ago and subsequently working with various startups and accelerators in the VC space after it was acquired.
On a personal level, my own mental health journey played a significant role. Given that many of our peers grapple with work-related stress and the challenges of everyday life, it became evident that accessible and relatable care options were lacking.
What were the greatest challenges along the way?
At the start, it was hectic as we tried to figure everything out. Back then, it was just me and my co-founder, Anurag. Together, we tried to validate what we were trying to build and really scale it up once we had our MVP.
From the early days of Intellect, we knew that our problem statement was that people needed support but we had to understand how to deliver this care effectively and accessibly. This is core to what we're building here. The biggest learning was that everyone struggles but not everyone has the tools and awareness to get the support they need. Our job is to make that easy and relatable.
H

ow does the Intellect platform work?
The Intellect platform operates at the intersection of technology, psychology, and data-driven insights to provide a holistic approach to mental health.
Here's how it works:
Users begin their journey with Intellect by completing a comprehensive mental health assessment.
Our platform employs sophisticated algorithms to analyze the responses and understand each individual's unique mental health profile. Based on this assessment, personalized recommendations and resources are provided to users, ensuring they receive the most relevant support.
Intellect offers access to a network of certified mental health professionals, including coaches, counsellors, and psychiatrists. Users can schedule virtual or in-person sessions at any of our Intellect clinics with these experts, making quality mental health care easily accessible.
For organizations, Intellect offers tailored mental health programs to enhance the well-being of their workforce. We are the sole accredited licensee of Mental Health First Aid training in Singapore and provide other workshops, tailored programs (e.g. for managers, mothers, youths), and consultancy to create mentally healthy workplaces.
How have your services changed to better meet the needs of your users?
Over the years, Intellect has expanded from an app-only solution to one that provides a solution to organisations and individuals through any device, including app, website portal, phone call, and in-person clinics in Singapore and across 20 countries.
This ensures unparalleled access to quality mental healthcare and caters to different types of audiences. For example, clients in front-line industries such as logistics workers, factory workers, and hospitality staff are much more likely to prefer dialling in the helpline than younger users and students, who prefer utilising an app.
Intellect currently serves clients in up to 22 countries in Asia with coaching, counselling, clinical psychology, and helpline responder services.
How can employees access mental health support?
Recognising the pressing need for immediate and expert mental health care, Great Eastern has partnered with Intellect.
Together, they are taking a pioneering step in the industry by offering corporate policyholders a 24/7 helpline which is:
✅ Manned by trained and experienced responders
✅ Poised to provide professional support and de-escalate crises anytime
✅ Offering personalised guidance right from the initial interaction without delays or intermediaries
Great Eastern's corporate policyholders can get 24/7 access to a helpline.
Unlike conventional helplines that lead callers through call centre routes before connecting them to trained professionals, this helpline is manned by Intellect's in-house experienced, vetted, and trained responders. This ensures employees receive tailored guidance right from the first contact without delays or intermediaries, and effectively de-escalate crisis scenarios.
The content of this interview is provided for general information only. If you have questions about any matter relating to your health, please consult a professional healthcare provider for more assistance. Stay healthy!
WeBull Account – Get up to USD 2000 worth of shares
I did a review on WeBull and I really like this brokerage – Free US Stock, Options and ETF trading, in a very easy to use platform.
I use it for my own trades in fact.
They're running a promo now with up to USD 2000 free fractional shares.
You just need to:
Fund any amount
Hold for 30 days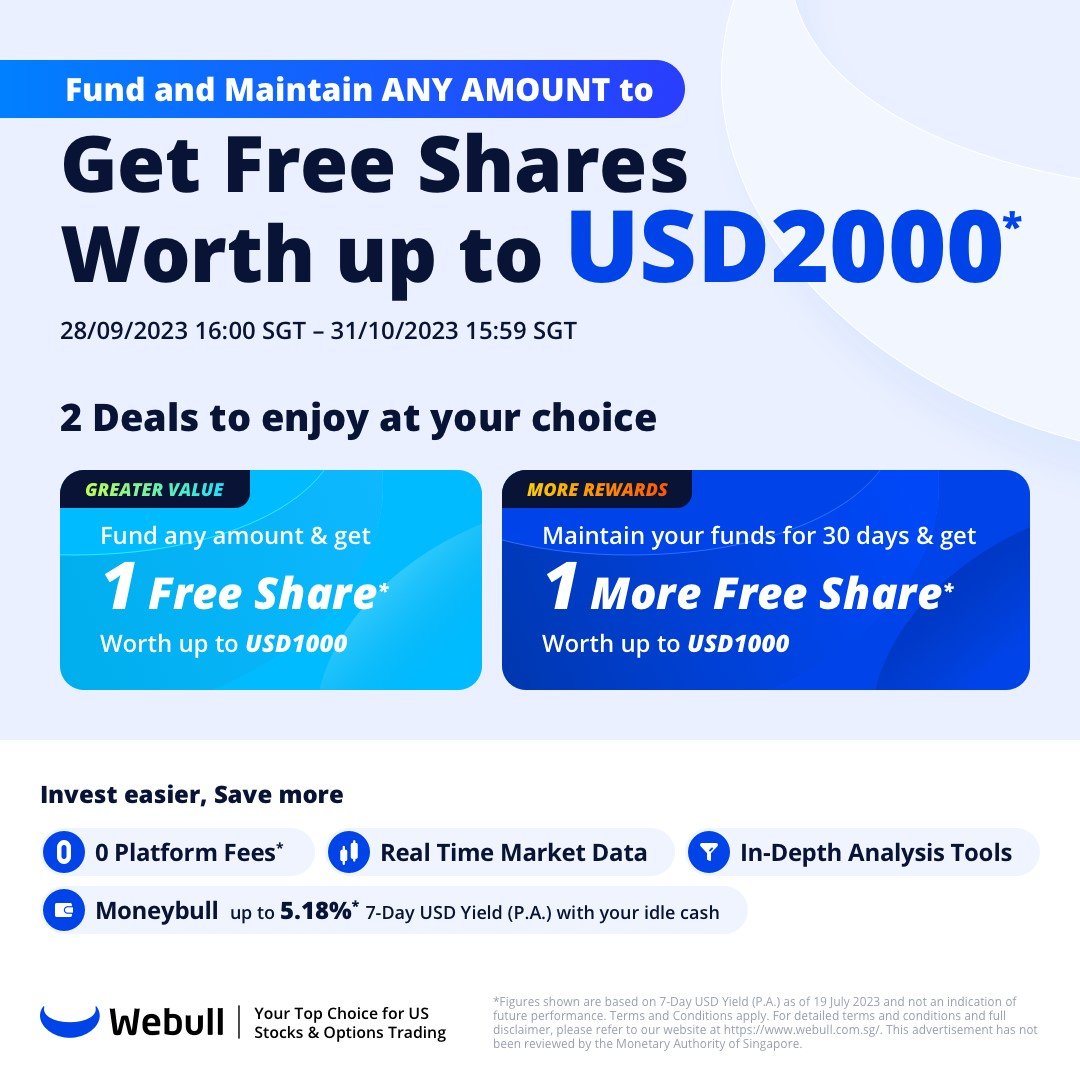 Trust Bank Account (Partnership between Standard Chartered and NTUC)
Sign up for a Trust Bank Account and get:
$35 NTUC voucher
1.5% base interest on your first $75,000 (up to 2.5%)
Whole bunch of freebies
 Fully SDIC insured as well.
It's worth it in my view, a lot of freebies for very little effort.
Full review here, or use Promo Code N0D61KGY when you sign up to get the vouchers!
Investment Research Tools
I use Trading View for my research and charts. Get $15 off via the FH affiliate link.
I also use Koyfin for fundamental and macro research. Get a 10% discount via the FH affiliate link.
Portfolio tracker to track your Singapore dividend stocks?
I use StocksCafe to track my portfolio and dividend stocks. Check out my full review on StocksCafe.
Low cost broker to buy US, China or Singapore stocks?
Get a free stock and commission free trading Webull.
Get a free stock and commission free trading with MooMoo.
Get a free stock and commission free trading with Tiger Brokers.
Special account opening bonus for Saxo Brokers too (drop email to [email protected] for full steps).
Or Interactive Brokers for competitive FX and commissions.
Check out my personal recommendations for a reading list here.
For more personal finance & investing content, follow Financial Horse on Social Media!