T-Bills are all the rage recently.
The last 6 month T-Bills closed at 3.99%, which is comfortably above fixed deposits which only pay about 3.5%-ish these days.
If you want a place to park some cash short term risk free, T-Bills are probably your best bet.
The next 6 month T-Bills auction is coming up on 20 July 2023.
The big question on everyone's mind is whether T-Bills yields are going to cross 4.0%.
Do note that there's also going to be a 12 month T-Bills auction on 27 July 2023.
So investors wanting to lock in their money for longer can consider 12 month T-Bills instead.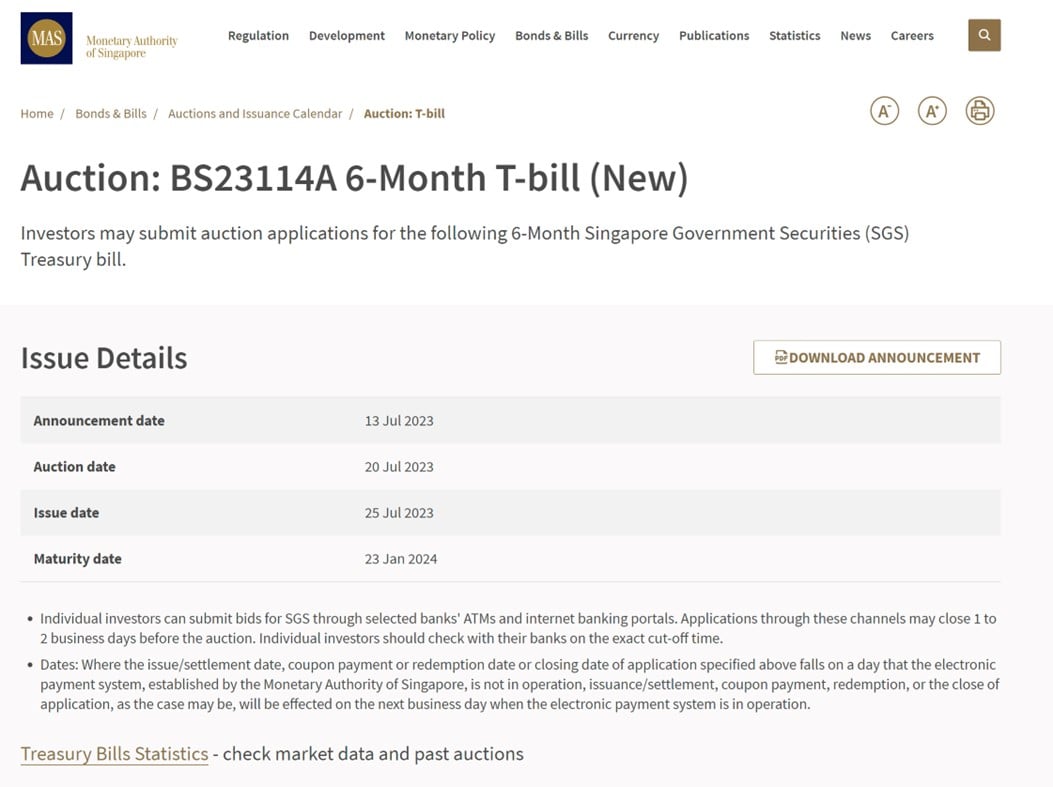 What is the estimated yield on the T-Bills auction (BS23114A 6-Month T-bill)?
6 month T-Bills trade at 3.86%
6 month T-Bills trade at 3.86% on the open market, which is down from the highs earlier this month.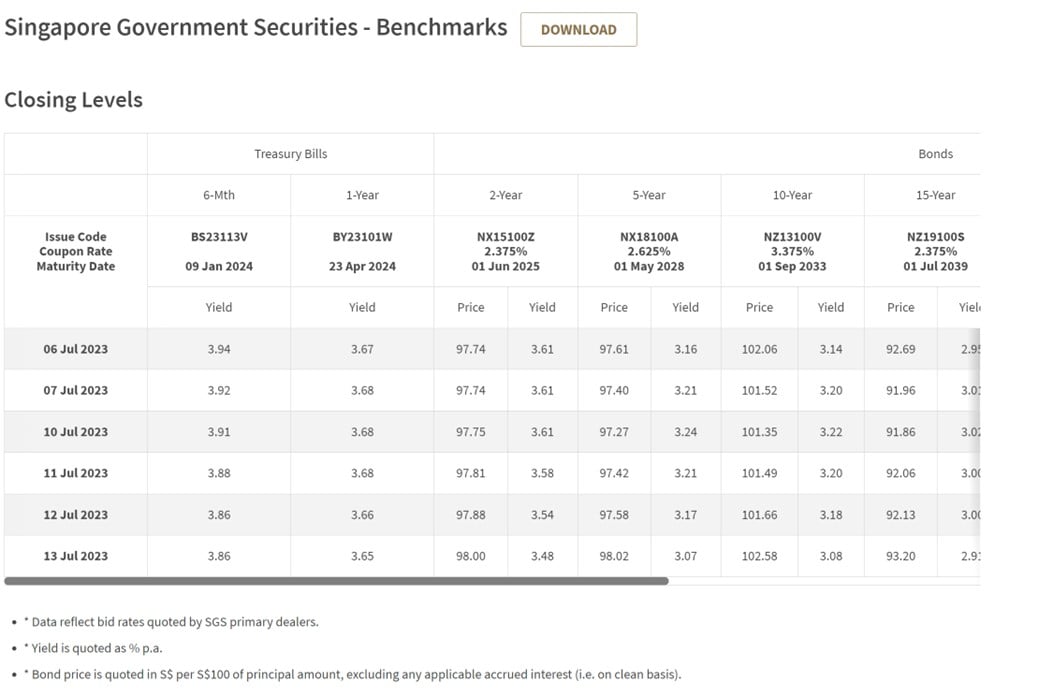 For the record, the latest T-Bills auction closed at 3.99%, which was the highest rate since March 2023: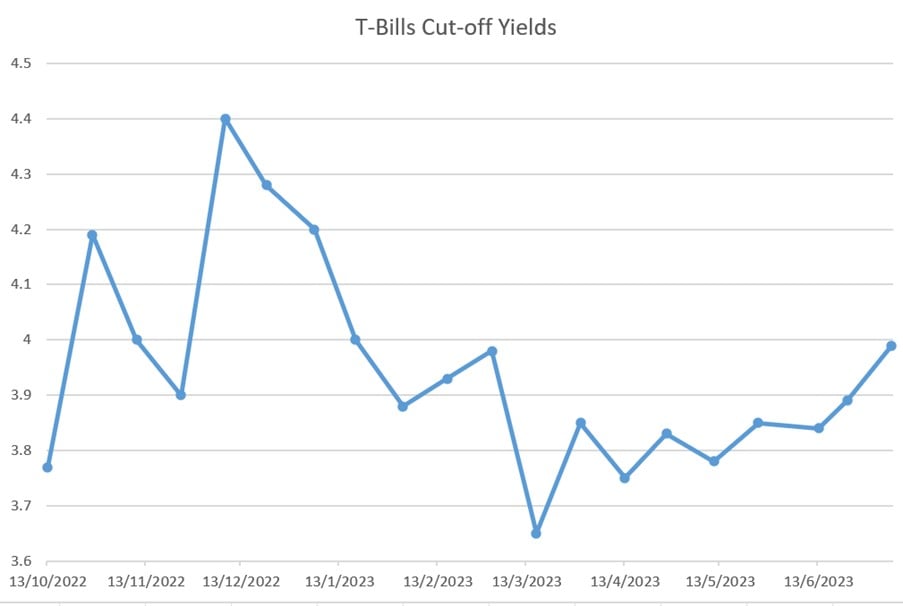 12 Week MAS Bills trade at 4.10%
The institutional only 12 week MAS Bills trade at 4.10%.
However you can see that the trend in interest rates is down, similar to the 6 month T-Bills.
Downtrend in US Interest Rates
This downtrend is also seen in US interest rates.
After the spike following the hot jobs report, the latest CPI, PPI and jobs data are showing inflation cooling.
This has led the market to price in less interest rate hikes, and you can see the notable drop in US interest rates across the entire curve of late: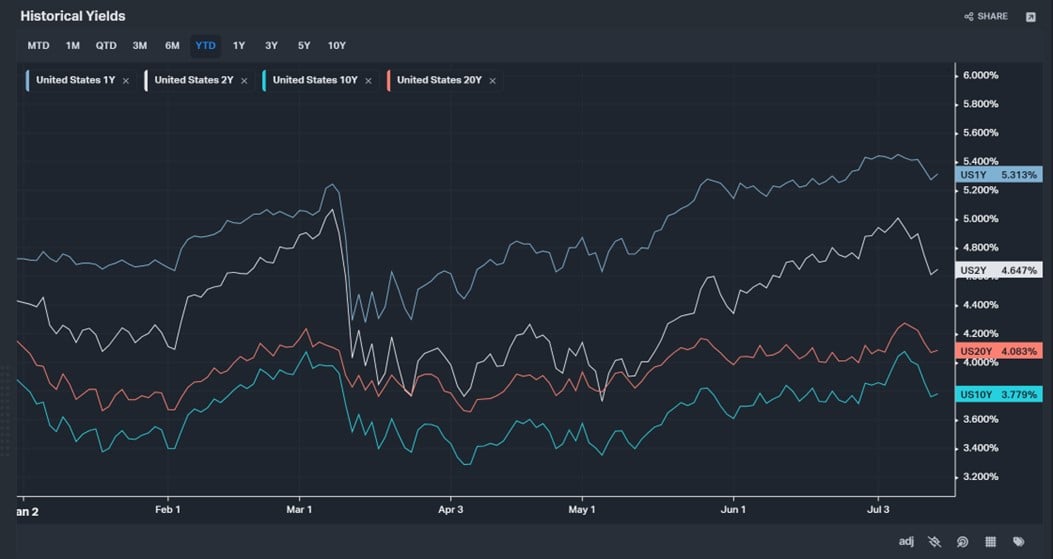 T-Bills Auctio n Amount is going up
It is worth nothing that the T-Bills auction amount is going up.
What was $5 billion 2 auction ago.
Increased to $5.4 billion last auction.
And $5.6 billion this auction.
All things equal, a higher auction amount means higher supply means lower prices (higher yields).
Demand for T-Bills is not going up materially
Despite the rise in supply for T-Bills, it generally looks like the demand for T-Bills hasn't been going up materially.
If this holds up for the next auction, we might see yields go even higher.
Will T-Bills yields cross 4%?
As you can see, the data is a bit mixed.
There is a firm downtrend in both Singapore and US interest rates.
However, the wildcard is that the amount of T-Bills on offer is going up to $5.6 billion this auction.
Whereas demand seems to stay flat the past few auctions.
So I'm going to go out on a limb and say that we might just see T-Bills yields cross 4.0% this auction.
The data being mixed makes it tough to pin down an exact range.
But I'm going to say probably 3.90% – 4.10% estimated yield on the next T-Bills auction.
Do note that non-competitive bids did not get full allotments the previous T-Bills auction
As always, I encourage investors to put in a competitive bid to avoid any freak results.
Do also note that non-competitive bids only received 96% allotment the previous T-Bills auction.
Given how attractive T-Bills are vs Fixed Deposits, I do think there is a risk the same thing repeats here.
So yeah… it's worth putting in some thought as to what yield you want and putting in a competitive bid.
Note there is a 12 month T-Bill on 27 July 2023
Do note that there is a 12 month T-Bills auction on 27 July 2023.
Based on numbers available to us today.
I think you'll see a 12-month T-Bills yield of about 3.6 – 3.7%.
BTW – we share commentary on Singapore Investments every week, so do join our Telegram Channel (or Telegram Group), Facebook and Instagram to stay up to date!

I also share great tips on Twitter.
Don't forget to sign up for our free weekly newsletter too!
Are 12 month T-Bills a better buy than 6 month T-Bills?
I shared previously that I think the 12-month T-Bills are a decent buy for CPF-OA buyers because you lock in interest rates for 12 months.
For cash buyers though, it's a bit more mixed depending on whether you see yourself investing the cash (or using it) after 6 months.
Personally I'm going to buy the 6 month T-Bills
For me personally I will be buying the 6 month T-Bills.
I don't know where interest rates will be in 6 months, so I'll just enjoy the higher yields today first.
Bird in hand vs bird in the bush and all.
And the way I see it, given all the uncertainty over how the next 12 months is going to play out.
I rather have the option to get all my cash back in 6 months time and decide what to do with it then.
Instead of having it locked up for 12 months.
But that's just me, and I leave it for each investor to decide what is the right move for themselves.
Best Fixed Deposit Rates vs T-Bills
The best fixed deposit rate available right now is 3.90% for 12 months with Maybank.
The catch is that you need to deposit $1,000 into a Maybank account for every $10,000 you place into fixed deposit.
So the effective yield will depend on how much interest you can get on the other cash you're depositing.
If it yields zero on a savings account, then the effective yield is 3.55% which is in line with other offerings from ICBC and so on.
If you use something like a Maybank Saveup account (the Maybank version of UOB One or DBS Multiplier), then maybe this fixed deposit is a great choice for you.
Singapore Savings Bonds yield 2.97%
Latest Singapore Savings Bonds yield 2.97% all the way up to 7 years.
But don't laugh because Singapore Savings Bonds give you the option to lock in current interest rates for up to 10 years, which might come in very handy if interest rates go down in the years ahead.
Based on latest numbers – the next Singapore Savings Bonds may go up to 3.1% yields for the first year, which starts becoming quite attractive for longer term cash holdings.

BS23114A 6-Month T-bill (New) – Timelines to subscribe
Next 6 month T-Bills auction is on 20 July 2023 (Thursday).
Cash investors should submit by 9pm on 19 July (Wednesday).
CPF-OA investors should submit by 18 July (Tuesday)
This article was written on 14 July 2023 and will not be updated going forward. For my latest up to date views on markets, my personal REIT and Stock Watchlist, and my personal portfolio positioning, do sign up as a Patreon.
WeBull Account – Get up to USD 800 worth of shares (expires 31 July)
I did a review on WeBull and I really like this brokerage – Free US Stock, Options and ETF trading, in a very easy to use platform.
I use it for my own trades in fact.
They're running a promo now with up to USD 500 free fractional shares.
You just need to:
Sign up here and fund $300 SGD
Execute 1 buy trade within 30 days of funding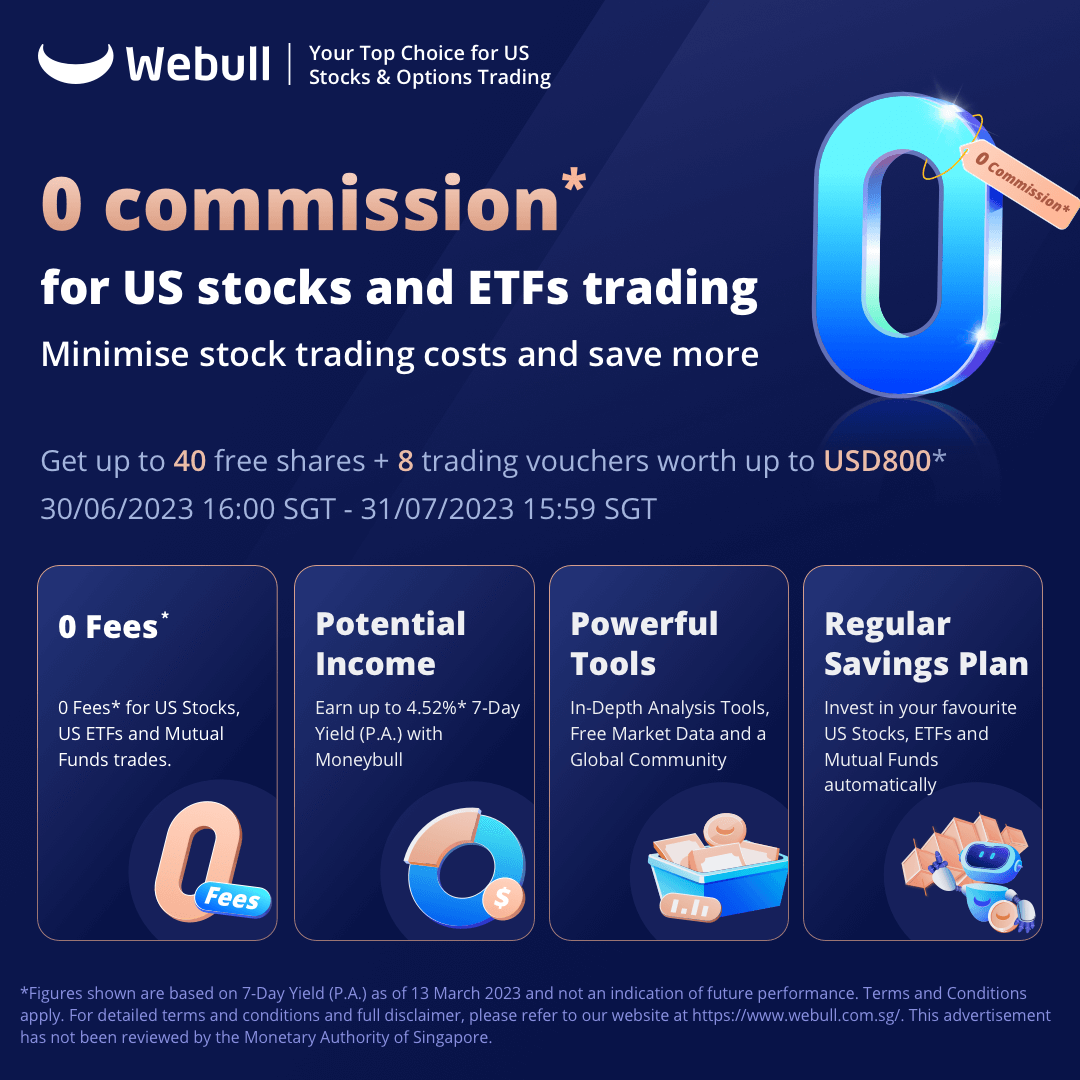 Trust Bank Account (Partnership between Standard Chartered and NTUC)
Sign up for a Trust Bank Account and get:
$35 NTUC voucher
1.5% base interest on your first $75,000 (up to 2.5%)
Whole bunch of freebies
 Fully SDIC insured as well.
It's worth it in my view, a lot of freebies for very little effort.
Full review here, or use Promo Code N0D61KGY when you sign up to get the vouchers!
Portfolio tracker to track your Singapore dividend stocks?
I use StocksCafe to track my portfolio and dividend stocks. Check out my full review on StocksCafe.
Low cost broker to buy US, China or Singapore stocks?
Get a free stock and commission free trading Webull.
Get a free stock and commission free trading with MooMoo.
Get a free stock and commission free trading with Tiger Brokers.
Special account opening bonus for Saxo Brokers too (drop email to [email protected] for full steps).
Or Interactive Brokers for competitive FX and commissions.
Check out my personal recommendations for a reading list here.